Commentary
Grönholm giving RallyCross a go
Some retired racing champions find it hard to stay away from the sport, and two-time World Rally champion Marcus Grönholm is the latest example.
Grönholm officially walked away from full-time WRC competition at the end of the 2007 season, but since then, the 43-year-old native of Finland has driven in a handful of rally-related events.
The 2000 and 2002 WRC champion will continue an association with Ford that began in 2006 when he drives a Ford Fiesta sponsored by Best Buy in the opening round of the Global RallyCross Championship at Irwindale Speedway on March 26-27.
The GRC's inaugural three-round championship also includes events at Snoqualmie, Wash., April 15-16 and Pikes Peak, Colo., June 17-18. Top competitors will be invited to compete in the finale staged for July 31 at X Games 17 in Los Angeles.
Global RallyCross hopes to expand on the concept of stadium rally racing as seen in X Games competition and the annual Race of Champions.
It makes rally racing more spectator friendly, and it makes for good television. At Irwindale, for example, the course will use part of the Irwindale Speedway oval with a 50/50 mix of pavement and dirt and a 70-foot gap jump. As many as six drivers can run simultaneously.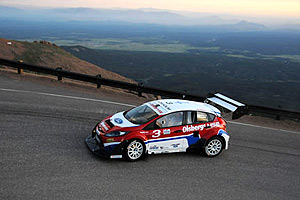 Ford Racing/Paul WebbFormer World Rally champion Marcus Gronholm puts a Ford Fiesta through its paces.
Grönholm finished a close second to Sebastien Loeb in his final two WRC campaigns in 2006 and '07, so he was still on top of his game at the end of his career. He brings a worldwide fan base to the Global RallyCross Series and will serve as an interesting yardstick for his competition, which is expected to include the likes of Tanner Foust, Rhys Millen, Marcus Dodd and Dave Mirra.
Grönholm talked about his participation in the RallyCross series on a conference call with American motorsports media.
"Of course I want to drive, but also I want to help start something new and make it big, I hope," he said. "Mostly I want to drive again. I already made a decision a few years ago that I had to stop the WRC, but I still like to drive something, so RallyCross is really nice. Also, the chance to come over to the USA is new for me, so it is interesting."
By the time Grönholm graduated to the WRC in the late '90s, the big-horsepower Group B cars were a thing of the past. So even for a World Rally Champion, the 600-horsepower, 4WD Fiesta RallyCross car is actually a bit of a beast. Grönholm drove a similar machine at the Pikes Peak Hill Climb in 2010.
"Here in RallyCross, the cars have much more power and they aren't so easy to drive," he said. "The WRC car is much easier to drive. All the drivers would like to have more power, but it will not happen now in WRC.
"They have gone down in power a bit just to attract more manufacturers to have more possibilities to come in. They don't want to go up with the horsepower because everything gets more difficult and requires more budget."
The other transition for Grönholm will be the nature of the competition itself. In rallies and events such as Pikes Peak, drivers run independently and their only competition is the natural elements and the stopwatch. In RallyCross, they race on a man-made course and must contend with other cars on the track at the same time.
"In the first races I did in RallyCross, it was difficult for me because you have to follow others and you can get stuck behind someone," Grönholm said. "So the start is very important. If you miss the start, then you are behind everybody. In rally you are alone on the stage and you can catch up and make a little bit of time here and there. In RallyCross you don't have time. You have to be good from the start and not make mistakes.
"[I am] more nervous for this one. When you are standing on the start line with everybody, it is completely different. But I did a few races in RallyCross in Europe so it isn't really a problem."
The Irwindale round of the Global RallyCross Championship will be broadcast April 17 on ESPN2.
John Oreovicz covers open-wheel racing for ESPN.com.
Autos, Open-Wheel
Motorsports Writer for ESPN.com
Covered Indy car racing for 20 years
Work published in 12 countries
SPONSORED HEADLINES
MORE RACING HEADLINES
MOST SENT STORIES ON ESPN.COM