Commentary
Stewart puts on a good show, and wins it, at the Prelude to the Dream
Tony Stewart was a nervous wreck figuring out how to make his track ready for the Prelude to the Dream as rain rutted Eldora Speedway. He needn't have worried. The skies cleared, his buddies had a blast and he delivered on his promise to write a $1 million check to Victory Junction Gang Camp. Oh yeah, he won, too, writes John Schwarb.
Updated:
June 5, 2008, 2:06 AM ET
By
John Schwarb
| Special to ESPN.com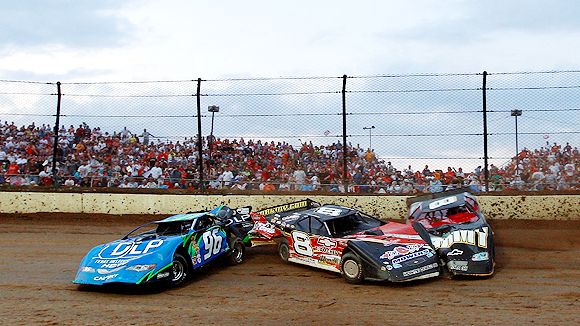 Chris Graythen/Getty Images for Eldora SpeedwayThere was plenty of crumpled metal to go around at Eldora Speedway.
ROSSBURG, Ohio --
Tony Stewart
's most anxious laps Wednesday at Eldora Speedway weren't in his No. 20 dirt late model car. It was tours around the half-mile oval in a weathered Chevrolet one-ton pickup truck, several hours before the fourth annual Prelude to the Dream, which had his full attention.Heavy rains pelted west-central Ohio and the famed 54-year-old clay racing surface off and on for a few days leading up to the Prelude, and Smoke feared for the track. He spent all day and night Monday on it, driving a grader until 1:30 a.m. After a test session Tuesday at Virginia International Raceway for his day job in the No. 20 Sprint Cup car, he returned to Eldora and more rain. Wednesday morning, it didn't look good for the race to run at all."I'm probably going to die of ulcers. This has not been a week that's been kind from a nerves standpoint," Stewart said. "I'm just thankful we got it in."It not only got in, it was another smash hit. With the track intact, and skies blessedly rain-free, the fourth annual Prelude delivered again as the best NASCAR all-star race of the year (sorry, Charlotte), in front of a sold-out crowd of more than 23,000 and many more on HBO pay-per-view.After the race Stewart presented
Kyle Petty
a check for $1 million for Victory Junction Gang Camp II, which will be built near Kansas City."I would say
Adam Petty
had a hand in this today, everything that was on the radar dissipated," Stewart said of Kyle Petty's late son, the man the first Victory Junction Gang Camp was founded in memory of.Stewart also collected something for himself -- the winner's trophy.The host won the Prelude for the second time in its four-year history in a dominating performance, as Stewart passed front-row starters
Kevin Harvick
and
Matt Kenseth
on the first lap and went on to lead all 30 in the feature race. He won by 1.5 seconds over
Robby Gordon
.Yet in winning, Stewart was happier that his invited guests -- 24 other top drivers -- had a good time. In four years, it has become his obsession."He puts a lot of pressure on himself for this event every year, it's his grand jewel, his baby, and this is his racetrack," said
Kyle Busch
, Stewart's Joe Gibbs Racing teammate and a runner-up in the 2007 Prelude. "He wants to make sure everybody has a good time."As usual, everybody did. This year's fresh face,
Jimmie Johnson
, made his late model debut in returning to dirt for the first time since racing off-road and stadium trucks, his life long before becoming a two-time Sprint Cup champion. After 30 laps of brushes with the walls and other drivers, Johnson finished eighth, a perfectly respectable effort.How unique is the Prelude? Johnson, of Hendrick Motorsports, took advice all night from a Richard Childress Racing driver, as
Clint Bowyer
owned Johnson's car. During hot laps the tutorial was in session, with Bowyer (who grew up running dirt cars) instructing Johnson and advising him to go on the roof of his hauler to better study the competition as they skidded through the turns. The teacher had the better night, finishing third, but Johnson still could smile and offer a needle, being handed a beer as soon as he got out of his car."Hey Bowyer, I beat you at something tonight," Johnson said, raising a can.Then he exhaled, his Sprint Cup firesuit soaked in sweat and dirt."I had a blast. I'll be back next year," Johnson said. "I'm thoroughly impressed. I know the history of the track, watch a lot of races on television, I just didn't know what to expect until I got here. I didn't realize how much fun these things are to drive. Across the board, it was an eye-opening experience."The experience has grown every year. The Prelude has become such a hit among drivers, there's a waiting list to crack the 25-car field -- 25 being the ideal number of dirt late models for the 30-lap feature race -- and few spots are coming open every year.


To come back and dabble in some other stuff, to really take yourself back to why you got into racing and being a kid at heart in these cars, that's a lot of fun.

-- Jimmie Johnson
Some who return annually are even doing their homework, testing for the race and bringing cars specifically made for the Prelude.
Denny Hamlin
tested at North Georgia Speedway a couple months ago.
Ryan Newman
ran one night at Volusia (Fla.) Speedway. Ray Evernham took dirt-racing lessons from car owner Ray Cook."It's getting a little bit too competitive," Busch said. "There should be a rule where nobody can go test anywhere and they have to stay off dirt, but that's not going to happen. You have Kenny Schrader and
Kenny Wallace
who have their own cars and race all the time," Busch said before the race. "Me, I haven't been on a dirt track since last year [at Eldora]. I'm doing it the 'purist' way."Next year he may change his tune. Busch crashed on his second qualifying lap and again in his heat, drawing some of the biggest cheers of the night. To his credit, the 10-time winner this season across NASCAR's top three series wasn't above cleaning up his own mess, wielding a hammer in his pit to smooth out his crumpled metal after the qualifying wreck. The heat wreck required far more work, as his team had to put a new radiator in the car for it to be feature-ready.For once this season, Stewart had a smoother night. His Sprint Cup season has been maddening, with tough-luck races including watching Newman pass him on the last lap to win the Daytona 500, a flat tire three laps from the end while leading the Coca-Cola 600 and a crash at Dover that left him in 41st. He's 11th in points, 499 points behind leader and teammate Busch.But at Eldora, those problems are light years away. Last Saturday, Donny Schatz won a World of Outlaws race for Tony Stewart Racing, then Wednesday Stewart added his own win at his own track."I can see how he falls back into this, and how this keeps him young at heart, keeps it interesting and fun," Johnson said. "The Cup schedule is a long grind, there's no doubt, and as the years go by it gets longer and longer. To come back and dabble in some other stuff, to really take yourself back to why you got into racing and being a kid at heart in these cars, that's a lot of fun."
John Schwarb is a motorsports contributor to ESPN.com. He can be reached at johnschwarb@yahoo.com.
SPONSORED HEADLINES
MORE RACING HEADLINES
MOST SENT STORIES ON ESPN.COM