Commentary
Will Schumacher thrill in return?
Updated:
July 29, 2009, 6:49 PM ET
By
Terry Blount
| ESPN.com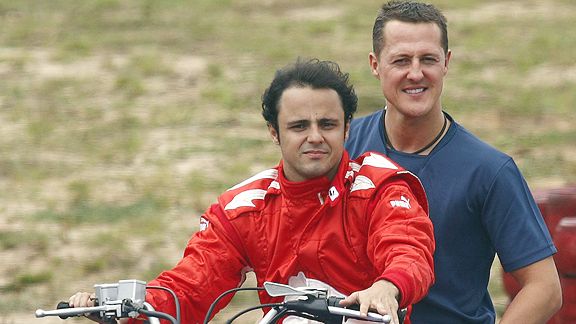 AP Photo/Maurilio CheliFelipe Massa, left, gave Michael Schumacher a ride in 2007 after Schumacher had retired from the Ferrari team. Schumacher will take over Massa's ride in Formula One while Massa recovers from injury.
Superman is back.
Super Schumi that is, the man many Formula One fans see as the greatest driver ever to sit in a race car.
How super is he now? Michael Schumacher will temporarily end his retirement (we'll get back to you on that temporary thing) to fill in for injured Felipe Massa on the Ferrari team. Schumacher hasn't raced in F1 since October 2006.
"The Formula One chapter has been completely closed for me for a long time," Schumacher said in a statement Wednesday. "But for reasons of loyalty to the team, I cannot ignore this unfortunate situation. As the competitor, I am very much looking forward to facing this."
This is big, folks. Even if Brett Favre had elected to "unretire" once again, that's a blip on the international sports scene compared with Schumacher's return to F1.
Schumacher is a seven-time F1 champion, winning five consecutive titles for Ferrari from 2000 through 2004.
He defined dominance. In those five championship years, Schumacher won 48 of 85 races (an incredible .564 winning percentage). No other driver had more than seven victories in that span.
Schumacher retired with 91 victories and 154 podium finishes. No one else comes close to those numbers.
Schumacher's Notable Moments

Michael Schumacher's career is a storied one. Here are some of the most notable moments:
• Aug. 25, 1991: Makes Formula One debut for Jordan in Belgium (starts seventh, fails to finish).
• Aug. 30, 1992: Earns first career F1 win (also in Belgium); would go on to finish third in driver standings that year.
• 1994: Wins first career title; becomes first German driver to win F1 crown.
• 1995: Becomes first driver since Ayrton Senna in 1990-91 to win consecutive titles.
• 1996: Switches to Ferrari.
• July 11, 1999: Breaks leg in crash at British Grand Prix (only injury of F1 career).
• 2000: Becomes first driver since Jody Scheckter in 1979 to win F1 title with Ferrari.
• Sept. 2, 2001: In Belgium, breaks Alain Prost's record of 51 F1 wins.
• 2003: Breaks Juan Manuel Fangio's record of five F1 titles.
• 2004: Fifth straight F1 title gives Schumacher seven overall.
• 2000-04: Notched 48 wins between 2000 and 2004, while no other driver had more than seven.
• 2006: Retires from F1 after record 91 wins, 68 poles and seven world titles.
-- ESPN Stats & Information
He is the Michael Jordan and Tiger Woods of his discipline. Schumacher is bigger than life. If he ran for chancellor of Germany, he'd win in a landslide.
He is a true living legend since retiring at age 37. You can do that when you made a reported $80 million a year in the last five seasons at Ferrari.
Schumacher is 40 now and hasn't competed in an F1 event in two and a half seasons. Can he step back in and be the old Schumi, the almost unbeatable force that fans remember?
Well, let's not get carried away. No matter how good you are (or were), no one comes back after that long a layoff and immediately goes to the top of the podium.
If he does, go ahead and crown him the king of F1 and we'll all bow to his greatness.
Schumacher isn't exactly an old man. He is 10 years younger than Mark Martin, who is kicking some rumps this season racing with the stars of NASCAR.
But Martin wasn't out of the game completely the way Schumacher was. Martin was racing a partial schedule before returning full time this year. And he returned to drive for Hendrick Motorsports, the dominant team in Sprint Cup.
Schumacher won't have that luxury. Even if his skills remain at a champion's level, the Ferrari team isn't fielding championship-caliber cars these days. A Ferrari driver has not won a race this season.
Massa, the runner-up to Lewis Hamilton for the 2008 F1 title, had only one podium finish this year. He was third in the German Grand Prix on July 12 before suffering a serious head injury in a crash at practice in Hungary this past weekend.
Kimi Raikkonen, the 2007 F1 champion, has only two podium finishes for Ferrari, but one was as runner-up in Hungary.
That's the good for Schumacher. Ferrari is more competitive now than it was at the start of the season.
But this isn't the same team that helped him win championships. That could get frustrating in a hurry for a man who demands the best from his equipment and his team.
He never has driven the F60 car Ferrari now uses. He was testing for Ferrari previously, but hasn't done so since April 2008.
Schumacher also demands the most of himself physically. Road racing these powerful machines is physically taxing.
But there's is no beer belly on this guy. He has played in a competitive soccer league and looks almost as good as the day he got out of the cockpit.
Ferrari officials want proof, so they will place Schumacher in a special training program to prepare him for the upcoming European Grand Prix in Valencia, Spain.
[+] Enlarge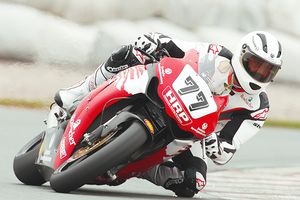 AP Photo/Jonathan SauerMichael Schumacher found other ways to scratch the racing itch since retirement, but now he's set to return to Ferrari for as long as the team needs him while Felipe Massa heals.
Schumacher has three weeks to get ready for the Valencia race. All eyes will be on his red Ferrari when he takes the course for the first practice session. Most people will hope to see him turn back the clock and give F1 a much-needed spark.
These are not the best of time for the world's most popular racing series. The leadership is teetering with controversial Bernie Ecclestone at the helm of the series and outgoing FIA president Max Mosley. FIA is the sport's governing body.
F1 teams threatened to start a separate series over demands by Mosley to cut spending, and they forced Mosley to back down.
Hamilton was a big story last year as the first black driver to win an F1 title, but he was winless this season until his victory this past weekend.
F1 has lacked pizzazz in 2009. Schumacher's return is a game changer. It also is a big risk for such an iconic figure of the sport.
The series has changed dramatically since Schumacher left. These cars are much different from the ones he drove as a champion.
He just might look as out of place as a lion on an ice rink.
Then again, he might be the same old Schumi, a driver so skilled you sometimes wondered how any human could do the things he did in a race car.
The chance to see that again -- even for a moment; even if he fails -- is worth it.
Terry Blount covers motorsports for ESPN.com. His book, "The Blount Report: NASCAR's Most Overrated and Underrated Drivers, Cars, Teams, and Tracks," was published by Triumph Books and is available in bookstores. Click here to order a copy. Blount can be reached at terry@blountspeak.com.
ESPN Seattle Seahawks reporter
Covered the NFL at the Houston Post and Houston Chronicle, including eight Super Bowls
Received Citation for Writing Excellence from Hearst Newspapers
Also has covered NBA Finals, World Series, Finals Fours, Indy 500 and Daytona 500
SPONSORED HEADLINES
MORE RACING HEADLINES
MOST SENT STORIES ON ESPN.COM