Commentary
Indy-Coke double takes herculean effort
Updated:
May 25, 2010, 12:46 PM ET
By
Terry Blount
| ESPN.com
In response to racing mogul Bruton Smith's offering $20 million to anyone who can win the Indianapolis 500 and the Coca-Cola 600 on the same day, I will offer $20 million to anyone who can win the Daytona 500 and the Kentucky Derby in the same year.
What do those two offers have in common, you ask?
They both have about the same odds of actually happening. I made my offer public in a NASCAR Live! session for ESPN.com during the Dover Sprint Cup race.
My colleague, David Newton, pointed out my offer might have slightly better odds. Some of these drivers are pretty small. After a victory at Daytona, they might hop on a Thoroughbred and go for it at Churchill Downs.
One big difference in these offers: Smith, the colorful chairman of Speedway Motorsports Inc., actually has $20 million, which is about $19.999 million more than I have.
[+] Enlarge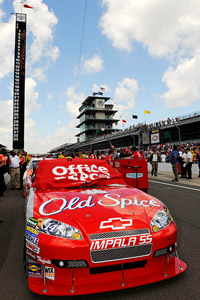 Rusty Jarrett/Getty Images/NASCARTony Stewart is one Sprint Cup regular who'd have a realistic shot at completing the Memorial Day weekend double at Indy and Charlotte.
Even with conducive start times required for racing both events (something likely to happen in 2011), the chances of Smith having to write this check are about … well, 20 million to 1.
But a few Indy car drivers said they are willing to try it.
"I'd do it for free," Tomas Scheckter said Monday at ESPN headquarters in Bristol, Conn. "Who doesn't want to race in the biggest race in the world followed by the longest in one day? Seriously, 1,100 miles in a day? I'm there."
Racing in both events, sure, that's been done. And, frankly, the thrill is gone.
But winning both events? That would go down as one of the most memorable moments in sports history.
The Coca-Cola 600 suddenly would become a must-see event if the Indy 500 winner sped through his milk-drinking tradition to immediately hop on a plane and take the starting grid at Charlotte Motor Speedway.
All the 2010 Indy 500 drivers were in Bristol on Monday for some ESPN interviews, and a few of them told ESPN.com motorsports editor K. Lee Davis how fun it would be just to try to it.
"It would be awesome," said Helio Castroneves, the three-time Indy 500 winner who starts from the pole Sunday. "If [team owner] Roger [Penske] says, 'Let's do it', I would be right there ready to go."
But you don't just jump in a stock car and win the Coca-Cola 600, no matter how good the car is. It's a little more complicated than that, folks, as Dario Franchitti can attest.
Franchitti left IndyCar after winning the 2007 Indy 500 and the series championship. After one frustrating Cup season, including a broken ankle, driving for Chip Ganassi, he returned to IndyCar last year and won the championship again.
"If Chip told me he wanted to try the double, I would jump at the chance," Franchitti said Monday. "His Sprint Cup cars are much better now than when I was there, and I would think that the drivers with the best chance to win a double would come from our teams.
"But there's a great deal of preparation that goes into driving both cars and running both races. I'm not certain you could overcome the deficiencies you would have in one car or the other."
Ryan Briscoe, Castroneves' teammate at Penske Racing, said it's worth a shot at the near impossible task.
"Oh, I'd love to try it," Briscoe said Monday. "I mean, I love to race in anything, and I think as a driver from Penske Racing, you'd know going in you will have two well-prepared cars. And the $20 million is just a little extra incentive, right?"
"

If Chip told me he wanted to try the double, I would jump at the chance.

"

-- Dario Franchitti
Everyone has a price, or do they? Marco Andretti was the one driver who said he could live without it.
"I'd actually have no interest in it at all," Andretti said Monday. "I'm just concentrating on the IndyCar Series and winning this [the Indy 500] race."
Davis had a good follow-up question about Marco's dissing the whole idea.
"Even though your grandfather [1969 Indy 500 winner Mario Andretti] won the [1967] Daytona 500?" Davis asked.
Marco: "Yeah, that is amazing, but I just have no interest in going to NASCAR."
The younger Andretti might have more interest if he thought there were a reasonable shot at winning the $20 million.
Only two drivers -- Juan Pablo Montoya and Tony Stewart -- have the experience and skill set to legitimately say they could pull it off with top equipment and a lot of luck.
Montoya won the 2000 Indy 500. He was a CART champion and a winning driver in Formula One before moving to NASCAR in 2007.
Stewart was the 1997 IRL champion before moving full time to Cup in 1999. He completed the double in 1999 and 2001, finishing sixth in the 2001 Indy 500 and third later that day at Charlotte.
But Stewart is 39 now, not to mention a few pounds (OK, more than a few pounds) heavier than he was nine years ago. Driving 1,100 miles in one day might be too much to ask at this point.
So, along with Bruton's bonus, my offer still stands. I think Stewart is out on the jockey side, but Mark Martin could throw on the silks and give it a shot.
Terry Blount is a senior writer for ESPN.com. He can be reached at terry@blountspeak.com.
ESPN Seattle Seahawks reporter
Covered the NFL at the Houston Post and Houston Chronicle, including eight Super Bowls
Received Citation for Writing Excellence from Hearst Newspapers
Also has covered NBA Finals, World Series, Finals Fours, Indy 500 and Daytona 500
SPONSORED HEADLINES
MORE RACING HEADLINES
MOST SENT STORIES ON ESPN.COM
94TH INDIANAPOLIS 500-MILE RACE

Another Month of May on the track has come and gone, and the venerable Indianapolis Motor Speedway roared to life again. This was the second year of Indy's Centennial Era, with Dario Franchitti winning the 94th running of the Indianapolis 500.
Indianapolis Motor Speedway timeline

Indy 500 Raceday
•
Blount: Franchitti proves he's truly back home
•
Hinton: Ganassi deflects credit ... again
•
Oreovicz: Pole promise fizzles for Penske
•
Oreovicz: Danica pulls off solid finish
•
Recap: Dario dominates
|
500 results
•
Andretti moves up to third on review
•
Conway to hospital after violent crash
•
IndyCar Live! Indy 500 rewind on ESPN.com
Columns
•
Blount: An anticlimactic Indy 500?
•
Hinton: It's still the greatest race
•
Blount: Helio's drive for four ... and more
•
Newton: Hornish respected? Yes and no
•
Oreovicz: Ganassi cars lead Carb Day
•
Blount: Historic run for Kanaan?
•
Hinton: New IRL CEO Bernard has titanic task
•
Blount: Danica's time running out?
•
Oreovicz: Breaking down the 500 field
•
Blount: Indy-Coke double twice the fun
•
Oreovicz: Indy not curing Danica's ills
•
Oreovicz: Drama returns to Bump Day
•
Helio dominates on revived Pole Day
•
Oreovicz: Bracing for some Pole Day drama
•
McGee: Meira an Indy car cult hero
•
Oreovicz: Indy 500 field not set in stone
•
Oreovicz: The Indy 500, from A to Z
More IndyCar Live! coverage
•
IndyCar Live! Bump Day rewind on ESPN.com
•
IndyCar Live! Pole Day rewind on ESPN.com
Blogs
•
Blount: "Push-to-pass" may be key at Indy
•
Oreovicz: $5 practice best bargain in town
Practice and qualifying
•
94th Indianapolis 500 starting grid
•
Danica: Not enough time for needed car fixes
•
Kanaan's advice to Danica? Get happy
•
Kanaan rebounds from crash to make 500
•
Saavedra still in Indy 500 field despite crash
•
Helio tops field; Danica 23rd of 24
•
Fans react sourly to Danica comments
•
Kanaan, Moraes OK after crashes
•
Power hits 228 in morning practice »
•
Power, Tagliani top Friday speed charts
•
Kanaan peels off top time Thursday
•
Dixon hits 226 in Tuesday practice
•
Castroneves sets pace on first day
•
Wheldon OK after Sunday crash
More coverage
•
Danica's Double 2010: Gearing up for Indy
•
2009 Flashback: Castroneves wins again
•
2008 Flashback: Quiet Dixon makes noise
•
2007 Flashback: Franchitti comes up big
•
2006 Flashback: Hornish gets his "Holy Grail"
Indy 500 Video
•
Dario Franchitti wins Indianapolis 500
•
Franchitti storms Indianapolis
•
Dario Franchitti back in Victory Lane
•
Close but no milk for Helio and Kanaan
•
Four for Helio Castroneves?
•
No easy blueprint for winning
•
The women of Indy
•
The sweet life of Danica
•
Castroneves: Life in reflection
•
Patrick and Wheldon change tires
•
Penske on track with Helio, Briscoe
•
Danica's focused after rough start
•
Franchitti and the Indy 500
•
Wild qualifying delivered the drama
•
Castroneves wins Indy 500 Pole
•
Power ready for the Indy 500