Commentary
Castroneves will win a fourth 500 soon
Updated:
May 29, 2010, 3:59 PM ET
By
Terry Blount
| ESPN.com
INDIANAPOLIS -- Helio Castroneves is going to catch the Indy 500 immortals.
He's also going to pass them and become the most celebrated driver in the long and storied history of this event.
Castroneves may catch the legends Sunday to become the fourth driver to win the race four times, joining A.J. Foyt, Al Unser and Rick Mears in the exclusive club.
Maybe that won't happen Sunday, but it's going to happen before Castroneves hangs up his helmet. He's also going to wave bye-bye to them in his rearview mirror at some point before the decade is over.
"Nothing that guy does would amaze me," driver Tony Kanaan said. "I know how talented he is from all the hard times he's given me in the last 27 years."
"

I think Helio is more than capable to be one of the greatest ever. And he's only 35, so he might win six times instead of four.

"

-- Tony Kanaan
Kanaan and Castroneves have been friends and on-track rivals since their go-kart days as kids back in Brazil. Kanaan has no doubt that his old buddy has historic moments ahead of him.
"I think Helio is more than capable to be one of the greatest ever," Kanaan said. "And he's only 35, so he might win [the Indy 500] six times instead of four. We'll try to prevent that, but his success doesn't surprise me. He deserves it."
Castroneves can set himself apart in several ways with a victory Sunday. He would become the youngest driver to reach the four-win plateau in the 500. Mears was 39, Foyt was 42 and Unser was 47 when winning a fourth Indy 500.
Castroneves also can do it in fewer starts than the others. Sunday is only his 10th time to compete in the event. It took Mears 14 tries to win No. 4. Foyt did it in his 20th start and Unser won his fourth in his 22nd trip.
And Castroneves also can become the first driver to win back-to-back Indy 500s twice. His first two victories came in 2001 and 2002.
"It's certainly good to be in this position," Castroneves said Thursday. "But I've done this enough now to know every year here is different."
Whatever happens Sunday, it won't be like last year, an emotional day of redemption for a man who had weathered the darkest moments of this life.
Two months before the 2009 Indy 500, Castroneves didn't know whether he ever would sit in a race car again. Sitting in a prison cell was his biggest fear.
Castroneves and his family endured a long and difficult public trial over tax-evasion charges. He was acquitted on all counts six weeks before the Indy 500 and returned to his seat at Team Penske.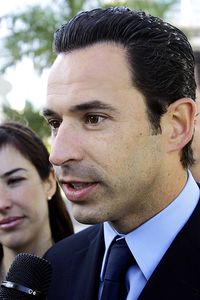 AP Photo/Alan DiazHelio Castroneves faced a potential maximum sentence of more than six years behind bars if he had been convicted of tax evasion charges last year. He was acquitted.
"The wound was still open," he said. "I was relieved it was over, but I also was emotionally drained. I didn't know how people would feel about what happened."
It didn't take long to find out. The fans welcomed him back with open arms.
"Last year was special," he said. "When they introduced me to the crowd, I couldn't even hear my name because people were cheering so loud."
Castroneves kept his status as a crowd favorite; the man who climbs the catch-fencing after a victory, the happy guy with the ear-to-ear grin, and the debonair hoofer who became a mainstream celebrity with his victory on "Dancing with the Stars."
He could have lost it all, but he came back victorious. And Castroneves counts his blessings that one man stuck by him all the way -- team owner and Indy icon Roger Penske.
"He is part of our family," Penske said Friday. "It's unfortunate that a great guy like Helio had to go through that. His notoriety through racing and 'Dancing with the Stars' brought more attention to the trial than it should have received."
Penske never doubted that Castroneves would be acquitted. He was accused of evading more than $2.3 million in taxes over a five-year period from 1999 through 2004.
"The business transaction we had with Helio was absolutely transparent and above board," Penske said Friday. "There was no issue. This was a small thing, and once it got settled, he was clean as a whistle. That was the most important thing.
"But I hope he would expect us to stand by him. Whether it was Helio Castroneves or a crew member, we would do the same thing."
And that says a lot about Penske, a man who believes Castroneves is as good as anyone he has ever seen at the Brickyard.
"It seems when Helio comes to Indy, there's a second light that goes on," Penske said last week. "I think the proof of his excellence is the fact that he could go through what he went through a year ago, bounce back and come here and win the race.
"If he could win his fourth, we will certainly be sure we have a car for him to try for his fifth."
[+] Enlarge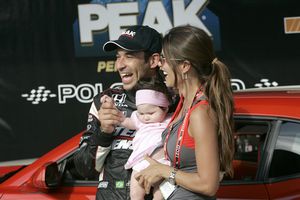 AP Photo/Tom StrattmanHelio Castroneves said the arrival of girlfriend Adriana Henao and daughter Mikaella has given him even more enthusiasm for racing.
Castroneves says knowing the team was with him all the way helped him make his triumphant return from a stressful experience.
"It's all about the people around you," he said. "They believe in me and I believe in them. My family and my team got me through it."
All that's behind him now. Castroneves can concentrate on chasing history. And if you're wondering, he has no intention of retiring anytime soon.
"I'm actually full of energy," Castroneves said. "I'm still having a lot of fun. I did talk to Rick [Mears] about it once. I asked him, 'When do you know it's time to retire?'
"He said, 'When the fire inside you goes away.' After last year, I'm still burning."
He's also a dad now. His daughter, Mikaella, was born last December.
"Having a baby just gives you more enthusiasm," he said. "I want to go out there and hopefully make my daughter feel proud of her dad."
Someday, Mikaella will say her father was the greatest driver ever in the Indy 500.
Her dad has a date with destiny. Maybe it's Sunday, maybe it's on down the road. But it's coming.
Terry Blount is a senior writer for ESPN.com. He is the author of "The Blount Report: NASCAR's Most Overrated and Underrated Drivers, Cars, Teams, and Tracks." He can be reached at terry@blountspeak.com.
ESPN Seattle Seahawks reporter
Covered the NFL at the Houston Post and Houston Chronicle, including eight Super Bowls
Received Citation for Writing Excellence from Hearst Newspapers
Also has covered NBA Finals, World Series, Finals Fours, Indy 500 and Daytona 500
SPONSORED HEADLINES
MORE RACING HEADLINES
MOST SENT STORIES ON ESPN.COM
94TH INDIANAPOLIS 500-MILE RACE

Another Month of May on the track has come and gone, and the venerable Indianapolis Motor Speedway roared to life again. This was the second year of Indy's Centennial Era, with Dario Franchitti winning the 94th running of the Indianapolis 500.
Indianapolis Motor Speedway timeline

Indy 500 Raceday
•
Blount: Franchitti proves he's truly back home
•
Hinton: Ganassi deflects credit ... again
•
Oreovicz: Pole promise fizzles for Penske
•
Oreovicz: Danica pulls off solid finish
•
Recap: Dario dominates
|
500 results
•
Andretti moves up to third on review
•
Conway to hospital after violent crash
•
IndyCar Live! Indy 500 rewind on ESPN.com
Columns
•
Blount: An anticlimactic Indy 500?
•
Hinton: It's still the greatest race
•
Blount: Helio's drive for four ... and more
•
Newton: Hornish respected? Yes and no
•
Oreovicz: Ganassi cars lead Carb Day
•
Blount: Historic run for Kanaan?
•
Hinton: New IRL CEO Bernard has titanic task
•
Blount: Danica's time running out?
•
Oreovicz: Breaking down the 500 field
•
Blount: Indy-Coke double twice the fun
•
Oreovicz: Indy not curing Danica's ills
•
Oreovicz: Drama returns to Bump Day
•
Helio dominates on revived Pole Day
•
Oreovicz: Bracing for some Pole Day drama
•
McGee: Meira an Indy car cult hero
•
Oreovicz: Indy 500 field not set in stone
•
Oreovicz: The Indy 500, from A to Z
More IndyCar Live! coverage
•
IndyCar Live! Bump Day rewind on ESPN.com
•
IndyCar Live! Pole Day rewind on ESPN.com
Blogs
•
Blount: "Push-to-pass" may be key at Indy
•
Oreovicz: $5 practice best bargain in town
Practice and qualifying
•
94th Indianapolis 500 starting grid
•
Danica: Not enough time for needed car fixes
•
Kanaan's advice to Danica? Get happy
•
Kanaan rebounds from crash to make 500
•
Saavedra still in Indy 500 field despite crash
•
Helio tops field; Danica 23rd of 24
•
Fans react sourly to Danica comments
•
Kanaan, Moraes OK after crashes
•
Power hits 228 in morning practice »
•
Power, Tagliani top Friday speed charts
•
Kanaan peels off top time Thursday
•
Dixon hits 226 in Tuesday practice
•
Castroneves sets pace on first day
•
Wheldon OK after Sunday crash
More coverage
•
Danica's Double 2010: Gearing up for Indy
•
2009 Flashback: Castroneves wins again
•
2008 Flashback: Quiet Dixon makes noise
•
2007 Flashback: Franchitti comes up big
•
2006 Flashback: Hornish gets his "Holy Grail"
Indy 500 Video
•
Dario Franchitti wins Indianapolis 500
•
Franchitti storms Indianapolis
•
Dario Franchitti back in Victory Lane
•
Close but no milk for Helio and Kanaan
•
Four for Helio Castroneves?
•
No easy blueprint for winning
•
The women of Indy
•
The sweet life of Danica
•
Castroneves: Life in reflection
•
Patrick and Wheldon change tires
•
Penske on track with Helio, Briscoe
•
Danica's focused after rough start
•
Franchitti and the Indy 500
•
Wild qualifying delivered the drama
•
Castroneves wins Indy 500 Pole
•
Power ready for the Indy 500