Commentary
Dario proves home is in IndyCar
Updated:
May 31, 2010, 12:34 AM ET
By
Terry Blount
| ESPN.com
INDIANAPOLIS -- Yes, you can go home again. And this Scotsman stormed the castle.
Dario Franchitti is back, all the way back. An IndyCar Series champion last year, again. An Indy 500 winner this year, again.
Franchitti is back where he belongs, happily on top in the racing discipline that he loves. A miserable year in NASCAR two seasons ago is long past, but not forgotten.
"The second time feels just as good," Franchitti said of Indy victory No. 2. "To come back after going away for a year, then win the championship and the Indy 500, I'm pretty damn near speechless right now."
[+] Enlarge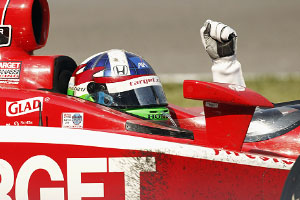 AP Photo/Mike GrollDario Franchitti pumps his first after winning his second Indianapolis 500.
The right man won Sunday, despite a helter-skelter final few laps in which fuel strategy scrambled the field and a horrifying last-lap crash frightened the crowd.
Mike Conway's car went airborne and flipped over into the catch fencing. He was lucky to come out of it with only a left leg injury.
The fuel window shuffled the pack and put some drivers in the front that hadn't been there most of the day. Even that was confusing. The results were changed more than an hour after the race ended, moving back four drivers who passed under the last caution.
Dan Wheldon was second, and after further review, Marco Andretti was third. Danica Patrick, one of the yellow passers, still finished an impressive sixth after spending most of the race 15th or worse.
But Franchitti was up front all day. He went the distance, barely, something he didn't have to do in 2007, when rain shortened the race. His famous wife, actress Ashley Judd, ecstatically ran down pit road to greet him afterward Sunday, just as she did three years ago.
This time, a last-lap yellow allowed Franchitti to coast to the finish line, knowing his fuel tank was running on fumes. No one knows if Franchitti would have made it to the end under green, but everyone knew he deserved to win.
"The best car and the best driver won the race today," said Tony Kanaan, who started last, challenged for the win late and finished 11th. "That's fair enough."
Franchitti led 155 of 200 laps, which ranks as one of the top 10 dominating performances at Indy in the past 50 years. And he gave his boss a historic gift.
Chip Ganassi becomes the first team owner to win the Daytona 500 and the Indy 500 in the same year. Jamie McMurray won at Daytona in his first race back with Ganassi's team in February.
"I wish we had those [Sprint Cup] cars in '08," Franchitti joked. "But maybe I wouldn't be here if that was true, so it all worked out perfectly."
Ganassi stuck with Dario after the 2008 season when Franchitti left NASCAR, a failed experiment that could have ended his racing career.
After winning the IndyCar title and the Indy 500 in 2007 for Michael Andretti's team, Franchitti opted for the trendy thing to do and switched to NASCAR with Ganassi's team.
The result? Bad finishes, crashes and a broken ankle. It was a dismal failure.
"I expected to retire at that point," Franchitti said. "To be invited back here, well, it was pretty cool. I never expected this."
Franchitti was 35 after his NASCAR disappointment. More than a few people thought his best racing days in any series were behind him. Ganassi wasn't one of them.
[+] Enlarge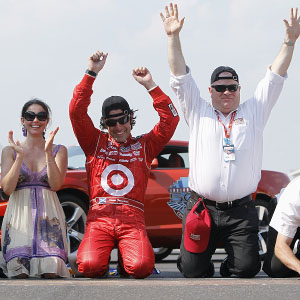 Getty, AP ImagesDario Franchitti, center, as well as wife Ashley Judd and owner Chip Ganassi all kneel at the start/finish line after Franchitti won his second Indy 500.
"I knew he was the best guy available to drive the [Indy] car and still is," Ganassi said. "If we make a mistake, we move on. If I thought Dario couldn't drive the car, he wouldn't be driving it. The guy's a champion. He knows what it takes and he's the consummate professional."
Mike Hull, the managing director of Target Ganassi Racing, said he has never met anyone quite like Franchitti.
"The guy mentally thinks he has a 20-year-old body," Hull said. "But he also has all that experience. He comes to work every day to get the most out of it."
Franchitti now has done more at Indy than his two Scottish heroes -- Jimmy Clark and Jackie Stewart. Clark's one Indy victory came in 1965. Stewart never won Indy.
"If I win the Indy 500 every year the rest of my life, I'm still not in the same league with Jimmy Clark and Jackie Stewart," Franchitti said. "Those guys are absolute legends."
Yes they are, but Franchitti is selling himself short. Redemption is his badge of honor. He returned from a hellish year out of his element and proved he deserves respect.
Franchitti is IndyCar's prodigal son. He took a wrong path, but he found his way back to where he belongs.
"Dario's NASCAR experience was like a semester at sea," Ganassi said. "We did it, but I'm glad we brought him back home."
Terry Blount is a senior writer for ESPN.com. He is the author of "The Blount Report: NASCAR's Most Overrated and Underrated Drivers, Cars, Teams, and Tracks." He can be reached at terry@blountspeak.com.
ESPN Seattle Seahawks reporter
Covered the NFL at the Houston Post and Houston Chronicle, including eight Super Bowls
Received Citation for Writing Excellence from Hearst Newspapers
Also has covered NBA Finals, World Series, Finals Fours, Indy 500 and Daytona 500
SPONSORED HEADLINES
MORE RACING HEADLINES
MOST SENT STORIES ON ESPN.COM
94TH INDIANAPOLIS 500-MILE RACE

Another Month of May on the track has come and gone, and the venerable Indianapolis Motor Speedway roared to life again. This was the second year of Indy's Centennial Era, with Dario Franchitti winning the 94th running of the Indianapolis 500.
Indianapolis Motor Speedway timeline

Indy 500 Raceday
•
Blount: Franchitti proves he's truly back home
•
Hinton: Ganassi deflects credit ... again
•
Oreovicz: Pole promise fizzles for Penske
•
Oreovicz: Danica pulls off solid finish
•
Recap: Dario dominates
|
500 results
•
Andretti moves up to third on review
•
Conway to hospital after violent crash
•
IndyCar Live! Indy 500 rewind on ESPN.com
Columns
•
Blount: An anticlimactic Indy 500?
•
Hinton: It's still the greatest race
•
Blount: Helio's drive for four ... and more
•
Newton: Hornish respected? Yes and no
•
Oreovicz: Ganassi cars lead Carb Day
•
Blount: Historic run for Kanaan?
•
Hinton: New IRL CEO Bernard has titanic task
•
Blount: Danica's time running out?
•
Oreovicz: Breaking down the 500 field
•
Blount: Indy-Coke double twice the fun
•
Oreovicz: Indy not curing Danica's ills
•
Oreovicz: Drama returns to Bump Day
•
Helio dominates on revived Pole Day
•
Oreovicz: Bracing for some Pole Day drama
•
McGee: Meira an Indy car cult hero
•
Oreovicz: Indy 500 field not set in stone
•
Oreovicz: The Indy 500, from A to Z
More IndyCar Live! coverage
•
IndyCar Live! Bump Day rewind on ESPN.com
•
IndyCar Live! Pole Day rewind on ESPN.com
Blogs
•
Blount: "Push-to-pass" may be key at Indy
•
Oreovicz: $5 practice best bargain in town
Practice and qualifying
•
94th Indianapolis 500 starting grid
•
Danica: Not enough time for needed car fixes
•
Kanaan's advice to Danica? Get happy
•
Kanaan rebounds from crash to make 500
•
Saavedra still in Indy 500 field despite crash
•
Helio tops field; Danica 23rd of 24
•
Fans react sourly to Danica comments
•
Kanaan, Moraes OK after crashes
•
Power hits 228 in morning practice »
•
Power, Tagliani top Friday speed charts
•
Kanaan peels off top time Thursday
•
Dixon hits 226 in Tuesday practice
•
Castroneves sets pace on first day
•
Wheldon OK after Sunday crash
More coverage
•
Danica's Double 2010: Gearing up for Indy
•
2009 Flashback: Castroneves wins again
•
2008 Flashback: Quiet Dixon makes noise
•
2007 Flashback: Franchitti comes up big
•
2006 Flashback: Hornish gets his "Holy Grail"
Indy 500 Video
•
Dario Franchitti wins Indianapolis 500
•
Franchitti storms Indianapolis
•
Dario Franchitti back in Victory Lane
•
Close but no milk for Helio and Kanaan
•
Four for Helio Castroneves?
•
No easy blueprint for winning
•
The women of Indy
•
The sweet life of Danica
•
Castroneves: Life in reflection
•
Patrick and Wheldon change tires
•
Penske on track with Helio, Briscoe
•
Danica's focused after rough start
•
Franchitti and the Indy 500
•
Wild qualifying delivered the drama
•
Castroneves wins Indy 500 Pole
•
Power ready for the Indy 500