Commentary
IndyCar sizzles; NASCAR fizzles
Updated:
June 4, 2010, 6:40 PM ET
By
Terry Blount
| ESPN.com
FORT WORTH, Texas -- Helio Castroneves is fourth in the IndyCar Series standings, but he could move up to first at the end of the Firestone 550 on Saturday night at Texas Motor Speedway.
If things continue the way they have so far this year, IndyCar will have a close fight for the title down to the final race for the fifth consecutive year.
Why is it the IndyCar Series doesn't need a Chase to keep its season championship battle interesting, yet Sprint Cup can't manufacture a close title fight even with a playoff?
Is it the points system? Is it better competition among the contenders? Is it just luck? Maybe it's a combination of all those things for the open-wheel guys.
[+] Enlarge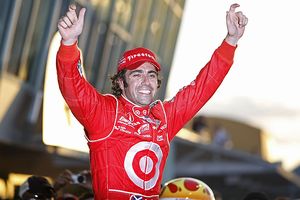 AP Photo/J Pat Carter Dario Franchitti won his second IndyCar Series title last season, and did it with aplomb, clinching the crown with a win at Homestead-Miami Speedway.
Six races into the 17-race IndyCar Series season, four drivers -- Will Power, Dario Franchitti, Scott Dixon and Castroneves -- are within 28 points of one another at the top in the standings.
No one would be surprised if it stayed that way until the end. The championship hasn't just come down to the last race in recent seasons; more than once it's come down to the last lap of the last race.
Three drivers were within eight points of each other going to the season finale at Homestead-Miami Speedway last year before Franchitti won the race and claimed the crown by 11 points over his teammate Dixon. Ryan Briscoe finished one point behind Dixon.
The 2008 championship went to Dixon by 17 points over Castroneves, who won the last race. But Dixon finished second to secure the title.
Franchitti's first championship was 2007, when he won the season finale to claim the title by only seven points over Dixon, who was leading the race and would have won the title but ran out of fuel on the last lap.
That's the ultimate -- winning the title by winning the last race. What NASCAR wouldn't give for that scenario.
The 2006 IndyCar points total ended in a dead heat between Sam Hornish Jr. and Dan Wheldon, who won the final race to catch Hornish. But Hornish, who finished third in the last race, won the title by winning more races that year -- four to two.
"The stars have aligned for us,'' said Steve Shunck, vice president of public relations for the IRL. "But we've also had a super-competitive series over the years to allow the championship to come down to the very end."
IndyCar is dominated these days by only two teams -- Target Ganassi Racing and Team Penske. But those five drivers are close to equal footing in skills and equipment, increasing the possibility of a championship going down to the wire.
"That's the difference," TMS president Eddie Gossage said. "You have two teams with four guys going for it each race. Those two teams are so much stronger that everyone else. Basically, they are racing for first through fourth each race, so they don't separate from each other."
Gossage said there's less chance of the IndyCar contenders having a bad finish than there is in NASCAR.
He pointed out that Honda hasn't had an engine failure in the Indy 500 for five consecutive years, partly because Honda doesn't have another manufacturer forcing it to race the motors on the ragged edge.
[+] Enlarge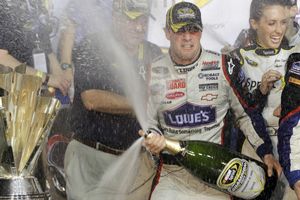 AP Photo/Terry RennaJimmie Johnson has won four straight Sprint Cup titles, and in most of those seasons it wasn't that close down the stretch.
In three of the four years, less than one position's worth of points between first and second decided the IndyCar title. The only time that happened in Cup during the Chase years was 2004 (the first year of the 10-race playoff) when Kurt Busch won by eight points over Jimmie Johnson and 16 over Jeff Gordon.
IndyCar had three different champs is the last four years. Cup had one -- Johnson. Maybe that's the answer -- the Johnson effect of the No. 48 Chevy team dominating the Chase.
Shunck also thinks it helps keep things close having only 17 IndyCar races compared to 36 in Cup -- 26 regular-season events and 10 Chase races.
"I think our guys really have to focus on each lap of each race," Shunck said. "It keeps the drivers on their toes and keeps them fresh. Every race is so important."
Despite evidence to the contrary, Gossage believes the IndyCar Series would benefit from having a playoff.
"I still would like to see IndyCar Series have a Chase," Gossage said. "I'm a big fan of the Chase because it brings more attention to more teams in the fall. Maybe you'd only have eight drivers in IndyCar, but more guys would have a chance.
"But the Chase may need some tweaking in Cup, and I wouldn't be surprised to see that coming."
Terry Blount is a senior writer for ESPN.com. He is the author of "The Blount Report: NASCAR's Most Overrated and Underrated Drivers, Cars, Teams, and Tracks." He can be reached at terry@blountspeak.com.
ESPN Seattle Seahawks reporter
Covered the NFL at the Houston Post and Houston Chronicle, including eight Super Bowls
Received Citation for Writing Excellence from Hearst Newspapers
Also has covered NBA Finals, World Series, Finals Fours, Indy 500 and Daytona 500
94TH INDIANAPOLIS 500-MILE RACE

Another Month of May on the track has come and gone, and the venerable Indianapolis Motor Speedway roared to life again. This was the second year of Indy's Centennial Era, with Dario Franchitti winning the 94th running of the Indianapolis 500.
Indianapolis Motor Speedway timeline

Indy 500 Raceday
•
Blount: Franchitti proves he's truly back home
•
Hinton: Ganassi deflects credit ... again
•
Oreovicz: Pole promise fizzles for Penske
•
Oreovicz: Danica pulls off solid finish
•
Recap: Dario dominates
|
500 results
•
Andretti moves up to third on review
•
Conway to hospital after violent crash
•
IndyCar Live! Indy 500 rewind on ESPN.com
Columns
•
Blount: An anticlimactic Indy 500?
•
Hinton: It's still the greatest race
•
Blount: Helio's drive for four ... and more
•
Newton: Hornish respected? Yes and no
•
Oreovicz: Ganassi cars lead Carb Day
•
Blount: Historic run for Kanaan?
•
Hinton: New IRL CEO Bernard has titanic task
•
Blount: Danica's time running out?
•
Oreovicz: Breaking down the 500 field
•
Blount: Indy-Coke double twice the fun
•
Oreovicz: Indy not curing Danica's ills
•
Oreovicz: Drama returns to Bump Day
•
Helio dominates on revived Pole Day
•
Oreovicz: Bracing for some Pole Day drama
•
McGee: Meira an Indy car cult hero
•
Oreovicz: Indy 500 field not set in stone
•
Oreovicz: The Indy 500, from A to Z
More IndyCar Live! coverage
•
IndyCar Live! Bump Day rewind on ESPN.com
•
IndyCar Live! Pole Day rewind on ESPN.com
Blogs
•
Blount: "Push-to-pass" may be key at Indy
•
Oreovicz: $5 practice best bargain in town
Practice and qualifying
•
94th Indianapolis 500 starting grid
•
Danica: Not enough time for needed car fixes
•
Kanaan's advice to Danica? Get happy
•
Kanaan rebounds from crash to make 500
•
Saavedra still in Indy 500 field despite crash
•
Helio tops field; Danica 23rd of 24
•
Fans react sourly to Danica comments
•
Kanaan, Moraes OK after crashes
•
Power hits 228 in morning practice »
•
Power, Tagliani top Friday speed charts
•
Kanaan peels off top time Thursday
•
Dixon hits 226 in Tuesday practice
•
Castroneves sets pace on first day
•
Wheldon OK after Sunday crash
More coverage
•
Danica's Double 2010: Gearing up for Indy
•
2009 Flashback: Castroneves wins again
•
2008 Flashback: Quiet Dixon makes noise
•
2007 Flashback: Franchitti comes up big
•
2006 Flashback: Hornish gets his "Holy Grail"
Indy 500 Video
•
Dario Franchitti wins Indianapolis 500
•
Franchitti storms Indianapolis
•
Dario Franchitti back in Victory Lane
•
Close but no milk for Helio and Kanaan
•
Four for Helio Castroneves?
•
No easy blueprint for winning
•
The women of Indy
•
The sweet life of Danica
•
Castroneves: Life in reflection
•
Patrick and Wheldon change tires
•
Penske on track with Helio, Briscoe
•
Danica's focused after rough start
•
Franchitti and the Indy 500
•
Wild qualifying delivered the drama
•
Castroneves wins Indy 500 Pole
•
Power ready for the Indy 500