Commentary
Hope soars when balloons rise
Updated:
May 30, 2010, 1:12 PM ET
By
Ed Hinton
| ESPN.com
INDIANAPOLIS -- Back home again in Indiana …
At this hour, this near the 94th start of the most renowned and resilient motor race mankind has ever devised -- yet come so close, so often, to destroying -- there is but one song to say it all.
And it seems that I can see …
The Indianapolis 500 has survived two world wars and the Great Depression, and now it is emerging from the rubble of the reign of Tony George.
Twenty strife-torn years are over, and now there is a renewed sense of urgency, of beginning again, to The 500-Mile Race -- its real name, these many years.
Sunday's showdown between the armada teams of Roger Penske and Chip Ganassi is but the drama du jour. The two outstanding quests, by Team Penske's Helio Castroneves for a fourth 500 win, and by Ganassi to become the first owner to win both the Daytona 500 and the Indy 500 in the same year, are but a prelude to a bright foreseeable future for this race that was first run 99 years ago.
The gleaming candlelight, still burning bright …
This 94th running -- it would have been the 100th, if not for six years' dormancy during the world wars -- and next year's 95th should be the last for Indy cars as we have known them.
Already there is an electrifying undercurrent of anticipation of cars, well into the design and modeling stages, that could make the Indy 500 the most innovative sports event in the world again, beginning in 2012.
Soon, the race could show the way for worldwide resolutions to the manifold crises of energy, pollution, climate change and the soaring costs of everything.
Through the sycamores for me …
The goals, already at the threshold of achievement, are "to halve the power of the cars, halve the weight, halve the drag, halve the cost, halve the fuel burn, and still go 230 miles an hour," says Ganassi engineer Ben Bowlby, chief designer of the astounding -- traditionalists say outlandish -- DeltaWing car, just one of five new designs being considered.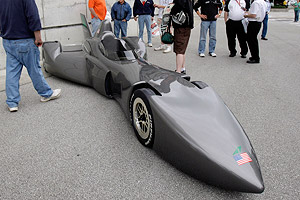 AP Photo/Darron CummingsIs the DeltaWing the future of IndyCar Series racing? It or something else similarly revolutionary may well be.
Ganassi, who threw away the rulebook and commissioned Bowlby to start over completely, sees the strategic goal at Indy henceforth as "showing the public and the government that racing is about innovation."
This would be a return to the future of what made Indy great, and relevant, in the first place: the innovations of the Indy geniuses of yore, Harry Miller, Frank Lockhart, the Brothers Duesenberg …
This is, says Bowlby, "a major opportunity for a rebirth."
So take your last looks at the fast-fading "spec formula" -- cars mandated in the George era to be exactly the same chassis, with the same engines, so that the only discernible differences in this year's field are "33 different paint jobs," as three-time Indy winner Bobby Unser cracked the other day.
The new-mown hay sends all its fragrance …
"The women who have gotten into the sport … I think it's very important," says Roger Penske. "The demographics, the diversity, let's call it, is terrific."
The four women in the field, though none seems likely to win this time, comprise a substantive step into a future more diverse than rival NASCAR can yet envision.
Danica Patrick will make the most difficult of her six starts here, 23rd. Just as promising for Indy's future -- perhaps even more -- are rookies Ana Beatriz and Simona de Silvestro, both of whom out-qualified Patrick, at 21st and 22nd, respectively.
[+] Enlarge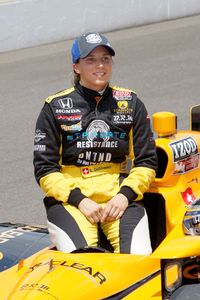 Khris Hale/Icon SMIThere isn't just one woman in this year's Indy 500, there are four, including Simona de Silvestro, who will start 22nd.
There's even a journeyman -- if you can call a woman a journeyman -- driver among the females, Sarah Fisher, who'll start 29th. And there was even a woman who missed the field, a victim of a dramatically revitalized Bump Day, Milka Duno.
From the fields I used to roam …
To have been here when Janet Guthrie came here, to have witnessed her struggle -- there wasn't even a women's shower when she was soaked with methanol fuel in a pit accident -- and to have heard the muttered jokes of the male drivers of the time … and then Lyn St. James and her toiling for funding and adequate equipment, never flinching, always smiling …
And now to see that the acceptance is so thorough, the funding so good, that Danica can rightfully complain about a bad setup -- but only a bad setup …
Is to know that the vast female audiences of the nation and the world will find fulfillment far sooner here than in NASCAR, for here, all that remains is for a woman to win the pole and then a woman to win this race … and that is now inevitable.
When I dream about the moonlight on the Wabash …
In so many ways now, the best known and most tradition-steeped motor race in the world is also the newest, the most promising, the most inclusive.
On a track whose basic configuration stands unchanged from when it was built 101 years ago, for cars that ran 70 mph, we have long considered 225 mph mundane.
From a place where founder Carl J. Fisher envisioned a seven-hour race -- 70 mph times seven hours equaled 490 miles, rounded off to 500 -- in 1911, so folks could be home for supper …
Either Roger Penske or Chip Ganassi can win this race, then flash away to Charlotte on his private jet to see if his NASCAR team can win the Coca-Cola 600 and complete the first sweep of the nation's two major races of Sunday afternoon and evening.
Through squared old corners where NASCAR cars have come to slip and slide and plod since 1994, there is still nothing as electrifying as the sight of an Indy car streaking, flashing, so incomprehensibly to the naked eye that it seems to jump in fits and starts across your field of vision.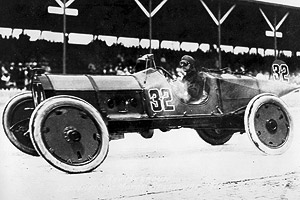 AP PhotoRay Harroun won the first Indy 500 in 1911 in the Marmon Wasp, one of the most heralded automobiles of its time.
No, they're not as graceful as the magnificent, ultra-fast CART cars of the early 1990s before the split. But Indy survived the "junk formula" of the hardscrabble 1930s, and now it stands to survive the "spec formula" of the Tony George era.
And eventually, maybe soon, right in the same spot where a Chicago engineer named Ray Harroun took the checkered flag in 1911 in a then-sleek-seeming Marmon Wasp, a woman may take the checkered flag in a car that looks more like a fighter jet.
Where Danica Patrick stomps her feet in disgust is the same hallowed ground where A.J. Foyt stomped his feet … and Gaston Chevrolet his …
Indy goes on. No matter what it must endure, and has endured, it is still the Indianapolis 500.
And still, no matter what, there is no moment quite like the one when the balloons go up …
Then I long for my Indiana home.
Ed Hinton is a senior writer for ESPN.com. He can be reached at edward.t.hinton@espn.com.
94TH INDIANAPOLIS 500-MILE RACE

Another Month of May on the track has come and gone, and the venerable Indianapolis Motor Speedway roared to life again. This was the second year of Indy's Centennial Era, with Dario Franchitti winning the 94th running of the Indianapolis 500.
Indianapolis Motor Speedway timeline

Indy 500 Raceday
•
Blount: Franchitti proves he's truly back home
•
Hinton: Ganassi deflects credit ... again
•
Oreovicz: Pole promise fizzles for Penske
•
Oreovicz: Danica pulls off solid finish
•
Recap: Dario dominates
|
500 results
•
Andretti moves up to third on review
•
Conway to hospital after violent crash
•
IndyCar Live! Indy 500 rewind on ESPN.com
Columns
•
Blount: An anticlimactic Indy 500?
•
Hinton: It's still the greatest race
•
Blount: Helio's drive for four ... and more
•
Newton: Hornish respected? Yes and no
•
Oreovicz: Ganassi cars lead Carb Day
•
Blount: Historic run for Kanaan?
•
Hinton: New IRL CEO Bernard has titanic task
•
Blount: Danica's time running out?
•
Oreovicz: Breaking down the 500 field
•
Blount: Indy-Coke double twice the fun
•
Oreovicz: Indy not curing Danica's ills
•
Oreovicz: Drama returns to Bump Day
•
Helio dominates on revived Pole Day
•
Oreovicz: Bracing for some Pole Day drama
•
McGee: Meira an Indy car cult hero
•
Oreovicz: Indy 500 field not set in stone
•
Oreovicz: The Indy 500, from A to Z
More IndyCar Live! coverage
•
IndyCar Live! Bump Day rewind on ESPN.com
•
IndyCar Live! Pole Day rewind on ESPN.com
Blogs
•
Blount: "Push-to-pass" may be key at Indy
•
Oreovicz: $5 practice best bargain in town
Practice and qualifying
•
94th Indianapolis 500 starting grid
•
Danica: Not enough time for needed car fixes
•
Kanaan's advice to Danica? Get happy
•
Kanaan rebounds from crash to make 500
•
Saavedra still in Indy 500 field despite crash
•
Helio tops field; Danica 23rd of 24
•
Fans react sourly to Danica comments
•
Kanaan, Moraes OK after crashes
•
Power hits 228 in morning practice »
•
Power, Tagliani top Friday speed charts
•
Kanaan peels off top time Thursday
•
Dixon hits 226 in Tuesday practice
•
Castroneves sets pace on first day
•
Wheldon OK after Sunday crash
More coverage
•
Danica's Double 2010: Gearing up for Indy
•
2009 Flashback: Castroneves wins again
•
2008 Flashback: Quiet Dixon makes noise
•
2007 Flashback: Franchitti comes up big
•
2006 Flashback: Hornish gets his "Holy Grail"
Indy 500 Video
•
Dario Franchitti wins Indianapolis 500
•
Franchitti storms Indianapolis
•
Dario Franchitti back in Victory Lane
•
Close but no milk for Helio and Kanaan
•
Four for Helio Castroneves?
•
No easy blueprint for winning
•
The women of Indy
•
The sweet life of Danica
•
Castroneves: Life in reflection
•
Patrick and Wheldon change tires
•
Penske on track with Helio, Briscoe
•
Danica's focused after rough start
•
Franchitti and the Indy 500
•
Wild qualifying delivered the drama
•
Castroneves wins Indy 500 Pole
•
Power ready for the Indy 500
MOST SENT STORIES ON ESPN.COM