Commentary
Turbocharged engines will be rare no-show at Kansas Speedway
What did Champ Car have that IndyCar didn't? Turbocharged engines, and they will be missed, writes John Oreovicz.
Updated:
April 26, 2008, 6:53 PM ET
By
John Oreovicz
| Special to ESPN.com
KANSAS CITY, Kan. -- It's ironic that this weekend's IndyCar Series race at Kansas Speedway has been branded the Road Runner Turbo Indy 300, because for the first time since the late 1960s, Indy-style open- wheel racing won't include turbocharged engines.The formula most recently known as Champ Car can loosely be traced to 1909, but Indy-style racing cars evolved into their basic modern format during the 1960s and '70s. On the heels of Indy's rear-engine revolution of the mid-1960s, many teams began turbocharging their Offenhauser and Ford engines, and
Lloyd Ruby
's victory in the 1967 season opener at Phoenix International Raceway was the first modern-era win for a turbo-boosted car.
[+] Enlarge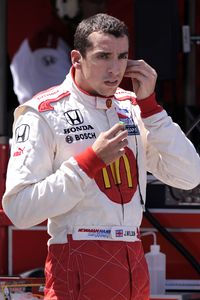 AP Photo/Mark J. TerrillJustin Wilson on how much he'll miss the turbo engine: "It's very nice, and it's very fun to drive."
The turbo Offy remained the engine of choice in USAC racing until 1976, when the Vel's-
Parnelli Jones
team took a 3.0-liter Cosworth DFV F1 engine, destroked it to 2.65 liters and added a turbocharger. The resulting powerplant (called the Cosworth DFX) changed the face -- and the soundtrack -- of Indy car racing.
From 1971 until last week's Long Beach Grand Prix, a turbocharged engine won every Champ Car race, except for Mike Mosely's triumph at Milwaukee in 1981 in an Eagle powered by a stock-block Chevrolet. The turbo engine package was a common denominator through USAC, CART and Champ Car sanction, and it was even used for the Indy Racing League's first year of competition in 1996 before the IRL mandated normally aspirated engines based on production car blocks.This much larger and heavier engine required a different chassis that had little or no resemblance to the cars that raced at Indianapolis prior to the CART/IRL split. At the Long Beach Grand Prix, there was a display in the public expo that lined up a series of March, Lola, Eagle and Reynard Champ Cars from the early '80s to the present, and it was easy to see a family resemblance among all of them. Had an IndyCar Dallara been parked alongside, it would have looked large and ungainly in comparison, with no common styling cues.The turbo formula had its problems over the years -- it was difficult for whatever sanctioning body was in charge to monitor and police boost limits, whether the year was 1979 or 2001. But it also offered a number of significant advantages, including the ability to quickly limit horsepower when circumstances dictated. There is also the small matter of overall noise levels; a turbocharger acts as a natural muffler, making for a much quieter exhaust note.
From the first time it hit the track in the '70s, the Cosworth set the tone for the future. As a kid attending my first car races, I remember being struck by the sounds of the different engines -- the gruff roar of the Foyt-Fords, the lazy, asthmatic wheeze of the ancient turbo Offys, the low rumble of the stock-blocks.Then there was the Cosworth -- higher pitched and with smoother harmonics. Though the Cosworth cars were faster, they were also quieter, with the turbocharger adding a distinctive whistle to the overall sound. It was an engine that sounded eager and even futuristic. Even now, 30 years later, the sound of a modern-day turbo Cosworth XFE engine is music to my ears.At Long Beach, several drivers transitioning to the IndyCar Series remarked that the turbo power is the main thing they miss from Champ Car. The IRL Honda engine is tuned to produce about 650 horsepower, whereas Champ Car's Cosworth kicked out 750 horsepower -- with another 50 to 100 available in short bursts using the Power-To-Pass function."It's a kick in the butt -- it's really a lot of power," observed
Oriol Servia
of KV Racing Technology. "It [the Champ Car Panoz DP01- Cosworth] is a great car. It's just a newer machine. It was designed later and differently, and actually I don't think it's fair to compare it with the IndyCar like we are asked all the time because it's just different rules. The Champ Car has a lot more downforce, it's lighter and has more power, so it's just a better performing and faster car."
Justin Wilson
of Newman/Haas/Lanigan Racing said the transition back to the Champ Car at Long Beach after two IRL races was more difficult than adapting to the IndyCar earlier this year."There's a few things that took a bit of getting used to," said the Newman/Haas/Lanigan Racing pilot. "One was adjusting to the power and the turbo lag, and then the downforce built in the car. It was easy to go from the Champ Car to the IndyCar, but now switching back, it took a few more laps than I expected."The biggest thing we'll miss is the turbo," Wilson added. "It's very nice, and it's very fun to drive. It's something you have to learn to manage on the car. It's a shame some of the business side of Champ Car didn't work as well as the actual racing product."CART considered adopting a normally aspirated engine with some common specifications to the IRL's formula in the late '90s and again in 2001, but their inability to make a decision eventually drove Toyota and Honda to the IndyCar Series."You change those things at your peril," said Andrew Craig, who was CART's CEO from 1993 to 2000. "That was a very popular engine formula, and you get a whole new level of engineering and dramatically increase costs when you make big changes."When CART's financial situation became dire in 2003, they were forced to seek Cosworth's help in developing the XFE turbo as Champ Car's spec powerplant.It turned out to be a happy compromise. The XFE was made available to teams for $1 million per season, less than half of what lease rates were when there was open competition between CART's four engine manufacturers. It also proved reliable and durable and gave Champ Car the option of varying the amount of Power-To-Pass available.Champ Car's Cosworth XFE program was the basic blueprint that Honda Performance Development successfully utilized to increase engine longevity and reduce engine costs when it took on the role of the IndyCar Series' sole engine supplier in 2006.IRL founder Tony George has indicated that within a couple of years, the IndyCar Series could look a lot like CART did in its peak years. According to George, that may include a return to a turbocharged engine formula in 2010 or 2011.The IRL has now officially won the open-wheel war, and while almost everyone involved in American open-wheel racing knows that will benefit the sport in the long run, there is an underlying belief that the wrong race cars prevailed.Or at least the wrong engines.
John Oreovicz covers open-wheel racing for National Speed Sport News and ESPN.com.
Autos, Open-Wheel
Motorsports Writer for ESPN.com
Covered Indy car racing for 20 years
Work published in 12 countries
SPONSORED HEADLINES
MORE RACING HEADLINES
MOST SENT STORIES ON ESPN.COM