Commentary
Bell leads qualifying; Roth on bubble for what may be anticlimactic Bump Day
Townsend Bell nipped Graham Rahal on Saturday for 12th on the Indy 500 grid, but a rash of crashes in the past two days may mean little drama for Sunday's Bump Day, writes John Oreovicz.
Updated:
May 17, 2008, 9:37 PM ET
By
John Oreovicz
| Special to ESPN.com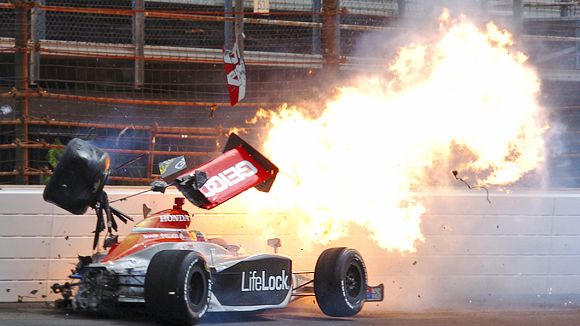 AP Photo/Bill StalionsMax Papis found the SAFER Barrier at Indianapolis Motor Speedway on Saturday, but he and his car will be back on track trying to make the Indy 500 field Sunday.
INDIANAPOLIS -- Led by Townsend Bell and Graham Rahal, the remainder of the 33-car field for the 92nd running of the Indianapolis 500 (May 25, noon ET, ABC) was filled Saturday.
Just 0.08 mph (or 0.006 of a second) separated the two Americans after their four-lap, 10-mile qualification runs, with Bell taking 12th place on the grid for his efforts.
Rahal ran the fastest individual qualifying lap of the day (223.440 mph) on his first tour of the 2.5-mile oval. But understeer in Turn 2 dropped his other three laps into the 222.2 mph bracket, allowing Bell's more consistent 222.539 mph average to prevail.
"I didn't realize it was that close to Graham and we just nipped him," said Bell, who is running a seven-race program for Dreyer & Reinbold Racing. "He had a big first lap then slowed down a lot. We had a decent first lap then slowed down a little.
"I'm just really pleased to have a strong run today."
Gusty winds from the west played havoc with Rahal's early afternoon run and contributed to the biggest story of the day: the five accidents that took place. The most serious involved Phil Giebler, who suffered bruised lungs after backing his American Dream Racing Panoz/Honda into the Turn 1 wall at 4:20 p.m.; he will remain overnight at Indianapolis Methodist Hospital.
Rahal "white-walled" the IMS SAFER Barriers on Friday afternoon hard enough to crack the block of his Honda engine. That required Newman/Haas/Lanigan Racing to drive parts down from the team's suburban Chicago base, which kept Rahal's crew at the track until well after midnight.
"It's been quite a week and it really does feel nice to get [qualifying] out of the way," said the 19-year-old son of 1986 Indy winner Bobby Rahal. "We're pretty happy just getting in.
"I think I've gained a lot of respect for this circuit than I had before. You never really realize how hard it is here. Everyone always talks about how every corner is different, and I tell you what: it really is."
In spite of the rash of accidents, drama was conspicuously lacking at the Speedway on Saturday afternoon. Jeff Simmons became the 32nd qualifier for the race at 2:15 p.m., but there were no qualification attempts until 5:40 p.m., when Marty Roth posted the bubble speed of 215.506 mph, 2.4 mph slower than next-slowest qualifier, Buddy Lazier.
With little chance of rain forecast for Sunday, Roth's 215 mph average could be an easy target. But the crash-related attrition from the past two days has decimated the number of potential remaining qualifiers, and Sunday could be an even slower day at the track.
Thirty of the 33 drivers averaged more than 219 mph for their qualifying speed.
[+] Enlarge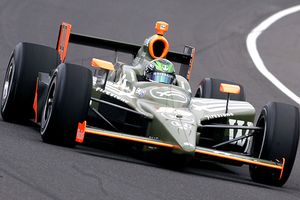 AP Photo/Tom StrattmanTownsend Bell proved to be the class of the third-day qualifiers Saturday, securing the 12th spot on the Indy 500 grid.
Of the nonqualifiers, Rubicon Racing is scrambling to reassemble Max Papis' car, Mario Dominguez kept Pacific Coast Motorsports busy with his second wall contact of the week and A.J. Foyt IV wasted an opportunity when he brushed the wall in his Vision Racing entry during an early qualifying attempt, then waved off a late one when he experienced gearbox trouble.
Giebler and the American Dream team have been all but ruled out, though the team was scrambling Saturday evening to piece together a car with Jaques Lazier rumored to be the driver in Giebler's place. Hideki Mutoh crashed the Andretti Green Racing machine he qualified in last week.
"You should probably have asked me what isn't damaged on the car," responded Rubicon Racing's Jim Freudenberg. "The only thing that didn't take a hit is the tub. But we'll work until it's done tonight and we'll be back on track tomorrow."
Rubicon received assistance from Dallara and Vision Racing to secure the parts to rebuild Papis' machine.
"That's the good thing that comes from the bad part of racing," Freudenberg said. "Even people you are trying to beat want to give you a fair shot. That doesn't happen in many places and it's a positive thing about this sport. We'd do the same thing for other teams if they were in this position."
John Oreovicz covers open-wheel racing for National Speed Sport News and ESPN.com.
Autos, Open-Wheel
Motorsports Writer for ESPN.com
Covered Indy car racing for 20 years
Work published in 12 countries
SPONSORED HEADLINES
MORE RACING HEADLINES
MOST SENT STORIES ON ESPN.COM
92ND INDIANAPOLIS 500
More Coverage
•
Blount: The Indy 500 is back
•
Oreovicz: Quiet Dixon makes noise with 500 win
•
Schwarb: Danica's Indy luck turns sour
•
500 notebook: Rookie Rahal the first driver out
•
Indy 500 recap: Dixon wins big
•
Fan dies of apparent carbon monoxide poisoning
•
Blount: Danica's best chance yet
•
Oreovicz: These four most likely to score
•
Blount: The future is looking bright
•
Schwarb: Rain puts a damper on Carb Day
•
Insider Podcast: Helio Castroneves


•
The Mag: Having a front-row breakfast in NYC
•
The Mag: Getting to ride with Sarah Fisher
•
The Mag: Helio's primed to go
•
May 22 notes: Sherman giving it a shot
•
Insider Podcast: Danica on Tirico & Van Pelt


•
Oreovicz: The Indy grid? Call it a pyramid
•
Schwarb: IRL in NYC
•
Oreovicz: Final half-hour rescues Bump Day
•
May 18 notes: High and low for Foyt IV
•
Oreovicz: Field filled, but wrecks take a toll
•
May 17 notes: Saturday hard on bubble teams
•
Schwarb: Tense final days to qualify await
•
May 16 notes: Three rookies find the wall
•
Oreovicz: Productive practice at Indy
•
Oreovicz: The best of the rest
•
May 14 notes: Mother Nature lends a hand
•
Schwarb: High expectations for Briscoe
•
Oreovicz: Little drama so far, but more on way
•
May 11 notes: Track time now at a premium
•
Oreovicz: Dixon leads Ganassi run on Pole Day
•
Blount: More Andretti misery on Pole Day
•
May 10 notes: Danica's pole stay a short one
•
Dixon bumps teammate Wheldon off pole
•
Blount: Milestone Pole Day at Indy
•
Oreovicz: The Lost Years
•
May 9 notes: Watch out for the big three
•
Schwarb: Another washout at Indy
•
May 7 notes: Practice all wet
•
Oreovicz: Experience still shines through
•
May 6 notes: Andretti tops first full practice
•
Schwarb: Rookies off to hot start
•
Oreovicz: More money, more cars and more buzz
•
Oreovicz: What we've learned so far
Blogs
•
Oreovicz: Mears nearly took game to F1
•
Blount: Media Daze
•
Blount: Newman, George shake on it
•
Oreovicz: Traffic at Indy a good thing
Chats
•
May 25: Scott Dixon
•
May 25: Indianapolis 500 in-race
•
May 23: John Oreovicz
•
May 19: John Oreovicz
•
May 18: Final qualifier Biuddy Lazier
•
May 18: Bump Day
•
May 12: John Oreovicz
•
May 10: Pole-winner Scott Dixon
•
May 8: John Oreovicz