Commentary
With Dixon and Wheldon hitting the books, Target/Chip Ganassi gets an 'A'
It's report-card time in the IndyCar Series. Who's at the head of the class? That's a no-brainer. Professor John Oreovicz writes the boys at Target/Chip Ganassi have been doing their homework and are passing with flying colors.
Updated:
June 25, 2008, 2:19 PM ET
By
John Oreovicz
| Special to ESPN.com
It's a bit of a challenge to figure out just how many races are on this year's IndyCar Series schedule.
[+] Enlarge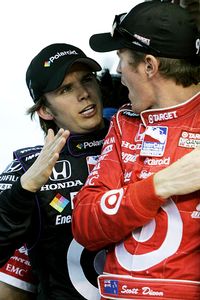 AP Photo/Matt SlocumDan Wheldon, left, and Scott Dixon have been quick studies in 2008, ringing up a combined five wins in eight starts.
2008 started with a 16-race IndyCar slate, but the demise of the Champ Car World Series and its subsequent integration into the IndyCar Series resulted in the Champ Car Grand Prix of Long Beach counting as a points race in the IndyCar Series championship. That makes 17.Event No. 18 is another former Champ Car venue -- the Grand Prix of Edmonton. However, that one will be run using IndyCar Series spec equipment.A 19th race will be run in October in Surfers Paradise, Australia, a month after the published IndyCar Series championship finale at Chicagoland Speedway. Specific information about the format for that event, which is likely to have nonchampionship status, has not been revealed, though it is being heavily promoted in Australia.The short message after that long-winded buildup is that the Iowa Corn 250 was the ninth race out of 18 or 19 IndyCar races this year. And no matter how many end up counting toward the championship, we're pretty darn close to the midpoint of the season. So let's review the good and bad things that have happened so far in 2008 and assign some midterm grades on a team-by-team basis:Target/Chip Ganassi Racing
Highlights:
Five wins, which could have been seven had luck been on
Scott Dixon
's side at Motegi and Kansas; Dixon has a comfortable 48-point championship lead.
Lowlights:
St. Petersburg was Dixon's worst road race in three years;
Dan Wheldon
had a couple of unlucky accidents. (But he still has two wins and ranks a close third in the standings.)
Comment:
The team to beat on the ovals, but five of the next eight races are on road or street courses.
Grade:
A

Castroneves
Team Penske
Highlights:
Ryan Briscoe
drove a great race to take his first IndyCar Series win at Milwaukee;
Helio Castroneves
has eight top-5s and ranks second in the standings.
Lowlights:
HCN hasn't put together a win; Briscoe crashed in pit lane with
Danica Patrick
in the Indianapolis 500.
Comment:
Don't count them out in the second half of the season. Castroneves is within striking distance of Dixon, and Briscoe has been a different man since winning at Milwaukee.
Grade:
B+
Andretti Green Racing
Highlights:
Danica's historic win in Japan;
Marco Andretti
's improved oval form; rookie
Hideki Mutoh
's solid performance, culminating in a second-place finish at Iowa.
Lowlight:
What about
Tony Kanaan
? No wins and 100 points behind Dixon.
Comment:
Experiencing the challenging side of maintaining harmony among four front-running drivers.
Grade:
B-

Power
KV Racing Technology
Highlights:
Will Power
's win at Long Beach Champ Car finale;
Oriol Servia
's dogged drive at Milwaukee.
Lowlight:
Still struggling for speed on fast speedways.
Comment:
Strong driver lineup has helped this team match Champ Car benchmark Newman/Haas/Lanigan in the transition to IndyCar.
Grade:
B-
Rahal Letterman Racing
Highlight:
Ryan Hunter-Reay
has been stronger than his results (topped by three top-seven finishes) show.
Lowlight:
Hunter-Reay getting crashed out of a sure top-three finish at Texas by Marco Andretti with just a couple of laps to go.
Comment:
Solid team with a marketable American driver could benefit from running a second car.
Grade:
B-Panther Racing
Highlight:
Vitor Meira
's three-wide pass for the lead in the Indianapolis 500 and subsequent second-place finish.
Lowlight:
Two crashes at Milwaukee just a week later.
Comment:
Race wins are so close, yet so far away.
Grade:
C+

Foyt
Vision Racing
Highlights:
Three top-six finishes for
Ed Carpenter
, including a fifth at Indianapolis;
A.J. Foyt IV
's solid fifth-place run at Iowa.
Lowlight:
Team manager Larry Curry was dismissed for violating the team's code of conduct (aka cheating).
Comment:
Tony George's team hasn't lost ground this year despite the influx of new entries.
Grade:
C+
Newman/Haas/Lanigan Racing
Highlight:
Nineteen-year old
Graham Rahal
's maturity under pressure to take a remarkable victory at St. Petersburg -- the only victory for a team not in the IndyCar Series' big three.
Lowlight:
Teammate
Justin Wilson
's lost opportunities at St. Petersburg and Long Beach, where he suffered a rare engine failure.
Comment:
Catching up to the IndyCar Series regulars as fast as any of the so-called transition teams.
Grade:
C
HVM Racing
Highlight:
Ran three cars at Long Beach;
E.J. Viso
finished fourth at St. Petersburg.
Lowlight:
Viso was dissed by Danica ("Whatever his name is …") over blocking tactics.
Comment:
Viso can gas it and is picking up ovals quickly.
Grade:
C

Manning
A.J. Foyt Racing
Highlights:
A.J. Foyt
named the top racing driver in ESPN.com survey; top-10s for
Darren Manning
at Motegi and Indianapolis.
Lowlight:
Three DNFs in the past five races.
Comment:
Good people in need of a good result.
Grade:
C-Dreyer & Reinbold Racing
Highlights:
Milka Duno
did a nice job to finish the Indianapolis 500;
Townsend Bell
's matte-green paint scheme for Indy and Milwaukee.
Lowlight:
Duno had already been lapped twice when she was pulled off the track 26 laps into the Iowa race.
Comment:
Bell deserves a full-time opportunity. A pair of eighths for
Buddy Rice
are D&R's best results.
Grade:
C-
Conquest Racing
Highlight:
Two cars in the top six at Long Beach in the Champ Car finale.
Lowlight:
Promising rookie
Franck Perera
was benched after three races; replacement
Jaime Camara
hasn't yet completed a full race.
Comment:
Could have been a breakout season for the team had Champ Car survived. Crashes haven't helped the transition into the IndyCar Series.
Grade:
C-

Andretti
Roth Racing
Highlight:
Some surprisingly quick qualifying runs;
John Andretti
raced competitively in the top 10 at Iowa.
Lowlight:
The way former Indy Lights champion
Jay Howard
was pushed aside.
Comment:
Maybe
Marty Roth
should take a couple of races off and see how Howard and Andretti work as teammates.
Grade:
C-
Pacific Coast Motorsports
Highlight:
Mario Dominguez
's third-place finish at Long Beach.
Lowlight:
Super Mario failed to make the field at Indy, severely impacting the team's budget model.
Comment:
Great team spirit, but having a tough time in IndyCar.
Grade:
DDale Coyne Racing
Highlights:
Made transition to IndyCar as two-car team with sponsor Z- Line and experienced driver
Bruno Junqueira
; rookie
Mario Moraes
has run better than expected.
Lowlights:
Way too many mechanical failures and DNFs and no finish better than P15.
Comment:
Suffered more than most transition teams from the demise of Champ Car.
Grade:
D
John Oreovicz covers open-wheel racing for National Speed Sport News and ESPN.com.
Autos, Open-Wheel
Motorsports Writer for ESPN.com
Covered Indy car racing for 20 years
Work published in 12 countries
MOST SENT STORIES ON ESPN.COM