Commentary
Toe-tappin' Castroneves long overdue for his first race win of 2008
Helio Castroneves might have a mirror ball in his trophy case for the dance title he won, but he doesn't have a 2008 race win in the IndyCar Series. That could change on Sunday when Helio and the gang share a twin bill with the American Le Mans Series at Mid-Ohio, writes John Oreovicz.
Updated:
July 18, 2008, 3:16 PM ET
By
John Oreovicz
| Special to ESPN.com
One thing the IRL IndyCar Series and the late Champ Car World Series both learned over the past few years was the benefit of joining forces with the American Le Mans Series. IndyCar's latest collaboration with the high-tech sports car series happens this weekend at Mid-Ohio Sports Car Course, when the Honda Indy 200 and the Acura Sports Car Challenge make for a compelling twin bill.Promoters at Road America, St. Petersburg and Mid-Ohio, among others, found that scheduling two top-level racing series created a best-of-both-worlds scenario on the track and a bonanza at the box office. Mid-Ohio attracted its largest auto racing crowd in years in 2007, when the IndyCar Series joined the ALMS at the classic road course. Organizers are expecting an even bigger throng this year.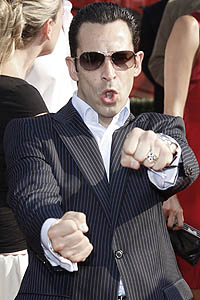 AP Photo/Matt SaylesHelio Castroneves got the red-carpet treatment when he arrived for the ESPYS in Los Angeles.
The 85-lap IndyCar contest
(Sunday, 1:30 p.m. ET, ABC)
is the fifth in a brutal stretch of six races in six weekends. With the last taking place just six days after Mid-Ohio -- and 2,000 miles away in Edmonton -- several teams are planning to have their crews tear down and race-prep the cars immediately after Sunday's race.They'll be hoping that those Dallara-Hondas will have four wheels attached and pointed in the right direction after what could be a rough-and-tumble road course battle. Mid-Ohio packs 14 corners into its 2.25 miles, and without a long straight, passing is difficult and rare.Last year, in the IndyCar Series' Mid-Ohio debut, the drivers generally kept it clean and there were only two full-course cautions. The first occurred at the start and was disastrous for Andretti Green Racing because it involved three of its drivers.
Danica Patrick
, who had qualified on the front row, was clipped by teammate
Tony Kanaan
, who slowed in the path of
Marco Andretti
, launching Marco's car into a soft roll. Andretti was unhurt, and Kanaan and Patrick resumed finishing fourth and fifth, respectively. But the AGR contretemps allowed
Scott Dixon
to nip from sixth to second and led to victory for the Target/Ganassi Racing driver.
Dario Franchitti
(AGR) and pole-winner
Helio Castroneves
of Team Penske chased Dixon to the flag, and there is no reason to believe that those three teams won't dominate again in 2008. But based on what we saw at St. Petersburg and Watkins Glen, the only two other IndyCar road races this year, Champ Car transition teams KV Racing Technology and Newman/Haas/Lanigan Racing should have the pace to challenge for the win, given that they raced there with CART or Champ Car through 2003.Still, Castroneves must enter the weekend as the prohibitive favorite. The Brazilian won at Mid-Ohio the last two times he raced there in CART (2000 and '01) and he set the IndyCar track record of 1 minute, 6.8375 seconds on the way to pole position for last year's clash.Although he hasn't won a race in 2008, Castroneves ranks second to Dixon in the IndyCar championship standings. "In my opinion, Mid-Ohio is one of the best road courses in this country," said Castroneves, who was back in the spotlight this week after co-presenting at the ESPY Awards. "I enjoyed racing and winning two races there early in my career, so I was really excited when it was added to the [IndyCar] schedule."

We're still in the championship chase so we have to keep putting pressure on Scott, Helio and Dan. But if Watkins Glen was any indication, there will be a dozen or more cars capable of winning on race day.
-- Tony Kanaan
Team Penske's form down the championship stretch should be bolstered by the presence of
Ryan Briscoe
, who is a much more successful road racer than the man he replaced --
Sam Hornish
Jr. -- this year."It seems that Penske Racing has always been strong at Mid-Ohio regardless of what series they're competing in," Briscoe said. "Last year, the ALMS team qualified and finished 1-2 overall and Helio won the pole for the IndyCar race, so hopefully we'll be able to bring the same level of competitiveness to the track again in 2008."Dixon realizes he'll probably need to qualify better than sixth if he wants to repeat his Mid-Ohio victory from a year ago."Our mind-set is still on going for race wins," Dixon said. "If we come down with three races to go and have a points lead, then is when you start thinking about points. But for me at the moment, if we can win races, we're only going to lengthen or make our chances a lot better of winning the championship."Dixon said he will need to be particularly careful when racing guys like
Will Power
and
Oriol Servia
-- drivers out of championship contention whose seasons could be made by a single race win."When you're racing with somebody like that, you keep in the back of your mind that you are racing for a championship and that guy is racing for his first race win," Dixon said. "It's all about points now, and we want as many points as possible."Last year Andretti Green managed to squander its chance at a win after qualifying 2-3-4-5 at Mid-Ohio. With the events ticking down, Kanaan needs wins fast if he wants to erase the 82-point deficit to Dixon."We're still in the championship chase so we have to keep putting pressure on Scott, Helio and Dan," Kanaan said. "But if Watkins Glen was any indication, there will be a dozen or more cars capable of winning on race day."
Graham Rahal
of Newman/Haas/Laningan Racing is the local favorite, having grown up in nearby Columbus. The 19-year-old has managed only two top-10s since his remarkable IndyCar debut victory at St. Petersburg in April."I think we have a shot to win at the end of it all," Rahal said. "I really enjoy the track; it's a physical track. It can be quick and it can be at times a pretty daring track. It's going to be nice for me because I'll have my friends and family there, which is something that rarely happens."Twenty-six cars are entered for this weekend's race. HVM Racing returns after a one-race absence while driver
E.J. Viso
recovered from the mumps, and Roth Racing is running only one car this weekend (for backmarker team owner
Marty Roth
).
John Oreovicz covers open-wheel racing for National Speed Sport News and ESPN.com.
Autos, Open-Wheel
Motorsports Writer for ESPN.com
Covered Indy car racing for 20 years
Work published in 12 countries