Commentary
Dixon foils Castroneves' fuel strategy, closes in on second series title
Helio Castroneves ran out of fuel Saturday night at Kentucky Speedway, and he's running out of time to challenge Scott Dixon for the 2008 IndyCar Series title, writes John Oreovicz.
Updated:
August 9, 2008, 11:56 PM ET
By
John Oreovicz
| Special to ESPN.com
SPARTA, Ky. -- Think fuel strategy races are boring? Think again. With a 0.5532-second margin of victory, the Meijer Indy 300 at Kentucky Speedway wasn't anywhere near being the closest race in IndyCar Series history. But without a doubt it featured one of the Indy Racing League's most exciting finishes.
Desperate for a victory to remain in championship contention, Team Penske asked
Helio Castroneves
to try to stretch a 22-gallon tank of ethanol over the final 57 laps. The No. 3 Dallara-Honda powered around the 1.5-mile speedbowl 56¾ times before its Honda engine finally sputtered, allowing runaway championship leader
Scott Dixon
to steal away the win, almost literally as the cars crossed the finish line.
Marco Andretti
was a close third, with
Vitor Meira
fourth. Running a "standard" fuel strategy, Dixon made a 2.7-second pit stop for a splash of fuel on the 194th of 200 laps. He then made up a 6.1-second deficit to Castroneves over the final six tours before making the last-gasp pass. It was déjà vu in reverse for the 27-year-old New Zealander, who lost the 2007 IndyCar Series championship to
Dario Franchitti
in similar fashion when he ran out of fuel while leading into in the final corner of the final lap of the final race of the season at Chicagoland Speedway. "Actually, I talked to Dario from the Winner's Circle [at Kentucky] and said that view was pretty sweet," Dixon said. "It's nice to be on the right side of it, and to burn by Helio with a couple hundred feet to go was pretty special." In truth, it would have been a surprise had anybody other than Dixon won. He led 151 of 200 laps in his No. 9 Target/Ganassi Dallara/Honda and appeared to have the field covered. But the Ganassi crew didn't count on Castroneves and Penske trying out a desperate strategy in search of an elusive win. If they did, they certainly didn't inform their driver. "It was crazy," Dixon said with a grin. "I didn't know that Helio was doing that -- the team told me nothing about it. I knew he was slower and I could see we were catching him. But I didn't know exactly why." The Kentucky finish was a bit of a flashback for Castroneves as well. He lost the Honda Indy 300 at Twin Ring Motegi on a late-race pass by
Danica Patrick
earlier this year while trying to save fuel. That was another of the Brazilian's seven second-place finishes in 2008.
[+] Enlarge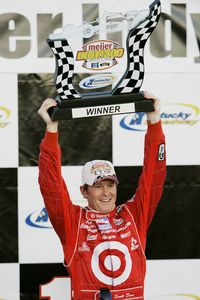 AP Photo/Ed ReinkeScott Dixon hoists the winning hardware for a record-tying sixth time in 2008.
"Obviously in Japan I didn't save enough fuel, but I was committed this time," recalled Castroneves. "We needed to take a chance to win the race, this weekend especially because Ganassi seemed to be really, really fast here. It was a solid chance, not a ridiculous, crazy chance. It just didn't pay off." When Penske called Castroneves in under yellow on the 143rd lap, the writing on the wall was obvious for the estimated 55,000 in attendance to see. Dixon and the other leaders had stopped at the beginning of the caution period on Lap 135 and all would likely need to stop again. Penske Racing president Tim Cindric, who calls Castroneves' races, made the decision to take the fuel gamble. "We pitted on the last available lap and Helio did an unbelievable job," Cindric noted. "What can you say? He did everything he could, but he lost fuel pressure at the end of the backstraight on the last lap. "Right before Dixon pitted, Helio had to speed up to make sure Dixon didn't put him a lap down, and that might have been the difference. The way the game goes, if there had been a yellow in the last stint, everybody else would have stopped and we would have won." Ganassi Racing general manager Mike Hull, who is Dixon's race strategist, said the credit for Dixon's record-tying sixth win of the season goes to the driver. "You know, there are two ways to win motor races and we like to win races in the fastest way possible," Hull said. "The guy [Dixon] is at the top of his game and he's got an extreme roll going. Scott is very, very good at making fuel [mileage]. It isn't just about the position you're in, it's about driving style as well. At every track we go to, whether it's a road circuit or an oval, he works extremely hard to figure out what to do. "We had to be careful with the fuel to get a splash at the end and we beat the guys who were racing us. Team Penske does a great job and you've got to feel sorry for them." Now with 16 IndyCar Series race wins in his career, Dixon holds an almost unassailable 78-point championship lead over Castroneves. There are three races remaining and if Dixon leaves the next event at Infineon Raceway on Aug. 24 with an 82-point cushion, the title is his. It would be Dixon's second IndyCar crown to match the one he won in his first year in the series in 2003. "Definitely there were races like Nashville and here tonight where maybe we didn't have the best strategy but still came away with a win," Dixon admitted. "Penske and Helio definitely had us surprised. All in all it was a pretty uneventful night except for the finish. The fans were definitely standing on their tippy toes watching that one. "Obviously a 78-point lead is pretty healthy, but as you could see tonight, anything can happen. Helio could have gained on us and made it a better fight and those guys are very good on the upcoming tracks. It would be nice to wrap it up at Sonoma, but I think in reality we'll be racing until the last race."
John Oreovicz covers open-wheel racing for National Speed Sport News and ESPN.com.
Autos, Open-Wheel
Motorsports Writer for ESPN.com
Covered Indy car racing for 20 years
Work published in 12 countries
SPONSORED HEADLINES
MORE RACING HEADLINES
MOST SENT STORIES ON ESPN.COM