Commentary
Scheduling conflicts could derail IndyCar's future in Surfers Paradise
If you've been wanting to catch the IndyCar Series rub tires in Australia, you might want to book your flight for the Oct. 24 race down under. It could be the last time the series races at Surfers Paradise, writes John Oreovicz.
Updated:
August 15, 2008, 6:10 PM ET
By
John Oreovicz
| Special to ESPN.com
If you're an IndyCar fan who has always put off making the long trip to Australia for the exotic and popular street race in Surfers Paradise, perhaps you should consider making travel arrangements for this year's edition.All signs point toward this being the last time that American open-wheel racing exports itself to Australia, ending an 18-year run.After being run under CART or Champ Car sanction from 1991 to 2007, the Nikon Indy 300 was the last race to be added to this year's unified IndyCar Series schedule. But due to a prior contractual agreement with Chicagoland Speedway (which holds the rights to stage the IndyCar Series championship finale), the Oct. 26 event will be staged as a non-points race.
[+] Enlarge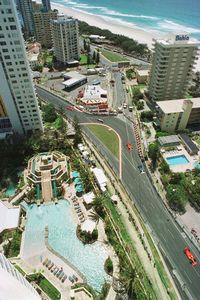 AP Photo/Steve HollandThe Indy Racing League can do a lot worse than racing at Surfers Paradise in Queensland, Australia.
The IndyCar Series confirmed this week that 24 entries will compete in this year's contest on the Surfers Paradise street circuit, including Australian citizens
Ryan Briscoe
and
Will Power
and Australian-born New Zealander (and likely series champion)
Scott Dixon
.IndyCar Series vice president of communications John Griffin said an announcement will be made soon regarding financial bonuses for the top finishers in this year's race."We're a go," Griffin stated. "All the teams gave us their travel rosters last Friday and our preparations continue full speed ahead."Earlier this summer, organizers of the Australian event announced they had signed a multiyear extension to bring the IndyCar Series Down Under on an annual basis. But Surfers Paradise was conspicuously absent when the 2009 IndyCar Series schedule was unveiled in late July.IRL and Surfers Paradise officials said that the Australian event was likely to be added to the announced 18-race slate and said two dates were under consideration. But neither of the two potential weekends would appear to be a good match with the Australian V8 Supercar Series, which has co-headlined the Surfers Paradise weekend for more than 10 years.The popular local sedan racing series was added to the Surfers Paradise bill in 1997 as a non-points exhibition race, so it is ironic that the roles with the American open-wheelers have reversed this year.The V8 Supercars were credited with injecting new life into the Gold Coast event in the late '90s as CART's popularity and credibility began to fade. An estimated 75 percent of the massive crowds that annually line the Surfers Paradise street course are now there primarily to watch the native drivers and the battle between local manufacturers Holden and Ford.V8 Supercar Series boss Tony Cochrane launched a scathing attack on the IndyCar Series this week in the Australian media, vowing that the Indy Racing League will not hold the Surfers Paradise event hostage by trying to force an unacceptable date.
What's left in 2008?
Can anyone reel in runaway points leader Scott Dixon? Time is running out on the IndyCar Series calendar. The Oct. 26 race at Surfers Paradise is a non-points event.
Four races to go

| | |
| --- | --- |
| Date | Track |
| Aug. 24 | Infineon Raceway, Sonoma, Calif. |
| Aug. 31 | The Raceway at Belle Isle Park, Detroit |
| Sept. 7 | Chicagoland Speedway, Joliet, Ill. |
| Oct. 26 | Surfers Paradise, Queensland, Australia |
"Despite the event being held in late October for nearly 10 years, suddenly, the IRL, incredulously, offers two dates well outside this traditional period," Cochrane said, "one in March, which clashes with a major Australian motorsport event [the Formula 1 Australian Grand Prix] which involves both V8 Supercars and the [television broadcaster] Seven Network, and another which not only clashes with the AFL [Australian Football League] and NRL [National Rugby League] final series, but would be in the middle of the September school holidays."V8 Supercars recognizes that the event requires both V8s and an international series to make this unique event work," he added. "If the IRL cannot see fit to honor a long-standing agreement on this date, then there are many other world-class international series of motorsport that would readily fit the bill."Cochrane is likely referring to the A1GP Series, the self-proclaimed World Cup of Motorsport that is poised for growth this year thanks to the move to a Ferrari-sourced chassis and engine.The IndyCar Series would ideally like to pair the Australian round with its race at Twin Ring Motegi in Japan, scheduled for Sept.19, 2009.However, the V8 Supercar Series' second-biggest endurance race, the L&H 500 at Philip Island, is generally staged the third weekend in September, followed the second week of October by the Bathurst 1000, Australia's biggest and most historic auto race. Neither venue is likely willing to accept a date change, and neither would the competitors in the series.And although they have offered a March date, IndyCar officials are probably not willing to start the season outside the United States. The scheduled 2009 season opener is the Honda Grand Prix of St. Petersburg, set for April 5.Due to the large crowds it traditionally attracts (a record 316,000 over four days in 2007 despite the diminished status of the Champ Car World Series), many American open-wheel constituents are no longer enamored with the Australian event, which is costly and time-consuming. Sponsors have long complained that their budgets are directed at the American market and staging a race in Australia delivers them little or no benefit.All this circumstantial evidence suggests that the IndyCar Series will probably not make the long trip Down Under once this year's non-championship event is wrapped up."At the end of the day, I hope common sense prevails and the event continues as a joint round of V8 Supercars and the IRL," Cochrane said. "However, I don't subscribe to the event being held ransom to a date that will bankrupt GCMEC [Gold Coast Motor Events Co.], and neither should the Gold Coast community, especially when we have viable alternatives!"Our American friends owe both the community and the event more than that, given the support the event has given them."However, Terry Angstadt, president of the IRL's commercial division, was noncommittal when pressed about the future of the Australian event beyond this year."We are in active conversations regarding '09 and we are keeping a couple of slots open for them," Angstadt said. "And we're hopeful it can be announced. When we conclude those [negotiations] we'll certainly let everyone know."We're hopeful we will get them included for '09. But we just can't indicate that as of yet."
John Oreovicz covers open-wheel racing for National Speed Sport News and ESPN.com.
Autos, Open-Wheel
Motorsports Writer for ESPN.com
Covered Indy car racing for 20 years
Work published in 12 countries
MOST SENT STORIES ON ESPN.COM