Commentary
Castroneves' uncertain future putting the pinch on Team Penske
Roger Penske is playing the waiting game with Helio Castroneves. Does the IndyCar Series team owner fill Helio's seat now or wait till the driver stands trial on tax-evasion charges? That's a tough one, writes John Oreovicz.
Updated:
November 20, 2008, 3:47 PM ET
By
John Oreovicz
| Special to ESPN.com
An individual is presumed innocent until proven guilty in the American justice system, but that notion is of little comfort to
Helio Castroneves
.Or Roger Penske.Castroneves, who is one of the IndyCar Series' top stars, is set to stand trial on March 2 on charges of tax evasion and conspiracy to commit fraud against the United States government.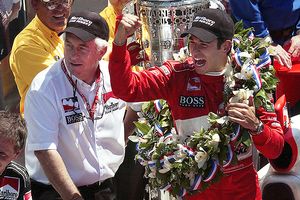 AP Photo/Seth RossmanHappier times: Helio Castroneves, right, and Roger Penske celebrate a second consecutive Indianapolis 500 victory in 2002.
Last week, U.S. District Judge Donald A. Graham denied Castroneves' and Team Penske's motion to delay the proceedings until November so Castroneves could fulfill his contractual obligations to compete in the 2009 IndyCar Series championship. The IndyCar season starts with the Honda Grand Prix of St. Petersburg from April 3-5.Castroneves' trial is unlikely to last more than a week, but what happens if the outcome is unfavorable to the usually bubbly Brazilian? Can Penske risk waiting on the verdict before he looks for a replacement for his lead driver, a month before the start of the season?Conventional wisdom says no. And Penske recently said that a decision will be made within 30 days.It's a tough call for "The Captain," who often talks about the value of "human capital." Penske has a lot of that invested in Castroneves, who has been a fixture at Team Penske's open-wheel operation through nine years and three teammates. Helio learned the ropes from
Gil de Ferran
from 2000-03, then ran wheel-to-wheel with three-time IndyCar series champion
Sam Hornish Jr.
for four years before assuming a team-leader role when
Ryan Briscoe
came on board this year. He's popular with the team, the public and the sponsors at Altria Corp.At the same time, Penske abhors controversy, and he will want his flagship open-wheel team to enter the new season at full strength. If Castroneves' availability is in doubt -- and it most certainly is -- Penske will want to have a solid backup plan in place.Penske said last week at a sponsorship function at Auto Club Speedway in California that his phone is "ringing off the hook" with drivers interested in taking over Castroneves' No. 3 car."It's a difficult time for us, because if he's not available to drive next season, then we have to go find ourselves a driver at a very late time," Penske said. "But until he's not available to drive the car, we're going to stand behind him."It's ironic that Castroneves landed his Penske ride through the misfortune of another when Greg Moore -- Penske's intended Y2K teammate for de Ferran -- was killed in the 1999 CART finale. Now another driver could find himself benefiting from Castroneves' plight.Penske is a busy man, so I've taken the liberty of assembling a list of potential candidates to replace Castroneves. It takes time for any team to adapt to a new driver, but Penske wouldn't go wrong with any of these choices -- some of whom are admittedly more far-fetched than others...
Hunter-Reay

Ryan Hunter-Reay -- This talented and marketable American hasn't had the best of luck but may be on the brink of his lucky break. After a promising year and a half with Rahal Letterman Racing that netted a popular win last July at Watkins Glen, RLR lost its Ethanol Promotion and Information Council sponsorship and subsequently cut Hunter-Reay loose. He won races for a pair of teams in Champ Car (including a flag-to-flag victory at the Milwaukee Mile oval) and could develop into an instant star if he finally lands with a top-line team -- like Penske.
Romain Dumas -- This 30-year-old Frenchman is already on the Penske payroll, having won the last two LMP2-class championships in the American Le Mans Series while co-driving one of Penske's factory Porsche Spyders. Dumas has been a Porsche works driver since 2004, but he hasn't raced open-wheel cars since 2002; that and his complete lack of oval-racing experience likely will work against him. Still, he tested one of Penske's Dallara-Honda Indy cars in August at Infineon Raceway and reportedly set competitive times.

Wilson

Justin Wilson -- Another hard-luck story associated with Newman/Haas/Lanigan Racing might have resulted in a championship if there had been a Champ Car Series in 2008. Instead, Wilson and the team struggled to adapt to the IndyCar Series until JW scored a victory on the Detroit Belle Isle street course. That wasn't enough to secure the Englishman's future with NHLR, which is in jeopardy of having to cut back to one car due to sponsorship woes. Wilson would benefit from Penske's proven oval-track setups, and he would solidify Team Penske's rep as the IndyCar Series' top road-racing team.
Sam Hornish Jr. -- He is almost certain to stick it out for another year with Penske's NASCAR team after a disappointing initial campaign ended badly with a DNQ at Homestead that allowed Regan Smith to capture rookie of the year honors. But the three-time IndyCar Series champion and Indianapolis 500 winner keeps getting asked when he's going back to open-wheelers. Hornish has repeatedly stated that he doesn't want to return to Indy cars right now, but ultimately, it's Roger Penske's call.

Allmendinger

AJ Allmendinger -- After Allmendinger developed into a regular race winner and took the fight to Sebastien Bourdais in 2006, open-wheel fans were crushed when he opted for a NASCAR career. Allmendinger's performances in a stock car improved dramatically this year, but he was released by Red Bull Racing and the 26-year-old Californian is now a free agent. AJ is drawing plenty of interest in stock car circles, but it would be a great coup for the IndyCar Series to lure him back to open-wheelers -- though he might be a little rough-hewn for Penske's polished corporate environment.
Oriol Servia -- Has the potential to emulate de Ferran, who won two CART championships and an Indianapolis 500 for Penske between 2000 and 2003. The rap on Servia is that he's not a winner; he won one race in an eight-year CART/Champ Car career and took the 1999 Indy Lights title without a victory. But de Ferran won only three CART races in the five years before he joined Penske. Servia is a great team player and a skilled developmental driver who was by far the most competitive of the "transition" drivers on oval tracks this year. He also would be great with the Altria crowd.

Power

Will Power -- Penske is unlikely to want to field an all-Australian lineup, but there is no doubt that Power impressed on occasion over the past couple of years on road courses. He's probably not Penske material, but Power's career would certainly be boosted by an opportunity with one of American open-wheel racing's marquee teams.
Marco Andretti -- Unless the team chose not to publicize it, Marco still has not re-signed with Andretti Green Racing. Many observers believe Marco will not achieve his full potential until he gets away from AGR, the team owned by his father, Michael. And what an opportunity Penske would offer to the 21-year-old! Grandfather Mario drove Indy cars for Penske from 1976-80 and would certainly endorse this career move.
Paul Tracy -- Already a veteran of two tours of duty at Penske (1991-94 and 1996-97), Tracy knows the ropes. He's also a different character than he was 10 years ago, one more likely to fit in with Penske's polished ways. A PT/Penske reunion also would benefit the IndyCar Series as a whole and would instantly sell another 30,000 tickets to the revived Toronto race.John Oreovicz covers open-wheel racing for National Speed Sport News and ESPN.com.

Autos, Open-Wheel

Motorsports Writer for ESPN.com
Covered Indy car racing for 20 years
Work published in 12 countries