Commentary
New formula? Read between the lines
Roundtable meetings have stoked optimism that a new engine and chassis formula is on the horizon for IndyCar. But any changes could be a long time coming.
Updated:
February 13, 2009, 6:35 PM ET
By
John Oreovicz
| Special to ESPN.com
Over the last year or so, there has been a lot of hopeful talk within the IndyCar Series about the implementation of a new engine and chassis formula for the 2011 season, which would happen to coincide with the 100th anniversary of the first running of the Indianapolis 500.
There is no question that IndyCar needs a new formula. The current Dallara chassis, which has by default become the only chassis for every race in the IndyCar Series except the Indy 500, was introduced in 2003. Similarly, Indy car racing currently features one available engine -- a 3.5-liter normally aspirated V-8 produced by Honda Performance Development.
In short, Indy car racing has devolved into a spec car formula -- a sad state of affairs for anyone who is familiar with the Indianapolis 500's rich tradition of diversity and technological innovation. From the 1940s through the 1970s the Indy field featured upwards of a dozen varieties of chassis and numerous engine choices, some as radical as four-wheel drive gas turbines. As recently as the 1990s, participants could choose between at least three different chassis, as well as multiple engine and tire manufacturers.
[+] Enlarge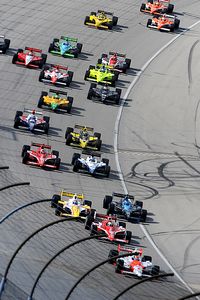 AP Photo/Paul Beaty, FileThe IndyCar Series has some difficult decisions to make regarding its engine and chassis package.
It's not a stretch to say that the current Dallara-Honda package, though relatively economical to buy and run in comparison to the cars that competed in CART-sanctioned Indy car racing in the late 1990s, isn't very popular with open-wheel racing fans. A quick perusal of Indy racing internet forums shows the descriptions that pop up more than any others are "ugly" and "unpleasantly loud."
In other words, a new formula for the IndyCar Series can't happen soon enough. And to their credit, Indy Racing League officials are hard at work to make it happen as quickly as possible.
Over the last eight months, a series of roundtable meetings have been held with auto manufacturers in an effort to craft a new engine formula for the future that will ring true with the street-car industry and encourage participation from multiple brands. (It is likely that Dallara will be retained as the only chassis supplier, to the consternation of some).
This week, IRL leaders, along with Honda Performance Development general manager Erik Berkman, provided an update on how the process was moving along. The encouraging news that emerged is that several prestigious brands continue to show interest in participating in the IndyCar Series when the new formula is introduced. The downside is that progress is clearly slow. And combined with the sudden and drastic downturn in the auto industry, the likelihood is that the new formula will not be implemented until 2012 -- or later.
The IRL didn't disclose specifics about the future engine's basic architecture. However, the league did reveal some details, including:
• A four-stroke design with reciprocating pistons
• Displacement of 2.0 liters or less
• Dual-overhead camshaft with four valves per cylinder
• Single turbocharger systems will be permitted
• Direct injection systems will be permitted
• Engine life between rebuilds of 3,750 miles
Beyond that, the rest is subject to speculation. However, close examination of the IRL press release and analysis of the comments made by Honda's Berkman and IRL executives Brian Barnhart and Terry Angstadt reveals further clues.
Statement: "The progressive and industry-groundbreaking engine specification planning process was introduced … to bring about expanded engine manufacturers' participation in the IndyCar Series …"
What it means: Honda was forced by default into the role of sole engine supplier for the IndyCar Series when Toyota and Chevrolet abruptly withdrew at the end of the 2005 season. The IRL was fortunate that HPD had the ability to supply the full field, but Honda wants and needs competition. Achieving 100 percent reliability is a worthy goal that Honda has come remarkably close to achieving, but that isn't enough to keep the company involved as the lone engine manufacturer. The problem the IRL faces is that Honda dominated both CART and IndyCar Series competition and the league must convince incoming manufacturers that its new formula will not be created by Honda, for Honda. Hence the invitation to provide input during the rulemaking process.
Statement: "… unprecedented OEM and race engine designer input …"
What it means: There is truth in this statement. Most of the time in racing, a sanctioning body lays out a set of rules and waits for the manufacturers to decide if they want to build a product to that formula. The IndyCar Series is allowing the manufacturers -- both car makers as well as racing engine specialists like Cosworth and Ilmor -- to provide feedback during the rulemaking process.
Statement: "Five engine manufacturers … continue to participate in the IndyCar Series Automotive Manufacturers Roundtables."
What it means: The IRL says that nine major car makers and six racing engine specialists participated in the initial 2011 engine formula meetings, and from that group, five OEMs -- Honda (via HPD), Audi, Porsche, Volkswagen and Fiat Powertrain Technologies -- are still involved. That's a bit misleading; Porsche is now the majority owner of the Volkswagen Group, of which Audi is the premium brand. So let's narrow that number down to three, because the VW Group is unlikely to enter Indy car racing under more than one brand name. Early betting is that the brand will be Volkswagen; Porsche is synonymous with sports car racing, and the main reason for speculation about Audi's withdrawal from full-time participation in the American Le Mans Series is that the company doesn't want to be beaten by Honda-owned Acura's stepped-up LMP1 program. It stands to reason that Audi would not want to compete against the more pedestrian Honda brand in Indy cars. If the IRL wanted to create the image of even more manufacturer participation in the roundtables, it could have listed Acura as a potential competitor, as well as Fiat's Alfa Romeo brand, which hopes to return to the U.S. market in the near future.
Statement: "Plans for introducing the new engine specifications … remain an ongoing process … engine specifications are expected to be finalized within the next several months …"
What it means: There seems to be no question that the new Indy car engine will feature four or six cylinders. Honda has reportedly lobbied for a V-6 configuration, while the other manufacturers are believed to favor a four-cylinder layout. Though a V-4 configuration has popped up in media reports, an inline-4 is much more likely; although V-4 engines are used in motorcycle racing, there has not been a V-4 street car application since the funky Saab 96 went out of production in the mid-1970s. And a relevance to road car technology is high on the IRL's wish list.
Statement: "… new engine architecture will align with the direction being taken by the automotive manufacturers around the world as they strive for more efficient and environmentally responsible smaller displacement engines."
What it means: You can probably discount the V-4, as stated above. The Volkswagen Group's bread-and-butter engine is a 2.0-liter turbocharged inline-4, as seen in the VW GTI and the Audi A4. Honda also equips the Acura RDX mini SUV with a turbo-4, yet still reportedly favors a turbo V-6. Turbochargers have many benefits in racing, including the ability to regulate boost levels to provide power appropriate for different tracks used in the IndyCar Series. They also act like a muffler, which would address the noise complaints about the current normally aspirated V-8. Direct injection was first developed for diesel engines, but is increasingly featured in gasoline-powered road cars. Although Indy Car Series engines will continue to be ethanol-powered, switching to DI would create a link to street-car technology.
Statement: "… has also been investigating innovative ways to partner its teams with the manufacturers …"
What it means: The IRL wants to avoid the situation that contributed to CART's demise in the late '90s when Toyota began throwing money at teams and Honda was forced to follow suit. That business model followed those manufacturers to the IndyCar Series in 2003 and dramatically drove up the cost of competing in the series, driving out many of the "little guy" teams the IRL supposedly was founded to benefit. The IRL wants to avoid having one manufacturer gravitate to the most competitive teams, and will likely find a way to make sure that Penske, Ganassi and Andretti Green do not all end up with the same engine. The league will also be looking to its participating manufacturers for significant marketing support.
Statement: "… maintaining the series' position as a leader in the use of ethanol bio-fuel …"
What it means: IndyCar appears committed to ethanol, despite the fact that it is losing its luster in the U.S. market in the wake of rising corn (and falling gasoline) prices. Additional controversy was stirred when the IRL struck a marketing deal with APEX-Brasil that will see the series transition from corn- to sugarcane-based ethanol. Being perceived as "green" is certainly honorable and somewhat trendy, but as long as ethanol is viewed as a bit of a political hot potato, fully investing in the technology may not be in the league's best interest.
Statement: "… beginning as early as the 2011 season …"
What it means: Three seemingly innocent words ("as early as") were the most important information in the update the IRL provided to the media. Sad to say it now appears probable that there will not be a new IndyCar formula until 2012 at the earliest, and that's an eternity for a series that could really use a technical shake-up to generate interest on many fronts.
John Oreovicz covers open-wheel racing for National Speed Sport News and ESPN.com.
Autos, Open-Wheel
Motorsports Writer for ESPN.com
Covered Indy car racing for 20 years
Work published in 12 countries
SPONSORED HEADLINES
MORE RACING HEADLINES
MOST SENT STORIES ON ESPN.COM