Commentary
Will NASCAR come calling for Danica?
Updated:
March 16, 2009, 1:04 PM ET
By
John Oreovicz
| Special to ESPN.com
As if there were not already enough eyes on Danica Patrick, scrutiny of America's favorite female racer is likely to be even more intense in 2009.
Patrick is entering the last year of her three-year deal to drive an Andretti Green Racing's Motorola-sponsored car in the IndyCar Series. She's coming off a season in which she won her first race and finished a career-best sixth in the IndyCar championship, yet wasn't as competitive on a race-to-race basis as she would have liked.
[+] Enlarge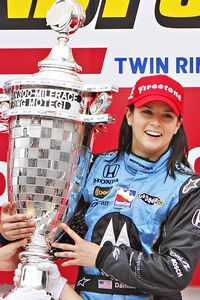 AP Photo/Shuji KajiyamaDanica Patrick earned her first IndyCar Series victory in the 2008 Japan 300 at Twin Ring Motegi.
Over the past four years, Patrick has emerged as the IndyCar Series' most popular and recognizable star, drawing attention as much for her off-track exploits as her racing prowess. The last time Patrick was a free agent -- in the summer of 2006, when she stayed in Indy cars but moved from Rahal Letterman Racing to AGR -- she reportedly fielded offers from Sprint Cup teams.
Since then, she has blossomed into a major mainstream star through avenues like raunchy Super Bowl commercials and Sports Illustrated swimsuit issue appearances. With her career management now being handled by IMG, it would be no surprise if NASCAR came calling again, and Patrick's name has been linked with the new USGPE Formula One effort.
Ultimately, it could be a very lucrative summer for the 26-year-old from Roscoe, Ill.
But amid the whirlwind of speculation that is bound to crop up about where she might end up in the future, Patrick's focus is on her immediate goals: becoming a regular winner and championship contender in the IndyCar Series.
"All we're really worried or care about is winning races and running at the front," Patrick said prior to the first IndyCar open test of the season. "I would imagine a lot of people would say the same thing, but that's always my concern anyway. I've run up front a little here or there every year I've been in the series and I would just like to make it a little bit more consistent across the board between ovals and road courses and short ovals, and just purely for an entire season.
"I guess it's always good to do well when you're in a contact year," she added. "But I would say that people in the business are aware of what I am capable of. They pay attention for more than just a couple of races or half a season to see what I'm doing. So I would hope more of my career would speak, than just this year."
If anything, Patrick believes the potential distraction of contract discussions could help her raise her game.
"It is one more thing on the plate," she admitted. "But I'm happy to say that when it seems like there is more going on, more things circling around us, it seems like I'm able to thrive on that a little bit and do well. I hope that sort of trend stays the same, because I'm sure that, just as a few years ago when the contract came up, there were things to talk about and there will probably be more again this year."
Patrick's status as the IndyCar Series most marketable asset could put the Indy Racing League in a position that it will have to ante up to keep Patrick in open-wheelers. Although recent Indy car drivers making the transition to stock cars have generally fared poorly, the prospect of luring Patrick and her massive fan base might be too much for NASCAR or one of its well-heeled teams to resist.
Tony Kanaan, Patrick's teammate at AGR and one of the most experienced veterans in the series, has observed Patrick's growth over the past three years and believes she will be well-equipped to handle whatever transpires over the next few months, on and off the track.
Kanaan recognized that Patrick seemed to experience a bit of a letdown after the pressure of winning her first IndyCar race went away, and thinks that a bit of outside pressure this year might be a catalyst for her to raise her game.
"She's just getting more experience," Kanaan said. "She's learning how to deal with the pressure a little better. Because, soon enough, the way she attracts attention, people are going to ask when she is going to win for the second time. As long as you know what you are capable of, you don't have to prove anything to anybody besides the people that you work with in your team and your sponsors. I think that's what she needs to probably try to do.
[+] Enlarge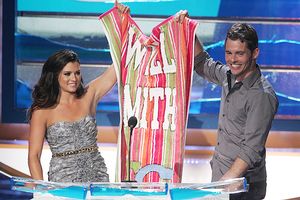 Mark Mainz/AP Images for FoxIt's not all about racing for Danica Patrick, who shared the stage with actor James Marsden at the Teen Choice Awards back in August.
"Everybody is going to have an opinion about what she should do or shouldn't do," he added. "It comes with the territory. You know, you attract attention, you're famous, you're going to create controversy every time, no matter what you do, good or bad. It's gonna happen. It's about how you deal with the situation and not let this pressure actually interfere with what you really want, what your goals are and what you have to do."
After suffering through one if the least competitive seasons if its six-year tenure in the IndyCar Series, AGR has made some fairly major personnel changes for 2009. For Patrick, than means a new race engineer (Eddie Jones) and team owner Michael Andretti as race strategist.
Having the boss on the radio is just one more example of how there will be more pressure on Patrick this year. But again, she relishes it.
"I'm actually more excited," she said. "We all didn't run up front as much as we wanted to last year, so we're definitely looking to win more races as a team and for me individually.
"You always hope that you can get somebody with tons of experience and knowledge on your car. So I think it's a good thing that [Andretti] has had the success that he's had and he's achieved what he has because it means that he knows how, and to have that on my car is a good situation. I think it's going to be a fresh change, and I'm excited."
Patrick admits she was surprised when principals from the USGPE Formula One team started dropping her name. Does she feel there is an element of exploitation at play?
"There probably is," she said. "People bring my name up, especially during this time when we've got Super Bowl commercials out there and Sports Illustrated and all this other stuff. It's a bit more of a hot item right now than other times during the year. So there might be some of that.
"But on the other hand, they don't want to look bad. They wouldn't say somebody's name who wasn't a good driver or something. People would start to ask questions. So I'm flattered to be brought up, but I don't necessarily know why. Nobody spoke to me or anything. It's not like they contacted me and I gave them the 'Oh yeah, that sounds interesting.'"
Still, she gave the indication she is willing to listen to whoever comes calling this summer as long as it doesn't interfere with her day job at AGR.
"The first thing I think of is does it even fit? Is it going to get in the way of my IndyCar season? Is it going to get in the way of my prior obligations? Is it going to make me tired? Is it going to be something that's not going to just really work into the schedule, and then also is it something that I really want to do?
"I don't believe that it's very productive to lead people on if it's not something that I'm interested in because you're really opening yourself up then. What if you go and do it and it doesn't go ideally or perfect and you don't set the world on fire? Then all of a sudden all you did was just open yourself up to criticism. So I would think about it and I would check the schedule, and we'll cross that bridge if it ever comes."
John Oreovicz covers open-wheel racing for National Speed Sport News and ESPN.com.
Autos, Open-Wheel
Motorsports Writer for ESPN.com
Covered Indy car racing for 20 years
Work published in 12 countries
MOST SENT STORIES ON ESPN.COM