Commentary
Put your money on 2008 champ Dixon
Updated:
April 1, 2009, 11:16 AM ET
By
John Oreovicz
| Special to ESPN.com
Let's be honest: The chances of anyone who does not drive for Target Chip Ganassi Racing, Team Penske or Andretti Green Racing becoming the 2009 IndyCar Series champion are virtually zero.
Those three super-teams have won 61 of the past 65 IndyCar races, including complete whitewashes of the 2006 and '07 seasons. In fact, Rahal Letterman Racing is the only other team to have won an IndyCar race since August 2005, and RLR does not have plans to compete in the IndyCar Series this year.
So that leaves a pool of eight potential championship winners among those three teams. Things get a little more complicated from there. For starters, Team Penske won't know who is driving its No. 3 car until Helio Castroneves' tax evasion and fraud trial has concluded. Castroneves, who has never won an American open-wheel championship in eleven years of trying, is likely to miss at least one race even if he is cleared of charges. Will Power, his replacement in waiting, has virtually no oval racing experience and has had problems finishing races. Scratch one likely contender.
[+] Enlarge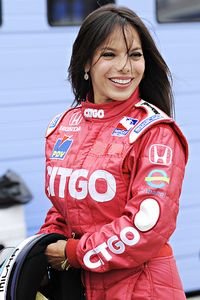 AP Photo/Reed HoffmannMilka Duno's chances of winning the 2009 IndyCar Series title? Slim to none.
Andretti Green Racing again arrives with four bullets in its gun, but Tony Kanaan is truly the only championship-caliber driver among the quartet -- though it's not inconceivable that Marco Andretti could develop into a regular race winner. That would be great for the series, but until it happens, Kanaan remains AGR's sole championship hope.
That leaves Target Chip Ganassi Racing, which fields a formidable lineup consisting of the past two IndyCar Series and Indianapolis 500 champions. TCGR enters 2009 as the overwhelming title favorite, with Scott Dixon enjoying the edge over open-wheel returnee Dario Franchitti. In fact, the Ganassi super-team has the potential to match or exceed Andretti Green's record haul of 11 wins from 17 races in 2005, such is the level of talent and experience in every aspect of the team.
Of the rest, Newman/Haas/Lanigan Racing and drivers Graham Rahal and Robert Doornbos could reach victory circle at least once, and a change of scenery should suit former series champion Dan Wheldon. But the chances of anyone raining on the parade of IndyCar's big three teams are close to nil.
Here's one oddsmaker's opinion of who is likely to prevail after seven months and 17 races:
• Scott Dixon, 5-to-2 -- Just getting into the prime of his career and still improving. Dominated 2008 far more than statistics showed, and his worst races were at what are usually his strongest tracks. No reason to think he won't repeat in '09.
• Ryan Briscoe, 4-to-1 -- Established himself as a championship threat in the second half of 2008 and enters 2009 with much more confidence and stability. Given Castroneves' situation, likely to be Team Penske's main championship hope.
• Tony Kanaan, 5-to-1 -- Tenacious competitor who suffered through an unhappy 2008 season of intra-team strife. Probably IndyCar's most consistent driver, but TK's championship hopes could depend on a happier environment within Andretti Green Racing.
• Dario Franchitti, 5-to-1 -- Back at home in open-wheelers, Franchitti has already demonstrated he wasn't adversely affected by his short-lived NASCAR experiment. Will win races for sure, but the toughest opponent will be his own Ganassi teammate.
• Team Penske car No. 3, 9-to-1 -- Even if his tax-evasion charges are cleared, Helio Castroneves will probably miss at least one race, dropping his odds to 7-to-1. Will Power could dominate road races but needs to make fewer mistakes and notch more finishes. He goes off at 11-to-1.
• Marco Andretti, 10-1 -- Crucial season for Andretti, who needs to reestablish winning credentials and display more consistency on different types of tracks. If his season gets off to a strong start, Marco could be formidable.
• Graham Rahal, 12-to-1 -- This is the first time young Rahal has competed in the same racing series two years in a row. Should fare better than in his rookie season, but probably won't have enough to vie for the title -- yet.
• Dan Wheldon, 15-to-1 -- The IndyCar Series' increasing emphasis on road racing does not work in Wheldon's favor. A superspeedway specialist who joins a team that excels on that type of track, but there aren't enough ovals to keep them in championship contention.
• Robert Doornbos, 18-to-1 -- Dutch rookie brings talent and personality to Indy cars, but it's unrealistic to think he could best the field in his rookie campaign despite driving for a legendary team.
• Justin Wilson, 20-to-1 -- JW probably would have been a regular top-five runner had his tenure with Newman/Haas/Lanigan Racing been extended. Offers Dale Coyne his best chance to date for a race win.
• Danica Patrick, 25-to-1 -- Odds of Danica having a highly publicized emotional outburst in 2009: 4-to-5. That, along with the potential distraction of contract talks, won't help her championship aspirations.
• Hideki Mutoh, 25-to-1 -- Japan's best IndyCar driver to date could challenge Patrick and Andretti for No. 2 status at Andretti Green Racing.
• Ryan Hunter-Reay, 25-to-1 -- As the face of Izod's racing-themed ad campaign, its virtually certain that RHR will land a ride somewhere. But it's getting pretty late in the game to expect sudden success with a new team.
• Mario Moraes, 30-to-1 -- Young Brazilian has plenty of talent and could thrive under Jimmy Vasser's tutelage at KV Racing Technology.
• Raphael Matos, 30-to-1 -- Has won championships at every level in his career but unlikely to do so in his rookie IndyCar campaign.
• E.J. Viso, 40-to-1 -- IndyCar's Mr. Excitement could spring a surprise or two, but not enough to challenge for the overall crown.
• Vitor Meira, 50-to-1 -- Racing with a chip on his shoulder after being dropped by Panther Racing. But running for a mid-pack team at best.
• Ed Carpenter, 50-to-1 -- Could occasionally crack the top five on ovals, but unlikely to escape the bottom five on road courses.
• Mike Conway, 60-to-1 -- Englishman brings a sterling record on street courses, but still learning the oval ropes.
• Jaime Camara, 100-to-1 -- Competent Brazilian racer but not exactly the second coming of Ayrton Senna or Emerson Fittipaldi.
• Sarah Fisher, 1,000-to-1 -- Tough to win a championship when you are slated to run only four races.
• Stanton Barrett, 10,000-to-1 -- Hollywood stuntman and NASCAR racer has endured a few crashes in his careers and will likely add to that tally this year.
• Anyone else, 500,000-to-1 -- Even a driver without a ride at this point is still a more likely champion than …
• Milka Duno, 1,000,000-to-1 -- It won't happen. Period.
John Oreovicz covers open-wheel racing for National Speed Sport News and ESPN.com.
Autos, Open-Wheel
Motorsports Writer for ESPN.com
Covered Indy car racing for 20 years
Work published in 12 countries
SPONSORED HEADLINES
MORE RACING HEADLINES
MOST SENT STORIES ON ESPN.COM