Commentary
George's legacy not a favorable one
Updated:
January 22, 2010, 11:28 PM ET
By
John Oreovicz
| ESPN.com
No matter how true the statement actually is, Tony George will go down in history as the man who effectively destroyed Indy-car racing.
Since George inherited leadership of the Indianapolis Motor Speedway in 1989 at the age of 29, Indy-car racing went from being a successful sport on the rise to a struggling, directionless entity, dwarfed in this country by stock car racing and virtually invisible in the overall sports spectrum.
Even the Indianapolis 500, the powerful trump card that George used in an attempt to gain overall control of Indy-style racing, is a shadow of its former self, a poor second cousin to NASCAR's Daytona 500 in terms of impact and prestige.
[+] Enlarge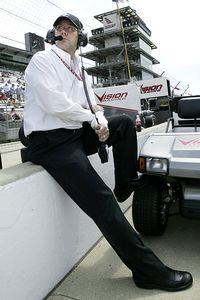 AP Photo/Tom StrattmanIRL founder Tony George this week resigned his positions as a board member at Indianapolis Motor Speedway and Hulman & Co., the Indiana-based family business founded in 1850.
Fueled by an enticing combination of veteran American drivers with names like Andretti, Unser and Mears and an incoming wave of international Formula One stars including Emerson Fittipaldi and Nigel Mansell, Indy car combined the best elements of traditional American oval racing and F1 and reached its peak from 1990 to 1995. By every measurable statistic -- little things like sponsorship, attendance and television ratings -- it was a match domestically for NASCAR and starting to worry F1 on the world stage.
Which means that George's decision in 1994 to create the Indy Racing League as a competing alternative to the existing CART IndyCar World Series could not have come at a worse time.
The formation of the IRL, which began staging races in 1996, sparked a 13-year battle for control of Indy-car racing and ultimately led to a mass exodus by fans, sponsors and manufacturers. NASCAR's impressive growth in that period almost exactly coincided with Indy car's decline.
With all of the key components in the sport except the Indy 500, CART should have put the IRL out of business by the late '90s. When it failed and most of the CART teams switched allegiance to the IRL between 2002 and 2004, George and his series should have landed a knockout punch.
Instead, lingering resentment toward George and the IRL galvanized what remained of CART to band together and continue as the Champ Car World Series, which limped along until the end of 2007. When Champ Car finally threw in the towel and agreed to be absorbed by the IRL, it was a war no longer worth winning. And the desperate state of the American economy nullified any positive momentum that should have resulted from the so-called unification of Indy-car racing.
All of which makes the events of the past eight months all the more astounding. Despite being perceived as the man who brought open-wheel racing back together, George was forced out as the CEO of the Speedway and the Hulman family's other business interests in June 2009. At the same time, he chose to not continue as the leader of the IRL, the series he formed to win the war he created.
This week, George resigned his positions as a board member of IMS and Hulman & Co., bringing his traumatic 20-year tenure as the leader of the Speedway to a whimpering, anticlimactic end. We may never know why he made the decision to abandon these responsibilities; George has not publicly commented about his forced departure as IMS CEO and voluntary decision to relinquish leadership of the IRL, other than a couple of posts several months ago on his Vision Racing team's Web site in which he claimed to be "perplexed" by his family's collective decision to vote him out.
George did many positive things during his two decades at the helm of IMS, including thoroughly modernizing the historic track while never asking for or accepting a penny of taxpayer money. Those improvements included the construction of an infield road course that attracted Formula One back to America after a 10-year absence and ultimately carried the Speedway back to its motorcycle racing roots in the form of a Moto GP event.
George also was responsible for the decision that brought NASCAR to Indianapolis, a prime example of a double-edged sword if there ever was one. The successful Brickyard 400 certainly lined the IMS coffers, but it also detracted from the uniqueness of the Indy 500 and contributed to turning Indianapolis into just another NASCAR town.
While the Brickyard has been a big money-maker for the Speedway, the other key changes during the Tony George era required huge expenditures -- especially the formation and running of the IRL. It was that massive drain on the Hulman family trust -- estimated at upward of half a billion dollars -- that ultimately led his mother and three sisters (who make up two-thirds of the Hulman & Co. board) to orchestrate his ouster.
History will record that for every positive thing George did for the Speedway or the overall sport of auto racing -- such as funding the development of the SAFER barrier system now successfully utilized at almost every major oval track in the world -- there was a far more significant negative action. And at the top of that list is the creation of the IRL.
Ultimately, George's legacy will be defined by the IRL. And it's not a happy one. Don't believe me? Then check out a few of the reader comments posted in response to the news story reporting George's decision to vacate the IMS and Hulman & Co. boards. The vast majority of Indy-car racing's remaining loyal fans blame George and his creation of the IRL for the downfall of the sport they love. George -- with Bill France Jr. prodding him on one side and Bernie Ecclestone on the other -- was the man solely responsible for choosing to go into competition with CART, which since 1979 had led the growth and development of Indy-car racing, including the Indy 500.
So what are we left with? An IRL IndyCar Series that in many key respects is a virtual clone of CART in the '80s and '90s. Same teams, same mix of road racing and ovals, but now managed -- some would say mismanaged -- by IMS. But with a significantly diminished fan and sponsor base and no longer featuring George in the mix, other than as the owner of a midfield team created as a vehicle to put his stepson Ed Carpenter into Indy cars.
I'll close by repeating a thought I expressed in a column I wrote in January 2006, when George and the IRL retained KISS bassist Gene Simmons and his marketing company to represent the IndyCar Series. It's richly ironic that the anthem Simmons penned to promote Indy-car racing was titled "I Am Indy." Because Tony George seems to have thought HE was Indy, and clearly he wasn't.
I strongly believe that Indy-car racing's former fans -- and there are millions of them -- aren't going to embrace the IRL until the man who created it accepts some responsibility for the detrimental actions he forced upon the sport they love.
Sports fans in the 21st century demand accountability -- just ask Mark McGwire or Tiger Woods. And all of Izod's millions of dollars of marketing clout won't achieve anything until George breaks his silence to apologize for his role in putting Indy-car racing in the downtrodden position it occupies.
The Tony George era may be gone. But it certainly won't be forgotten by anyone who cares about Indy-car racing.
John Oreovicz covers open-wheel racing for ESPN.com.
Autos, Open-Wheel
Motorsports Writer for ESPN.com
Covered Indy car racing for 20 years
Work published in 12 countries
SPONSORED HEADLINES
MORE RACING HEADLINES
MOST SENT STORIES ON ESPN.COM