Commentary
Franchitti, Dixon fastest on Carb Day
INDIANAPOLIS -- Target Chip Ganassi Racing set the pace in the final practice session for the 94th running of the Indianapolis 500 (Sunday 1 p.m. ET, ABC).
Dario Franchitti and Scott Dixon were the only drivers to top 225 mph in the traditional "Carb Day" warm-up, with Franchitti's early 225.574 mph tour of the Indianapolis Motor Speedway besting his teammate's best lap by more than 0.4 mph.
"We worked hard on our race setup throughout the week and I'm pretty happy with the car," said Franchitti, the 2007 Indy winner who will start the race from the outside of the front row for the fourth time in seven appearances.
[+] Enlarge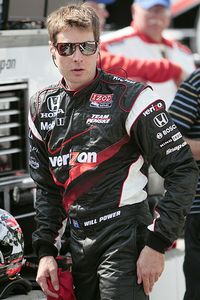 AP Photo/AJ MastWill Power led the Penske contingent in Friday's practice. He starts in the middle of the front row Sunday.
Dixon was often fastest during the week of practice leading into qualifying when many teams were working on race setups. He ran 225.159 mph on Carb Day and will start sixth on Sunday.
"Last year we made a couple of mistakes at the end of the race on pit stops and it kind of ruined our day," Dixon said. "This is a long race but you and the team have to function perfectly to win.
"It's going to be a lot warmer than the conditions we've been running in and hopefully that helps us," he added. "Typically when it's hotter our cars are very good. It will definitely be harder for teams that are not that good -- the heat is going to take its toll. When you get some heat, there's less downforce and the tires don't work as well. You'll be sliding around a lot more and it opens up the opportunity for more mistakes."
IZOD IndyCar Series championship leader Will Power led the three-car Team Penske attack with a 224.993 mph lap Friday. Pole-sitter Helio Castroneves was fifth-fastest while Ryan Briscoe ran 11th at 223.493 mph.
"You've got to be flawless in the pits, you and your team, because that's where you can really gain or lose positions," Power said. "Beyond that, you've got to be mistake-free and make sure you picked the right downforce level for the day. If you're too [downforce] heavy, you're going to get passed, and if you're too light, the car is going to go off quickly and you're going to go backwards."
Andretti Autosport continued to struggle for speed. Marco Andretti was the team's fastest representative on Carb Day, clocking the 12th-fastest speed. Tony Kanaan's troubled month continued as the Brazilian set the 20th-best time, just ahead of Danica Patrick, who was 31st out of 33 entries before jumping up to 21st at the very end on the 40th of her 42 laps.
Carb Day presented the first opportunities for drivers to sample the Power to Pass function on the ethanol-fueled Honda V-8 engines. Each competitor will receive 15 pushes of an 18-second duration during the race.
"There's no question you'll need to manage the push to pass," said Power, who qualified second for Sunday's race. "It's going to be very important here. If you don't have any for that last stint, you're going to be a sitting duck."
[+] Enlarge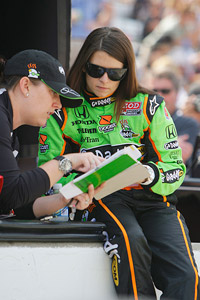 AP Photo/Jeff RobersonDanica Patrick improved greatly late in practice, but she was still only 21st fastest on Friday.
Several drivers picked Alex Tagliani of the FAZZT Race Team as their dark horse for Sunday. Tagliani ran 10th-fastest on Carb Day, but his teammate Bruno Junqueira was fourth-quickest at 224.898 mph.
"I wouldn't count out Tagliani -- he's been doing such a great job all month long and showing a lot of speed," observed Briscoe. "He's got a very fast car and he's been running strong in traffic."
Despite extremely limited practice time, Junqueira was the fastest second-day qualifier and the Brazilian believes he can win the Greatest Spectacle in Racing.
"I wouldn't be here if I didn't think I can win," Junqueira said. "There is a lot of experience on this team and the car is very fast. Don't count me out."
There were no accidents during the one-hour practice session and the only moment of concern came when Panther Racing's Dan Wheldon ran over a spare wheel during a pit stop. The Panther entry was not damaged.
John Oreovicz covers open-wheel racing for ESPN.com.
Autos, Open-Wheel
Motorsports Writer for ESPN.com
Covered Indy car racing for 20 years
Work published in 12 countries
SPONSORED HEADLINES
MORE RACING HEADLINES
MOST SENT STORIES ON ESPN.COM
94TH INDIANAPOLIS 500-MILE RACE

Another Month of May on the track has come and gone, and the venerable Indianapolis Motor Speedway roared to life again. This was the second year of Indy's Centennial Era, with Dario Franchitti winning the 94th running of the Indianapolis 500.
Indianapolis Motor Speedway timeline

Indy 500 Raceday
•
Blount: Franchitti proves he's truly back home
•
Hinton: Ganassi deflects credit ... again
•
Oreovicz: Pole promise fizzles for Penske
•
Oreovicz: Danica pulls off solid finish
•
Recap: Dario dominates
|
500 results
•
Andretti moves up to third on review
•
Conway to hospital after violent crash
•
IndyCar Live! Indy 500 rewind on ESPN.com
Columns
•
Blount: An anticlimactic Indy 500?
•
Hinton: It's still the greatest race
•
Blount: Helio's drive for four ... and more
•
Newton: Hornish respected? Yes and no
•
Oreovicz: Ganassi cars lead Carb Day
•
Blount: Historic run for Kanaan?
•
Hinton: New IRL CEO Bernard has titanic task
•
Blount: Danica's time running out?
•
Oreovicz: Breaking down the 500 field
•
Blount: Indy-Coke double twice the fun
•
Oreovicz: Indy not curing Danica's ills
•
Oreovicz: Drama returns to Bump Day
•
Helio dominates on revived Pole Day
•
Oreovicz: Bracing for some Pole Day drama
•
McGee: Meira an Indy car cult hero
•
Oreovicz: Indy 500 field not set in stone
•
Oreovicz: The Indy 500, from A to Z
More IndyCar Live! coverage
•
IndyCar Live! Bump Day rewind on ESPN.com
•
IndyCar Live! Pole Day rewind on ESPN.com
Blogs
•
Blount: "Push-to-pass" may be key at Indy
•
Oreovicz: $5 practice best bargain in town
Practice and qualifying
•
94th Indianapolis 500 starting grid
•
Danica: Not enough time for needed car fixes
•
Kanaan's advice to Danica? Get happy
•
Kanaan rebounds from crash to make 500
•
Saavedra still in Indy 500 field despite crash
•
Helio tops field; Danica 23rd of 24
•
Fans react sourly to Danica comments
•
Kanaan, Moraes OK after crashes
•
Power hits 228 in morning practice »
•
Power, Tagliani top Friday speed charts
•
Kanaan peels off top time Thursday
•
Dixon hits 226 in Tuesday practice
•
Castroneves sets pace on first day
•
Wheldon OK after Sunday crash
More coverage
•
Danica's Double 2010: Gearing up for Indy
•
2009 Flashback: Castroneves wins again
•
2008 Flashback: Quiet Dixon makes noise
•
2007 Flashback: Franchitti comes up big
•
2006 Flashback: Hornish gets his "Holy Grail"
Indy 500 Video
•
Dario Franchitti wins Indianapolis 500
•
Franchitti storms Indianapolis
•
Dario Franchitti back in Victory Lane
•
Close but no milk for Helio and Kanaan
•
Four for Helio Castroneves?
•
No easy blueprint for winning
•
The women of Indy
•
The sweet life of Danica
•
Castroneves: Life in reflection
•
Patrick and Wheldon change tires
•
Penske on track with Helio, Briscoe
•
Danica's focused after rough start
•
Franchitti and the Indy 500
•
Wild qualifying delivered the drama
•
Castroneves wins Indy 500 Pole
•
Power ready for the Indy 500