Commentary
Pole promise fizzles for Penske
INDIANAPOLIS -- Realistically, the 94th Indianapolis 500 was always going to be won by one of the five entries from Target Chip Ganassi Racing or Team Penske.
All week long, drivers and principals from Indy car racing's two mightiest organizations said that mistakes -- or more specifically, the lack thereof -- would determine who would take home the IZOD IndyCar Series' biggest payday.
"Chip [Ganassi] told us this morning, 'Make no mistakes and we're in the hunt here today, guys,'" recounted race winner Dario Franchitti -- who happened to be the only Penske or Ganassi driver who got through Sunday's baking hot 500-mile marathon without a slip on the track or in the pits.
Team Penske looked to have the upper hand once qualifying started for the classic event eight days ago. Helio Castroneves snared a dominant pole position and Will Power and Ryan Briscoe also qualified in the top four.
But the Penske challenge faded on race day with uncharacteristic errors in the pits. Power's eighth-place finish was best for the three-car operation, one spot ahead of Castroneves. Briscoe crashed out and was classified 24th.
[+] Enlarge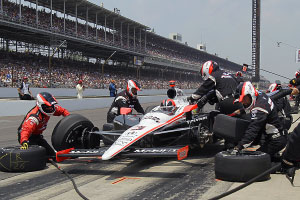 AP Photo/Darron CummingsHelio Castroneves saw his race go up in smoke with a bad pit stop when he stalled the car. The pole-sitter finished ninth.
Castroneves and Power were both delayed by problematic pit stops. Power led Laps 31-35 but soon dropped to the back of the field when he was penalized for leaving his first pit stop with the fuel hose attached to the car.
Meanwhile, pole-winner Castroneves didn't pace the race until Laps 189-191, and by then, it was only on a fuel gamble. Like Power, Castroneves lost major ground in the pits when he stalled during a midrace stop.
"I think Will was our strongest car today and we made way too many mistakes in the pits," said Penske Racing president Tim Cindric. "In this race you've got to execute and you can't make mistakes, and in each one of our pits we had something that didn't go the right way. You can't expect to win that way."
Cindric, who calls Castroneves' strategy during races, called his driver in to pit under caution on Lap 155, knowing that Helio would need a lot more yellow-flag laps to make the finish on fuel.
When the race went clean and green -- until the final lap, when Mike Conway crashed -- the fuel gamble with Castroneves didn't pay off and the three-time Indy winner pitted for a splash-and-go on the 192nd lap.
"I think if we would have gotten one long yellow there we would have had a shot to at least give it a try," Cindric said. "Here [at Indianapolis] you either win or you don't. From my perspective, I'd rather roll the dice and have a chance at it than regret it afterwards."
Castroneves was upset with himself for the costly pit-stop stall.
"This place is about who makes less mistakes," Castroneves said. "I might not have made a big one, but it was enough to put us at the back and destroyed our race right at the wrong time.
"Our car was not very fun to drive in the hot weather and we were just surviving, basically," Castroneves added. "I feel terrible for the guys. Certainly Dario had the car to win. He was in a league of his own; he was very fast. We didn't have much."
Castroneves was more aggressive in coming through the field than Power, who said that once he was put to the back, he took a cautious approach with the championship in mind.
[+] Enlarge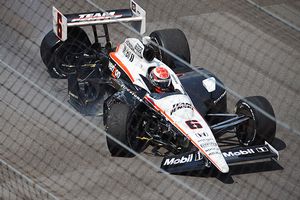 AP Photo/Chris HowellRyan Briscoe slides along the main straightaway after crashing into the wall during the Indianapolis 500. He finished 24th.
"To win this race you can't have mistakes -- you've got to execute all day long," Power said. "I thought we had something for Dario for sure. The Verizon car was really quick and I was chopping through the field no problem.
"But I sort of thought there was no use in taking a huge risk. You're not going to win the race and the points are even when you're that far back so I was a bit conservative."
Briscoe was easily the most disappointed of the Penske drivers. He crashed in Turn 4 on Lap 148 after spending the last six months dedicating himself to winning the Indianapolis 500.
"It was really slick out there and we just added some downforce to the car," explained the Australian. "We were on cold tires and I just got up into the marbles. I feel really bad for my guys."
Franchitti's Ganassi teammate Scott Dixon ended up managing the best damage control. The New Zealander recovered to finish fifth after losing time in an early pit stop when the left-front wheel was not properly attached.
"We work hard to prevent those things," said Ganassi managing director Mike Hull. "Didn't like that it happened."
"Not much of an exciting race for me," Dixon said. "I was kind of sitting in the back of the pack after the pit stop problem and we just never really regained. I slowly picked off cars as I went along. If it was a 600- or 700-mile race, we would have been looking decent.
"But a fantastic job by Dario and a huge day for the team."
A huge, $3 million day for the one driver and team that didn't make any mistakes in the Indianapolis 500.
John Oreovicz covers open-wheel racing for ESPN.com.
Autos, Open-Wheel
Motorsports Writer for ESPN.com
Covered Indy car racing for 20 years
Work published in 12 countries
SPONSORED HEADLINES
MORE RACING HEADLINES
MOST SENT STORIES ON ESPN.COM
94TH INDIANAPOLIS 500-MILE RACE

Another Month of May on the track has come and gone, and the venerable Indianapolis Motor Speedway roared to life again. This was the second year of Indy's Centennial Era, with Dario Franchitti winning the 94th running of the Indianapolis 500.
Indianapolis Motor Speedway timeline

Indy 500 Raceday
•
Blount: Franchitti proves he's truly back home
•
Hinton: Ganassi deflects credit ... again
•
Oreovicz: Pole promise fizzles for Penske
•
Oreovicz: Danica pulls off solid finish
•
Recap: Dario dominates
|
500 results
•
Andretti moves up to third on review
•
Conway to hospital after violent crash
•
IndyCar Live! Indy 500 rewind on ESPN.com
Columns
•
Blount: An anticlimactic Indy 500?
•
Hinton: It's still the greatest race
•
Blount: Helio's drive for four ... and more
•
Newton: Hornish respected? Yes and no
•
Oreovicz: Ganassi cars lead Carb Day
•
Blount: Historic run for Kanaan?
•
Hinton: New IRL CEO Bernard has titanic task
•
Blount: Danica's time running out?
•
Oreovicz: Breaking down the 500 field
•
Blount: Indy-Coke double twice the fun
•
Oreovicz: Indy not curing Danica's ills
•
Oreovicz: Drama returns to Bump Day
•
Helio dominates on revived Pole Day
•
Oreovicz: Bracing for some Pole Day drama
•
McGee: Meira an Indy car cult hero
•
Oreovicz: Indy 500 field not set in stone
•
Oreovicz: The Indy 500, from A to Z
More IndyCar Live! coverage
•
IndyCar Live! Bump Day rewind on ESPN.com
•
IndyCar Live! Pole Day rewind on ESPN.com
Blogs
•
Blount: "Push-to-pass" may be key at Indy
•
Oreovicz: $5 practice best bargain in town
Practice and qualifying
•
94th Indianapolis 500 starting grid
•
Danica: Not enough time for needed car fixes
•
Kanaan's advice to Danica? Get happy
•
Kanaan rebounds from crash to make 500
•
Saavedra still in Indy 500 field despite crash
•
Helio tops field; Danica 23rd of 24
•
Fans react sourly to Danica comments
•
Kanaan, Moraes OK after crashes
•
Power hits 228 in morning practice »
•
Power, Tagliani top Friday speed charts
•
Kanaan peels off top time Thursday
•
Dixon hits 226 in Tuesday practice
•
Castroneves sets pace on first day
•
Wheldon OK after Sunday crash
More coverage
•
Danica's Double 2010: Gearing up for Indy
•
2009 Flashback: Castroneves wins again
•
2008 Flashback: Quiet Dixon makes noise
•
2007 Flashback: Franchitti comes up big
•
2006 Flashback: Hornish gets his "Holy Grail"
Indy 500 Video
•
Dario Franchitti wins Indianapolis 500
•
Franchitti storms Indianapolis
•
Dario Franchitti back in Victory Lane
•
Close but no milk for Helio and Kanaan
•
Four for Helio Castroneves?
•
No easy blueprint for winning
•
The women of Indy
•
The sweet life of Danica
•
Castroneves: Life in reflection
•
Patrick and Wheldon change tires
•
Penske on track with Helio, Briscoe
•
Danica's focused after rough start
•
Franchitti and the Indy 500
•
Wild qualifying delivered the drama
•
Castroneves wins Indy 500 Pole
•
Power ready for the Indy 500