Commentary
Patrick ends Indy with solid run
INDIANAPOLIS -- Andretti Autosport seemingly pulled a rabbit out of a hat in the form of a sixth-place finish for Danica Patrick in the Indianapolis 500.
Patrick gained national notoriety after publicly expressing her frustration about her car's 23rd-place performance in Indy qualifying by placing the blame on the Andretti engineering staff.
On Sunday, that same group of slide-rule-packing boffins put a reasonably competitive race setup on Patrick's No. 7 GoDaddy.com car and devised a pit-stop strategy that helped Patrick achieve her best result of the 2010 season.
All of the Andretti cars struggled in Indy qualifying, with Marco Andretti the team's leading representative in 16th place. Andretti raced to a third-place finish in the 500.
Patrick lost positions before she got back on the positive side of the ledger in the race, but the payoff was what she hopes will be a season-turning result.
[+] Enlarge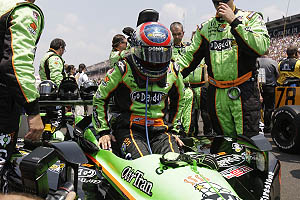 AP Photo/Jeff RobersonDanica Patrick climbed into her car 23rd at Indy. She climbed out of it sixth.
"Slowly but surely each stop we just made the car a little bit better and the guys did a kick-ass job on pit stops," Patrick told reporters in the pit lane after her third top-six finish at Indianapolis in six starts. "As I said in the last few days, I knew when the race came, we'd be good, as the team has a great history at the speedway. I knew we would get better.
"No doubt we had a shot at winning the event."
That assessment is probably a bit optimistic, given that Patrick pitted from 27th place during the first caution period on Lap 10 and played the alternate strategy game to gain track position. Rapid pit work elevated her from 17th to 12th on the 110th lap.
"We did struggle a little in the early goings," Danica said. "We almost went a lap down. But we were able to get the GoDaddy.com car into the position it should have been in.
"I kept telling them if I got as many [places] on track as they did in the pits, we'd be good. From where we started, we did have a good day. Whole team had a good day."
Patrick was initially classified in fifth place, but it was later established that she and two other drivers passed her teammate Andretti after the caution light came on during the 199th lap of the race. Andretti was awarded third place, ahead of Alex Lloyd, Scott Dixon and Patrick.
The sweltering heat, measured at 96 degrees ambient in the last hour of the three-hour contest, failed to faze Patrick.
"I could have sworn 2006 was 98 degrees, so maybe I've been in two of the hottest Indy 500s," she said. "The only thing you notice is getting thirsty. I don't feel hot. I felt good physically, but got thirsty a few times."
AA's Tony Kanaan drove from 33rd to second place, but the Brazilian was one of the drivers who pitted for fuel in the late stages, allowing Patrick to climb from 13th to sixth place in the final 10 laps.
"What a great way to end a tough month," Patrick said in Andretti Autosport's postrace press release. "It was a challenging race, but together with my crew doing outstanding pit stops and the engineers calling a great strategy, we were able to pull off a good finish for the GoDaddy car.
"I never doubted we could accomplish this together as a team. We finished the month on a high note, so heading into Texas is a confidence booster."
John Oreovicz covers open-wheel racing for ESPN.com.
Autos, Open-Wheel
Motorsports Writer for ESPN.com
Covered Indy car racing for 20 years
Work published in 12 countries
94TH INDIANAPOLIS 500-MILE RACE

Another Month of May on the track has come and gone, and the venerable Indianapolis Motor Speedway roared to life again. This was the second year of Indy's Centennial Era, with Dario Franchitti winning the 94th running of the Indianapolis 500.
Indianapolis Motor Speedway timeline

Indy 500 Raceday
•
Blount: Franchitti proves he's truly back home
•
Hinton: Ganassi deflects credit ... again
•
Oreovicz: Pole promise fizzles for Penske
•
Oreovicz: Danica pulls off solid finish
•
Recap: Dario dominates
|
500 results
•
Andretti moves up to third on review
•
Conway to hospital after violent crash
•
IndyCar Live! Indy 500 rewind on ESPN.com
Columns
•
Blount: An anticlimactic Indy 500?
•
Hinton: It's still the greatest race
•
Blount: Helio's drive for four ... and more
•
Newton: Hornish respected? Yes and no
•
Oreovicz: Ganassi cars lead Carb Day
•
Blount: Historic run for Kanaan?
•
Hinton: New IRL CEO Bernard has titanic task
•
Blount: Danica's time running out?
•
Oreovicz: Breaking down the 500 field
•
Blount: Indy-Coke double twice the fun
•
Oreovicz: Indy not curing Danica's ills
•
Oreovicz: Drama returns to Bump Day
•
Helio dominates on revived Pole Day
•
Oreovicz: Bracing for some Pole Day drama
•
McGee: Meira an Indy car cult hero
•
Oreovicz: Indy 500 field not set in stone
•
Oreovicz: The Indy 500, from A to Z
More IndyCar Live! coverage
•
IndyCar Live! Bump Day rewind on ESPN.com
•
IndyCar Live! Pole Day rewind on ESPN.com
Blogs
•
Blount: "Push-to-pass" may be key at Indy
•
Oreovicz: $5 practice best bargain in town
Practice and qualifying
•
94th Indianapolis 500 starting grid
•
Danica: Not enough time for needed car fixes
•
Kanaan's advice to Danica? Get happy
•
Kanaan rebounds from crash to make 500
•
Saavedra still in Indy 500 field despite crash
•
Helio tops field; Danica 23rd of 24
•
Fans react sourly to Danica comments
•
Kanaan, Moraes OK after crashes
•
Power hits 228 in morning practice »
•
Power, Tagliani top Friday speed charts
•
Kanaan peels off top time Thursday
•
Dixon hits 226 in Tuesday practice
•
Castroneves sets pace on first day
•
Wheldon OK after Sunday crash
More coverage
•
Danica's Double 2010: Gearing up for Indy
•
2009 Flashback: Castroneves wins again
•
2008 Flashback: Quiet Dixon makes noise
•
2007 Flashback: Franchitti comes up big
•
2006 Flashback: Hornish gets his "Holy Grail"
Indy 500 Video
•
Dario Franchitti wins Indianapolis 500
•
Franchitti storms Indianapolis
•
Dario Franchitti back in Victory Lane
•
Close but no milk for Helio and Kanaan
•
Four for Helio Castroneves?
•
No easy blueprint for winning
•
The women of Indy
•
The sweet life of Danica
•
Castroneves: Life in reflection
•
Patrick and Wheldon change tires
•
Penske on track with Helio, Briscoe
•
Danica's focused after rough start
•
Franchitti and the Indy 500
•
Wild qualifying delivered the drama
•
Castroneves wins Indy 500 Pole
•
Power ready for the Indy 500
MOST SENT STORIES ON ESPN.COM