Commentary
Franchitti among Indy racing's greats
After his second Indianapolis 500 victory, Dario Franchitti balked at being compared to Jim Clark and Jackie Stewart, illustrious racers and fellow natives of Scotland.
But taken in context with the rest of Franchitti's considerable Indy car racing accomplishments, his dominating performance in the 94th running of the Greatest Spectacle in Racing puts him in some pretty heady company in American open-wheel racing's modern era, considered from 1979 to the present.
Winning twice at Indianapolis automatically elevates a driver into an elite category. Only 17 drivers have multiple wins in the nearly century-long history of the Indy 500, but since 1979, only six drivers have accomplished the feat.
[+] Enlarge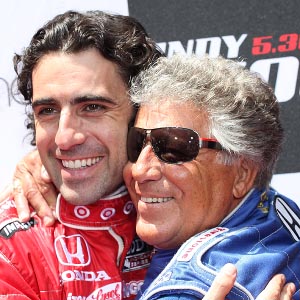 Ben Hider/Getty ImagesOpen-wheel greats past and present: Dario Franchitti and Mario Andretti.
Drinking the milk and also winning an open-wheel championship is a more common achievement. Twelve drivers have managed that combination in the modern era, including nine in the same season.
When you start talking about drivers who have won both the Indianapolis 500 and an Indy car championship multiple times, the list is narrowed down to three: Rick Mears, Al Unser Jr. and Franchitti. And whether Dario wants to admit it or not, that puts him in open-wheel racing's upper echelon.
Franchitti has won a total of 24 Indy car races: 14 under Indy Racing League sanction since 2004 (including two Indianapolis 500s) and another 10 in the CART Indy Car World Series from 1998-2002. He won the IRL IndyCar Series crown in 2007 and '09 and tied Juan Pablo Montoya's point total in the 1999 CART championship but lost on a tiebreaker.
In comparison, Mears won Indy four times between 1979 and '91 and added 22 other race wins and three CART series championships. Unser Jr. won two CART titles and two Indy 500s in a five-year period from 1990-94. His 32 other race wins include three from late in his career during the IRL era.
Using a formula that awards 10 points for an Indy 500 win, five points for a CART or IRL championship title, and one point for any other race win, Mears and Unser stand a clear 1-2 ahead of all other drivers over the last 31 years. But emerging third from a diverse group of challengers is Franchitti, who at age 37 still has several prime years left in his Indy car career.
By the end of 2007 -- the year he won his first Indianapolis ring and IndyCar Series championship with Andretti Green Racing -- Franchitti had grown tired of open-wheel racing for a number of reasons, and he sought a new challenge in NASCAR.
When that didn't work out due to circumstances pretty much out of his control, Franchitti returned refreshed to a revitalized, unified IndyCar Series. He and Target Chip Ganassi Racing teammate Scott Dixon have been the class of the open-wheel world in the past year-and-a-half, winning six races apiece.
And now Franchitti is truly at the top of the open-wheel world -- simultaneously reigning as Indianapolis 500 and IndyCar Series champion.
SUPER DARIO
Where does 2010 Indy 500 winner Dario Franchitti rank among Indy's greatest? Check out John Oreovicz's power rankings formula (an Indy win is worth 10 points, a championship is worth five and any other race win is worth one):
| Driver | Indy wins | Titles | Other wins | Pts |
| --- | --- | --- | --- | --- |
| 1. Rick Mears | 4 | 3 | 22 | 77 |
| 2. Al Unser Jr. | 2 | 2 | 32 | 62 |
| 3. Dario Franchitti | 2 | 2 | 22 | 52 |
| 4. Sebastien Bourdais | 0 | 4 | 31 | 51 |
| 5. Helio Castroneves | 3 | 0 | 20 | 50 |
| 6. Bobby Rahal | 1 | 3 | 23 | 48 |
| 7. Michael Andretti | 0 | 1 | 42 | 47 |
| 8. Emerson Fittipaldi | 2 | 1 | 20 | 45 |
| 9. Sam Hornish Jr. | 1 | 3 | 18 | 43 |
| 10. Scott Dixon | 1 | 2 | 21 | 41 |
"They showed me a list of two-time winners, and those guys are legends," Franchitti remarked. "I'm so lucky to be driving for Chip and Team Target, getting in good cars, especially having gone away after we won in '07. To be invited back was pretty cool.
"To have won a championship and an Indy 500, I didn't expect any of this. I said before, I expected to be retired by the time I was 35. This is all bonus, and it's pretty cool."
Franchitti received some unwarranted criticism for using a fuel-saving strategy to win the 2009 IndyCar final race and championship, and he was again stretching fuel and running 20 mph slower than he was capable of in the closing laps Sunday at Indy.
"Strategy is part of racing. Whether it's IndyCar racing, stock car racing or sports car racing, you have to find the best way to get to the finish line," he said. "Doesn't matter what it is, you have to find the best way, and we did that."
But it wasn't making mileage and gambling on a radical strategy that put Franchitti out front in the late stages -- it was pure speed. His total of 155 laps in the lead was the fourth-greatest total by an Indy winner, in company with names like Al Unser and -- yes, Dario -- Jim Clark.
Part of Franchitti's appeal to racing purists is his knowledge and passion for the history of motorsports and his respect for the champions who preceded him. His good looks and marriage to Hollywood star Ashley Judd make him a favorite among casual fans.
His on-track record and his character and charisma outside the car should make him Indy car racing's biggest and most marketable star. Yet in some respects he remains the sport's best-kept secret after a 14-year American career in which headlines have been dominated by CART vs. IRL politics and Danica Patrick.
Some of Franchitti's former teammates with far less accomplished records could learn a thing or two from the Scotsman about keeping their egos in check.
"It's very important, both at the track and out of the track, that we look after the kids, especially the younger kids," Franchitti said. "I remember going to racetracks and seeing my heroes. When they were nice to me, it was an unbelievable feeling. I think it's very important."
A year-and-a-half into the second phase of his Indy car career, Franchitti knows this is his last stop.
"It's home to me," he said Monday night, accepting the $2.75 million prize for his Indianapolis win. "I love driving the cars, I love the places we go. I think we're getting back to the glory days, and I'm so glad to be here and be part of it.
"I just need John Andretti and Davey Hamilton to show up again next year so I'm not the oldest driver in the field!"
John Oreovicz covers open-wheel racing for ESPN.com.
Autos, Open-Wheel
Motorsports Writer for ESPN.com
Covered Indy car racing for 20 years
Work published in 12 countries
94TH INDIANAPOLIS 500-MILE RACE

Another Month of May on the track has come and gone, and the venerable Indianapolis Motor Speedway roared to life again. This was the second year of Indy's Centennial Era, with Dario Franchitti winning the 94th running of the Indianapolis 500.
Indianapolis Motor Speedway timeline

Indy 500 Raceday
•
Blount: Franchitti proves he's truly back home
•
Hinton: Ganassi deflects credit ... again
•
Oreovicz: Pole promise fizzles for Penske
•
Oreovicz: Danica pulls off solid finish
•
Recap: Dario dominates
|
500 results
•
Andretti moves up to third on review
•
Conway to hospital after violent crash
•
IndyCar Live! Indy 500 rewind on ESPN.com
Columns
•
Blount: An anticlimactic Indy 500?
•
Hinton: It's still the greatest race
•
Blount: Helio's drive for four ... and more
•
Newton: Hornish respected? Yes and no
•
Oreovicz: Ganassi cars lead Carb Day
•
Blount: Historic run for Kanaan?
•
Hinton: New IRL CEO Bernard has titanic task
•
Blount: Danica's time running out?
•
Oreovicz: Breaking down the 500 field
•
Blount: Indy-Coke double twice the fun
•
Oreovicz: Indy not curing Danica's ills
•
Oreovicz: Drama returns to Bump Day
•
Helio dominates on revived Pole Day
•
Oreovicz: Bracing for some Pole Day drama
•
McGee: Meira an Indy car cult hero
•
Oreovicz: Indy 500 field not set in stone
•
Oreovicz: The Indy 500, from A to Z
More IndyCar Live! coverage
•
IndyCar Live! Bump Day rewind on ESPN.com
•
IndyCar Live! Pole Day rewind on ESPN.com
Blogs
•
Blount: "Push-to-pass" may be key at Indy
•
Oreovicz: $5 practice best bargain in town
Practice and qualifying
•
94th Indianapolis 500 starting grid
•
Danica: Not enough time for needed car fixes
•
Kanaan's advice to Danica? Get happy
•
Kanaan rebounds from crash to make 500
•
Saavedra still in Indy 500 field despite crash
•
Helio tops field; Danica 23rd of 24
•
Fans react sourly to Danica comments
•
Kanaan, Moraes OK after crashes
•
Power hits 228 in morning practice »
•
Power, Tagliani top Friday speed charts
•
Kanaan peels off top time Thursday
•
Dixon hits 226 in Tuesday practice
•
Castroneves sets pace on first day
•
Wheldon OK after Sunday crash
More coverage
•
Danica's Double 2010: Gearing up for Indy
•
2009 Flashback: Castroneves wins again
•
2008 Flashback: Quiet Dixon makes noise
•
2007 Flashback: Franchitti comes up big
•
2006 Flashback: Hornish gets his "Holy Grail"
Indy 500 Video
•
Dario Franchitti wins Indianapolis 500
•
Franchitti storms Indianapolis
•
Dario Franchitti back in Victory Lane
•
Close but no milk for Helio and Kanaan
•
Four for Helio Castroneves?
•
No easy blueprint for winning
•
The women of Indy
•
The sweet life of Danica
•
Castroneves: Life in reflection
•
Patrick and Wheldon change tires
•
Penske on track with Helio, Briscoe
•
Danica's focused after rough start
•
Franchitti and the Indy 500
•
Wild qualifying delivered the drama
•
Castroneves wins Indy 500 Pole
•
Power ready for the Indy 500
MOST SENT STORIES ON ESPN.COM