Commentary
Helio Castroneves simply 'disgusted'
LONG BEACH, Calif. -- About halfway through the 37th annual Toyota Grand Prix of Long Beach, Team Penske looked in control.
Ryan Briscoe had assumed the lead on the 32nd of 85 laps thanks to some savvy pit strategy by team boss Roger Penske. Pole winner Will Power ran third, and Helio Castroneves was a solid fifth.
[+] Enlarge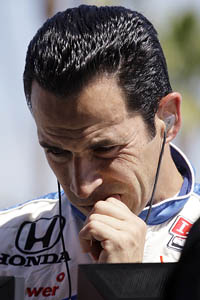 AP Photo/Reed SaxonThings for Helio Castroneves and Team Penske unraveled on Lap 67 in Sunday's Toyota Grand Prix of Long Beach.
Then it all went wrong on Lap 67. Not for the first time this year, Castroneves had trouble braking for a restart, causing an accident. This time, Castroneves' mistake took out Izod IndyCar Series championship leader Power -- well, make that former championship leader Power.
Although he didn't lose a lap, Power's 10th-place finish dropped him seven points behind defending series champion Dario Franchitti, who finished third at Long Beach.
Meanwhile, Castroneves' blunder had further implications for the Penske team. After the subsequent caution and restart, Briscoe picked up a lot of dirt on his tires and lost the lead to Mike Conway. The relatively unheralded Andretti Autosport driver romped away to an easy victory on a day when Team Penske should -- or at least could -- have won.
Penske's driver tandems don't often self-destruct, so "The Captain" took Sunday's misfortune in stride.
"It's unfortunate that Helio got in so deep," Penske observed. "There was no place he could go and he ran into Will. Those restarts are a tough battle when you're back there like that. He's obviously not interested in running into everybody.There was just no way he could stop. Fortunately Will didn't get a lap down and it wasn't a complete disaster.
"Ryan did a good job keeping ahead of Franchitti, but Conway just blew us off," added Penske. "I'm not sure what he had there in the end, but he really did a job."
Power declined to comment to reporters, but the Australian expressed his disappointment in a team statement.
"The Verizon car was strong today and it's definitely not the finish we wanted," Power said. "I'm not really sure what happened on the restart. I got hit from behind by Helio, but sometimes that's what happens in racing -- especially close racing like this with the double-file restarts. It wasn't a great day for points, but Verizon Team Penske will keep working hard and move forward."
Castroneves looked somewhat distraught after the race. The Brazilian admitted that he has had problems braking for restarts in every IndyCar race this year.
"You never want to crash into a teammate, and certainly that was not something I intended," he said. "I apologized to Will. I wish I could go back in time and not be so stupid like that, make a mistake so horrendous. It's the team that I really care about. Will is doing a phenomenal job so I feel disgusted at the moment.
"I can't make any more silly mistakes and I can't take my friends and teammates out. It's very disappointing, and hopefully they will be able to forgive me."
"

How Helio doesn't get penalized, I have no idea. He ruined [Justin] Wilson's day by spinning him out at the hairpin, then takes his teammate out and wrecks my car. I just don't understand. He's obviously being given free reign to go out and crash anybody he wants.

"

-- Scott Dixon
The driver least impressed with Castroneves' problems was Scott Dixon. For the second time this year, the 2008 IndyCar Series champion was knocked out of contention by an out-of-control Castroneves.
"How Helio doesn't get penalized, I have no idea," Dixon said. "He ruined [Justin] Wilson's day by spinning him out at the hairpin, then takes his teammate out and wrecks my car.
"I just don't understand," he added. "He's obviously being given free reign to go out and crash anybody he wants. I don't know if he's nervous or trying to prove a point. I think Will is getting to him a bit. Obviously he's waxing him on straight-up qualifying laps and things like that."
Penske Racing president (and Castroneves' race strategist) Tim Cindric is not concerned about the struggles that have left his driver 13th in the point standings after three races.
"Nobody's a better team player than Helio, so he hates to see that more than anybody else does," said Cindric. "After what happened in the first race or two our goal here was to be top-5 before we went into Indy. I thought we had a podium car today. The speed is there -- we just have to execute."
Penske and the team chose to focus on the positives that came from Briscoe's second-place finish on Sunday rather than dwell on the Castroneves-Power incident.
"The big thing for us is we had three cars that ran all race," Penske said. "That's the first time it's happened for us this year. Unfortunately it was not a great day for those other two guys, but I was real happy to see Briscoe have a good finish. We needed that for him. He did what he had to do."
"Roger did a great job bringing [Briscoe] in and knowing what needed to happen, and Ryan did a good job on old tires holding those guys off," Cindric added. "But you have to take your hat off to Conway for the way he handled things."
Penske and Cindric will be working hard to restore Castroneves' confidence prior to the IndyCar Series' next race, in Helio's homeland of Brazil.
Castroneves vowed to get to the bottom of his braking problems to start salvaging his 2011 season.
"I just wish I could find the problem," Castroneves said. "We are using a different brake material than Ryan or Will. I wonder if that is an issue, but I've used the same model my entire career. So I'm not understanding why I'm having these types of issues.
"It's getting under my skin, for sure."
John Oreovicz covers open-wheel racing for ESPN.com.
Autos, Open-Wheel
Motorsports Writer for ESPN.com
Covered Indy car racing for 20 years
Work published in 12 countries
SPONSORED HEADLINES
MORE RACING HEADLINES
MOST SENT STORIES ON ESPN.COM