Commentary
Double-file restarts double trouble
Updated:
April 16, 2011, 5:54 PM ET
By
Helio Castroneves
| Special to ESPN.com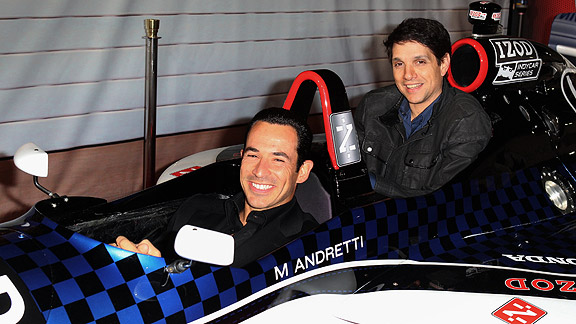 Joe Scarnici/Getty ImagesFormer "Dancing With The Stars" champ Helio Castroneves, left, spent some time with current DWTS contestant Ralph "The Karate Kid" Macchio this week in Cali.
Editor's note: This is the fourth installment by three-time Indianapolis 500 winner Helio Castroneves, who'll be writing periodically for ESPN.com throughout the 2011 Izod IndyCar Series season (as told to ESPN.com motorsports writer John Oreovicz).
We had another tough race at the Honda Indy Grand Prix of Alabama. The AAA Insurance Team Penske car was really consistent, but unfortunately for the second race in a row, the new double-file restarts really got the best of me. I lost several positions on the first restart and that dropped us to a seventh-place finish.
After a disappointing start to the season at St. Petersburg, we knew when we arrived at Barber Motorsports Park that we had to be somewhat cautious and not lose any more ground in the championship. The Izod IndyCar Series championship is all about points, and a lot of small points make a big difference in the end. By finishing 20th in the first race, we started the new season in a big hole, but we know we can't give up. Normally in a season, you have one or two races that you're going to have a problem or a mistake or something like that, and we already gave one away in the first race. So now we turn the page. We can't keep focusing on what happened in the past.
Certainly we struggled a little bit in practice. When we got to the track, we seemed to be pretty comfortable. But somehow the track changed, probably because of the rubber that cars put down from the other series racing on the weekend. We were able to recover in qualifying and put some good laps together. My Team Penske teammates, Will Power and Ryan Briscoe, swept the front row, and I was fourth-fastest. I just wanted to make sure that I completed the first lap and then go from there.
The race start was good for me, and I gained a position to move up to third. But there was a full-course caution right away, and restarting in third put me on the inside of the track. When I was on the outside it was great because I was on the clean part of the track. But the second time, I was on the inside and all of a sudden the rear just stepped out and I ended up losing quite a lot of positions. That's just a result of being on the dirty part of the track. The outside seemed to be a little bit better. It was very frustrating. I'm sure the restarts are great for the fans, but it's very difficult for the drivers. We just need to have a better car so we can start at the front.
After that, we just kind of hung on. We battled quite a lot and seventh place is what we got. We had some good battles. Takuma Sato was pushing everybody, and he finally put himself out when he spun out. But he ended up hitting me quite hard. We broke a flap on the front wing and that affected the handling a bit. At a track like Barber, you need all the downforce you can get so that wasn't helpful.
Later in the race, Danica Patrick got ahead of us because she didn't change tires during the last pit stop. Unfortunately she was very good in Turn 2, and that's where you had to set yourself up for the Turn 5 passing point. She finally made a mistake -- her tires gave away -- and I thought, "It's finally my time now." It was fun, but I wish it had been for first. We know we had a better car than that, but on that day seventh was our best. I was hoping for a better result for AAA in their first race with us as a primary sponsor in IndyCar, but we'll have some other opportunities to get them to Victory Lane this year.
We didn't have the car to win at Barber, but I think we had a car good enough to finish on the podium. So that's a shame. Compared to my teammates, I was definitely struggling more on the team. The positive thing is that we finished the race, but we need to improve our setup this week at Long Beach. It's a starting point, but we need to continue working hard.
I still believe we should be starting to accelerate earlier for the restarts because we're still getting into that accordion situation. The preparation for the restarts is still too slow and everybody is so packed up together. And when you brake, you lose so much downforce. We had a fourth-gear first corner at Barber, but I imagine at Long Beach, where the first corner is sometimes taken in first gear, it's going to be tough.
One thing I'm looking forward to at Long Beach is seeing some of my friends from "Dancing With The Stars." It will be great for them to come out and visit me in my work environment, and I know they are going to discover just how exciting the Izod IndyCar Series really is.
I'm just hoping I can celebrate another victory with them.
SPONSORED HEADLINES
MORE RACING HEADLINES
MOST SENT STORIES ON ESPN.COM