Commentary
Tire issues at Milwaukee and Iowa
Updated:
July 1, 2011, 11:50 AM ET
By
Helio Castroneves
| Special to ESPN.com
Editor's note: This is the sixth installment by three-time Indianapolis 500 winner Helio Castroneves, who'll be writing periodically for ESPN.com throughout the 2011 Izod IndyCar Series season (as told to ESPN.com motorsports writer John Oreovicz).
The Izod IndyCar Series is coming off two short oval races in the space of six days. I'm happy to say we showed a lot of speed and potentially had winning cars for Team Penske, even if it wasn't reflected in the race results. Though our tough luck this season continued, we still came away with a pair of top-10 finishes, but it could have been a lot worse.
We traveled to The Milwaukee Mile, where the Milwaukee Indy 225 was scheduled for Father's Day weekend, and it was nice to be racing there again. It's a track with a lot of history for Indy cars, and we always have very close races there. I also got my first pole position in an Indy car there way back in 1999, when I was driving for Carl Hogan in the CART series -- it seems like such a long time ago now!
These days, the cars in the IndyCar Series seem to be very close to each other and it is very difficult to pass when everyone has the same equipment, so it's more important than ever to start up front and run in clean air. For the short ovals, we decided to change some of our focus to qualifying so we could be up front most of the day.
[+] Enlarge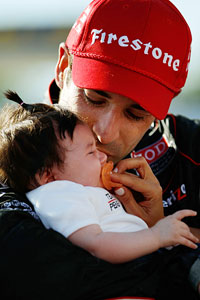 Chris Graythen/Getty ImagesIt mean plenty for Helio Castroneves to have his daughter, Mikaella, attend the Milwaukee race on Father's Day.
My engineer, Ron Ruzewski, and I worked really well together and made a lot of progress toward what we needed. In fact, I was taking a few more chances compared to my teammates, Ryan Briscoe and Will Power. I thought, "Someone has got to do it -- you know what? -- I'll do it." I decided to go for it, and it worked out well. We had a very good first qualifying lap in the Guidepoint Systems car, and even though we lost out on pole position to Dario Franchitti, I was very pleased to earn a spot on the front row in Milwaukee.
I was totally surprised when my girlfriend, Adriana, and my daughter, Mikaella, showed up on Sunday afternoon. I spoke with them the day before, and again that morning when they wished me a happy Father's Day. I was in the middle of a sponsor event with Team Penske when they appeared, and my daughter started walking toward me. That was great to have them there -- I'll never forget the gift of having them around, and it was the best gift I could have had that day. Certainly, I wanted to give them a victory and have my picture taken with them on the podium.
It didn't quite work out that way, but it was looking very good for a while. All afternoon I raced at the front with Dario and my old friend Tony Kanaan, and I took the lead on Lap 168 of 250.
You spend a lot of time around lapped cars at Milwaukee, and when you have traffic, you have to manage it a little bit. About 30 laps later, Tony crashed in Turn 4. I could actually see Tony crash in my mirrors and I'm glad he was OK. We got side by side with a backmarker and Tony got some dirty air. I saw him spin out in my mirror. It's a shame because both of us were running so well.
For a while the guys in the pits had been talking a lot on my radio, but I couldn't hear very well with the revs really high. It was humid and I started sweating and my ear plugs started falling away from my ears. So I kept going. I thought they were talking about a fuel problem on the radio and I couldn't believe that, but I figured if it was a fuel issue, I could take care of it in the end.
But under the yellow flag for Tony's accident, I could hear what they were saying: My left rear tire was losing air pressure. I had no idea I had a flat tire, but the telemetry in the car showed the engineers that the left rear was deflating. It had only 4 pounds of air remaining.
Because the left rear corner is lightly loaded at Milwaukee, I couldn't feel the flat tire at speed in the car. But everyone could see on television that it was going down. The team made the right decision and brought me into the pits to change tires. We would have had a big crash if I didn't pit. It's better to finish in the top 10 than in the wall.
That's a shame because the guys did a great job and the car was so strong in this race. I don't know what it is about Milwaukee, but every time I get close to winning there, something bad happens. I really want to climb the fence there, but it wasn't meant to be. But I'm proud of my guys -- they put me right in front and we had a winning car. It was another top-10 for us, and if we keep doing that, we'll keep putting ourselves in position to succeed.
It was nice to be the quickest Team Penske car on the weekend. We need races like this to build confidence in the team, confidence in myself, and confidence for everyone. Unfortunately it wasn't meant to be, but we can't let ourselves get down and we just have to keep pushing hard.
I thought Dario and I had an awesome battle, and I think it was great for the fans. Milwaukee produces good racing like that, with a lot of different lines. He was the one who ended up smiling at the end, but we left there with our heads really high because we showed that we were very strong.
Helio Has A Book!

Three-time Indianapolis 500 winner Helio Castroneves has lived an eventful life on and off the track. He decided to chronicle it in his new book, Victory Road -- The Ride of My Life, available in bookstores nationwide and at amazon.com.
That's why I was a little surprised to hear that Dario complained about my driving after the race and said I blocked him on a restart. I really didn't even know what he was talking about. I joked with the media a little bit when they asked me about Dario's comments after Milwaukee.
I said that I'm learning, being a father now, that the experts say when a kid is crying, you should ignore him. So I am taking the same approach in this situation!
All kidding aside, Franchitti drove a great race at Milwaukee and I think he should have just enjoyed his victory instead of focusing on something he thought was negative. There was no need for that.
The following Saturday night at Iowa Speedway we had another good run but had bad luck with a cut tire again. That's very rare for us in the IndyCar Series because the Firestone tires are so reliable and tough, but it just shows how things seem to be working against us on the No. 3 team this season. To have the problem two weeks in a row was pretty unimaginable.
We qualified 13th in the Guidepoint Systems car, but we had a good start, and after a great first pit stop by my guys, I was up to sixth place. Within 42 laps, I moved into third place, racing again with Dario and Tony.
There were a lot of crashes in Turn 2 in the race -- unfortunately one included my Penske teammate Will in the Verizon car -- and after one of the full-course cautions, I passed Tony on the restart. I was running with Dario when I got the word again from pit lane -- the left rear tire was going down! I could definitely feel it this time.
Unbelievable. I was actually following Tony and Dario during the caution so I would not have a problem running over any crash debris, but unfortunately it happened again.
Iowa Speedway is the shortest track on the IndyCar Series schedule, so a green-flag pit stop puts you at least a lap behind. When I was a lap down, I was like, "C'mon, can't we catch a break?" But we finally did and were able to get back on the lead lap and go. The car wasn't handling very well. I have to say I had a few big moments there.
But it was fun. A lot of dicing, pushing and shoving between myself and some others. It was unfortunate that we fell back, but we made a great comeback, worked hard and had great pit stops from the boys to again finish in the top 10.
We moved up to 12th in the championship standings, and we're going to keep chipping away little by little to get closer to the front every race. I thought we potentially had winning cars at Milwaukee and Iowa, and we'll have one more chance to go for a short track win in August when we visit New Hampshire Motor Speedway.
Until then, we have three consecutive road and street courses in front of us beginning July 10 at Toronto, then Edmonton and Mid-Ohio. So let's switch back into a road-racing mindset but make sure the No. 3 Team Penske car keeps running in the top three like we did on the short ovals!
Follow Helio Castroneves on Twitter at @h3lio.
SPONSORED HEADLINES
MORE RACING HEADLINES
MOST SENT STORIES ON ESPN.COM