Commentary
Indy or Coke? Both have a case
Updated:
May 28, 2011, 12:20 AM ET
By
Terry Blount
| ESPN.com
INDIANAPOLIS -- The argument has raged for years. What is the biggest racing event on Memorial Day weekend?
If you're an Indy-car fan, you'll say the Indianapolis 500. If you're a NASCAR fan, you'll say the Coca-Cola 600.
And let's not forget Formula One fans, who could make a strong case for the Monaco Grand Prix. But we'll keep it to the two domestic events for this comparison.
I'll go with the Indy 500, which this year is celebrating its 100-year anniversary of the first race at The Brickyard. But you certainly could make a case either way.
What makes one better than the other? Here are 10 reasons this year that stand out for each event.
The Indy 500
1) The centennial celebration: Speedway officials are showcasing many of the legendary cars of past races and bringing back some of the biggest names in Indy history. A.J. Foyt will drive the pace car. Old A.J. might just drop the hammer at the green flag and try to beat pole-winner Alex Tagliani into Turn 1.

[+] Enlarge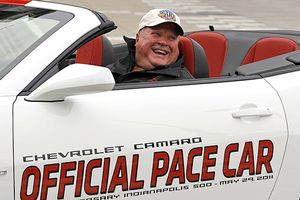 AP Photo/Michael ConroyA.J. Foyt and his sweet Pace Car will be in Indianapolis on Sunday, not Charlotte.
2) Qualifying:
A hands-down winner for Indy. Bump Day this year was edge-of-your-seat stuff, waiting to see if Danica Patrick and Marco Andretti would make the field. Both did after some very anxious moments. And having the top nine qualifiers fight for the pole on Saturday also was a fun show. 
3) The Hatfields and McCoys of racing unite:
Ryan Hunter-Reay was bumped out Sunday by Andretti Autosport teammate Andretti, but Reay got in Monday when Michael Andretti cut a deal with A.J. Foyt for Hunter-Reay to replace Bruno Junqueira. The Foyts and the Andrettis haven't exactly seen eye-to-eye over the years, folks. So if Ryan wins the race, will we see A.J. hug Mario and Michael in Victory Lane? Please, someone get the photo if that happens.
4) Female competitors:
Four women will take the green flag, including Patrick. Love her or hate her, she moves the meter. The race also has a female team owner in Sarah Fisher, whose driver, Ed Carpenter, starts in the middle of Row 3.
5) Speed:
Things are happening a lot faster than a Cup race. The open-wheel machines are exceeding 230 mph on the long straightaways.
6) Helio Castroneves:
He has a chance to make history and join the legends who have won the Indy 500 four times: Foyt, Al Unser and Rick Mears.
7) Indianapolis Motor Speedway:
There is no place like it. The grandstands on the frontstretch are so close to the track you feel like you can reach out and touch the cars. It also has grandstands on the inside next to pit road, which make the narrow frontstretch feel like a long, loud tunnel. Where most ovals have two long sweeping turns, Indy actually has four separate turns on the 2.5-mile rectangle, and anything can happen at any moment on each one.
8) Deep field of contenders:
This is the closest-matched field by time in Indianapolis 500 history: only 2.54 seconds (over four qualifying laps) separates fastest qualifier Tagliani and slowest qualifier Ana Beatriz. The previous record was 3.06 seconds last year.
9) Traditions and pageantry:
This event is as Americana as it gets. The downtown parade on Saturday with all the drivers, race-day traditions like Jim Nabors singing "Back Home Again in Indiana," Florence Henderson singing "God Bless America," the kissing of the bricks for the winning team and the drinking of milk in Victory Lane. 
10)  The golf course:
You can't play golf in the infield at Charlotte.
The Coca-Cola 600
1) Bumping and banging: These cars can make contact and keep going, something that rarely happens at Indy. Not too much have-at-it-boys stuff happening in the 500.
2) Jimmie Johnson: No driver in the Indy 500 has won five consecutive championships. He's also trying to win this event for the fourth time.
3) Former winners: Ten drivers who have won this event in the past will be in the field Sunday. Only five former Indy 500 winners are racing at the Brickyard on Sunday.

[+] Enlarge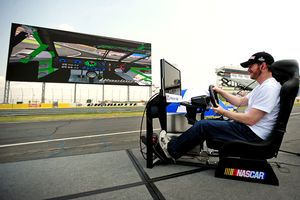 AP Photo/Jeff SinerThat's one big video screen Dale Earnhardt Jr. is trying out.
4) The new video screen on the backstretch: That thing is enormous. I think you can see it in Raleigh. I'm not sure if it's a video screen or a portal to another dimension.
5) The NASCAR Hall of Fame: The museum in the infield at Indy is a must-see, but the new NASCAR Hall in downtown Charlotte is a state-of-the-art facility to see the history of the sport. And the annual Hall induction ceremony takes place the week of the race.
6) Sleep time: You better get up at the crack of dawn if you want to beat the massive traffic jam into the Indy 500, but you can sleep in, go to brunch and watch some of the Indy 500 before heading to Charlotte Motor Speedway for the 600.
7) The view: The grandstands at Indy are unique, but you can't see all the way around the track unless you're in a helicopter. You can see all the way around from most seats at CMS.
8) Juan Pablo Montoya: Been there, done that. He has an Indy 500 victory, but no driver in the Indy 500 has a Coca-Cola 600 victory.
9) More cars: A 43-car field compared to 33 at Indy. More cars and more laps (400 to 200) mean more crazy things can happen.
10)  More chance of a fight breaking out: Between the drivers, that is. Indy might have more possible fisticuffs among the spectators.
Regardless of which race you prefer, both are quite a show and a wonderful part of Memorial Day weekend. Enjoy it.
Terry Blount is a senior writer for ESPN.com. His book, "The Blount Report: NASCAR's Most Overrated and Underrated Drivers, Cars, Teams, and Tracks," was published by Triumph Books and is available in bookstores. Click here to order a copy. Blount can be reached at terry@blountspeak.com.
ESPN Seattle Seahawks reporter
Covered the NFL at the Houston Post and Houston Chronicle, including eight Super Bowls
Received Citation for Writing Excellence from Hearst Newspapers
Also has covered NBA Finals, World Series, Finals Fours, Indy 500 and Daytona 500
SPONSORED HEADLINES
MORE RACING HEADLINES
MOST SENT STORIES ON ESPN.COM
95TH INDIANAPOLIS 500-MILE RACE

It's time for the 95th running of the Indianapolis 500, but it's the number 100 that counts in 2011. This is the 100th anniversary of the running of the first 500, and Indianapolis Motor Speedway's Centennial Era celebration is in high gear.
Indianapolis 500 Home

Race Day, May 29
•
Blount: The thrill and agony
•
Hinton: Oh yeah, Indy is back!
•
Oreovicz: Bad day for power teams
•
McGee: What a capper to 100 years
•
espnW: A roller-coaster ride for Indy women
•
Gallery: 100th anniversary of the 500
•
Recap: Wheldon wins a stunner
•
Watch: Full highlights
•
Watch: Full booth analysis
•
Watch: Wheldon so thankful
•
Watch: Hildebrand crestfallen
Saturday, May 28
•
Blount: Hang on to your hats!
•
Hinton: Back again in Indiana
•
ESPN.com staff: Our podium predictions
•
Racing Live! Indy 500, Sunday, noon ET
Carb Day, May 27
•
Blount: The weekend's best race is ...
•
Hinton: Foyt legend still strong in 2011
•
Gallery: A.J. Foyt, A Racing Life
•
Hinton from 1991: The last ride of A.J. Foyt
•
Hinton on the Field of the Century front row
•
Hinton's Indy 500 Field of the Century: Row 1
•
Oreovicz blog: Ganassi team leads Carb Day
•
espnW: Patrick's mom, Bev, enjoying ride
•
Blount blog: The way Mario Andretti sees it
•
Ed Hinton chat wrap
•
John Oreovicz chat wrap
•
Podcast: Brent Musburger previews the race
•
Podcast: Helio Castroneves is ready to roll
•
SportsNation: Indy 500 predictions
Features
•
Oreovicz: Breaking down the field of 33
•&nbsp
Blount: Bumping Junqueira saved jobs
•&nbsp
James: Women find a niche in IndyCar
•
SportsNation quiz: All-time lap leaders
•
Indy 500 preview photo gallery
•
James: No stopping Simona
•
Blount: Indy shows NASCAR how it's done
•
James: Women drivers carving a niche
•
Oreovicz: Danica dodges Bump Day disaster
•
James: A stormy day at the track for Danica
•
Oreovicz: Wild and wacky Pole Day
•
Oreovicz: Month of May primer
Practice And Qualifying
•
Danica makes 500 field
•
Carpentier crashes in Sunday practice
•
Tagliani wins Indy 500 pole
•
Briscoe crashes in Saturday practice
•
Di Silvestro cleared to race
•
Castroneves tops speed charts
•
Tagliani leads Friday at over 228 mph
•
De Silvestro waiting for medical clearance
•
Power leads Thursday practice
•
De Silvestro burns hands in crash
•
Rain scrubs practice again Wednesday
•
Weather limits practice Tuesday
•
Tagliani turns month's fastest lap Monday
•
Opening Sunday washed out
•
Opening day starts fast
Indy 500 Field Of The Century
•
Hinton: The method in our list
•
Row 1: Foyt, Lockhart, Vukovich
•
Row 2: Ma. Andretti, Mears, A. Unser
•
Row 3: Shaw, Jones, DePalma
•
Row 4: Meyer, B. Unser, Rutherford
•
Row 5: Ward, Johncock, Fittipaldi
•
Row 6: Rose, Unser Jr., Milton
•
Row 7: Clark, Mi. Andretti, Villenueve
•
Row 8: Luyendyk, Hill, Harroun
•
Row 9: Castroneves, Franchitti, Montoya
•
Row 10: Ruby, Donohue, Sullivan
•
Row 11: Flaherty, Kanaan, Hurtubise
•
The Social Pioneers
Indy At 100
•
Indy at 100: 2000 and beyond
•
Indy at 100: Tony George reigns in the '90s
•
Indy at 100: 1980s had stars, foreign cars
•
Indy at 100: Speed and safety in the '70s
•
Indy at 100: A time of change
•
Indy at 100: The '50s golden era
•
Indy at 100: WWII puts racing on hold
•
Indy at 100: 1930-39 a dangerous era
•
Indy at 100: 1920-29 a roaring time
•
Indy at 100: 1911-1919 was pivotal
•
Indianapolis Motor Speedway timeline
More
•
Indy 500 front row chat wrap
•
John Oreovicz chat wrap
•
Danica not tipping hand on future
•
Foyt, Mears, Unser top "greatest" fan poll
•
Scott Speed joins Dragon Racing
•
A.J. Foyt will drive Indy 500 pace car
•
China's Ho-Pin Tung eyes Indy 500
•
Indy 500 to honor Tom Carnegie
•
Buddy Rice heading back to Indy 500
Indy 500 Rewind
•
2010 Flashback: Dario's all the way back
•
2009 Flashback: Castroneves wins again
•
2008 Flashback: Quiet Dixon makes noise
•
2007 Flashback: Franchitti comes up big
•
2006 Flashback: Hornish gets his "Holy Grail"