Commentary
Double-file restarts take center stage
Updated:
May 29, 2011, 3:01 AM ET
By
Terry Blount
| ESPN.com
INDIANAPOLIS -- A quick message to all the fans who have seats in Turn 1 or Turn 4 on Sunday:
Pay attention. Don't walk away for a hot dog or beer on any restart. Don't even look away. You'll regret it.
What will you miss? Try high-speed Russian roulette. It's "boys, have at it," Indy-style.
In 100 years of racing at The Brickyard, you are going to see something no one has ever seen before in the Indianapolis 500.
The new IndyCar Series rule of double-file restarts is coming to the historic event for the first time. And it's going to be a big bravery test for the men and women in the cockpit.
Even with a slight compromise made by IndyCar officials Saturday morning, no one knows exactly what will happen.
"I'm one of the guys that have issues with this," said three-time Indy 500 winner Helio Castroneves. "It could get very hairy. Guys are going to dive into Turn 1 and not give much room.
[+] Enlarge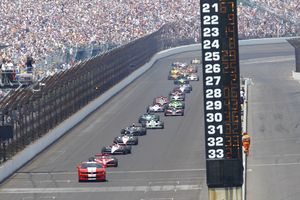 AP Photo/Mike GrollSingle-file restarts are a thing of the past in the IndyCar Series, a rule change not all drivers are excited about.
"Every time we change something like this, it takes time to adapt. I just want to make sure I stay out of trouble. Everybody has to use their heads."
The change is similar to the rule NASCAR adopted two years ago to line up the lead-lap cars side-by-side at the front of the pack on every restart.
The move served its purpose and spiced up a lot of Sprint Cup events, bringing about winners (and a few wreckers) fans wouldn't have seen without it.
But this is different. Rubbin' ain't racin' here. Rubbin is wreckin' almost every time.
No fenders on these rides. Touch tires and expect the worst.
The drivers had a mini-revolt Friday afternoon in a drivers-only meeting to discuss the situation. So IndyCar officials came up with a small change.
Instead of throwing the green flag for restarts when the cars are even with the first pit box on pit lane, the restart zone will go back to the previous way it was done and allow the drivers to accelerate in the area between Turns 3 and 4.
The change will enable the outside line of cars to avoid some of the loose rubber (known as marbles) that builds up on the outside area of the turns.
The drivers were concerned about coming out of Turn 4 in the outside line and getting debris on the tires before accelerating.
The cars still will restart double-file, but throwing the green flag sooner will enable the drivers to spread out more and avoid some of the danger that comes from marbles on the upper part of the racing surface.
But it also could mean more danger in Turn 4 before the cars get back to the start/finish line. The outside-line drivers will want to move down quickly in Turn 4 and could bump the inside cars.
If the cars still enter Turn 1 side-by-side, touching tires is almost inevitable.
"That's the biggest issue for this race," said former Indy 500 winner Eddie Cheever. "At the start, everyone will be careful. But it will be a mad rush at the last restart.
"I almost want to put my hands over my eyes because somebody somewhere is going to take a big risk, and they might get away with it or they might not."
Two-time Indy 500 winner Dario Franchitti is another driver who dislikes the change. His biggest concern is the marbles, which increase as the race progresses.
On wider ovals that are high-banked, double-file restarts won't be as much of a concern because there is more room to race two-wide. But Indy is almost flat with four sharp turns.
"And Turn 1 is the most difficult one," Franchitti said. "If there were no marbles, there wouldn't be a problem. But there are and that's why the line is so narrow here.
"And we'll get on the marbles going through Turn 4 before they throw the green flag."
[+] Enlarge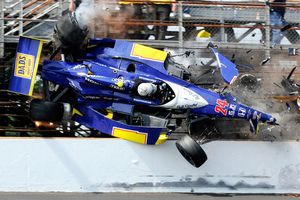 AP Photo/James MillerSome fear double-file restarts will increase the likelihood of airborne crashes, just like Mike Conway's wild ride in the 2010 Indy 500.
IndyCar officials tried to alleviate some of those concerns with the change made Saturday to accelerate sooner.
"After 20 laps, the marbles will be bad unless they sweep really well on every caution," Franchitti said. "We'll have to have longer cautions if they want to make it safe."
Nice idea, but not necessarily a realistic option.
"That's not going to work if we have a late caution," said veteran driver Paul Tracy. "Say we have a 40-lap green-flag run, then a caution with five laps to go. There's no extra time. You've got to go."
Unless they throw a red flag, which no one wants.
Brian Barnhart, the IndyCar Series' president of competition, understands the drivers' fears.
"The concerns are valid," he said. "It's their butts on the line out there. But when you make efforts to do the best you can for everybody, there is going to be a scenario that just didn't work out well for someone."
Barnhart's point is double-file restarts allow for more competition and give more drivers a chance to win. But it also could eliminate some contenders.
"I've been skeptical about it from day one," said retired Indy-car legend Mario Andretti. "I'm concerned about potentially losing some cars early in the race that you wouldn't lose normally. We could lose some key drivers and hurt the integrity of the race."
Not only is this the first double-file restart at Indy, it's the first time on any oval track.
Some Indy 500 fans may say, "What's the big deal. They start the race three-wide."
Actually, the 11-row, three-wide start has been an illusion for several years. The cars spread out coming out of Turn 4 before the green flag waves.
That's supposed to change this time. IndyCar officials want to showcase the unique three-wide start for the 100th anniversary event.
Even so, how drivers race at the start of the show is much different from how they will race near the end.
"I can't imagine how wild a last restart would be with five laps to go," said Will Power, the season points leader with two victories. "My worry is some car flying up into the stands and someone getting seriously hurt or killed. The majority of drivers fought against it, but it is what it is."
The Brickyard has the longest frontstretch in racing. So depending on how it's applied, the change to accelerate sooner could nix the whole concept of starting double-file because the cars may fan out in zigzag fashion before reaching Turn 1.
If that happens, IndyCar officials would have greatly misled fans about the restarts. If it doesn't, it will be fun to watch, but chaos could ensue.
Townsend Bell still expects the latter. He doesn't want to be on the outside line for the last restart.
"

I've been skeptical about it from day one. I'm concerned about potentially losing some cars early in the race that you wouldn't lose normally. We could lose some key drivers and hurt the integrity of the race.

"

-- Mario Andretti on double-file restarts
at the Indy 500
"It's about the unfairness of it," Bell said. "Being in the outside line is a disadvantage. Let's say you drove from 23rd to fourth in the race. But here you are on the last restart and you're on the outside. It could marginalize everything you accomplished during the day."
When asked how he would approach restarting on the outside line, Franchitti said, "I'll keep that to myself."
Some of the best moves in Indy 500 history came in passes on the outside line of Turn 1. Rick Mears did it to beat Michael Andretti in 1991, one lap after Andretti did it to him.
We're talking about two of the best drivers ever to race at The Brickyard. This is the deepest field at Indy in more than a decade, but Pippa Mann and E.J. Viso are not Mears and Michael Andretti.
Tracy believes he knows what to do, but he's not sure everyone else does.
"No one wants to get tangled up in somebody else's accident," Tracy said. "When you come screaming down the frontstretch at 225 mph in the seventh row, if something happens in front of you, there's no way to stop. The brakes on superspeedway cars are small and you have no downforce, so you can't just jam the brakes and stop."
Barnhart said the 225-mph talk is an exaggeration. That's true on green-flag laps, but not on a restart.
He expected the Turn 1 speed to be around 183 mph on restarts, but Barnhart said that before making the change to allow the cars to accelerate sooner, so Tracy might be right.
"We really don't know until we put it into practice and try it for the first time," Barnhart said. "This is a new process and has its challenges. No matter what we do to lay out the procedures [to the drivers], ultimately, it's in their hands."
Simona De Silvestro, the rookie of the year for the 2010 Indy 500, is optimistic.
"If all 33 drivers respect each other, we'll be fine," she said.
Franchitti couldn't help but chuckle at that thought. Would it help to have radio communication with the driver restarting next to you?
"That's a waste of time,'' Franchitti said. "Everybody is out there for themselves.
"We've been put in this position and we'll make the best of it, but none of us want to do it."
Not true. Marco Andretti, who starts 27th, thinks the new rule improves his chance to move up.
"Man, I need that right now," Andretti said. "I need a way to shake things up. There's a lot more risk, but even without the double-file restarts, you can't get through 500 miles here without a scare. This just adds to it."
Terry Blount is a senior writer for ESPN.com. His book, "The Blount Report: NASCAR's Most Overrated and Underrated Drivers, Cars, Teams, and Tracks," was published by Triumph Books and is available in bookstores. Click here to order a copy. Blount can be reached at terry@blountspeak.com.
ESPN Seattle Seahawks reporter
Covered the NFL at the Houston Post and Houston Chronicle, including eight Super Bowls
Received Citation for Writing Excellence from Hearst Newspapers
Also has covered NBA Finals, World Series, Finals Fours, Indy 500 and Daytona 500
SPONSORED HEADLINES
MORE RACING HEADLINES
MOST SENT STORIES ON ESPN.COM
95TH INDIANAPOLIS 500-MILE RACE

It's time for the 95th running of the Indianapolis 500, but it's the number 100 that counts in 2011. This is the 100th anniversary of the running of the first 500, and Indianapolis Motor Speedway's Centennial Era celebration is in high gear.
Indianapolis 500 Home

Race Day, May 29
•
Blount: The thrill and agony
•
Hinton: Oh yeah, Indy is back!
•
Oreovicz: Bad day for power teams
•
McGee: What a capper to 100 years
•
espnW: A roller-coaster ride for Indy women
•
Gallery: 100th anniversary of the 500
•
Recap: Wheldon wins a stunner
•
Watch: Full highlights
•
Watch: Full booth analysis
•
Watch: Wheldon so thankful
•
Watch: Hildebrand crestfallen
Saturday, May 28
•
Blount: Hang on to your hats!
•
Hinton: Back again in Indiana
•
ESPN.com staff: Our podium predictions
•
Racing Live! Indy 500, Sunday, noon ET
Carb Day, May 27
•
Blount: The weekend's best race is ...
•
Hinton: Foyt legend still strong in 2011
•
Gallery: A.J. Foyt, A Racing Life
•
Hinton from 1991: The last ride of A.J. Foyt
•
Hinton on the Field of the Century front row
•
Hinton's Indy 500 Field of the Century: Row 1
•
Oreovicz blog: Ganassi team leads Carb Day
•
espnW: Patrick's mom, Bev, enjoying ride
•
Blount blog: The way Mario Andretti sees it
•
Ed Hinton chat wrap
•
John Oreovicz chat wrap
•
Podcast: Brent Musburger previews the race
•
Podcast: Helio Castroneves is ready to roll
•
SportsNation: Indy 500 predictions
Features
•
Oreovicz: Breaking down the field of 33
•&nbsp
Blount: Bumping Junqueira saved jobs
•&nbsp
James: Women find a niche in IndyCar
•
SportsNation quiz: All-time lap leaders
•
Indy 500 preview photo gallery
•
James: No stopping Simona
•
Blount: Indy shows NASCAR how it's done
•
James: Women drivers carving a niche
•
Oreovicz: Danica dodges Bump Day disaster
•
James: A stormy day at the track for Danica
•
Oreovicz: Wild and wacky Pole Day
•
Oreovicz: Month of May primer
Practice And Qualifying
•
Danica makes 500 field
•
Carpentier crashes in Sunday practice
•
Tagliani wins Indy 500 pole
•
Briscoe crashes in Saturday practice
•
Di Silvestro cleared to race
•
Castroneves tops speed charts
•
Tagliani leads Friday at over 228 mph
•
De Silvestro waiting for medical clearance
•
Power leads Thursday practice
•
De Silvestro burns hands in crash
•
Rain scrubs practice again Wednesday
•
Weather limits practice Tuesday
•
Tagliani turns month's fastest lap Monday
•
Opening Sunday washed out
•
Opening day starts fast
Indy 500 Field Of The Century
•
Hinton: The method in our list
•
Row 1: Foyt, Lockhart, Vukovich
•
Row 2: Ma. Andretti, Mears, A. Unser
•
Row 3: Shaw, Jones, DePalma
•
Row 4: Meyer, B. Unser, Rutherford
•
Row 5: Ward, Johncock, Fittipaldi
•
Row 6: Rose, Unser Jr., Milton
•
Row 7: Clark, Mi. Andretti, Villenueve
•
Row 8: Luyendyk, Hill, Harroun
•
Row 9: Castroneves, Franchitti, Montoya
•
Row 10: Ruby, Donohue, Sullivan
•
Row 11: Flaherty, Kanaan, Hurtubise
•
The Social Pioneers
Indy At 100
•
Indy at 100: 2000 and beyond
•
Indy at 100: Tony George reigns in the '90s
•
Indy at 100: 1980s had stars, foreign cars
•
Indy at 100: Speed and safety in the '70s
•
Indy at 100: A time of change
•
Indy at 100: The '50s golden era
•
Indy at 100: WWII puts racing on hold
•
Indy at 100: 1930-39 a dangerous era
•
Indy at 100: 1920-29 a roaring time
•
Indy at 100: 1911-1919 was pivotal
•
Indianapolis Motor Speedway timeline
More
•
Indy 500 front row chat wrap
•
John Oreovicz chat wrap
•
Danica not tipping hand on future
•
Foyt, Mears, Unser top "greatest" fan poll
•
Scott Speed joins Dragon Racing
•
A.J. Foyt will drive Indy 500 pace car
•
China's Ho-Pin Tung eyes Indy 500
•
Indy 500 to honor Tom Carnegie
•
Buddy Rice heading back to Indy 500
Indy 500 Rewind
•
2010 Flashback: Dario's all the way back
•
2009 Flashback: Castroneves wins again
•
2008 Flashback: Quiet Dixon makes noise
•
2007 Flashback: Franchitti comes up big
•
2006 Flashback: Hornish gets his "Holy Grail"