Commentary
Dan Wheldon adds to Indy mystique
Updated:
May 31, 2011, 12:53 PM ET
By
Terry Blount
| ESPN.com
INDIANAPOLIS -- An ending no one could imagine, even in a historic and storied race that started 100 years ago and has given fans a little bit of everything.
But you've just gotta believe.
Devastating disappointment for a talented rookie in J.R. Hildebrand, who slammed into the wall when the Indianapolis 500 checkered flag was in sight.
And surprising jubilation for Dan Wheldon, who zoomed past Hildebrand's shattered machine and reached the finish line about 100 yards before Hildebrand's mangled car dragged along the wall to the line.
As dramatic as that was, none of the finish-line stuff mattered. The question was whether Wheldon passed Hildebrand before the caution came out.
IndyCar Series officials wanted to be sure, so they huddled for a two-hour review of the final moments. The field is frozen at the caution. If Wheldon was behind Hildebrand when the caution was displayed, Hildebrand would be the winner.
[+] Enlarge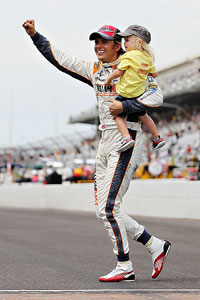 Nick Laham/Getty ImagesDan Wheldon gives son Sebastian the ride of his life following Sunday's triumphant 500.
But the video doesn't lie, as they say. Video of the end showed Wheldon ahead of Hildebrand before the caution lights came on.
Wheldon passed Hildebrand with the green light being displayed in front of him. Moments later the yellow came on before Wheldon reached the finish line, but he already was ahead of Hildebrand.
One way or the other, Cinderella was going to win this thing. You've just gotta believe.
Hildebrand, a 23-year-old Sausalito, Calif., racer who 99.9 percent of America never heard of before Sunday, climbed out his car and shook his head, unable to believe what just happened.
"This team [Panther Racing] deserved to win today," Hildebrand said. "I felt I owed it to them. It's just a bummer. I had a few choice words for myself in the car."
Wheldon didn't have the words to express his feelings. First he screamed and then he cried. He earned his second Indy 500 victory in what may be his only race of the year for the fledgling team of Bryan Herta Autosport.
"I think my contract expires at midnight tonight," Wheldon said. "I'm not normally that emotional, but it was just an incredible day."
It was a day when the super powers of IndyCar, Team Penske and Ganassi Racing, watched the little guys take center stage at The Brickyard.
Team-wise, that is. Wheldon, 32, is no little guy as an open-wheel racer. He's one of the best. But as sometimes happens in racing, skilled drivers find themselves without a full-time ride.
Such is the case with Wheldon, the energetic Englishmen who wanted to make the most of his one shot in 2011 with an old friend.
Herta and Wheldon were teammates for three seasons while driving for Michael Andretti, where Wheldon won the 2006 Indy 500 and the IndyCar championship.
Dario Franchitti also was a teammate, along with Tony Kanaan, who finished fourth Sunday. They called themselves the Four Musketeers.
"I'm surprised I can actually find a smile here," said Franchitti, who finished 12th after leading 51 laps. "But when I saw Dan and Bryan and those guys with everything that Dan's been through and the way Bryan started a new team, it's a great [consolation].
"

I think my contract expires at midnight tonight. I'm not normally that emotional, but it was just an incredible day.

"

-- Dan Wheldon
"If it wasn't for Wheldon winning here, I wouldn't go out tonight. But since he's buying the beers, I'm definitely going out."
As it turns out, Wheldon's good fortune on the final lap came at the expense of the man who replaced him. Wheldon drove for Panther Racing the previous two years.
The final seconds had to hurt for team owner John Barnes, who has watched his drivers finish second in the past four Indy 500s. And the previous two were by Wheldon.
But Barnes handled his disappointment with class.
"It's just one of those things,'' said Barnes. "We have to hold our heads up high. J.R. put us in position to win. He was told the fuel we needed to finish was almost impossible, and he did it. I couldn't be prouder of him today."
Herta also was beaming with pride for Wheldon, a man he thinks is one of the most underrated open-wheel drivers in history.
"Dan is the best driver at Indy, probably ever,'' Herta said, maybe an understandable exaggeration in the thrill of the moment immediately after the victory.
After he had a chance to calm down, Herta still had plenty of praise for Wheldon.
"What Dan did for us was bring an attitude and belief that we could win this race," Herta said. "On paper, we really had no business believing that. But Dan believed it so strongly he made us believe it."
And it happened, with a little luck as it turns out. From 100 years until today, the clear message to all is that anything is possible in the Indy 500.
You've just gotta believe.
Terry Blount is a senior writer for ESPN.com. His book, "The Blount Report: NASCAR's Most Overrated and Underrated Drivers, Cars, Teams, and Tracks," was published by Triumph Books and is available in bookstores. Click here to order a copy. Blount can be reached at terry@blountspeak.com.
ESPN Seattle Seahawks reporter
Covered the NFL at the Houston Post and Houston Chronicle, including eight Super Bowls
Received Citation for Writing Excellence from Hearst Newspapers
Also has covered NBA Finals, World Series, Finals Fours, Indy 500 and Daytona 500
95TH INDIANAPOLIS 500-MILE RACE

It's time for the 95th running of the Indianapolis 500, but it's the number 100 that counts in 2011. This is the 100th anniversary of the running of the first 500, and Indianapolis Motor Speedway's Centennial Era celebration is in high gear.
Indianapolis 500 Home

Race Day, May 29
•
Blount: The thrill and agony
•
Hinton: Oh yeah, Indy is back!
•
Oreovicz: Bad day for power teams
•
McGee: What a capper to 100 years
•
espnW: A roller-coaster ride for Indy women
•
Gallery: 100th anniversary of the 500
•
Recap: Wheldon wins a stunner
•
Watch: Full highlights
•
Watch: Full booth analysis
•
Watch: Wheldon so thankful
•
Watch: Hildebrand crestfallen
Saturday, May 28
•
Blount: Hang on to your hats!
•
Hinton: Back again in Indiana
•
ESPN.com staff: Our podium predictions
•
Racing Live! Indy 500, Sunday, noon ET
Carb Day, May 27
•
Blount: The weekend's best race is ...
•
Hinton: Foyt legend still strong in 2011
•
Gallery: A.J. Foyt, A Racing Life
•
Hinton from 1991: The last ride of A.J. Foyt
•
Hinton on the Field of the Century front row
•
Hinton's Indy 500 Field of the Century: Row 1
•
Oreovicz blog: Ganassi team leads Carb Day
•
espnW: Patrick's mom, Bev, enjoying ride
•
Blount blog: The way Mario Andretti sees it
•
Ed Hinton chat wrap
•
John Oreovicz chat wrap
•
Podcast: Brent Musburger previews the race
•
Podcast: Helio Castroneves is ready to roll
•
SportsNation: Indy 500 predictions
Features
•
Oreovicz: Breaking down the field of 33
•&nbsp
Blount: Bumping Junqueira saved jobs
•&nbsp
James: Women find a niche in IndyCar
•
SportsNation quiz: All-time lap leaders
•
Indy 500 preview photo gallery
•
James: No stopping Simona
•
Blount: Indy shows NASCAR how it's done
•
James: Women drivers carving a niche
•
Oreovicz: Danica dodges Bump Day disaster
•
James: A stormy day at the track for Danica
•
Oreovicz: Wild and wacky Pole Day
•
Oreovicz: Month of May primer
Practice And Qualifying
•
Danica makes 500 field
•
Carpentier crashes in Sunday practice
•
Tagliani wins Indy 500 pole
•
Briscoe crashes in Saturday practice
•
Di Silvestro cleared to race
•
Castroneves tops speed charts
•
Tagliani leads Friday at over 228 mph
•
De Silvestro waiting for medical clearance
•
Power leads Thursday practice
•
De Silvestro burns hands in crash
•
Rain scrubs practice again Wednesday
•
Weather limits practice Tuesday
•
Tagliani turns month's fastest lap Monday
•
Opening Sunday washed out
•
Opening day starts fast
Indy 500 Field Of The Century
•
Hinton: The method in our list
•
Row 1: Foyt, Lockhart, Vukovich
•
Row 2: Ma. Andretti, Mears, A. Unser
•
Row 3: Shaw, Jones, DePalma
•
Row 4: Meyer, B. Unser, Rutherford
•
Row 5: Ward, Johncock, Fittipaldi
•
Row 6: Rose, Unser Jr., Milton
•
Row 7: Clark, Mi. Andretti, Villenueve
•
Row 8: Luyendyk, Hill, Harroun
•
Row 9: Castroneves, Franchitti, Montoya
•
Row 10: Ruby, Donohue, Sullivan
•
Row 11: Flaherty, Kanaan, Hurtubise
•
The Social Pioneers
Indy At 100
•
Indy at 100: 2000 and beyond
•
Indy at 100: Tony George reigns in the '90s
•
Indy at 100: 1980s had stars, foreign cars
•
Indy at 100: Speed and safety in the '70s
•
Indy at 100: A time of change
•
Indy at 100: The '50s golden era
•
Indy at 100: WWII puts racing on hold
•
Indy at 100: 1930-39 a dangerous era
•
Indy at 100: 1920-29 a roaring time
•
Indy at 100: 1911-1919 was pivotal
•
Indianapolis Motor Speedway timeline
More
•
Indy 500 front row chat wrap
•
John Oreovicz chat wrap
•
Danica not tipping hand on future
•
Foyt, Mears, Unser top "greatest" fan poll
•
Scott Speed joins Dragon Racing
•
A.J. Foyt will drive Indy 500 pace car
•
China's Ho-Pin Tung eyes Indy 500
•
Indy 500 to honor Tom Carnegie
•
Buddy Rice heading back to Indy 500
Indy 500 Rewind
•
2010 Flashback: Dario's all the way back
•
2009 Flashback: Castroneves wins again
•
2008 Flashback: Quiet Dixon makes noise
•
2007 Flashback: Franchitti comes up big
•
2006 Flashback: Hornish gets his "Holy Grail"
MOST SENT STORIES ON ESPN.COM