Commentary
Field of the Century a tough task
Updated:
May 27, 2011, 12:33 PM ET
By
Ed Hinton
| ESPN.com
Today we continue the countdown of our Field of the Century for the Indianapolis 500, 33 drivers spanning the past 100 years.
More than just wins and statistics, we looked at the drivers who most typified the spirit of the Indy 500 -- what this race has been about.
Stats did matter in our tally, but so did persona, heart, style, lore, charisma -- just sheer presence, down through the decades, at Indianapolis Motor Speedway.
Field Of The Century

More than just drivers who won "The Greatest Spectacle In Racing," a proper all-time Indy 500 grid should reflect the spirit of the race. Here is Ed Hinton's list of 33 drivers -- three per row -- spanning a century of racing in the Indianapolis 500. And because not everyone can make the list, there is a special place for trailblazers.
With 65 different winners, and with some who never won the 500 making our list, more than an entire field of 33 victorious performances was left out.
As we roll out our all-time grid, row by row, over the next 11 days, we expect -- and hope -- that you'll find some points of argument, some surprises, even some stunners, especially up toward the front of the field.
We doubt there'll be many, if any, readers who don't take issue with some drivers on our list, and even more issue with our omissions. We anticipate plenty of email stating the cases for a lot of drivers, and against some.
We'll tell you up front we've decided to make social pioneering a special-recognition category, separate from our all-time 33.
It would simply be impossible to choose which social pioneers to include, and which to omit.
How could we include Danica Patrick, the first woman to lead the 500 (in 2005), and omit Janet Guthrie, the first woman to attempt to qualify (1976) and to race (1977) at Indy?
And what about Lyn St. James, the Indy rookie of the year in 1992 with an 11th-place finish, who competed in seven 500s -- and who brought Patrick, as a teenager, to the Speedway for the first time, as an intern?
Then there's Sarah Fisher, the youngest woman to compete at Indy, at age 19 in 2000.
And then what about William Theodore Ribbs Jr. -- "Willy T." -- who in 1991 became the first black driver to qualify for the 500?
Include one or more of the social pioneers, and you slight the others by default. Include all five, and pure racing is somewhat displaced by sociology as a criterion.
[+] Enlarge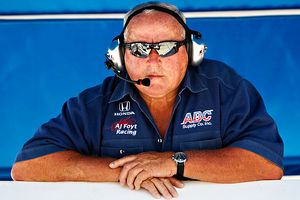 Jonathan Ferrey/Getty ImagesIs A.J. Foyt in our Field of the Century? Of course! But we bet he can't wait to find out where.
A.J. Foyt, the first four-time winner of the race -- and who, we can reveal without giving too much away, did make our list -- has often said, "The race makes the drivers; the drivers don't make the race."
But that's a chicken-and-egg matter when you look back through a century. From Ray Harroun in 1911 to Dario Franchitti in 2010, faces of human beings have been etched in silver on the Borg-Warner Trophy, which sits always as the centerpiece of Indianapolis Motor Speedway and the backbone of Indy 500 history.
Ed Hinton is a senior writer for ESPN.com. He can be reached at edward.t.hinton@espn.com.
95TH INDIANAPOLIS 500-MILE RACE

It's time for the 95th running of the Indianapolis 500, but it's the number 100 that counts in 2011. This is the 100th anniversary of the running of the first 500, and Indianapolis Motor Speedway's Centennial Era celebration is in high gear.
Indianapolis 500 Home

Race Day, May 29
•
Blount: The thrill and agony
•
Hinton: Oh yeah, Indy is back!
•
Oreovicz: Bad day for power teams
•
McGee: What a capper to 100 years
•
espnW: A roller-coaster ride for Indy women
•
Gallery: 100th anniversary of the 500
•
Recap: Wheldon wins a stunner
•
Watch: Full highlights
•
Watch: Full booth analysis
•
Watch: Wheldon so thankful
•
Watch: Hildebrand crestfallen
Saturday, May 28
•
Blount: Hang on to your hats!
•
Hinton: Back again in Indiana
•
ESPN.com staff: Our podium predictions
•
Racing Live! Indy 500, Sunday, noon ET
Carb Day, May 27
•
Blount: The weekend's best race is ...
•
Hinton: Foyt legend still strong in 2011
•
Gallery: A.J. Foyt, A Racing Life
•
Hinton from 1991: The last ride of A.J. Foyt
•
Hinton on the Field of the Century front row
•
Hinton's Indy 500 Field of the Century: Row 1
•
Oreovicz blog: Ganassi team leads Carb Day
•
espnW: Patrick's mom, Bev, enjoying ride
•
Blount blog: The way Mario Andretti sees it
•
Ed Hinton chat wrap
•
John Oreovicz chat wrap
•
Podcast: Brent Musburger previews the race
•
Podcast: Helio Castroneves is ready to roll
•
SportsNation: Indy 500 predictions
Features
•
Oreovicz: Breaking down the field of 33
•&nbsp
Blount: Bumping Junqueira saved jobs
•&nbsp
James: Women find a niche in IndyCar
•
SportsNation quiz: All-time lap leaders
•
Indy 500 preview photo gallery
•
James: No stopping Simona
•
Blount: Indy shows NASCAR how it's done
•
James: Women drivers carving a niche
•
Oreovicz: Danica dodges Bump Day disaster
•
James: A stormy day at the track for Danica
•
Oreovicz: Wild and wacky Pole Day
•
Oreovicz: Month of May primer
Practice And Qualifying
•
Danica makes 500 field
•
Carpentier crashes in Sunday practice
•
Tagliani wins Indy 500 pole
•
Briscoe crashes in Saturday practice
•
Di Silvestro cleared to race
•
Castroneves tops speed charts
•
Tagliani leads Friday at over 228 mph
•
De Silvestro waiting for medical clearance
•
Power leads Thursday practice
•
De Silvestro burns hands in crash
•
Rain scrubs practice again Wednesday
•
Weather limits practice Tuesday
•
Tagliani turns month's fastest lap Monday
•
Opening Sunday washed out
•
Opening day starts fast
Indy 500 Field Of The Century
•
Hinton: The method in our list
•
Row 1: Foyt, Lockhart, Vukovich
•
Row 2: Ma. Andretti, Mears, A. Unser
•
Row 3: Shaw, Jones, DePalma
•
Row 4: Meyer, B. Unser, Rutherford
•
Row 5: Ward, Johncock, Fittipaldi
•
Row 6: Rose, Unser Jr., Milton
•
Row 7: Clark, Mi. Andretti, Villenueve
•
Row 8: Luyendyk, Hill, Harroun
•
Row 9: Castroneves, Franchitti, Montoya
•
Row 10: Ruby, Donohue, Sullivan
•
Row 11: Flaherty, Kanaan, Hurtubise
•
The Social Pioneers
Indy At 100
•
Indy at 100: 2000 and beyond
•
Indy at 100: Tony George reigns in the '90s
•
Indy at 100: 1980s had stars, foreign cars
•
Indy at 100: Speed and safety in the '70s
•
Indy at 100: A time of change
•
Indy at 100: The '50s golden era
•
Indy at 100: WWII puts racing on hold
•
Indy at 100: 1930-39 a dangerous era
•
Indy at 100: 1920-29 a roaring time
•
Indy at 100: 1911-1919 was pivotal
•
Indianapolis Motor Speedway timeline
More
•
Indy 500 front row chat wrap
•
John Oreovicz chat wrap
•
Danica not tipping hand on future
•
Foyt, Mears, Unser top "greatest" fan poll
•
Scott Speed joins Dragon Racing
•
A.J. Foyt will drive Indy 500 pace car
•
China's Ho-Pin Tung eyes Indy 500
•
Indy 500 to honor Tom Carnegie
•
Buddy Rice heading back to Indy 500
Indy 500 Rewind
•
2010 Flashback: Dario's all the way back
•
2009 Flashback: Castroneves wins again
•
2008 Flashback: Quiet Dixon makes noise
•
2007 Flashback: Franchitti comes up big
•
2006 Flashback: Hornish gets his "Holy Grail"