Commentary
There's still no better place to be ...
Updated:
May 29, 2011, 12:59 PM ET
By
Ed Hinton
| ESPN.com
INDIANAPOLIS -- This is a tough old race, this Indy 500, to survive two world wars, the Great Depression, the neglect of Eddie Rickenbacker and the reign of Tony George.
Sunday is its 100th birthday, but "only" its 95th running. You'll pardon the pauses for the war years of 1917-18 and 1942-45.
Thoroughbred horses aren't required for war, but steel, rubber and fuel are. Baseball players who volunteered could be replaced. The manufacturing capability and engineering expertise it took to run this race couldn't.
So the Kentucky Derby and the World Series, the 500's elders, have had steadier, easier runs as American institutions.
[+] Enlarge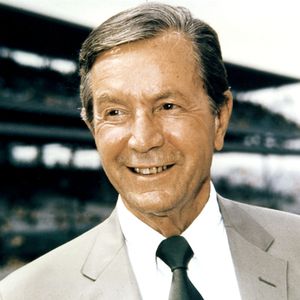 Getty ImagesAnton Hulman bought Indianapolis Motor Speedway after it had seen years of neglect. He helped lead it to its greatest days.
And neither the Derby nor the Series has ever been notorious for danger. The 500 has survived worldwide outcries for an end to motor racing.
I think of all of this, every time I drive though the third-turn tunnel into this glorious and massive monument called Indianapolis Motor Speedway, onto this hallowed ground.
I think of it all when I stand on the media-center portico and look at the front straightaway, where a little engineer from Chicago named Ray Harroun took that first checkered flag in 1911 … where A.J. Foyt ran blind through a cloud of smoke and wreckage between him and the finish line in '67, and made it.
And I turn and look toward the backstretch, where Bill Vukovich, leading, going for his third straight Indy win, first cleared others' wreckage and then was blindsided, tumbled end over end, and was killed in '55 … the backstretch, where Mario Andretti was so tragically notorious for "SLOW-ING D-O-W-W-WN" in the thunderous proclamation of yet another hard-luck mechanical failure by the late, legendary track announcer, Tom Carnegie …
I come here and still feel like a kid. I didn't start covering this race until 1975.
I gaze down at the paddock area, thinking of the early years of the devastating civil war in Indy car racing, between CART's owner barons and George, the young heir to ownership of the speedway.
Early in the schism, each side thought I favored the other, but my actual feelings about the situation were best summarized in a headline on a little piece I wrote for my employer at the time, Sports Illustrated: "A Pox on Both Their Pits."
Down in the paddock, in '97 or '98, I think, I got cornered by a group of beer-emboldened George partisans. The most civil of the lot said, "Surely you'll admit that this is his race."
"Absolutely not," I said. "This race belongs to the American people."
It did. It does. It always will.
Tumultuous as George's 18-year reign was, before he was ousted two years ago by his own sisters, I never doubted that his intentions were the very best.
Not so of Rickenbacker, who may have been a World War I flying ace, a hero to the American public and all that, but who came nearer to killing off this race and this track with indifference than George ever did with all his passionate, aggressive missteps.
Rickenbacker simply didn't love this place, or revere this race, when he was the track owner. During World War II, termites ravaged thousands of grandstand seats, and weeds grew up in cracks in the pavement.
Rickenbacker's the-hell-with-it attitude almost made this hallowed ground a subdivision. Just in time, Wilbur Shaw, a three-time 500 winner, got permission to go out in search of a buyer who cared for the speedway.
Out west of here in Terre Haute lived an heir to a family fortune, Anton Hulman. Tony loved racing, and gladly paid Rickenbacker precisely what the famous flyer had paid for it, $750,000. (Before the terrible world recession that began in 2008, the speedway's value was estimated well into the billions.)
Tony Hulman, George's grandfather, who died in 1978, is widely renowned as the Savior of the Speedway. "Mr. Hulman," as he is referred to, to this day, knew better and often said so. All he provided was the money and the encouragement. Wilbur Shaw provided the passion.
Early in the CART-IRL schism, in the '90s, I asked the venerable broadcaster Chris Economaki when he'd last seen a crowd that small for pole qualifying. In that resonant voice, he replied, "1946 -- the first year after the War."
But the speedway and the 500 had come out of that first great chasm, and now they seem to be off life support, recovering from the civil war wounds. Track president Jeff Belskus told the Indianapolis Star candidly this week that, for Sunday's race, the speedway is seeing the first upturn in ticket sales in three years.
That likely is due to the mystique of the 100th anniversary, but the impact may be lasting, a revival of public awareness of "tradition you cannot buy," as Foyt put it the other day.
I spent all the civil war years distressed at the plight of this old race in this old place (they'd been racing here for two years, 1909-10, when founder Carl J. Fisher conceived of the world's first 500-mile race).
But never have I stopped loving it, or getting goose bumps driving through the tunnel, or suppressing sobs in my throat at the singing of "Back Home Again in Indiana."
The people are as durable as the event and the venue. I come here each May and see people I've known for 35 years or more. At Daytona, Le Mans or Monaco, it seems like most of the people I knew 35 years ago are either dead or retired.
[+] Enlarge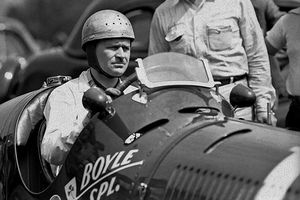 AP Photo/Weston HaynesWilbur Shaw should be a hero for the ages for people who love the Indy 500 for two reasons; he won the 500 three times and he helped make sure there would be 500s for years to come after helping rescue the track.
I've been coming here longer than I've ever lived in any one place, longer by far than the town where I grew up, and so in many ways Indianapolis feels like my hometown. And every time I sign in at the speedway, I always think and often say, "Back home again in Indiana …"
Time was, when this race was unquestionably the greatest in the world, that you spent nearly the entire month of May here. And so the grand old Chicago sportswriter Dave Van Dyck and I once reckoned that we'd spent a total of nearly two years of our lives in Indianapolis. We made that calculation many years ago.
And so when some fans question what the grits-and-gravy likes of me is doing here, and charge that I know nothing about this place and this race, I think how that has always been the case here regarding NASCAR writers out of home waters.
I think back to Carb Day afternoon of '75, and an exchange between two great motor racing writers who are dead now, John Redosta of The New York Times and George Cunningham of the Atlanta Constitution.
Cunningham was pounding away at his manual typewriter when Redosta leaned over his shoulder.
"What are you Rebs doing tonight?" asked the New Yorker.
"We intend to take a drink of liquah," replied the courtly Georgian. "Do you Yankees drink liquah?"
"That we do," said Redosta. And with that the partying began.
The greatest sportswriters in America were in that little old cinder-block press room. Beside me sat the immortal Jim Murray of the Los Angeles Times. Down the row was Joe Falls of the Detroit News. Over there was the great Will Grimsley of The Associated Press. And beside him, a columnist whose every sentence was high literature, Furman Bisher of the Atlanta Journal.
This was a regular stop for the group of writers I called Murderer's Row: Augusta in April, Louisville in early May, Indy on Memorial Day weekend.
Everybody who was anybody came here, for this was the Olympus of motor racing.
God, I hope it gets back to that. This may be wishful thinking, but someday it just might.
Ed Hinton is a senior writer for ESPN.com. He can be reached at edward.t.hinton@espn.com.
SPONSORED HEADLINES
MORE RACING HEADLINES
MOST SENT STORIES ON ESPN.COM
95TH INDIANAPOLIS 500-MILE RACE

It's time for the 95th running of the Indianapolis 500, but it's the number 100 that counts in 2011. This is the 100th anniversary of the running of the first 500, and Indianapolis Motor Speedway's Centennial Era celebration is in high gear.
Indianapolis 500 Home

Race Day, May 29
•
Blount: The thrill and agony
•
Hinton: Oh yeah, Indy is back!
•
Oreovicz: Bad day for power teams
•
McGee: What a capper to 100 years
•
espnW: A roller-coaster ride for Indy women
•
Gallery: 100th anniversary of the 500
•
Recap: Wheldon wins a stunner
•
Watch: Full highlights
•
Watch: Full booth analysis
•
Watch: Wheldon so thankful
•
Watch: Hildebrand crestfallen
Saturday, May 28
•
Blount: Hang on to your hats!
•
Hinton: Back again in Indiana
•
ESPN.com staff: Our podium predictions
•
Racing Live! Indy 500, Sunday, noon ET
Carb Day, May 27
•
Blount: The weekend's best race is ...
•
Hinton: Foyt legend still strong in 2011
•
Gallery: A.J. Foyt, A Racing Life
•
Hinton from 1991: The last ride of A.J. Foyt
•
Hinton on the Field of the Century front row
•
Hinton's Indy 500 Field of the Century: Row 1
•
Oreovicz blog: Ganassi team leads Carb Day
•
espnW: Patrick's mom, Bev, enjoying ride
•
Blount blog: The way Mario Andretti sees it
•
Ed Hinton chat wrap
•
John Oreovicz chat wrap
•
Podcast: Brent Musburger previews the race
•
Podcast: Helio Castroneves is ready to roll
•
SportsNation: Indy 500 predictions
Features
•
Oreovicz: Breaking down the field of 33
•&nbsp
Blount: Bumping Junqueira saved jobs
•&nbsp
James: Women find a niche in IndyCar
•
SportsNation quiz: All-time lap leaders
•
Indy 500 preview photo gallery
•
James: No stopping Simona
•
Blount: Indy shows NASCAR how it's done
•
James: Women drivers carving a niche
•
Oreovicz: Danica dodges Bump Day disaster
•
James: A stormy day at the track for Danica
•
Oreovicz: Wild and wacky Pole Day
•
Oreovicz: Month of May primer
Practice And Qualifying
•
Danica makes 500 field
•
Carpentier crashes in Sunday practice
•
Tagliani wins Indy 500 pole
•
Briscoe crashes in Saturday practice
•
Di Silvestro cleared to race
•
Castroneves tops speed charts
•
Tagliani leads Friday at over 228 mph
•
De Silvestro waiting for medical clearance
•
Power leads Thursday practice
•
De Silvestro burns hands in crash
•
Rain scrubs practice again Wednesday
•
Weather limits practice Tuesday
•
Tagliani turns month's fastest lap Monday
•
Opening Sunday washed out
•
Opening day starts fast
Indy 500 Field Of The Century
•
Hinton: The method in our list
•
Row 1: Foyt, Lockhart, Vukovich
•
Row 2: Ma. Andretti, Mears, A. Unser
•
Row 3: Shaw, Jones, DePalma
•
Row 4: Meyer, B. Unser, Rutherford
•
Row 5: Ward, Johncock, Fittipaldi
•
Row 6: Rose, Unser Jr., Milton
•
Row 7: Clark, Mi. Andretti, Villenueve
•
Row 8: Luyendyk, Hill, Harroun
•
Row 9: Castroneves, Franchitti, Montoya
•
Row 10: Ruby, Donohue, Sullivan
•
Row 11: Flaherty, Kanaan, Hurtubise
•
The Social Pioneers
Indy At 100
•
Indy at 100: 2000 and beyond
•
Indy at 100: Tony George reigns in the '90s
•
Indy at 100: 1980s had stars, foreign cars
•
Indy at 100: Speed and safety in the '70s
•
Indy at 100: A time of change
•
Indy at 100: The '50s golden era
•
Indy at 100: WWII puts racing on hold
•
Indy at 100: 1930-39 a dangerous era
•
Indy at 100: 1920-29 a roaring time
•
Indy at 100: 1911-1919 was pivotal
•
Indianapolis Motor Speedway timeline
More
•
Indy 500 front row chat wrap
•
John Oreovicz chat wrap
•
Danica not tipping hand on future
•
Foyt, Mears, Unser top "greatest" fan poll
•
Scott Speed joins Dragon Racing
•
A.J. Foyt will drive Indy 500 pace car
•
China's Ho-Pin Tung eyes Indy 500
•
Indy 500 to honor Tom Carnegie
•
Buddy Rice heading back to Indy 500
Indy 500 Rewind
•
2010 Flashback: Dario's all the way back
•
2009 Flashback: Castroneves wins again
•
2008 Flashback: Quiet Dixon makes noise
•
2007 Flashback: Franchitti comes up big
•
2006 Flashback: Hornish gets his "Holy Grail"