Commentary
Indianapolis 500 roars back to life
Updated:
May 31, 2011, 12:54 PM ET
By
Ed Hinton
| ESPN.com
INDIANAPOLIS -- The long night is over.
Not that the sun is high again on the Indianapolis 500 as the world's greatest motor race. Not yet.
But the sky is pink and there's a glow on the horizon.
The multitudes are back. So are the agony and the ecstasy that have distinguished this race for 100 years now.
Sunday's crowd was easily the largest since 1995, the year before the great schism of the Indy car leagues, the Dozen Years War that sent this race to its knees in global prestige, thence into twilight and deep night even in the consciousness of the American public that had made it great in the first place.
Safe to say the world has seen its largest one-day crowd for a sporting event this year.
Sunday's 250,000-plus here was it. No place else on Earth will equal that, for anything.
Certainly not NASCAR here in July. Ticket sales are woefully off compared to last year, when the Brickyard 400 drew a paltry 100,000 or fewer.
No doubt Sunday's crowd was enhanced by the 100th anniversary. But that impact may well last. The action on the track was plenty to sustain the momentum.
The legions left simply drained by a simply astounding finish, after being electrified by the final 20 laps, after Danica Patrick took the lead and appeared to have a chance to win until she pitted with 10 laps to go.
[+] Enlarge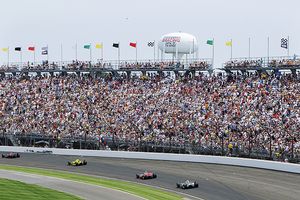 AP Photo/Paul SancyaFans filled the grandstands at Indianapolis Motor Speedway, a good sign for the grand ol' race.
I still say Michael Andretti should have left her out there and rolled the dice on ethanol. She probably wouldn't have made it, but if she had, the result of this race again would have flashed round the world and onto newscasts and front pages everywhere -- the way it's supposed to, and the way it did, for decades.
As it was, Indy's own Trevor Bayne-type drama arose when a rookie American driver -- that's far rarer and therefore dearer here than at Daytona -- took the lead with two laps left.
Then, just when you thought the drama couldn't soar higher, young J.R. Hildebrand did something no driver had ever done in the previous 94 runnings of this race since 1911. Nobody had ever crashed while leading on the last lap, let alone almost through Turn 4, let alone all by himself.
The crash, and Dan Wheldon's winning pass, occurred in such swift succession that there had to be a postrace review to make sure Wheldon had taken the lead before the caution came out.
Hildebrand had such momentum, even after the crash, that he made it to the finish line at perhaps 80 mph for a clear second-place finish at least.
But more, far more, importantly than the way they left here, Indy's returning legions arrived electrified.
They came in full Indy mood, the first time I've felt that since '95. They even cheered the invocation. They worked themselves into an enormous roar just in anticipation of Jim Nabors' first strains of "Back Home Again in Indiana."
Generally the final half-hour of prerace was a constant electric buzz, the way an enormous crowd can't be silent even when it tries to be.
They came early, because the start had returned to traditional time. Actually it was at noon instead of 11 a.m. as of yore. But that was only because Indiana, a state that for decades didn't want to confuse its dairy cows and stuck with standard time, has finally gone to daylight savings time.
They filled all but perhaps 25,000 seats. And in the most massive grandstands on the face of the earth, capacity 250,000-plus, that's quite a crowd.
In the infield, the area inside the third turn, rapidly gaining a reputation as "the new Snakepit," was teeming with revelers. The paddock was as lively with crowds milling about as I've seen it since the Formula One years here.
In the south stands outside Turns 1 and 2, there was only one visible little area of sparsely populated seats. There were a few more spots in the north stands off Turns 3 and 4, and the seats right at the end of the backstretch were somewhat barren.
Other than that, the stands were as packed as they've been since Jacques Villeneuve won what some purists consider the last great Indy, '95, because it was the last one before the CART-IRL split.
The Indy 500 isn't fully back yet, but the Daytona 500 might better start tuning that second fiddle, just in case.
Charlotte, of course, hyped as its 600 is, was never in the hunt for the title of world's greatest race in the first place.
At Le Mans next month, the organizers may claim a crowd similar to this one in the 24 Hours, but estimates there have always seemed blatantly inflated to me. And they're impossible to document, scattered as the spectators are through the forests of western France.
And Le Mans organizers had better hope for a spectacular event if they want to stay in the conversation about this notion of the world's greatest race.
As for Monaco, Sunday's Grand Prix there was blown away in sheer drama by the goings-on here. Besides, they can't squeeze more than about 50,000 people along the street course, up in the cliffs and on the hotel balconies.
For 16 years now, the motor racing world has been in limbo, night, confusion, without a clear greatest event.
But the sky is pink over Indiana. There's a glow on the horizon off toward Ohio, to the east.
The world is waiting for the sunrise.
Ed Hinton is a senior writer for ESPN.com. He can be reached at edward.t.hinton@espn.com.
SPONSORED HEADLINES
MORE RACING HEADLINES
MOST SENT STORIES ON ESPN.COM
95TH INDIANAPOLIS 500-MILE RACE

It's time for the 95th running of the Indianapolis 500, but it's the number 100 that counts in 2011. This is the 100th anniversary of the running of the first 500, and Indianapolis Motor Speedway's Centennial Era celebration is in high gear.
Indianapolis 500 Home

Race Day, May 29
•
Blount: The thrill and agony
•
Hinton: Oh yeah, Indy is back!
•
Oreovicz: Bad day for power teams
•
McGee: What a capper to 100 years
•
espnW: A roller-coaster ride for Indy women
•
Gallery: 100th anniversary of the 500
•
Recap: Wheldon wins a stunner
•
Watch: Full highlights
•
Watch: Full booth analysis
•
Watch: Wheldon so thankful
•
Watch: Hildebrand crestfallen
Saturday, May 28
•
Blount: Hang on to your hats!
•
Hinton: Back again in Indiana
•
ESPN.com staff: Our podium predictions
•
Racing Live! Indy 500, Sunday, noon ET
Carb Day, May 27
•
Blount: The weekend's best race is ...
•
Hinton: Foyt legend still strong in 2011
•
Gallery: A.J. Foyt, A Racing Life
•
Hinton from 1991: The last ride of A.J. Foyt
•
Hinton on the Field of the Century front row
•
Hinton's Indy 500 Field of the Century: Row 1
•
Oreovicz blog: Ganassi team leads Carb Day
•
espnW: Patrick's mom, Bev, enjoying ride
•
Blount blog: The way Mario Andretti sees it
•
Ed Hinton chat wrap
•
John Oreovicz chat wrap
•
Podcast: Brent Musburger previews the race
•
Podcast: Helio Castroneves is ready to roll
•
SportsNation: Indy 500 predictions
Features
•
Oreovicz: Breaking down the field of 33
•&nbsp
Blount: Bumping Junqueira saved jobs
•&nbsp
James: Women find a niche in IndyCar
•
SportsNation quiz: All-time lap leaders
•
Indy 500 preview photo gallery
•
James: No stopping Simona
•
Blount: Indy shows NASCAR how it's done
•
James: Women drivers carving a niche
•
Oreovicz: Danica dodges Bump Day disaster
•
James: A stormy day at the track for Danica
•
Oreovicz: Wild and wacky Pole Day
•
Oreovicz: Month of May primer
Practice And Qualifying
•
Danica makes 500 field
•
Carpentier crashes in Sunday practice
•
Tagliani wins Indy 500 pole
•
Briscoe crashes in Saturday practice
•
Di Silvestro cleared to race
•
Castroneves tops speed charts
•
Tagliani leads Friday at over 228 mph
•
De Silvestro waiting for medical clearance
•
Power leads Thursday practice
•
De Silvestro burns hands in crash
•
Rain scrubs practice again Wednesday
•
Weather limits practice Tuesday
•
Tagliani turns month's fastest lap Monday
•
Opening Sunday washed out
•
Opening day starts fast
Indy 500 Field Of The Century
•
Hinton: The method in our list
•
Row 1: Foyt, Lockhart, Vukovich
•
Row 2: Ma. Andretti, Mears, A. Unser
•
Row 3: Shaw, Jones, DePalma
•
Row 4: Meyer, B. Unser, Rutherford
•
Row 5: Ward, Johncock, Fittipaldi
•
Row 6: Rose, Unser Jr., Milton
•
Row 7: Clark, Mi. Andretti, Villenueve
•
Row 8: Luyendyk, Hill, Harroun
•
Row 9: Castroneves, Franchitti, Montoya
•
Row 10: Ruby, Donohue, Sullivan
•
Row 11: Flaherty, Kanaan, Hurtubise
•
The Social Pioneers
Indy At 100
•
Indy at 100: 2000 and beyond
•
Indy at 100: Tony George reigns in the '90s
•
Indy at 100: 1980s had stars, foreign cars
•
Indy at 100: Speed and safety in the '70s
•
Indy at 100: A time of change
•
Indy at 100: The '50s golden era
•
Indy at 100: WWII puts racing on hold
•
Indy at 100: 1930-39 a dangerous era
•
Indy at 100: 1920-29 a roaring time
•
Indy at 100: 1911-1919 was pivotal
•
Indianapolis Motor Speedway timeline
More
•
Indy 500 front row chat wrap
•
John Oreovicz chat wrap
•
Danica not tipping hand on future
•
Foyt, Mears, Unser top "greatest" fan poll
•
Scott Speed joins Dragon Racing
•
A.J. Foyt will drive Indy 500 pace car
•
China's Ho-Pin Tung eyes Indy 500
•
Indy 500 to honor Tom Carnegie
•
Buddy Rice heading back to Indy 500
Indy 500 Rewind
•
2010 Flashback: Dario's all the way back
•
2009 Flashback: Castroneves wins again
•
2008 Flashback: Quiet Dixon makes noise
•
2007 Flashback: Franchitti comes up big
•
2006 Flashback: Hornish gets his "Holy Grail"