Commentary
Past champions raise the bar at Indy
Updated:
May 31, 2011, 12:54 PM ET
By
Ryan McGee
| ESPN.com
"You want to know the difference between Indianapolis and everywhere else?"
As Al Unser asked the question, he stood on the thin ribbon of asphalt that separates the Indianapolis Motor Speedway's first turn from the wide expanse of infield grass. The four-time Indy 500 winner, one of only three, has never enjoyed a reputation as a great orator. But here, nearly three hours before the green flag fell on the centennial edition of the Greatest Spectacle in Racing, Big Al was feeling downright philosophical.
"Here comes your answer ..."
Hands clasped behind his back, the man who was also celebrating his 72nd birthday motioned toward the car in front of him with a flick of the chin. A group of mechanics crawled all over the dark blue barrel with little more than bicycle tires, a spindly race car that also happened to have won the second Indianapolis 500 in 1912. With a crank, a choke and a cloud of smoke, the pride of the National Motor Vehicle Co. coughed to life.
The old machine seemed eager to lurch into the first corner of the track, the same turn where driver Joe Dawson stunningly inherited the lead in 1912 with only 5 miles left to run in the 500-mile race. Ralph DePalma had led 196 of 198 laps before a cracked piston with two to go inexplicably took the win away and handed it to the car purring right in front of Unser.
"See?" He shouted over the century-old four-cylinder engine. "Other places with this kind of history, they talk about having ghosts. Here at Indianapolis our ghosts are still alive."
[+] Enlarge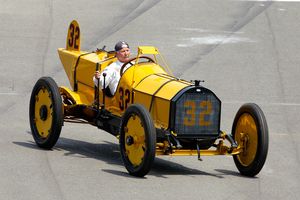 AP Photo/Paul SancyaParnelli Jones took Ray Harroun's cone-tailed Marmon Wasp down memory lane Sunday.
During this throwback weekend for the ages, they certainly were. So many ghosts, it became hard to keep track of them all. There were five former Indy 500 winners in Sunday's 33-car field and what seemed like another 50 wandering about Gasoline Alley. Unser was joined by his brother Bobby, a three-time winner, and son Al Jr., a two-time victor. Johnny Rutherford, also a three-time champ, smiled and worked the crowd just as smoothly as he always has.
Parnelli Jones, the 1963 winner, navigated the crowded garage behind the wheel of a golf cart. Then the 77-year-old slipped behind the wheel of the car that won the inaugural 500, Ray Harroun's bright yellow, cone-tailed Marmon Wasp, wheeling it for two emotionally charged ceremonial pace laps. During the first he was followed by a pack of cars that had also chased the Wasp back on May 30, 1911. During the second he led a line of 11 former Indy 500 champions, cruising the 2.5-mile rectangle in a kaleidoscope of classic racing machines.
"I was riding along there in my Chaparral," Rutherford said of his 1980 500-winning "Yellow Submarine" ride. "I could see Al Unser up ahead of me in Jimmy Clark's '64 Lotus. And I knew ['90 and '97 champion] Arie Luyendyk was behind me in that ['90] Domino's Pizza ride, that still just looks fast. I think we all wanted to haul it off the fourth turn and go for the finish line. I know I did. And my car did."
"Yeah," admitted Luyendyk, "I definitely had to keep my hands on the reins."
As they slowed to a stop on pit road, A.J. Foyt climbed out of his ride, a '77 Olds Delta 88 Royale T-top that he hadn't driven. He'd ridden in the back and waved to the crowd, saving his wheel skills for his turn in the race's actual pace car an hour later. Super Tex, the race's first four-time winner and widely accepted greatest Indy 500 legend of them all, shouted back to his old friends, "Y'all had to finish behind ole A.J. again, didn't you?"
Then he pointed to Bobby Unser, driving Dawson's '12 National. "We should have let you borrow Fittipaldi's helmet. Did you see that thing?" Earlier in the day, Emerson Fittipaldi, the '89 and '93 Indy 500 winner, had driven one of the 1911 vehicles, complete with a leather helmet that looked like something he'd stolen from Red Grange's locker. There were laughs when he put it on and there were laughs when Foyt brought it back up.
Come to think of it, there were laughs for a full two weeks.
"It's been like this since we got here earlier in the month," Roger Penske admitted on race morning while overseeing the final preparation of his three cars. "Last weekend they had every driver who had ever run even one lap in this race. So many old friends and rivals you couldn't shake all their hands. People I hadn't seen in decades coming up and congratulating us on the success we've had here. It's truly humbling."
This coming from a man who has fielded a record 15 500-winning cars.
Though no one would dare say it aloud, it felt like a final roundup. The one-time wild men and wrench men who spent their days chasing speed and their nights chasing skirts now shuffled though Speedway, Ind., gingerly, on legs they long ago sacrificed to the speedway's old concrete walls. Andy "Mr. 500" Granatelli retraced the tire tracks of his legendary race cars -- the four-wheel-drive Lotus, the Novi, the turbine cars -- in his motorized scooter.
"It's easy to tell who is here from back in my day," said Donnie Allison, best known for his NASCAR accomplishments, but who also won Indy 500 Rookie of the Year in 1970. "They're the ones who are limping like they have thumbtacks in their shoes."
[+] Enlarge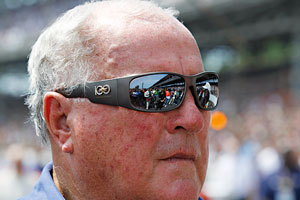 AP Photo/Darron CummingsA.J. Foyt, the 500's first four-time winner, was the official pace car driver for the centennial race.
They limped along from garage to garage all day Sunday, the living legends that have their faces sculpted into the side of the Borg-Warner Trophy and, in Unser's words: "The mechanics that I know and the other racers know, but you wouldn't know from Adam. Those are guys that got our faces on that trophy."
The crowd that hung out around Foyt's garage stalls all morning looked like a convention of extras from both an Elvis musical and a "Pirates of the Caribbean" sequel.
But no matter what their level of fame, they were all in agreement on a topic that none of them saw eye-to-eye on for more than a decade. They all agreed the race they love so much felt like the old days again. Not because of their presence, but because of the lines they saw at the box offices on race morning and the vibe that everyone felt rolling down from Sunday's packed house.
"There's certainly an energy here today that maybe we haven't seen for a while," said Rutherford in a not-so-subtle reference to the Champ Car/IndyCar schism that tore the sport in half and weakened its signature event. "And it's not just in the grandstand. It's also been evident down here in the Indy 500 Old-Timers Club."
That's where the conversations have shifted the most. The old guard doesn't look down their noses quite like they used to and where the talk has moved away from "it was so much better when we raced" to "we had fun when we did it, but it sure looks like these kids today are having fun, too."
"I like where they're headed," admitted Jim Hall, who fielded Rutherford's Indy-winning cars. On Sunday afternoon he stood behind the pit wall, unnoticed by most despite his bright yellow Pennzoil jacket that proclaimed: 1980 INDY 500 WINNER. "Some of the stuff that might feel gimmicky, double-file restarts and all that, but there's also excitement to it." Then he pointed across the frontstretch to the stands. "These people want excitement."
During the 500's centennial celebration, they got it, capped with a "What the heck just happened?" finish. Rookie J.R. Hildebrand, like Ralph DePalma 99 years earlier, was running away with the win. But when he suddenly smacked the wall in the final turn of the race, he joined the likes of Michael Andretti, Scott Goodyear and Robby Gordon as members of the Indy 500 heartbreak club. Meanwhile, Wheldon was ushered into the realm of the two-time winners club, joining the legendary likes of Unser Jr., Luyendyk and Fittipaldi, not to mention Rodger Ward, Bill Vuckovich and Gordon Johncock.
Heck, we even had ourselves a good old-fashioned "let's check the replay" review of the finish.
"All the greatest names were here and we ended up with one of the greatest finishes of all time," said third-place finisher Graham Rahal, son of '86 winner Bobby. "I'm not sure what else you could have wanted today."
And it all started not with the 224.290-mph lap with which Wheldon took the checkered flag, but instead with a bunch of old men, including Rahal's father, driving restored jalopies at speeds topping out at about 30.
"It could go faster, you know?" said Unser, taking one last look at Dawson's blue barrel and then pointing to the two levers mounted alongside a cockpit wall that consisted of little more than a sheet of snapped-on leather. "Let me get that steering wheel in one hand, that handbrake in the other, and take it up through that dirt parking lot over there. We'd find some speed in it then."
The living ghosts of Indianapolis would have loved that. Almost as much as they loved Sunday's finish.
John Oreovicz covers open-wheel racing for ESPN.com.
ESPN The Magazine, NASCAR
ESPN The Magazine senior writer
2-time Sports Emmy winner
2010, 2014 NMPA Writer of the Year
95TH INDIANAPOLIS 500-MILE RACE

It's time for the 95th running of the Indianapolis 500, but it's the number 100 that counts in 2011. This is the 100th anniversary of the running of the first 500, and Indianapolis Motor Speedway's Centennial Era celebration is in high gear.
Indianapolis 500 Home

Race Day, May 29
•
Blount: The thrill and agony
•
Hinton: Oh yeah, Indy is back!
•
Oreovicz: Bad day for power teams
•
McGee: What a capper to 100 years
•
espnW: A roller-coaster ride for Indy women
•
Gallery: 100th anniversary of the 500
•
Recap: Wheldon wins a stunner
•
Watch: Full highlights
•
Watch: Full booth analysis
•
Watch: Wheldon so thankful
•
Watch: Hildebrand crestfallen
Saturday, May 28
•
Blount: Hang on to your hats!
•
Hinton: Back again in Indiana
•
ESPN.com staff: Our podium predictions
•
Racing Live! Indy 500, Sunday, noon ET
Carb Day, May 27
•
Blount: The weekend's best race is ...
•
Hinton: Foyt legend still strong in 2011
•
Gallery: A.J. Foyt, A Racing Life
•
Hinton from 1991: The last ride of A.J. Foyt
•
Hinton on the Field of the Century front row
•
Hinton's Indy 500 Field of the Century: Row 1
•
Oreovicz blog: Ganassi team leads Carb Day
•
espnW: Patrick's mom, Bev, enjoying ride
•
Blount blog: The way Mario Andretti sees it
•
Ed Hinton chat wrap
•
John Oreovicz chat wrap
•
Podcast: Brent Musburger previews the race
•
Podcast: Helio Castroneves is ready to roll
•
SportsNation: Indy 500 predictions
Features
•
Oreovicz: Breaking down the field of 33
•&nbsp
Blount: Bumping Junqueira saved jobs
•&nbsp
James: Women find a niche in IndyCar
•
SportsNation quiz: All-time lap leaders
•
Indy 500 preview photo gallery
•
James: No stopping Simona
•
Blount: Indy shows NASCAR how it's done
•
James: Women drivers carving a niche
•
Oreovicz: Danica dodges Bump Day disaster
•
James: A stormy day at the track for Danica
•
Oreovicz: Wild and wacky Pole Day
•
Oreovicz: Month of May primer
Practice And Qualifying
•
Danica makes 500 field
•
Carpentier crashes in Sunday practice
•
Tagliani wins Indy 500 pole
•
Briscoe crashes in Saturday practice
•
Di Silvestro cleared to race
•
Castroneves tops speed charts
•
Tagliani leads Friday at over 228 mph
•
De Silvestro waiting for medical clearance
•
Power leads Thursday practice
•
De Silvestro burns hands in crash
•
Rain scrubs practice again Wednesday
•
Weather limits practice Tuesday
•
Tagliani turns month's fastest lap Monday
•
Opening Sunday washed out
•
Opening day starts fast
Indy 500 Field Of The Century
•
Hinton: The method in our list
•
Row 1: Foyt, Lockhart, Vukovich
•
Row 2: Ma. Andretti, Mears, A. Unser
•
Row 3: Shaw, Jones, DePalma
•
Row 4: Meyer, B. Unser, Rutherford
•
Row 5: Ward, Johncock, Fittipaldi
•
Row 6: Rose, Unser Jr., Milton
•
Row 7: Clark, Mi. Andretti, Villenueve
•
Row 8: Luyendyk, Hill, Harroun
•
Row 9: Castroneves, Franchitti, Montoya
•
Row 10: Ruby, Donohue, Sullivan
•
Row 11: Flaherty, Kanaan, Hurtubise
•
The Social Pioneers
Indy At 100
•
Indy at 100: 2000 and beyond
•
Indy at 100: Tony George reigns in the '90s
•
Indy at 100: 1980s had stars, foreign cars
•
Indy at 100: Speed and safety in the '70s
•
Indy at 100: A time of change
•
Indy at 100: The '50s golden era
•
Indy at 100: WWII puts racing on hold
•
Indy at 100: 1930-39 a dangerous era
•
Indy at 100: 1920-29 a roaring time
•
Indy at 100: 1911-1919 was pivotal
•
Indianapolis Motor Speedway timeline
More
•
Indy 500 front row chat wrap
•
John Oreovicz chat wrap
•
Danica not tipping hand on future
•
Foyt, Mears, Unser top "greatest" fan poll
•
Scott Speed joins Dragon Racing
•
A.J. Foyt will drive Indy 500 pace car
•
China's Ho-Pin Tung eyes Indy 500
•
Indy 500 to honor Tom Carnegie
•
Buddy Rice heading back to Indy 500
Indy 500 Rewind
•
2010 Flashback: Dario's all the way back
•
2009 Flashback: Castroneves wins again
•
2008 Flashback: Quiet Dixon makes noise
•
2007 Flashback: Franchitti comes up big
•
2006 Flashback: Hornish gets his "Holy Grail"