Commentary
Indy at 100: WWII puts racing on hold
INDIANAPOLIS -- Wilbur Shaw was shocked.
It was November 1944, and Shaw was at Indianapolis Motor Speedway for the first time in two and a half years -- since May 1941, when he had come agonizingly close to winning the Indianapolis 500 for the third year in a row.
After American involvement in World War II began, the 1942 Indianapolis 500 was canceled and the federal government banned motor racing on July 15, 1942. When Shaw arrived at IMS more than two years later, he was an executive for Firestone Tire and Rubber, drafted by the company to run tests on its experimental synthetic rubber tire.
When they got to the Speedway, they found the old Brickyard was a weed-infested eyesore, and word on the street suggested that the track would be torn down and the land redeveloped.
After the tire test was completed, Shaw immediately arranged a meeting with track owner Eddie Rickenbacker. He didn't have the financial means to purchase the track, but he didn't want to see the historic track fade into oblivion. Finally, after a year of networking, he was introduced to the man who would become the unlikely savior of the Indianapolis Motor Speedway.
[+] Enlarge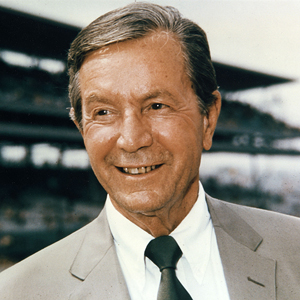 ISC Images & Archives/Getty ImagesTony Hulman Jr. purchased the Indianapolis Motor Speedway from Eddie Rickenbacker on Nov. 14, 1945 for roughly $750,000.
Anton "Tony" Hulman Jr. was born into the most famous family in Terre Haute, Ind., in February 1901. German immigrants settled in Terre Haute in 1850, and by the turn of the century, Tony's grandfather, Herman Hulman, had built Hulman & Co. into a major wholesale dry goods grocer.
Tony Hulman graduated from Yale and married an even wealthier heiress, Mary Fendrich. He was the driving force behind the national success of the Clabber Girl brand of baking products, and he was well prepared to take over the multimillion-dollar family business when his father died in 1942.
A proud Hoosier, Hulman first attended the Indianapolis 500 in 1914, and he wanted to apply the same energy and marketing acumen to the race, with the goal of maintaining it as an Indiana institution, similar to that of Churchill Downs and the state of Kentucky. With Shaw on board as his president and general manager, Hulman concluded a deal to purchase the Speedway on Nov. 14, 1945, for approximately $750,000.
But the Hulman family's business empire extended well beyond Clabber Girl and IMS. Under Tony's leadership, the Hulmans owned Terre Haute's two newspapers and a television station and invested in the city's first shopping center. Hulman & Co. later acquired the Coca-Cola Bottling Co. of Indianapolis.
Tony Hulman gave back, too, and not just by his constant reinvestment in the Speedway. The city of Terre Haute is a veritable shrine to the Hulman family and its generosity. The airport, the municipal golf course and the sports arena at Indiana State University are all graced with the Hulman name. An endowment of $11 million over the years transformed Rose Polytechnic Institute into the Rose-Hulman Institute of Technology in 1971.
It's safe to say that Hulman succeeded in his mission of saving the Indianapolis Motor Speedway. Throughout his 30-year tenure as the low-key figurehead of IMS, the track gained the notoriety it enjoys today as the self-proclaimed "Greatest Race Course in the World" and as host of "The Greatest Spectacle In Racing." As a private company, IMS does not release attendance figures; however, Indianapolis Star reporter Curt Cavin counted the track's permanent seats to reveal a capacity of more than 257,000. The Indianapolis 500 is still billed as the world's largest single-day sporting event.
[+] Enlarge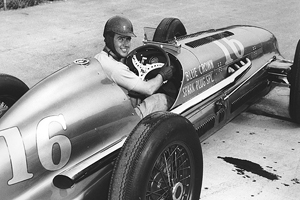 ISC Images & Archives/Getty ImagesBill Holland, who finished second in three of his first four Indianapolis 500 starts, won the "The Greatest Spectacle In Racing" in 1949.
That kind of long-term international success was still just a dream at the start of the Hulman era, and it took a superhuman effort just to get the racetrack and the facility ready for the 1946 Indianapolis 500. Tony Hulman was still worried about whether the fans would return to the Memorial Day classic until he encountered heavier-than-expected traffic on his way to the track on race day. Crowds would continue to grow throughout the Tony Hulman era as IMS was consistently expanded and updated.
In terms of competition, the 1940s were notable for the rise to dominance of the Offenhauser engine. Based on a marine engine designed by Harry Miller, the iconic four-cylinder powerplant won the Indianapolis 500 27 times between 1935 and 1976. By the late 1940s, almost the entire Indianapolis field used the already venerable "Offy."
With four years lost to the war (1942-45), the '40s didn't feature a single dominant driver, though Wilbur Shaw could have been had he chosen to continue his driving career. He led the most laps three times and finished seventh or better in eight of his 13 starts between 1927 and '41, topped by victories in 1937, '39 and '40. Shaw was the first driver to win the 500 in consecutive years, and he ranks fifth all time in laps led (508). He served as the popular president of IMS until his 1954 death in a plane crash.
Mauri Rose started the Indianapolis 500 15 times between 1933 and 1951, and he is one of six drivers with three Indy wins. Rose racked up three top-four finishes in his first eight starts before sharing victory in the 1941 race with Floyd Davis. Rose backed up the 1941 win with triumphs in 1947 and '48, leading the most laps (81) in his third win.
Bill Holland finished second in three of his first four Indianapolis 500 starts, the streak broken by a victory in the 1949 race. He led the most laps in 1947 and 1949 and was the fastest qualifier in his first year at Indianapolis, though he did not start from pole position.
Finally, Rex Mays is possibly the most notable driver who did not win the Indianapolis 500. In 12 starts, Mays claimed pole position four times and qualified on the front row on three other occasions, and he led nine different races for a total of 266 laps. His best 500 finish was second place in 1940 and '41.
The decade was somewhat better in terms of safety; three drivers died while competing at the IMS, including Ralph Hepburn, a 15-time Indianapolis starter who earned four top-5 finishes.
But the main survivor was the Speedway itself, after coming perilously close to demolition. And with a new owner who was truly "back home again in Indiana," the track's future was about to become very prosperous indeed.
John Oreovicz covers open-wheel racing for ESPN.com.
Autos, Open-Wheel
Motorsports Writer for ESPN.com
Covered Indy car racing for 20 years
Work published in 12 countries
SPONSORED HEADLINES
MORE RACING HEADLINES
MOST SENT STORIES ON ESPN.COM
95TH INDIANAPOLIS 500-MILE RACE

It's time for the 95th running of the Indianapolis 500, but it's the number 100 that counts in 2011. This is the 100th anniversary of the running of the first 500, and Indianapolis Motor Speedway's Centennial Era celebration is in high gear.
Indianapolis 500 Home

Race Day, May 29
•
Blount: The thrill and agony
•
Hinton: Oh yeah, Indy is back!
•
Oreovicz: Bad day for power teams
•
McGee: What a capper to 100 years
•
espnW: A roller-coaster ride for Indy women
•
Gallery: 100th anniversary of the 500
•
Recap: Wheldon wins a stunner
•
Watch: Full highlights
•
Watch: Full booth analysis
•
Watch: Wheldon so thankful
•
Watch: Hildebrand crestfallen
Saturday, May 28
•
Blount: Hang on to your hats!
•
Hinton: Back again in Indiana
•
ESPN.com staff: Our podium predictions
•
Racing Live! Indy 500, Sunday, noon ET
Carb Day, May 27
•
Blount: The weekend's best race is ...
•
Hinton: Foyt legend still strong in 2011
•
Gallery: A.J. Foyt, A Racing Life
•
Hinton from 1991: The last ride of A.J. Foyt
•
Hinton on the Field of the Century front row
•
Hinton's Indy 500 Field of the Century: Row 1
•
Oreovicz blog: Ganassi team leads Carb Day
•
espnW: Patrick's mom, Bev, enjoying ride
•
Blount blog: The way Mario Andretti sees it
•
Ed Hinton chat wrap
•
John Oreovicz chat wrap
•
Podcast: Brent Musburger previews the race
•
Podcast: Helio Castroneves is ready to roll
•
SportsNation: Indy 500 predictions
Features
•
Oreovicz: Breaking down the field of 33
•&nbsp
Blount: Bumping Junqueira saved jobs
•&nbsp
James: Women find a niche in IndyCar
•
SportsNation quiz: All-time lap leaders
•
Indy 500 preview photo gallery
•
James: No stopping Simona
•
Blount: Indy shows NASCAR how it's done
•
James: Women drivers carving a niche
•
Oreovicz: Danica dodges Bump Day disaster
•
James: A stormy day at the track for Danica
•
Oreovicz: Wild and wacky Pole Day
•
Oreovicz: Month of May primer
Practice And Qualifying
•
Danica makes 500 field
•
Carpentier crashes in Sunday practice
•
Tagliani wins Indy 500 pole
•
Briscoe crashes in Saturday practice
•
Di Silvestro cleared to race
•
Castroneves tops speed charts
•
Tagliani leads Friday at over 228 mph
•
De Silvestro waiting for medical clearance
•
Power leads Thursday practice
•
De Silvestro burns hands in crash
•
Rain scrubs practice again Wednesday
•
Weather limits practice Tuesday
•
Tagliani turns month's fastest lap Monday
•
Opening Sunday washed out
•
Opening day starts fast
Indy 500 Field Of The Century
•
Hinton: The method in our list
•
Row 1: Foyt, Lockhart, Vukovich
•
Row 2: Ma. Andretti, Mears, A. Unser
•
Row 3: Shaw, Jones, DePalma
•
Row 4: Meyer, B. Unser, Rutherford
•
Row 5: Ward, Johncock, Fittipaldi
•
Row 6: Rose, Unser Jr., Milton
•
Row 7: Clark, Mi. Andretti, Villenueve
•
Row 8: Luyendyk, Hill, Harroun
•
Row 9: Castroneves, Franchitti, Montoya
•
Row 10: Ruby, Donohue, Sullivan
•
Row 11: Flaherty, Kanaan, Hurtubise
•
The Social Pioneers
Indy At 100
•
Indy at 100: 2000 and beyond
•
Indy at 100: Tony George reigns in the '90s
•
Indy at 100: 1980s had stars, foreign cars
•
Indy at 100: Speed and safety in the '70s
•
Indy at 100: A time of change
•
Indy at 100: The '50s golden era
•
Indy at 100: WWII puts racing on hold
•
Indy at 100: 1930-39 a dangerous era
•
Indy at 100: 1920-29 a roaring time
•
Indy at 100: 1911-1919 was pivotal
•
Indianapolis Motor Speedway timeline
More
•
Indy 500 front row chat wrap
•
John Oreovicz chat wrap
•
Danica not tipping hand on future
•
Foyt, Mears, Unser top "greatest" fan poll
•
Scott Speed joins Dragon Racing
•
A.J. Foyt will drive Indy 500 pace car
•
China's Ho-Pin Tung eyes Indy 500
•
Indy 500 to honor Tom Carnegie
•
Buddy Rice heading back to Indy 500
Indy 500 Rewind
•
2010 Flashback: Dario's all the way back
•
2009 Flashback: Castroneves wins again
•
2008 Flashback: Quiet Dixon makes noise
•
2007 Flashback: Franchitti comes up big
•
2006 Flashback: Hornish gets his "Holy Grail"