Commentary
Indy at 100: The '50s golden era
Many longtime fans consider the 1950s the golden era for the Indianapolis 500. Indianapolis Motor Speedway was under new ownership; the beautiful roadsters competing on the track quickly developed a loyal following; and the rough-and-tumble drivers of the period rapidly became fan favorites.
Tony Hulman Jr. adhered to a philosophy of pouring profits into improving the famous facility he now owned, and his regime was promoting the Speedway and the race like never before. The most visible sign of change at IMS was the construction of a new master control tower, built in 1956-57 to replace the old Japanese-style pagoda that had housed race officials since 1926. Additional grandstands were erected and others upgraded, and the entire track, except for the main straight, was paved with asphalt prior to the 1956 race. In addition, a dedicated pit lane was constructed, separated from the track by a grass verge and a low concrete wall.
[+] Enlarge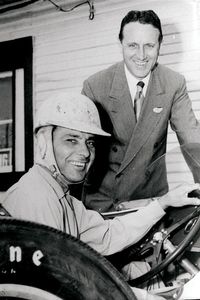 AP PhotoTwo-time Indianapolis 500 champion Bill Vukovich, bottom, died in a five-car pile-up in the 1955 Memorial Day race.
Meanwhile, there was a new way to follow the race for those who could not be there in person. Mutual Broadcasting System had carried live coverage of the start and finish of the Indy 500, along with periodic updates, since 1939; the Indianapolis Motor Speedway Radio Network was formed in 1952 to take over that role. The IMS Network provided live, flag-to-flag coverage of the race for the first time a year later. Coverage was anchored by Sid Collins, who would be known as "The Voice of the 500" until his death prior to the 1977 race. Collins was famously credited for the phrase "The Greatest Spectacle in Racing," though that tagline was actually conceived by Alice Greene, a young copywriter at WIBC, the Radio Network's flagship station.
It helped that the 500-mile races of the 1950s made for compelling radio. Until the new decade dawned, the cars that competed at Indianapolis often dated to the late '30s. But led by men such as Frank Kurtis, Eddie Kuzma and A.J. Watson, a cottage racing car industry in California burgeoned in the '50s, made possible by the affordability and reliability of the ubiquitous Offenhauser engine. By 1953, the Offy powered the full field at Indianapolis and would continue to dominate the race through the mid-1960s.
Defined as 1952-1966, the "roadster" era was in many ways a high-water mark for the American racing car trade. Bill Vukovich, generally considered the greatest driver of the time, is credited for coining the roadster name; it denoted a front-engine car with a tubular space frame chassis and solid axles front and rear, with a massive 70-gallon fuel tank that hung off the back. The Offy engine was mounted to the left of the chassis centerline, while the driver was seated to the right, helping to balance weight distribution. The steering mechanism, transmission and torque tube driveline produced by Halibrand were pretty much standardized.
Kurtis founded Kurtis-Kraft in the late '30s and was soon the leading supplier of Offy-powered midget racers. He began constructing "big" cars for Indianapolis competition in 1952, and Vukovich was dominant in Kurtis roadsters from 1952-55, winning the 500 in commanding fashion in 1953 and 1954. "Vuky" appeared destined to be the first driver to win Indy three straight years, but he was tragically killed when he was swept into another driver's accident while leading on the 57th lap of the 1955 race. Kurtis built a total of 46 Indy roadsters.
Victory in 1955 went to Bob Sweikert in a Kurtis, but Watson, his chief mechanic, thought he could improve on the Kurtis product. The resultant Watson roadster had a lighter frame and a lower center of gravity, and it became the dominant chassis at the Speedway through the mid-'60s. The exception came in 1957 and '58, when George Salih and Quinn Epperly designed and built what became known as a "laydown" roadster because of its 72 degree canted engine that gave a lower frontal area. Veteran Sam Hanks won in 1957 and famously announced his retirement from driving in Victory Lane. Hanks remained closely involved with Indianapolis, driving the pace car from 1958-63 and serving as the director of competition through 1979.
Driven by Jimmy Bryan, the Salih car won Indy again in 1958, but Watson roadsters -- or copies of them -- took over through 1964. Watson built a total of 23 chassis, and his cars served as the inspiration for a handful of clones, including the Trevis that A.J. Foyt drove to the first of his four Indy wins in 1961.
[+] Enlarge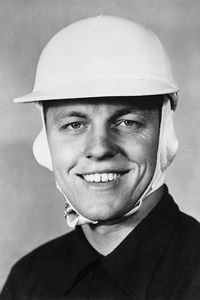 Getty ImagesTroy Ruttman became the youngest driver to win the Indianapolis 500 in 1952.
One car from the '50s proved to be well ahead of its time. Fred Agabashian made 11 Indianapolis 500 starts from 1947 to 1957 and was known as one of the era's best qualifiers, but his most famous achievement was qualifying a Cummins diesel-powered Kurtis on pole for the 1952 race. The Cummins engine was also notable for featuring the first use of a turbocharger, a power-boosting device that would not return to IMS for another 14 years. Turbocharged diesels are now a mainstay of international Le Mans-style racing.
Led by Vukovich, the drivers of the 1950s were perhaps even more captivating than the cars. Fresno, Calif., native Vukovich was peerless at Indy in the first half of the decade, leading an amazing 485 of the 647 laps (75 percent) he completed from 1952 to '55. He remains the only driver to lead the most laps in three consecutive years (1952-'54) and he won the 1953 and 54 races by a combined total of nearly five minutes. He also set one- and four-lap qualifying records in 1952 and '55 and started from pole position in 1953.
The death of the two-time defending Indy 500 champion, caused by a pair of relatively inexperienced drivers who overreacted to Rodger Ward's crash in Turn 2 during the 1955 race, remains one of the darkest moments in IMS history. But Vukovich wasn't the only driver killed in action at Indianapolis in the 1950s; five others died in practice, including Jerry Unser, the brother of future Indy champions Bobby and Al Unser. Pat O'Connor died during the 1958 race.
But other legends endured. Troy Ruttman was barely 22 years old when he won the 1952 race and he remains the youngest winner of the 500. Jim Rathmann notched three second-place finishes at Indy (1952, '57 and '59) as a precursor to his win in 1960; Pat Flaherty was a part-time racer who was tending bar at his Chicago tavern when he overheard patrons discussing that team owner John Zink did not have a driver for the 1956 race. Flaherty and Zink inked a one-race deal and Pat led 127 of the 200 laps on the way to victory.
Famous as one of Indy's toughest characters, cigar-chomping Jimmy Bryan was the winner of the 1958 race, leading 139 laps. Bryan finished in the top six at Indianapolis in four of his nine 500 appearances, scored 23 race wins in 72 Indy car starts and was a three-time national champion, but he was killed in action at Langhorne Speedway in 1960. Another popular driver who failed to survive the era was Melvin "Tony" Bettenhausen, who made 14 starts at Indianapolis from 1946-60 with a trio of top-four finishes before being killed at the Speedway in 1961.
Many observers consider 1955 the most devastating year in the history of auto racing. Aside from the death of Vukovich at Indy during the Indianapolis 500, Manuel Ayulo was killed in practice and four other Indy veterans lost their lives while racing at other tracks over the course of the season. In addition, Formula 1 great Alberto Ascari (who competed at Indianapolis in 1952) was killed during practice for the Monaco Grand Prix, and a horrible disaster occurred during the 24 Hours of Le Mans, when Pierre Levegh's Mercedes-Benz was launched into the crowd, killing the driver and more than 80 spectators. All of that prompted the AAA Contest Board to withdraw as the sanctioning body of the Indianapolis 500 and all other forms of motorsport following the 1955 season.
Hulman sprung into action, using AAA staff to form the United States Auto Club. USAC would continue to sanction the Indianapolis 500 through 1995, though the organization lost control of the rest of the "Indy car" championship in the early 1980s. USAC also staged a stock car championship that was a rival for NASCAR through the 1970s, and it continues to govern midget and sprint car racing to the present day.
Hulman took one other important duty during the 1950s. After his right-hand man, IMS president Wilbur Shaw, was killed in a plane crash near Decatur, Ind., in late 1954, Hulman assumed the newly created role of the person who beckoned the competitors over the public address system to get ready for the start of the race. "Gentlemen, start your engines!" -- or a modified call to later include female drivers -- has been the exclusive province of the Hulman family at Indianapolis since 1955.
John Oreovicz covers open-wheel racing for ESPN.com.
Autos, Open-Wheel
Motorsports Writer for ESPN.com
Covered Indy car racing for 20 years
Work published in 12 countries
SPONSORED HEADLINES
MORE RACING HEADLINES
MOST SENT STORIES ON ESPN.COM
95TH INDIANAPOLIS 500-MILE RACE

It's time for the 95th running of the Indianapolis 500, but it's the number 100 that counts in 2011. This is the 100th anniversary of the running of the first 500, and Indianapolis Motor Speedway's Centennial Era celebration is in high gear.
Indianapolis 500 Home

Race Day, May 29
•
Blount: The thrill and agony
•
Hinton: Oh yeah, Indy is back!
•
Oreovicz: Bad day for power teams
•
McGee: What a capper to 100 years
•
espnW: A roller-coaster ride for Indy women
•
Gallery: 100th anniversary of the 500
•
Recap: Wheldon wins a stunner
•
Watch: Full highlights
•
Watch: Full booth analysis
•
Watch: Wheldon so thankful
•
Watch: Hildebrand crestfallen
Saturday, May 28
•
Blount: Hang on to your hats!
•
Hinton: Back again in Indiana
•
ESPN.com staff: Our podium predictions
•
Racing Live! Indy 500, Sunday, noon ET
Carb Day, May 27
•
Blount: The weekend's best race is ...
•
Hinton: Foyt legend still strong in 2011
•
Gallery: A.J. Foyt, A Racing Life
•
Hinton from 1991: The last ride of A.J. Foyt
•
Hinton on the Field of the Century front row
•
Hinton's Indy 500 Field of the Century: Row 1
•
Oreovicz blog: Ganassi team leads Carb Day
•
espnW: Patrick's mom, Bev, enjoying ride
•
Blount blog: The way Mario Andretti sees it
•
Ed Hinton chat wrap
•
John Oreovicz chat wrap
•
Podcast: Brent Musburger previews the race
•
Podcast: Helio Castroneves is ready to roll
•
SportsNation: Indy 500 predictions
Features
•
Oreovicz: Breaking down the field of 33
•&nbsp
Blount: Bumping Junqueira saved jobs
•&nbsp
James: Women find a niche in IndyCar
•
SportsNation quiz: All-time lap leaders
•
Indy 500 preview photo gallery
•
James: No stopping Simona
•
Blount: Indy shows NASCAR how it's done
•
James: Women drivers carving a niche
•
Oreovicz: Danica dodges Bump Day disaster
•
James: A stormy day at the track for Danica
•
Oreovicz: Wild and wacky Pole Day
•
Oreovicz: Month of May primer
Practice And Qualifying
•
Danica makes 500 field
•
Carpentier crashes in Sunday practice
•
Tagliani wins Indy 500 pole
•
Briscoe crashes in Saturday practice
•
Di Silvestro cleared to race
•
Castroneves tops speed charts
•
Tagliani leads Friday at over 228 mph
•
De Silvestro waiting for medical clearance
•
Power leads Thursday practice
•
De Silvestro burns hands in crash
•
Rain scrubs practice again Wednesday
•
Weather limits practice Tuesday
•
Tagliani turns month's fastest lap Monday
•
Opening Sunday washed out
•
Opening day starts fast
Indy 500 Field Of The Century
•
Hinton: The method in our list
•
Row 1: Foyt, Lockhart, Vukovich
•
Row 2: Ma. Andretti, Mears, A. Unser
•
Row 3: Shaw, Jones, DePalma
•
Row 4: Meyer, B. Unser, Rutherford
•
Row 5: Ward, Johncock, Fittipaldi
•
Row 6: Rose, Unser Jr., Milton
•
Row 7: Clark, Mi. Andretti, Villenueve
•
Row 8: Luyendyk, Hill, Harroun
•
Row 9: Castroneves, Franchitti, Montoya
•
Row 10: Ruby, Donohue, Sullivan
•
Row 11: Flaherty, Kanaan, Hurtubise
•
The Social Pioneers
Indy At 100
•
Indy at 100: 2000 and beyond
•
Indy at 100: Tony George reigns in the '90s
•
Indy at 100: 1980s had stars, foreign cars
•
Indy at 100: Speed and safety in the '70s
•
Indy at 100: A time of change
•
Indy at 100: The '50s golden era
•
Indy at 100: WWII puts racing on hold
•
Indy at 100: 1930-39 a dangerous era
•
Indy at 100: 1920-29 a roaring time
•
Indy at 100: 1911-1919 was pivotal
•
Indianapolis Motor Speedway timeline
More
•
Indy 500 front row chat wrap
•
John Oreovicz chat wrap
•
Danica not tipping hand on future
•
Foyt, Mears, Unser top "greatest" fan poll
•
Scott Speed joins Dragon Racing
•
A.J. Foyt will drive Indy 500 pace car
•
China's Ho-Pin Tung eyes Indy 500
•
Indy 500 to honor Tom Carnegie
•
Buddy Rice heading back to Indy 500
Indy 500 Rewind
•
2010 Flashback: Dario's all the way back
•
2009 Flashback: Castroneves wins again
•
2008 Flashback: Quiet Dixon makes noise
•
2007 Flashback: Franchitti comes up big
•
2006 Flashback: Hornish gets his "Holy Grail"