Commentary
Another May for the ages on tap?
INDIANAPOLIS -- They're calling it "The Most Important Race in History."
Perhaps that's not surprising, given that Indianapolis Motor Speedway long ago trademarked self-aggrandizing phrases like "The Greatest Race Course in the World" and, of course, "The Greatest Spectacle in Racing."
But then again, taken in the overall context of motorsports, the Indianapolis 500 is without a doubt one of the most important races in the history of auto racing. And this is the 100th anniversary of the first Indy 500 -- staying power precious few sporting events of any kind can boast.
So they're rolling out the brick carpet at IMS this May, putting the cap on what has been a three-year celebration of the centennial era of the famous old track. The lead-up to the Indianapolis 500 no longer encapsulates the entire month of May, but the Speedway has special events packed into the next two weeks designed to appeal to aficionados of racing history as well as a new generation of fans who are curious about the century-long lure of the track they call The Brickyard.
From a classic car concourse on opening weekend (May 14-15) to a race-day demonstration of former Indy-winning cars driven by iconic winning drivers, the historic aspect will be well covered. Those cars in the race-day parade -- driven by the likes of Mario Andretti, Parnelli Jones, Bobby Unser, Tom Sneva and Arie Luyendyk -- will be among 67 Indy winners on display at the Indianapolis Motor Speedway Hall of Fame Museum in a special exhibition that runs through June 1.
Amid all the history and hype, a race featuring 33 identical open-wheel cars from the IZOD IndyCar Series will be staged May 29 (noon ET, ABC). The winning driver and team of the 95th running of the Indianapolis 500 will take home more than $3 million -- not bad for about three hours of work.
[+] Enlarge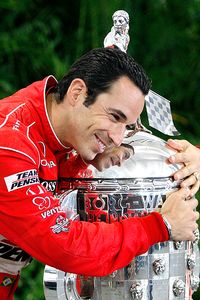 Jamie Squire/Getty ImagesIf Helio Castroneves can hug the Borg-Warner Trophy again, he will join the other three Indy 500 immortals.
Or so it seems. Those three hours in the car on race day are a relief from the relentless pressure cooker that is the Indianapolis Motor Speedway in May. Everything looks simple on the surface, but the combination of seemingly endless practice time pounding around a quirky and fickle old racetrack takes its toll.
"God, it's a frustrating place," said two-time (and defending) Indianapolis 500 winner Dario Franchitti. "It's a four-corner track, so how tough can it be? Well, probably the most difficult track I've ever driven.
"You spend day after day dialing in the car and working on your driving technique to the point where you can actually be close to the pace. Then the weather changes and you've got to start all over again. It's the hardest two weeks of your life, and it can drive you mad if you let it."
Franchitti, who also won Indianapolis in 2007, enters the month as one of the favorites. The Scotsman is joined by four other former 500 winners: Scott Dixon (2009), Helio Castroneves (2001-02 and '08), Dan Wheldon (2005) and Buddy Rice (2004).
A third Indianapolis win would confirm Franchitti's status as the top Indy car driver of his generation. Castroneves has three wins in the 500 and earned pole position for the race four times, but he has never won a series championship. Franchitti has compiled three.
And the Scotsman knows what another drink of the Indy winner's milk would mean.
"The more I've done it, the more I appreciate the 500, and the history of the whole thing comes into play," he said. "I enjoy the history of the sport, and it's very important to be on the list of winners and everything that stands for. To be in the club, as Bobby Rahal puts it, is a dream come true -- a lifetime ambition."
Castroneves could become a member of an even more exclusive club.
There are only three four-time Indianapolis 500 winners -- AJ Foyt, Al Unser and Rick Mears.
More than anything, Castroneves just needs to turn his season around. He's been involved in accidents in three of four races so far in 2011 and lies 17th in the standings, 100 points behind his Penske Racing teammate Will Power.
"I'm ready to go for it, especially because of the rough beginning to the season," Castroneves said. "I just can't wait to go there and do what I know best. I need a change, so I think moving to Indy and some oval tracks is going to be good for the No. 3 team."
It wouldn't be any surprise if Power broke through for his first oval racing victory at Indianapolis. The 30-year-old Australian seems to have the IndyCar Series field covered right now on road courses, and it's only a matter of time until his oval skills improve to a similar level.
"We know we've got to do better on the ovals than we did last year but I don't think that will be a problem," Power said. "By the end of last year we were putting the whole thing together, and I knew I could run better on those tracks. We're coming back this year to get that stuff right."
Here are some other storylines to watch at Indy this May:
The teammates: The Chip Ganassi organization expanded to four cars this year, operating a separate two-car team for Graham Rahal and rookie Charlie Kimball. The pair of young Americans will benefit from sharing a database with Target team drivers Franchitti and Dixon. Penske's third driver, Ryan Briscoe is no slouch either.
The others: Andretti Autosport won at Indianapolis in 2005 and '07, but the IndyCar Series' onetime top dog struggled for speed at the Speedway last year, with lead driver Tony Kanaan scuffling to even qualify. Kanaan has left to lead the KV Racing Technology effort, and both of those teams should be in the mix fighting for second-tier status behind Ganassi and Penske. Teaming a seasoned pro in Oriol Servia with impressive rookie James Hinchcliffe, Newman/Haas Racing could spring a surprise at Indy.
[+] Enlarge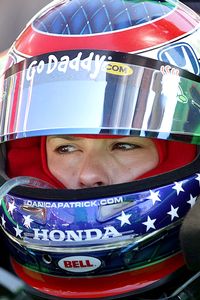 Donald Miralle/Getty ImagesThis may very well be Danica Patrick's last best chance to win an Indy 500.
Danica and the other women: Four female drivers will attempt to qualify for the Indianapolis 500, led by Danica Patrick. Danica has always performed well at IMS, and with a NASCAR career most likely in her future, this may be her last time at the Speedway as a full-time Indy car driver. But there are a trio of other young women racers in position to capture Patrick's Indy car fan base: Simona De Silvestro has been very impressive in her first year-plus in the IndyCar Series, and Ana Beatriz is also getting a full-time opportunity this year. Pippa Mann, a race winner in the Indy Lights development series, will attempt to qualify for her IndyCar debut in the 500.
Will a big name fail to qualify?: It happens at Indianapolis, and this year, 41 entries will compete for the 33 starting slots. Who can forget Bobby Rahal failing to qualify in 1993, the Penske team of Emerson Fittipaldi and Al Unser Jr. two years later, or Paul Tracy just last year? "Bump Day," the second and final day of qualifying in the Indianapolis 500's condensed schedule, is going to be very exciting this year.
The rookie class: The battle for Indianapolis 500 Rookie of the Year honors is always entertaining, and often portends greatness.
Eight first-year drivers will attempt to make the show this year: Hinchcliffe, Kimball and Mann, plus Indy Car Series regulars James Jakes and JR Hildebrand and former Indy Lights champion Jay Howard.
Most intriguing: Formula 1 and NASCAR veteran Scott Speed and Ho-Pin Tung, who will attempt to become the first Chinese driver to qualify for the Indianapolis 500.
John Oreovicz covers open-wheel racing for ESPN.com.
Autos, Open-Wheel
Motorsports Writer for ESPN.com
Covered Indy car racing for 20 years
Work published in 12 countries
95TH INDIANAPOLIS 500-MILE RACE

It's time for the 95th running of the Indianapolis 500, but it's the number 100 that counts in 2011. This is the 100th anniversary of the running of the first 500, and Indianapolis Motor Speedway's Centennial Era celebration is in high gear.
Indianapolis 500 Home

Race Day, May 29
•
Blount: The thrill and agony
•
Hinton: Oh yeah, Indy is back!
•
Oreovicz: Bad day for power teams
•
McGee: What a capper to 100 years
•
espnW: A roller-coaster ride for Indy women
•
Gallery: 100th anniversary of the 500
•
Recap: Wheldon wins a stunner
•
Watch: Full highlights
•
Watch: Full booth analysis
•
Watch: Wheldon so thankful
•
Watch: Hildebrand crestfallen
Saturday, May 28
•
Blount: Hang on to your hats!
•
Hinton: Back again in Indiana
•
ESPN.com staff: Our podium predictions
•
Racing Live! Indy 500, Sunday, noon ET
Carb Day, May 27
•
Blount: The weekend's best race is ...
•
Hinton: Foyt legend still strong in 2011
•
Gallery: A.J. Foyt, A Racing Life
•
Hinton from 1991: The last ride of A.J. Foyt
•
Hinton on the Field of the Century front row
•
Hinton's Indy 500 Field of the Century: Row 1
•
Oreovicz blog: Ganassi team leads Carb Day
•
espnW: Patrick's mom, Bev, enjoying ride
•
Blount blog: The way Mario Andretti sees it
•
Ed Hinton chat wrap
•
John Oreovicz chat wrap
•
Podcast: Brent Musburger previews the race
•
Podcast: Helio Castroneves is ready to roll
•
SportsNation: Indy 500 predictions
Features
•
Oreovicz: Breaking down the field of 33
•&nbsp
Blount: Bumping Junqueira saved jobs
•&nbsp
James: Women find a niche in IndyCar
•
SportsNation quiz: All-time lap leaders
•
Indy 500 preview photo gallery
•
James: No stopping Simona
•
Blount: Indy shows NASCAR how it's done
•
James: Women drivers carving a niche
•
Oreovicz: Danica dodges Bump Day disaster
•
James: A stormy day at the track for Danica
•
Oreovicz: Wild and wacky Pole Day
•
Oreovicz: Month of May primer
Practice And Qualifying
•
Danica makes 500 field
•
Carpentier crashes in Sunday practice
•
Tagliani wins Indy 500 pole
•
Briscoe crashes in Saturday practice
•
Di Silvestro cleared to race
•
Castroneves tops speed charts
•
Tagliani leads Friday at over 228 mph
•
De Silvestro waiting for medical clearance
•
Power leads Thursday practice
•
De Silvestro burns hands in crash
•
Rain scrubs practice again Wednesday
•
Weather limits practice Tuesday
•
Tagliani turns month's fastest lap Monday
•
Opening Sunday washed out
•
Opening day starts fast
Indy 500 Field Of The Century
•
Hinton: The method in our list
•
Row 1: Foyt, Lockhart, Vukovich
•
Row 2: Ma. Andretti, Mears, A. Unser
•
Row 3: Shaw, Jones, DePalma
•
Row 4: Meyer, B. Unser, Rutherford
•
Row 5: Ward, Johncock, Fittipaldi
•
Row 6: Rose, Unser Jr., Milton
•
Row 7: Clark, Mi. Andretti, Villenueve
•
Row 8: Luyendyk, Hill, Harroun
•
Row 9: Castroneves, Franchitti, Montoya
•
Row 10: Ruby, Donohue, Sullivan
•
Row 11: Flaherty, Kanaan, Hurtubise
•
The Social Pioneers
Indy At 100
•
Indy at 100: 2000 and beyond
•
Indy at 100: Tony George reigns in the '90s
•
Indy at 100: 1980s had stars, foreign cars
•
Indy at 100: Speed and safety in the '70s
•
Indy at 100: A time of change
•
Indy at 100: The '50s golden era
•
Indy at 100: WWII puts racing on hold
•
Indy at 100: 1930-39 a dangerous era
•
Indy at 100: 1920-29 a roaring time
•
Indy at 100: 1911-1919 was pivotal
•
Indianapolis Motor Speedway timeline
More
•
Indy 500 front row chat wrap
•
John Oreovicz chat wrap
•
Danica not tipping hand on future
•
Foyt, Mears, Unser top "greatest" fan poll
•
Scott Speed joins Dragon Racing
•
A.J. Foyt will drive Indy 500 pace car
•
China's Ho-Pin Tung eyes Indy 500
•
Indy 500 to honor Tom Carnegie
•
Buddy Rice heading back to Indy 500
Indy 500 Rewind
•
2010 Flashback: Dario's all the way back
•
2009 Flashback: Castroneves wins again
•
2008 Flashback: Quiet Dixon makes noise
•
2007 Flashback: Franchitti comes up big
•
2006 Flashback: Hornish gets his "Holy Grail"