Commentary
Indy at 100: Fatalities mar the '70s
INDIANAPOLIS -- Speed and safety were the keywords of the 1970s at Indianapolis Motor Speedway.
With the transition to rear-engine cars complete by the late 1960s, the race began to maximize the potential of the new format. By the end of the decade, the slim, cigar-shaped cars of the '60s had been transformed into the basic platform still being used by Indy cars of the 21st century.
Turbocharging the four-cylinder Offenhauser and four-cam Ford V-8 brought massive horsepower gains, as engine builders pushed the limits with huge amounts of turbo boost. Meanwhile, aerodynamic research was advancing. Jim Hall developed the first wings on his Chaparral sports cars in the mid-'60s, opening up a whole new avenue of development. Wings mounted upside down compared to airplane applications forced cars to stick to the ground, allowing them to corner faster. This was especially evident on the fast 90-degree corners of Indianapolis, and by 1970, rudimentary wings were de rigeur at the Speedway.
The final piece of the puzzle was the tire war waging between Goodyear and Firestone that ultimately produced treadless slick racing tires. Put together, the combined effect of all these things -- horsepower, grip and aerodynamic downforce -- was staggering. Bobby Unser's 1972 Indy pole speed was 195.940 mph, an amazing 17 mph faster than the year before and 25 mph faster than 1970.
The boost was turned up even higher and the wings were bigger than ever at Indianapolis in 1973. It appeared that the magical 200-mph barrier would be broken, but rain limited practice and the fastest qualifying lap was 199.071 mph by Johnny Rutherford.
Once again, danger reared its head at the Speedway as veteran Art Pollard fatally crashed while practicing on Pole Day. Race Day was even worse: Salt Walther crashed at the start, spraying burning fuel on spectators. Then it rained. It rained again the next day. Finally on the third attempt, the race got under way.
[+] Enlarge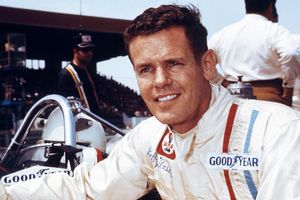 ISC Images & Archives/Getty ImagesBobby Unser's Indianapolis pole speed in 1972 was a staggering 195.940 mph, 17 mph faster than the pole speed one year earlier.
On the 59th lap, Swede Savage suffered one of the nastiest crashed in IMS history, the remains of his car erupting in flames after explosively striking the inside wall in Turn 4. Savage survived the accident but died a month later. Adding to the tragedy, Armando Teran, a crewman for Patrick Racing, was killed when he was struck in the pit lane by an emergency vehicle tending to Savage's wreck. The race ended after 332.5 miles due to rain, with Savage's Patrick teammate Gordon Johncock declared the winner.
Immediate changes were mandated: Smaller rear wings, turbo boost restricted to 80 inches, and fuel capacity reduced from 75 to 40 gallons. Speeds at Indianapolis dropped by about 10 mph, and in general Indy car racing's safety record improved dramatically.
But by 1977, drivers were knocking on the door of 200 mph once again. The honor fell to Tom Sneva, who ran a pair of 200-mph qualifying laps in his Penske Racing McLaren. Driving a Penske chassis a year later, Sneva posted the first full 200-mph qualification run, averaging 202.156 mph.
The 1977 race was significant for a couple of other reasons: A.J. Foyt became the first four-time winner of the Indianapolis 500. And the field featured its first female qualifier: Janet Guthrie, 39, a former aeronautical engineer and sports car racer, set a precedent that today still makes the Indianapolis 500 unique as one of the few sporting endeavors in which men and women compete on equal terms. Guthrie finished ninth at Indy in 1978, a record that stood until eclipsed nearly 30 years later by Danica Patrick, who cites Guthrie as a key influence in her decision to become a race car driver.
With the notable exception of the notorious 1973 race, many of the 500s from the '70s are considered classics. Al Unser opened the decade with back-to-back wins, and Mark Donohue's winning average speed of 162.962 mph stood as the race record until 1984. Driving a Sunoco McLaren prepared to the highest standard, Donohue scored the first of team owner Roger Penske's 15 Indianapolis 500 victories.
Rain cut the 1975 and '76 races to 435 and 255 miles, respectively; the winners were Bobby Unser and Johnny Rutherford, both top stars of the era. Those wins were the second of three for each man. Al Unser claimed his third Indy 500 triumph in 1978 and went on to become the only man to sweep USAC's Triple Crown with additional victories in the Pocono 500 and the California 500 at IMS clone Ontario Motor Speedway.
The 1979 race was won from pole position by the brightest new star of the decade: Rick Mears emerged from Bakersfield, Calif., from a background that included off-road desert racing and road racing. Just 27 years old when he won at Indianapolis for the first time, Mears made a few quietly competitive runs in Indy cars before being "discovered" by Roger Penske. Rocket Rick went on to become one of the greatest drivers in Indianapolis Motor Speedway history.
Other great drivers of the 1970s at Indianapolis included Johncock, whose second Indy win in 1982 was one of the most exciting finishes in 500 history as he held off a charging Mears by 0.16 of a second. Donohue was the driver who put Penske Racing on the map in the 1960s. Aside from his Indianapolis win in 1972, Donohue qualified on the front row for three of his five Indy starts, adding Rookie of the Year honors in 1969 and a second-place finish in 1970.
Sneva went on to win the 1977 and '78 USAC Indy car championships while also driving for Penske. "The Gas Man" was also the first driver to top 210 mph at the Brickyard, and in addition to winning the 1983 race, he finished second in the 500 three times -- including 1980, when he came all the way from the 33rd starting position.
Then there are the Unser brothers. Bobby scored the Albuquerque clan's first Indianapolis 500 victory in the 1968 race, and he added wins in 1975 and '81 and that amazing pole position in 1972 and again in '81. Al Unser is one of just three drivers to win the Indianapolis 500 four times. His 27 starts rank third on the all-time list, and his four wins came over a span of 17 years (1970, '71, '78 and '87), the most of the four-time winners. Unser is the all-time lap leader (644 in 11 races), ranks second to Foyt in terms of miles completed and was running at the finish of the race more times (18) than any other driver.
[+] Enlarge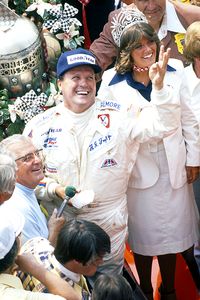 Focus on Sport/Getty ImagesA.J. Foyt became the first four-time winner of the Indianapolis 500 in 1977, 16 years after winning his first.
While the three lives lost during the Indianapolis 500 in the 1970s were unfortunate, a pair of non-racing-related deaths were possibly even more devastating to the Speedway.
After the 1977 race, Tony Hulman rode around the Speedway in a pace car for a victory lap celebrating his good friend A.J. Foyt's record fourth win in the Indianapolis 500. It was the first time that the Speedway owner had ever participated in that Indianapolis tradition. Hulman was 76 years old and in apparent good health, so his death on Oct. 27, 1977 during heart surgery at St. Vincent's Hospital in Indianapolis came as a shock to his family, the Speedway and the racing world as a whole.
Although Hulman's passing was sudden and unexpected, business went on as usual at IMS. Tony's widow, Mary Hulman, took over as chairman of the board, and Hulman's right-hand man, Joe Cloutier, assumed presidency of the track. But a natural succession plan beyond that was in question, due to events that occurred early on May 31, 1976.
In 1957, Tony and Mary's daughter Mari married Elmer George, a sprint car driver of the era who went on to make three Indianapolis 500 starts between 1957 and '63. Mari George filed for divorce on May 3, 1976, and after an argument broke out following the 1976 500, Elmer George reportedly traveled to Terre Haute to confront Mari's alleged boyfriend, a horse trainer at the Hulman family farm named Guy Trollinger.
According to police, sometime around 1 a.m., a gunfight between the two men broke out with as many as 17 shots fired. George, 47, died from multiple gunshot wounds. Trollinger was initially charged with assault and battery with intent to kill, but a hastily convened grand jury concluded that Trollinger killed George in self-defense and prosecutors dropped the charges.
At the time, George worked for IMS as a vice president in charge of the Indianapolis Motor Speedway Motor Network. But with Tony Hulman and his logical successor gone, the last thing that the Speedway (and by extension, the United States Auto Club) needed was dissension among the car owners.
Yet that is exactly what was brewing in the late 1970s. Led by Dan Gurney, who wrote a white paper on the subject, the owners expressed their dissatisfaction that so much emphasis was placed on the Indianapolis 500, often at the expense of a full series of strong Indy car championship races that they believed was necessary for their survival as business entities.
Gurney's 1978 report compared American racing to Formula One and noted that F1 experienced massive growth after the team owners, led by Bernie Ecclestone, formed the Formula One Constructors Association. Gurney proposed that the Indy car team owners form a FOCA-like alliance to take over promotion of the sport while leaving sanctioning to USAC. "Let's call it CART, or Championship Auto Racing Teams," he wrote.
With Roger Penske and Pat Patrick as point men, CART proposed a revised structure to govern the sport. But USAC resisted, so in late 1978, CART hired the Sports Car Club of America to sanction its races and staged its first event at Phoenix International Raceway in March 1979. Meanwhile, the USAC Championship Trail continued, with A.J. Foyt as its only notable driver.
The month of May in 1979 was the most contentious in the history of the Indianapolis 500. After USAC retaliated by denying the top CART teams entry into the '79 Indy 500, a U.S. District Court ruled the ban unlawful, reasoning that the star drivers' livelihood would be adversely affected. Later in the month, another legal battle broke out when it was discovered that several competitors were cheating, manipulating the pop-off valve, a device mandated to regulate turbo boost, and USAC was alleged to have turned a selective blind eye to the practice. An extraordinary extra qualifying session was staged; anyone with a legal car who matched the slowest qualified speed was added to the entry, putting the field at 35 cars.
While peace eventually prevailed within a couple of years, the USAC-CART war of 1979 created an uneasy truce at best between the car owners and the Indianapolis Motor Speedway, which had unofficially served as the longtime governors of the sport of Indy car racing. That increasingly public conflict would continue as a crippling hallmark of the sport over the next three decades.
John Oreovicz covers open-wheel racing for ESPN.com.
Autos, Open-Wheel
Motorsports Writer for ESPN.com
Covered Indy car racing for 20 years
Work published in 12 countries
SPONSORED HEADLINES
MORE RACING HEADLINES
MOST SENT STORIES ON ESPN.COM
95TH INDIANAPOLIS 500-MILE RACE

It's time for the 95th running of the Indianapolis 500, but it's the number 100 that counts in 2011. This is the 100th anniversary of the running of the first 500, and Indianapolis Motor Speedway's Centennial Era celebration is in high gear.
Indianapolis 500 Home

Race Day, May 29
•
Blount: The thrill and agony
•
Hinton: Oh yeah, Indy is back!
•
Oreovicz: Bad day for power teams
•
McGee: What a capper to 100 years
•
espnW: A roller-coaster ride for Indy women
•
Gallery: 100th anniversary of the 500
•
Recap: Wheldon wins a stunner
•
Watch: Full highlights
•
Watch: Full booth analysis
•
Watch: Wheldon so thankful
•
Watch: Hildebrand crestfallen
Saturday, May 28
•
Blount: Hang on to your hats!
•
Hinton: Back again in Indiana
•
ESPN.com staff: Our podium predictions
•
Racing Live! Indy 500, Sunday, noon ET
Carb Day, May 27
•
Blount: The weekend's best race is ...
•
Hinton: Foyt legend still strong in 2011
•
Gallery: A.J. Foyt, A Racing Life
•
Hinton from 1991: The last ride of A.J. Foyt
•
Hinton on the Field of the Century front row
•
Hinton's Indy 500 Field of the Century: Row 1
•
Oreovicz blog: Ganassi team leads Carb Day
•
espnW: Patrick's mom, Bev, enjoying ride
•
Blount blog: The way Mario Andretti sees it
•
Ed Hinton chat wrap
•
John Oreovicz chat wrap
•
Podcast: Brent Musburger previews the race
•
Podcast: Helio Castroneves is ready to roll
•
SportsNation: Indy 500 predictions
Features
•
Oreovicz: Breaking down the field of 33
•&nbsp
Blount: Bumping Junqueira saved jobs
•&nbsp
James: Women find a niche in IndyCar
•
SportsNation quiz: All-time lap leaders
•
Indy 500 preview photo gallery
•
James: No stopping Simona
•
Blount: Indy shows NASCAR how it's done
•
James: Women drivers carving a niche
•
Oreovicz: Danica dodges Bump Day disaster
•
James: A stormy day at the track for Danica
•
Oreovicz: Wild and wacky Pole Day
•
Oreovicz: Month of May primer
Practice And Qualifying
•
Danica makes 500 field
•
Carpentier crashes in Sunday practice
•
Tagliani wins Indy 500 pole
•
Briscoe crashes in Saturday practice
•
Di Silvestro cleared to race
•
Castroneves tops speed charts
•
Tagliani leads Friday at over 228 mph
•
De Silvestro waiting for medical clearance
•
Power leads Thursday practice
•
De Silvestro burns hands in crash
•
Rain scrubs practice again Wednesday
•
Weather limits practice Tuesday
•
Tagliani turns month's fastest lap Monday
•
Opening Sunday washed out
•
Opening day starts fast
Indy 500 Field Of The Century
•
Hinton: The method in our list
•
Row 1: Foyt, Lockhart, Vukovich
•
Row 2: Ma. Andretti, Mears, A. Unser
•
Row 3: Shaw, Jones, DePalma
•
Row 4: Meyer, B. Unser, Rutherford
•
Row 5: Ward, Johncock, Fittipaldi
•
Row 6: Rose, Unser Jr., Milton
•
Row 7: Clark, Mi. Andretti, Villenueve
•
Row 8: Luyendyk, Hill, Harroun
•
Row 9: Castroneves, Franchitti, Montoya
•
Row 10: Ruby, Donohue, Sullivan
•
Row 11: Flaherty, Kanaan, Hurtubise
•
The Social Pioneers
Indy At 100
•
Indy at 100: 2000 and beyond
•
Indy at 100: Tony George reigns in the '90s
•
Indy at 100: 1980s had stars, foreign cars
•
Indy at 100: Speed and safety in the '70s
•
Indy at 100: A time of change
•
Indy at 100: The '50s golden era
•
Indy at 100: WWII puts racing on hold
•
Indy at 100: 1930-39 a dangerous era
•
Indy at 100: 1920-29 a roaring time
•
Indy at 100: 1911-1919 was pivotal
•
Indianapolis Motor Speedway timeline
More
•
Indy 500 front row chat wrap
•
John Oreovicz chat wrap
•
Danica not tipping hand on future
•
Foyt, Mears, Unser top "greatest" fan poll
•
Scott Speed joins Dragon Racing
•
A.J. Foyt will drive Indy 500 pace car
•
China's Ho-Pin Tung eyes Indy 500
•
Indy 500 to honor Tom Carnegie
•
Buddy Rice heading back to Indy 500
Indy 500 Rewind
•
2010 Flashback: Dario's all the way back
•
2009 Flashback: Castroneves wins again
•
2008 Flashback: Quiet Dixon makes noise
•
2007 Flashback: Franchitti comes up big
•
2006 Flashback: Hornish gets his "Holy Grail"