Commentary
Alex Tagliani surprise Pole Day winner
INDIANAPOLIS -- In terms of interesting storylines, Pole Day 2011 ranked among the best in the 100-year history of the Indianapolis 500.
There was a surprising pole winner. The most successful team in the history of the Indy 500 struggled, and the defending race champion ran out of fuel on a qualifying run. Four of Saturday's nine fastest qualifiers are part-time participants in the Izod IndyCar Series; meanwhile, a top team featuring the sport's most popular driver qualified only one of its five cars. Finally, the sport's emerging female star came back from a fiery accident to lock in the final first-day qualifying berth.
The drama started at 8:16 a.m., when Team Penske's Ryan Briscoe crashed heavily in practice, and didn't end until after 6 p.m., when the day's final qualifier -- Alex Tagliani, driving for Sam Schmidt Motorsports -- went fast enough to snatch pole position.
Maybe it's not really a surprise that the 38-year-old French-Canadian earned his first Indy pole, because he was consistently among the fastest drivers all week in practice. But on Pole Day, the experience of the vaunted Penske and Ganassi teams was supposed to prevail.
[+] Enlarge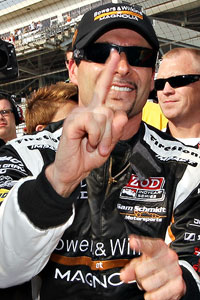 Jamie Squire/Getty ImagesAlex Tagliani became the first Canadian to win an Indianapolis 500 pole.
Instead, they both had off days. Team Penske's day got off to a bad start when Briscoe wadded up his Dallara-Honda, and it didn't get much better. The Australian failed to make the top 24 locked in on Pole Day, four-time Indy pole winner Helio Castroneves managed only 16th place, while IndyCar Series championship leader Will Power was the team's only representative in the Fast Nine shootout. Power qualified fifth and seemed mystified by his lack of speed.
"The car was solid all day and pretty trimmed out, so I don't know what else I could have done," Power said. "I just didn't have the speed."
Meanwhile, Target Chip Ganassi Racing cut its fuel calculations too close and ran Franchitti out in Turn 1 of his fourth and final qualifying lap. That cost the Scotsman fourth place; he instead will line up ninth. Scott Dixon's car also ran dry, and he thought it might have been enough to cost him pole position.
"It's frustrating, but it goes back to the old saying, 'That's racing,'" said Dixon. "Today was a real strange mixture of people and efforts. I mean, you see Helio is back in 16th and he's normally quite good around here."
The uncharacteristic struggles of Indy car racing's dominant teams opened the door for Tagliani and SSM. Tagliani formed FAZZT Racing last year and completed the season as owner-driver. The team's participation this year in the IndyCar Series was in question until Schmidt, the most successful team owner in the Indy Lights development series, stepped up to join in partnership with FAZZT.
Tagliani earned five poles and one win in CART-sanctioned Indy car racing but got left on the sidelines during the 2008 open-wheel reunification. With FAZZT, he put together a strong team that includes team manager Rob Edwards (ex-Walker Racing) and engineer Allen McDonald, who worked effectively with Franchitti at Andretti Green Racing for many years.
"It's difficult to explain all the sacrifice and tears I've had throughout my career," Tagliani said. "Everyone accepted my offer to be part of this team last year, and we're still intact even though they risked their reputations. I'm at the shop every day and I see the passion these boys have.
"Sam said this entity deserved to continue, and to do this on the 100th anniversary is very special."
But Tagliani wasn't SSM's only feel-good story on Pole Day. Townsend Bell qualified a second Schmidt car on the inside of Row 2, while Bertrand Baguette solidly qualified the SSM car entered in conjunction with Rahal Letterman Lanigan Racing in 14th place.
Oriol Servia qualified on the outside of the front row and brought some joy to Newman/Haas Racing, the legendary Indy car team going through a transitional period with team founder Carl Haas in declining health.
Former Indianapolis winner Dan Wheldon teamed with one of his former Andretti Green Racing teammates to qualify Bryan Herta Autosport's entry sixth fastest. Buddy Rice, another former winner, will line up seventh in Panther Racing's second car. And Ed Carpenter received the biggest cheers of the day when he put Sarah Fisher Racing's entry into the Fast Nine shootout.
"That's Indianapolis," Wheldon said. "It's incredibly competitive and people value Indianapolis so much that they will put so much effort into that one race and that stirs things up a bit. Testing is limited, but at Indianapolis the smaller teams have track time to perfect their cars."
"

It's difficult to explain all the sacrifice and tears I've had throughout my career. Everyone accepted my offer to be part of this team last year, and we're still intact even though they risked their reputations.

"

-- Alex Tagliani
Meanwhile, several high-profile drivers and teams failed to secure one of the 24 starting positions up for grabs Saturday. Most notably, Indy-only driver John Andretti was the only one of Andretti Autosport's fivesome who went fast enough to make the cut.
"We're out to lunch," admitted AA team manager Kyle Moyer.
"We were slow when we rolled off the truck and we were still slow in qualifying," said Marco Andretti. "I don't have an answer and that's why I'm super-frustrated right now."
Ryan Hunter-Reay and Danica Patrick were stuck in the 223 mph bracket, about 1.5 mph slower than necessary to make the top 24 on Saturday.
Mike Conway won the IndyCar race four weeks ago on the Long Beach street course, but he appears to be a bit spooked by Indianapolis, where he suffered a season-ending crash a year ago.
"We're struggling," Hunter-Reay observed. "We tried every setup in the spectrum and it just didn't have any speed."
The slowest of the day's 24 qualifiers was undoubtedly the bravest. Forty-eight hours after suffering second-degree burns to her hand in a frightening accident, Simona De Silvestro returned to qualify HVM Racing's backup car. For now, her 224.392 mph average is the bubble speed, though there may be slower qualifiers Sunday when the 33-car field is initially filled.
"After the crash I think it was a crazy time for me," said the "Swiss Miss" after her second fiery accident in a two-year Indy car career.
"I was really scared and didn't know if I really wanted to get back into a race car. But the team was really good and let me think about it. I think it was really important for me to get back in the car today, because if not all those mixed emotions would have stayed with me for a while."
John Oreovicz covers open-wheel racing for ESPN.com.
Autos, Open-Wheel
Motorsports Writer for ESPN.com
Covered Indy car racing for 20 years
Work published in 12 countries
SPONSORED HEADLINES
MORE RACING HEADLINES
MOST SENT STORIES ON ESPN.COM
95TH INDIANAPOLIS 500-MILE RACE

It's time for the 95th running of the Indianapolis 500, but it's the number 100 that counts in 2011. This is the 100th anniversary of the running of the first 500, and Indianapolis Motor Speedway's Centennial Era celebration is in high gear.
Indianapolis 500 Home

Race Day, May 29
•
Blount: The thrill and agony
•
Hinton: Oh yeah, Indy is back!
•
Oreovicz: Bad day for power teams
•
McGee: What a capper to 100 years
•
espnW: A roller-coaster ride for Indy women
•
Gallery: 100th anniversary of the 500
•
Recap: Wheldon wins a stunner
•
Watch: Full highlights
•
Watch: Full booth analysis
•
Watch: Wheldon so thankful
•
Watch: Hildebrand crestfallen
Saturday, May 28
•
Blount: Hang on to your hats!
•
Hinton: Back again in Indiana
•
ESPN.com staff: Our podium predictions
•
Racing Live! Indy 500, Sunday, noon ET
Carb Day, May 27
•
Blount: The weekend's best race is ...
•
Hinton: Foyt legend still strong in 2011
•
Gallery: A.J. Foyt, A Racing Life
•
Hinton from 1991: The last ride of A.J. Foyt
•
Hinton on the Field of the Century front row
•
Hinton's Indy 500 Field of the Century: Row 1
•
Oreovicz blog: Ganassi team leads Carb Day
•
espnW: Patrick's mom, Bev, enjoying ride
•
Blount blog: The way Mario Andretti sees it
•
Ed Hinton chat wrap
•
John Oreovicz chat wrap
•
Podcast: Brent Musburger previews the race
•
Podcast: Helio Castroneves is ready to roll
•
SportsNation: Indy 500 predictions
Features
•
Oreovicz: Breaking down the field of 33
•&nbsp
Blount: Bumping Junqueira saved jobs
•&nbsp
James: Women find a niche in IndyCar
•
SportsNation quiz: All-time lap leaders
•
Indy 500 preview photo gallery
•
James: No stopping Simona
•
Blount: Indy shows NASCAR how it's done
•
James: Women drivers carving a niche
•
Oreovicz: Danica dodges Bump Day disaster
•
James: A stormy day at the track for Danica
•
Oreovicz: Wild and wacky Pole Day
•
Oreovicz: Month of May primer
Practice And Qualifying
•
Danica makes 500 field
•
Carpentier crashes in Sunday practice
•
Tagliani wins Indy 500 pole
•
Briscoe crashes in Saturday practice
•
Di Silvestro cleared to race
•
Castroneves tops speed charts
•
Tagliani leads Friday at over 228 mph
•
De Silvestro waiting for medical clearance
•
Power leads Thursday practice
•
De Silvestro burns hands in crash
•
Rain scrubs practice again Wednesday
•
Weather limits practice Tuesday
•
Tagliani turns month's fastest lap Monday
•
Opening Sunday washed out
•
Opening day starts fast
Indy 500 Field Of The Century
•
Hinton: The method in our list
•
Row 1: Foyt, Lockhart, Vukovich
•
Row 2: Ma. Andretti, Mears, A. Unser
•
Row 3: Shaw, Jones, DePalma
•
Row 4: Meyer, B. Unser, Rutherford
•
Row 5: Ward, Johncock, Fittipaldi
•
Row 6: Rose, Unser Jr., Milton
•
Row 7: Clark, Mi. Andretti, Villenueve
•
Row 8: Luyendyk, Hill, Harroun
•
Row 9: Castroneves, Franchitti, Montoya
•
Row 10: Ruby, Donohue, Sullivan
•
Row 11: Flaherty, Kanaan, Hurtubise
•
The Social Pioneers
Indy At 100
•
Indy at 100: 2000 and beyond
•
Indy at 100: Tony George reigns in the '90s
•
Indy at 100: 1980s had stars, foreign cars
•
Indy at 100: Speed and safety in the '70s
•
Indy at 100: A time of change
•
Indy at 100: The '50s golden era
•
Indy at 100: WWII puts racing on hold
•
Indy at 100: 1930-39 a dangerous era
•
Indy at 100: 1920-29 a roaring time
•
Indy at 100: 1911-1919 was pivotal
•
Indianapolis Motor Speedway timeline
More
•
Indy 500 front row chat wrap
•
John Oreovicz chat wrap
•
Danica not tipping hand on future
•
Foyt, Mears, Unser top "greatest" fan poll
•
Scott Speed joins Dragon Racing
•
A.J. Foyt will drive Indy 500 pace car
•
China's Ho-Pin Tung eyes Indy 500
•
Indy 500 to honor Tom Carnegie
•
Buddy Rice heading back to Indy 500
Indy 500 Rewind
•
2010 Flashback: Dario's all the way back
•
2009 Flashback: Castroneves wins again
•
2008 Flashback: Quiet Dixon makes noise
•
2007 Flashback: Franchitti comes up big
•
2006 Flashback: Hornish gets his "Holy Grail"