Commentary
Danica Patrick dodges disaster at Indy
INDIANAPOLIS -- They set a new track record at Indianapolis Motor Speedway on Sunday.
With Danica Patrick sitting in the qualifying line just after 3 p.m. and rain teeming down, things didn't look good for America's favorite female racer. But the IMS Safety Team managed to get the famous 2.5-mile oval dried in just 90 minutes -- faster than any veteran Indy observer could remember.
That allowed Patrick to take to the track at 4:43 p.m., and about five minutes later, she was safely in the 33-car field after a four-lap qualifying run that averaged 224.861 mph. That was the second-fastest run of the day, eclipsed only by Paul Tracy's 224.939-mph effort.
But even with Danica safely qualified, it was a bittersweet day for Andretti Autosport as only three of its five drivers made the show.
Making matters worse, Marco Andretti bumped his teammate Ryan Hunter-Reay out as the final qualifier, an unsatisfactory ending to a long and frustrating week for AA owner Michael Andretti and his team.
[+] Enlarge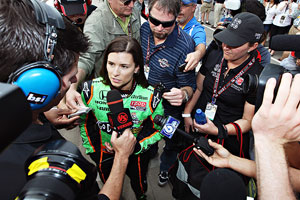 Jamie Squire/Getty ImagesDanica Patrick took center stage with the media on Sunday after making the field for the May 29 Indianapolis 500.
Still, Danica's close call was the big story of the day. With a full-time NASCAR career likely in her future, a DNQ wasn't how her Indianapolis 500 career was supposed to end.
She has always performed at her best when the pressure is on, and Bump Day 2011 at Indianapolis was no different.
"This place is like a person -- it reads you when you are nervous or not confident and it reads you when you are," said Patrick, who will line up 26th for next Sunday's race. "It throws a lot at you, but that's why it's the greatest racetrack in the world. You'd think after seven years here I'd be better off, but this week was my worst ever.
"I feel like I need a drink," she added. "Between angry and happy, I've been at both ends of the spectrum this week."
Patrick was among the quickest on the first day of practice, but the Andretti Autosport team's performance throughout the week mirrored what the team went through a year ago, when Tony Kanaan came perilously close to not qualifying. All five AA drivers struggled for speed as temperatures rose for the qualifying weekend.
Long Beach Grand Prix winner Mike Conway -- perhaps spooked by memories of his severe accident in the 2010 Indianapolis 500 -- never showed enough speed to make the show. More surprisingly, Hunter-Reay also failed to qualify, his 223.690 mph average barely shaded by Ana Beatriz's 223.879 mph run.
"I can't even fathom this at the moment," Hunter-Reay told a TV reporter while choking back tears. "We just ran out of time. We were on the unlucky end of that and it's just heartbreaking. My teammate bumped me out ... that's not ideal.
"We have to rebound somehow, but I've got a lot of faith in these guys, and that's what we'll do."
Marco Andretti expressed dismay at the way he bumped himself into the field at the expense of his teammate. Andretti was "on the bubble" from 4:48 p.m. until 5:55, when he was bumped by Alex Lloyd of Dale Coyne Racing. Fortunately, Andretti was already in his car in the qualifying line, and he set off on his make-or-break run at 5:59.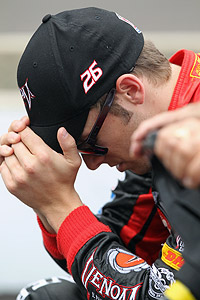 Jamie Squire/Getty ImagesMarco Andretti's 11th-hour qualifying effort bumped teammate Ryan Hunter-Reay from the Indy 500 field.
With Hunter-Reay and his fiancée, Beccy, barely able to watch, Marco found 224.628 mph in a car that struggled to top 223 on Pole Day.
"It's a bummer that we were in that situation," he said. "There were a lot of circumstances that put us in this position.
"We needed to get bumped to really justify going back out. We didn't want to look bad. It was either going to be in the wall or in the show."
For Michael Andretti, who led 431 laps during his 16-year driving career at Indianapolis but never won the 500, it was a reminder of the tough times he experienced at the Speedway.
"It was not a good day -- probably my worst day as an owner," he said. "I've had some real tough times here as a driver that were worse, but this was bad.
"I just feel so bad for Ryan and Mike. It breaks my heart. I don't have the words for them, but on the other side, I'm so happy for Marco. He did a hell of a job to pull it out there in the end."
Last year, Tracy was the big-name driver who failed to make the show at Indy, and the Canadian star must have sensed some déjà vu when he didn't get his Dreyer & Reinbold Racing entry in the show on Pole Day.
But just before the afternoon rain shower, Tracy put together a run that averaged nearly 225 mph and took him out of the stress zone.
"Indianapolis has dealt me a tough deck over my career, but we knew we could run those speeds if we got the opportunity," Tracy remarked. "Over the last day I developed a fever blister on my lip and that doesn't happen unless I'm really stressed out.
"But that's what Indianapolis will do to you. It will drive you crazy."
After crashing during the Pole Day practice, Ryan Briscoe put up a 224.6-mph run to safely qualify Team Penske's third entry. Other Bump Day qualifiers included Charlie Kimball, Graham Rahal, Lloyd and rookie Pippa Mann, who helped tie an Indianapolis 500 record by becoming the fourth female driver in the field.
But the combined star power of Mann, Beatriz and Simona De Silvestro doesn't come close to matching that enjoyed by Patrick, who was the first to admit that she, her sponsors and her massive fan base dodged a bullet on Sunday.
"I didn't have words for what happened today," Danica said. "I was speechless. I couldn't believe what was happening.
"But it is exciting, I guess."
John Oreovicz covers open-wheel racing for ESPN.com.
Autos, Open-Wheel
Motorsports Writer for ESPN.com
Covered Indy car racing for 20 years
Work published in 12 countries
SPONSORED HEADLINES
MORE RACING HEADLINES
MOST SENT STORIES ON ESPN.COM
95TH INDIANAPOLIS 500-MILE RACE

It's time for the 95th running of the Indianapolis 500, but it's the number 100 that counts in 2011. This is the 100th anniversary of the running of the first 500, and Indianapolis Motor Speedway's Centennial Era celebration is in high gear.
Indianapolis 500 Home

Race Day, May 29
•
Blount: The thrill and agony
•
Hinton: Oh yeah, Indy is back!
•
Oreovicz: Bad day for power teams
•
McGee: What a capper to 100 years
•
espnW: A roller-coaster ride for Indy women
•
Gallery: 100th anniversary of the 500
•
Recap: Wheldon wins a stunner
•
Watch: Full highlights
•
Watch: Full booth analysis
•
Watch: Wheldon so thankful
•
Watch: Hildebrand crestfallen
Saturday, May 28
•
Blount: Hang on to your hats!
•
Hinton: Back again in Indiana
•
ESPN.com staff: Our podium predictions
•
Racing Live! Indy 500, Sunday, noon ET
Carb Day, May 27
•
Blount: The weekend's best race is ...
•
Hinton: Foyt legend still strong in 2011
•
Gallery: A.J. Foyt, A Racing Life
•
Hinton from 1991: The last ride of A.J. Foyt
•
Hinton on the Field of the Century front row
•
Hinton's Indy 500 Field of the Century: Row 1
•
Oreovicz blog: Ganassi team leads Carb Day
•
espnW: Patrick's mom, Bev, enjoying ride
•
Blount blog: The way Mario Andretti sees it
•
Ed Hinton chat wrap
•
John Oreovicz chat wrap
•
Podcast: Brent Musburger previews the race
•
Podcast: Helio Castroneves is ready to roll
•
SportsNation: Indy 500 predictions
Features
•
Oreovicz: Breaking down the field of 33
•&nbsp
Blount: Bumping Junqueira saved jobs
•&nbsp
James: Women find a niche in IndyCar
•
SportsNation quiz: All-time lap leaders
•
Indy 500 preview photo gallery
•
James: No stopping Simona
•
Blount: Indy shows NASCAR how it's done
•
James: Women drivers carving a niche
•
Oreovicz: Danica dodges Bump Day disaster
•
James: A stormy day at the track for Danica
•
Oreovicz: Wild and wacky Pole Day
•
Oreovicz: Month of May primer
Practice And Qualifying
•
Danica makes 500 field
•
Carpentier crashes in Sunday practice
•
Tagliani wins Indy 500 pole
•
Briscoe crashes in Saturday practice
•
Di Silvestro cleared to race
•
Castroneves tops speed charts
•
Tagliani leads Friday at over 228 mph
•
De Silvestro waiting for medical clearance
•
Power leads Thursday practice
•
De Silvestro burns hands in crash
•
Rain scrubs practice again Wednesday
•
Weather limits practice Tuesday
•
Tagliani turns month's fastest lap Monday
•
Opening Sunday washed out
•
Opening day starts fast
Indy 500 Field Of The Century
•
Hinton: The method in our list
•
Row 1: Foyt, Lockhart, Vukovich
•
Row 2: Ma. Andretti, Mears, A. Unser
•
Row 3: Shaw, Jones, DePalma
•
Row 4: Meyer, B. Unser, Rutherford
•
Row 5: Ward, Johncock, Fittipaldi
•
Row 6: Rose, Unser Jr., Milton
•
Row 7: Clark, Mi. Andretti, Villenueve
•
Row 8: Luyendyk, Hill, Harroun
•
Row 9: Castroneves, Franchitti, Montoya
•
Row 10: Ruby, Donohue, Sullivan
•
Row 11: Flaherty, Kanaan, Hurtubise
•
The Social Pioneers
Indy At 100
•
Indy at 100: 2000 and beyond
•
Indy at 100: Tony George reigns in the '90s
•
Indy at 100: 1980s had stars, foreign cars
•
Indy at 100: Speed and safety in the '70s
•
Indy at 100: A time of change
•
Indy at 100: The '50s golden era
•
Indy at 100: WWII puts racing on hold
•
Indy at 100: 1930-39 a dangerous era
•
Indy at 100: 1920-29 a roaring time
•
Indy at 100: 1911-1919 was pivotal
•
Indianapolis Motor Speedway timeline
More
•
Indy 500 front row chat wrap
•
John Oreovicz chat wrap
•
Danica not tipping hand on future
•
Foyt, Mears, Unser top "greatest" fan poll
•
Scott Speed joins Dragon Racing
•
A.J. Foyt will drive Indy 500 pace car
•
China's Ho-Pin Tung eyes Indy 500
•
Indy 500 to honor Tom Carnegie
•
Buddy Rice heading back to Indy 500
Indy 500 Rewind
•
2010 Flashback: Dario's all the way back
•
2009 Flashback: Castroneves wins again
•
2008 Flashback: Quiet Dixon makes noise
•
2007 Flashback: Franchitti comes up big
•
2006 Flashback: Hornish gets his "Holy Grail"