Commentary
Indy 500: Handicapping the field of 33
INDIANAPOLIS -- Two-hundred laps. One-hundred years of history. Thirty-three drivers.
One winner.
Few sporting events have the pedigree of the Indianapolis 500 (May 29, noon ET, ABC), and the winner of the 100th anniversary running of the Greatest Spectacle In Racing will be feted in Indianapolis Motor Speedway lore forever.
Of more immediate interest to them, that winning driver and team also will take home a check for more than $3 million.
Some prone to hyperbole -- like, say, Michael Andretti -- claim it's the deepest Indianapolis field ever. Perhaps Michael would know, since two of his five Andretti Autosport drivers failed to qualify for Sunday's race.
[+] Enlarge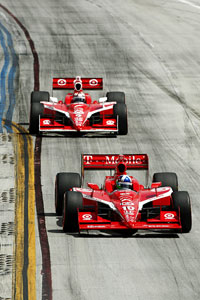 Donald Miralle/Getty ImagesIs there a better 1-2 punch in the Indianapolis 500 than Ganassi Racing teammates Dario Franchitti, front, and Scott Dixon?
It's without a doubt the strongest field since 1995, the year before the open-wheel split sent the Indy 500 into a rebuilding process that is finally showing real signs of momentum. Crowds have been on the rise at IMS the past few years; Carb Day has become a popular way for fans to ring in race weekend, and the spirit of Indy's legendary Snakepit has been rejuvenated and relocated to Turn 3 for the race.
As usual, the 33 entries in the field are a mix of series regulars and one-off Indy specialists. It's been 10 years since a part-timer won the Indianapolis 500, but that was only because Helio Castroneves and Team Penske then were full-time competitors in the CART-sanctioned Indy car series. Team Penske and Chip Ganassi Racing dominate the IndyCar Series on a weekly basis, and there is no reason to expect that domination to end at Indianapolis. Combined, the league's two super-teams have won eight of 11 Indy 500s since 2000. The once-mighty Andretti Autosport is the only other team to win Indy in that time.
Still, this year's underdogs demonstrated in practice and qualifying that they stand a better chance of toppling the Penske/Ganassi dynasty than they have in years. Four of the nine entries in the Fast Nine qualifying shootout were Indy-only or part-time IndyCar efforts, and a couple of them have the capability to emerge as contenders for the win Sunday.
Meanwhile, the Ganassi team made a mistake as simple as running its cars out of fuel during final qualifying, and the Penske team struggled to put one of its three cars into the top five. But even though defending race champion Dario Franchitti starts ninth, three-time winner Castroneves lines up 16th and Ryan Briscoe is back in 27th, history has shown that starting position doesn't really matter over 500 miles of racing.
In the sprit of my colleague Ed Hinton's ranking of the 33 greatest Indy car drivers of all time, I broke down my favorites for the Memorial Day Classic into 11 rows of three. Ladies and gentlemen, start your engines!
Row 1
• Dario Franchitti -- The best Indy car driver of his generation can join the pantheon of all-time greats with a third Indianapolis triumph.
• Scott Dixon -- Fast all week, it's a great opportunity for the '08 winner to break out of Ganassi Racing teammate Franchitti's shadow.
• Will Power -- No better venue than the Brickyard for the IndyCar Series points leader to score his first oval win.
***
Row 2
• Helio Castroneves -- The 2011 season hasn't been very kind to Helio, but Indianapolis has been three times.
• Alex Tagliani -- Surprise pole winner and Sam Schmidt Motorsports could spring an even bigger surprise Sunday.
• Oriol Servia -- Savvy driver and veteran Newman/Haas team make this a strong combination.
***
Row 3
• Marco Andretti -- Andretti Autosport's best chance to show that its cars really can be competitive in race trim.
• Tony Kanaan -- Popular Brazilian is hoping a change of scenery to KV Racing brings a change in his Indy luck.
• Ryan Briscoe -- Team Penske's cars are guaranteed to be quick on race day, but can he be mistake-free?
***
Row 4
• Dan Wheldon -- Former winner loves Indy and is the perfect man to help build Bryan Herta Autosport.
• Vitor Meira -- Two-time Indy bridesmaid could give team owner A.J. Foyt a wonderful 50th anniversary gift.
• Danica Patrick -- Indianapolis is her best track, and this may be her last chance to race there in an Indy car.
***
Row 5
• Graham Rahal -- Looking to put the Rahal name back in Indy's victory circle 25 years after his father Bobby's 1986 win.
• Buddy Rice -- Indy car racing's forgotten man could stir memories of his '04 Indy win with a strong run for Panther Racing.
• Ed Carpenter -- The most underrated oval racer in the IndyCar Series is off to a good start with Sarah Fisher Racing.
***
Row 6
• Townsend Bell -- Capable American starts fourth and deserves a full-time shot in Indy cars.
• Paul Tracy -- Wants to take home the real Borg-Warner Trophy to avenge his near miss from '02.
• Justin Wilson -- Deadly on road courses, could also be a quiet assassin on the IMS oval.
***
Row 7
• Simona De Silvestro -- Fire can't stop the "Swiss Miss" from making a name for herself in Indy cars.
• James Hinchcliffe -- Rookie Canadian has Servia as a great mentor at rejuvenated Newman/Haas Racing.
• J.R. Hildebrand -- Rising American star has an opportunity to show his stuff now that Panther Racing is in its comfort zone on ovals.
***
Row 8
• Tomas Scheckter -- Would definitely liven up the IndyCar Series if he were out there on a full-time basis.
• Takuma Sato -- Making great strides in his second season of Indy car racing.
• Bertrand Baguette -- Stop the bread jokes, this unheralded Belgian can really drive.
***
Row 9
• Ryan Hunter-Reay -- Owes Bruno Junqueira a churrascaria dinner after his sponsors bought the Brazilian out of his qualified car.
• Alex Lloyd -- Finished fourth at IMS on the way to 2010 IndyCar Series Rookie of the Year honors.
• Charlie Kimball -- Diabetec racer will be excused if he chugs orange juice instead of milk in Victory Lane.
***
Row 10
• E.J. Viso -- Can this crash-prone Venezuelan keep all four wheels on his car for 500 miles?
• John Andretti -- Once-a-year racer put Andretti Autosport's famous full-time drivers to shame in qualifying.
• Davey Hamilton -- Star of the IRL era steps down from the radio booth to run Indy every year.
***
Row 11
• Jay Howard -- The 2006 Indy Lights champion has had a tough time launching an Indy car career.
• Ana Beatriz -- Back at IMS for the second time but in first full-time season of IndyCar.
• Pippa Mann -- Rookie did a solid job all week and is Conquest Racing's only qualifier in the field.
John Oreovicz covers open-wheel racing for ESPN.com.
Autos, Open-Wheel
Motorsports Writer for ESPN.com
Covered Indy car racing for 20 years
Work published in 12 countries
95TH INDIANAPOLIS 500-MILE RACE

It's time for the 95th running of the Indianapolis 500, but it's the number 100 that counts in 2011. This is the 100th anniversary of the running of the first 500, and Indianapolis Motor Speedway's Centennial Era celebration is in high gear.
Indianapolis 500 Home

Race Day, May 29
•
Blount: The thrill and agony
•
Hinton: Oh yeah, Indy is back!
•
Oreovicz: Bad day for power teams
•
McGee: What a capper to 100 years
•
espnW: A roller-coaster ride for Indy women
•
Gallery: 100th anniversary of the 500
•
Recap: Wheldon wins a stunner
•
Watch: Full highlights
•
Watch: Full booth analysis
•
Watch: Wheldon so thankful
•
Watch: Hildebrand crestfallen
Saturday, May 28
•
Blount: Hang on to your hats!
•
Hinton: Back again in Indiana
•
ESPN.com staff: Our podium predictions
•
Racing Live! Indy 500, Sunday, noon ET
Carb Day, May 27
•
Blount: The weekend's best race is ...
•
Hinton: Foyt legend still strong in 2011
•
Gallery: A.J. Foyt, A Racing Life
•
Hinton from 1991: The last ride of A.J. Foyt
•
Hinton on the Field of the Century front row
•
Hinton's Indy 500 Field of the Century: Row 1
•
Oreovicz blog: Ganassi team leads Carb Day
•
espnW: Patrick's mom, Bev, enjoying ride
•
Blount blog: The way Mario Andretti sees it
•
Ed Hinton chat wrap
•
John Oreovicz chat wrap
•
Podcast: Brent Musburger previews the race
•
Podcast: Helio Castroneves is ready to roll
•
SportsNation: Indy 500 predictions
Features
•
Oreovicz: Breaking down the field of 33
•&nbsp
Blount: Bumping Junqueira saved jobs
•&nbsp
James: Women find a niche in IndyCar
•
SportsNation quiz: All-time lap leaders
•
Indy 500 preview photo gallery
•
James: No stopping Simona
•
Blount: Indy shows NASCAR how it's done
•
James: Women drivers carving a niche
•
Oreovicz: Danica dodges Bump Day disaster
•
James: A stormy day at the track for Danica
•
Oreovicz: Wild and wacky Pole Day
•
Oreovicz: Month of May primer
Practice And Qualifying
•
Danica makes 500 field
•
Carpentier crashes in Sunday practice
•
Tagliani wins Indy 500 pole
•
Briscoe crashes in Saturday practice
•
Di Silvestro cleared to race
•
Castroneves tops speed charts
•
Tagliani leads Friday at over 228 mph
•
De Silvestro waiting for medical clearance
•
Power leads Thursday practice
•
De Silvestro burns hands in crash
•
Rain scrubs practice again Wednesday
•
Weather limits practice Tuesday
•
Tagliani turns month's fastest lap Monday
•
Opening Sunday washed out
•
Opening day starts fast
Indy 500 Field Of The Century
•
Hinton: The method in our list
•
Row 1: Foyt, Lockhart, Vukovich
•
Row 2: Ma. Andretti, Mears, A. Unser
•
Row 3: Shaw, Jones, DePalma
•
Row 4: Meyer, B. Unser, Rutherford
•
Row 5: Ward, Johncock, Fittipaldi
•
Row 6: Rose, Unser Jr., Milton
•
Row 7: Clark, Mi. Andretti, Villenueve
•
Row 8: Luyendyk, Hill, Harroun
•
Row 9: Castroneves, Franchitti, Montoya
•
Row 10: Ruby, Donohue, Sullivan
•
Row 11: Flaherty, Kanaan, Hurtubise
•
The Social Pioneers
Indy At 100
•
Indy at 100: 2000 and beyond
•
Indy at 100: Tony George reigns in the '90s
•
Indy at 100: 1980s had stars, foreign cars
•
Indy at 100: Speed and safety in the '70s
•
Indy at 100: A time of change
•
Indy at 100: The '50s golden era
•
Indy at 100: WWII puts racing on hold
•
Indy at 100: 1930-39 a dangerous era
•
Indy at 100: 1920-29 a roaring time
•
Indy at 100: 1911-1919 was pivotal
•
Indianapolis Motor Speedway timeline
More
•
Indy 500 front row chat wrap
•
John Oreovicz chat wrap
•
Danica not tipping hand on future
•
Foyt, Mears, Unser top "greatest" fan poll
•
Scott Speed joins Dragon Racing
•
A.J. Foyt will drive Indy 500 pace car
•
China's Ho-Pin Tung eyes Indy 500
•
Indy 500 to honor Tom Carnegie
•
Buddy Rice heading back to Indy 500
Indy 500 Rewind
•
2010 Flashback: Dario's all the way back
•
2009 Flashback: Castroneves wins again
•
2008 Flashback: Quiet Dixon makes noise
•
2007 Flashback: Franchitti comes up big
•
2006 Flashback: Hornish gets his "Holy Grail"