Commentary
J.R. Hildebrand not alone in Indy misery
INDIANAPOLIS -- J.R. Hildebrand was less than half a mile from duplicating Trevor Bayne's feat of a remarkable rookie win in one of America's iconic auto races.
Problem is, unlike Bayne's triumphant run to the flag in the Daytona 500, Hildebrand didn't finish the Indianapolis 500. The Sausalito, Calif., native crashed his Panther Racing/National Guard car in the last turn of the last lap, a $2.5 million mistake that instantly moved him into pole position for a century's worth of heartbreak at the Indianapolis Motor Speedway.
"That's the first time I've seen the leader crash on the last corner and have somebody pass him on the way to the finish line," recalled Roger Penske, who has attended the Indianapolis 500 since 1951. "But that's what this place is all about."
[+] Enlarge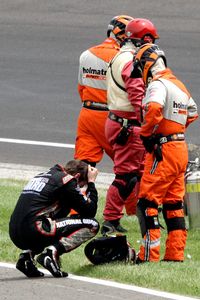 AP Photo/Paul SancyaJ.R. Hildebrand collected his thoughts after crashing on the last lap of the Indianapolis 500.
The lead of the Indy 500 has changed hands in the last five laps on several occasions. But as Penske noted, never has the leader crashed on the very last lap.
To his credit, Hildebrand kept his composure when he met the media in pit lane a few minutes after his mangled Dallara-Honda somehow crossed the finish line in second place.
"I'm pretending well, I guess," he said.
He followed that up with a longer media session in IMS's Economaki Trackside Press Conference Room to explain that fateful final lap.
"I started catching some other cars coming out of the pits as I was cycling through [Turns] 3 and 4. I ended up catching the 83 [13th-place finisher Charlie Kimball] going into Turn 4, a fairly inopportune area.
"Knowing that the cars in second and third were coming pretty strong, and rather than downshifting a bunch and risking slowing the car way down coming onto the front-straight to stay behind him, I thought, 'I'll breathe it and go to the high side' because it was a move I used earlier in the race to get around some slower cars in a fairly similar situation.
"But in hindsight, I think with the tires being as used as they were at that stage after such a long run, it's obviously a learning experience for me. The marble buildup is quite severe. Once I got up there, there wasn't a lot I could do."
Dan Wheldon therefore became only the second driver in Indianapolis 500 history to take the lead on the final lap. The last time it happened was five years ago, when Marco Andretti simply drove a poor last lap some 6 mph off the pace and was passed on the sprint to the line by Sam Hornish Jr.
Here are some other famous late-race heartbreaks at Indianapolis:
• 1912: Ralph De Palma took the lead on the third lap and looked unstoppable -- until the engine in his Mercedes started smoking and rattling with about five laps remaining. Approaching Turn 4 on the 199th lap, a connecting rod punched through the block and De Palma's day was done, handing the win to Joe Dawson.
Indy 500 Heartbreaks
| Year | Loser | Lap | Reason out |
| --- | --- | --- | --- |
| 1912 | Ralph De Palma | 199 | Engine failure |
| 1961 | Eddie Sachs | 198 | Deflating tire |
| 1967 | Parnelli Jones | 197 | Bearing seized |
| 1986 | Kevin Cogan | 198 | Passed on restart |
| 1989 | Al Unser Jr. | 199 | Crashed |
| 1995 | Scott Goodyear | 195 | Passed pace car |
| 2002 | Paul Tracy | 199 | Caution flag |
| 2006 | Marco Andretti | 200 | Got passed |
• 1961: Eddie Sachs and A.J. Foyt swapped the lead throughout the race and Sachs held the late lead. Knowing Sachs was nursing his tires, Foyt piled on the pressure, and sure enough, Sachs peeled into the pits on the 198th lap with his right rear worn to the cords. The decision to pit was heavily scrutinized, and many years later, Foyt said he would have stayed out had the roles been reversed.
• 1967: Parnelli Jones dominated the race in an unusual turbine-powered car. But the brand-new design didn't finish the job, breaking a $6 ball bearing on the 197th lap and opening the door for Foyt to score what was then a record-tying third Indianapolis win.
• 1986: "I'm kind of busy right now, Sam," snapped Kevin Cogan when ABC announcer Sam Posey called on his in-car radio just prior to a Lap 198 restart. Bobby Rahal got the jump on Cogan when the green flag flew and pulled away to win the race.
• 1989: Al Unser Jr. and Emerson Fittipaldi were disputing the lead of the 500 while weaving through late-race traffic. Entering Turn 3 on the 199th lap, neither man was willing to give and Fittipaldi's Penske slid up the track into Unser's Lola, sending Unser hard into the wall. Fittipaldi held on and won the race.
• 1995: Scott Goodyear appeared to be in control of the 1995 race, but on the final restart on Lap 190, he sped past the pace car, which appeared to make a slower than usual entry into the pits. Goodyear ignored a black flag and was not scored over the last five laps, handing the victory to Jacques Villeneuve.
• 2002: Helio Castroneves was saving fuel and Paul Tracy was rapidly catching him. A crash occurred at the other end of the track, and the yellow light went on. Did the yellow flash before or after Tracy passed Castroneves for the lead on the 199th lap? It didn't matter, because Indy Racing league officials declared Castroneves the winner after a protest from Tracy and Team Green.
John Oreovicz covers open-wheel racing for ESPN.com.
Autos, Open-Wheel
Motorsports Writer for ESPN.com
Covered Indy car racing for 20 years
Work published in 12 countries
SPONSORED HEADLINES
MORE RACING HEADLINES
MOST SENT STORIES ON ESPN.COM
95TH INDIANAPOLIS 500-MILE RACE

It's time for the 95th running of the Indianapolis 500, but it's the number 100 that counts in 2011. This is the 100th anniversary of the running of the first 500, and Indianapolis Motor Speedway's Centennial Era celebration is in high gear.
Indianapolis 500 Home

Race Day, May 29
•
Blount: The thrill and agony
•
Hinton: Oh yeah, Indy is back!
•
Oreovicz: Bad day for power teams
•
McGee: What a capper to 100 years
•
espnW: A roller-coaster ride for Indy women
•
Gallery: 100th anniversary of the 500
•
Recap: Wheldon wins a stunner
•
Watch: Full highlights
•
Watch: Full booth analysis
•
Watch: Wheldon so thankful
•
Watch: Hildebrand crestfallen
Saturday, May 28
•
Blount: Hang on to your hats!
•
Hinton: Back again in Indiana
•
ESPN.com staff: Our podium predictions
•
Racing Live! Indy 500, Sunday, noon ET
Carb Day, May 27
•
Blount: The weekend's best race is ...
•
Hinton: Foyt legend still strong in 2011
•
Gallery: A.J. Foyt, A Racing Life
•
Hinton from 1991: The last ride of A.J. Foyt
•
Hinton on the Field of the Century front row
•
Hinton's Indy 500 Field of the Century: Row 1
•
Oreovicz blog: Ganassi team leads Carb Day
•
espnW: Patrick's mom, Bev, enjoying ride
•
Blount blog: The way Mario Andretti sees it
•
Ed Hinton chat wrap
•
John Oreovicz chat wrap
•
Podcast: Brent Musburger previews the race
•
Podcast: Helio Castroneves is ready to roll
•
SportsNation: Indy 500 predictions
Features
•
Oreovicz: Breaking down the field of 33
•&nbsp
Blount: Bumping Junqueira saved jobs
•&nbsp
James: Women find a niche in IndyCar
•
SportsNation quiz: All-time lap leaders
•
Indy 500 preview photo gallery
•
James: No stopping Simona
•
Blount: Indy shows NASCAR how it's done
•
James: Women drivers carving a niche
•
Oreovicz: Danica dodges Bump Day disaster
•
James: A stormy day at the track for Danica
•
Oreovicz: Wild and wacky Pole Day
•
Oreovicz: Month of May primer
Practice And Qualifying
•
Danica makes 500 field
•
Carpentier crashes in Sunday practice
•
Tagliani wins Indy 500 pole
•
Briscoe crashes in Saturday practice
•
Di Silvestro cleared to race
•
Castroneves tops speed charts
•
Tagliani leads Friday at over 228 mph
•
De Silvestro waiting for medical clearance
•
Power leads Thursday practice
•
De Silvestro burns hands in crash
•
Rain scrubs practice again Wednesday
•
Weather limits practice Tuesday
•
Tagliani turns month's fastest lap Monday
•
Opening Sunday washed out
•
Opening day starts fast
Indy 500 Field Of The Century
•
Hinton: The method in our list
•
Row 1: Foyt, Lockhart, Vukovich
•
Row 2: Ma. Andretti, Mears, A. Unser
•
Row 3: Shaw, Jones, DePalma
•
Row 4: Meyer, B. Unser, Rutherford
•
Row 5: Ward, Johncock, Fittipaldi
•
Row 6: Rose, Unser Jr., Milton
•
Row 7: Clark, Mi. Andretti, Villenueve
•
Row 8: Luyendyk, Hill, Harroun
•
Row 9: Castroneves, Franchitti, Montoya
•
Row 10: Ruby, Donohue, Sullivan
•
Row 11: Flaherty, Kanaan, Hurtubise
•
The Social Pioneers
Indy At 100
•
Indy at 100: 2000 and beyond
•
Indy at 100: Tony George reigns in the '90s
•
Indy at 100: 1980s had stars, foreign cars
•
Indy at 100: Speed and safety in the '70s
•
Indy at 100: A time of change
•
Indy at 100: The '50s golden era
•
Indy at 100: WWII puts racing on hold
•
Indy at 100: 1930-39 a dangerous era
•
Indy at 100: 1920-29 a roaring time
•
Indy at 100: 1911-1919 was pivotal
•
Indianapolis Motor Speedway timeline
More
•
Indy 500 front row chat wrap
•
John Oreovicz chat wrap
•
Danica not tipping hand on future
•
Foyt, Mears, Unser top "greatest" fan poll
•
Scott Speed joins Dragon Racing
•
A.J. Foyt will drive Indy 500 pace car
•
China's Ho-Pin Tung eyes Indy 500
•
Indy 500 to honor Tom Carnegie
•
Buddy Rice heading back to Indy 500
Indy 500 Rewind
•
2010 Flashback: Dario's all the way back
•
2009 Flashback: Castroneves wins again
•
2008 Flashback: Quiet Dixon makes noise
•
2007 Flashback: Franchitti comes up big
•
2006 Flashback: Hornish gets his "Holy Grail"