Danica Patrick qualifies for Indy 500
Updated:
May 27, 2011, 2:19 PM ET
Associated Press.
INDIANAPOLIS -- Michael Andretti's team finally overcame its May curse.
The rain held off Sunday to give Danica Patrick a second chance, and James Jakes waved off his qualifying attempt, giving Marco Andretti one more shot to make the Indianapolis 500.
Oreovicz: Bittersweet Bump Day

Rest easy, Danica Patrick fans. Your favorite driver made the field for the 95th running of the Indianapolis 500. Barely. Story
Patrick and Marco Andretti took advantage of the good fortune and qualified for the centennial anniversary race at the Brickyard.
Patrick posted a four-lap Bump Day average of 224.861 mph to qualify 26th after it looked like she might not even get to qualify. Andretti delivered an even more clutch performance in the final run of the day, going 224.628 to bump his way back onto the 33-car grid.
"It was either going to be into the wall or into the show," the 24-year-old son of the team owner said. "It was a bummer that we were in this position."
Perhaps it should have been expected -- given the family history at Indianapolis.
Marco Andretti's grandfather, Mario, won the 1969 Indy 500 but never reached Victory Lane again. Michael, led more laps at Indy than any other non-winner, and Marco wound up as the 500 runner-up when Sam Hornish Jr. passed him in the closing yards of the 2006 race.
But as much consternation as the Andrettis have endured at this 2.5-mile oval, this might have been their worst month ever at Indy.
Andretti Autosport's five-car stable struggled to reach the top of the speed charts all week, then wound up in deep trouble Saturday. It took 10 qualifying attempts to get a single car, John Andretti's No. 43, into the May 29 race.
When the team returned to the track Sunday, the team's two biggest names -- Marco and Danica -- and the last two winners from Long Beach -- Mike Conway and Ryan Hunter-Reay -- still had not qualified.
"It kind of seemed like everything was not going our way, and it kept going against us," Patrick said.
"

I feel like getting a drink, that's how I feel right now. I am mad because I really thought we had a fast car. I'm relieved because I'm in the race. I'm frustrated with some of the process that happened and the things that happened. I'm somewhere between angry and happy.

"

--IndyCar driver Danica Patrick
The worst part was Sunday.
Patrick should have been the second driver out but was forced to the back of the qualifying line when the No. 7 car failed technical inspection. Michael Andretti said the team had changed a part in the rear of the car between Saturday and Sunday.
Graham Rahal capitalized on the miscue by beating a downpour that forced the track to close. He came in at 224.380.
"We got an early draw, so we got lucky," Rahal said. "Obviously, Danica failed tech, so we moved up even more."
When the track reopened, it took 30 minutes to fill the field and start bumping -- with Patrick still waiting behind four other cars to make her first qualifying attempt of the day.
Just ahead of Patrick was Canada's Paul Tracy, who produced the fastest average of the day at 224.939 with rain falling on his final lap. That brought out another yellow flag, and for the next 13 minutes, Patrick sat stoically in her cockpit underneath an umbrella, alternating between glares and closing her eyes.
When she finally climbed out of the cockpit, Patrick took a golf cart to the garage and rode her bicycle around Gasoline Alley.
"I know exactly how she feels," said Tracy, who failed to make last year's starting field. "I'm sure she's stressed. The whole team is stressed."
But the predicted rainstorm, which called for wind gusts to 60 mph and possible hail, stayed south of the track, and at 4:45 p.m., Patrick finally made it on and put down two laps over 225 mph.
"I feel like getting a drink, that's how I feel right now," she said, drawing laughter. "I am mad because I really thought we had a fast car. I'm relieved because I'm in the race. I'm frustrated with some of the process that happened and the things that happened. I'm somewhere between angry and happy."
For Michael Andretti, the emotional roller-coaster continued.
Conway tried twice unsuccessfully to bump his team owner's son out of the lineup.
Marco Andretti hung on to the No. 33 spot as eight drivers took shots at bumping him, and when England's Alex Lloyd finally did, only nine minutes were left in qualifying.
[+] Enlarge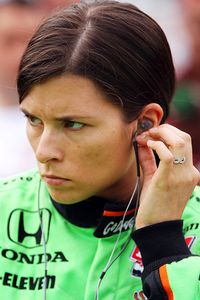 Jamie Squire/Getty ImagesDanica Patrick suits up as she prepares to qualify for the Indianapolis 500. After some tense moments due to rainy conditions, Patrick was finally able to make the field.
Jakes, who had been consistently running more than 1 mph slower than the 33rd car, pulled out of pit lane and ran two laps before waving off.
That gave Marco one last crack. He ran four consecutive laps over 224 mph, knocking Hunter-Reay out of the lineup on a brutal weekend for the Andrettis.
"I knew it was going to come to that," Michael Andretti said. "It was probably my worst day as an owner."
Other prominent second-day qualifiers included Team Penske's Ryan Briscoe, an Australian, who will start next to Patrick in the 27th spot. Three years ago at Indy, the two collided in pit lane, prompting Patrick to stomp toward Briscoe's pit stall.
Both of Chip Ganassi's other drivers, Rahal and rookie Charlie Kimball, also made the race. Kimball will start from the middle of Row 10 and is the first openly diabetic driver to qualify for the race.
Patrick and Simona De Silvestro will be joined by two other women in the field -- rookie Pippa Mann, of England, and Ana Beatriz, of Brazil. Mann and Beatriz will both be on the last row.
Five former winners, including defending champ Dario Franchitti, and five rookies also made the field.
Those left out include the two Andretti drivers; rookie Ho-Pin Tung, who was trying to become the first Chinese starter at Indy and former Formula One driver Scott Speed, who was trying to become the first American to start all three major races at The Brickyard.

Copyright 2011 by The Associated Press
SPONSORED HEADLINES
MORE RACING HEADLINES
MOST SENT STORIES ON ESPN.COM
95TH INDIANAPOLIS 500-MILE RACE

It's time for the 95th running of the Indianapolis 500, but it's the number 100 that counts in 2011. This is the 100th anniversary of the running of the first 500, and Indianapolis Motor Speedway's Centennial Era celebration is in high gear.
Indianapolis 500 Home

Race Day, May 29
•
Blount: The thrill and agony
•
Hinton: Oh yeah, Indy is back!
•
Oreovicz: Bad day for power teams
•
McGee: What a capper to 100 years
•
espnW: A roller-coaster ride for Indy women
•
Gallery: 100th anniversary of the 500
•
Recap: Wheldon wins a stunner
•
Watch: Full highlights
•
Watch: Full booth analysis
•
Watch: Wheldon so thankful
•
Watch: Hildebrand crestfallen
Saturday, May 28
•
Blount: Hang on to your hats!
•
Hinton: Back again in Indiana
•
ESPN.com staff: Our podium predictions
•
Racing Live! Indy 500, Sunday, noon ET
Carb Day, May 27
•
Blount: The weekend's best race is ...
•
Hinton: Foyt legend still strong in 2011
•
Gallery: A.J. Foyt, A Racing Life
•
Hinton from 1991: The last ride of A.J. Foyt
•
Hinton on the Field of the Century front row
•
Hinton's Indy 500 Field of the Century: Row 1
•
Oreovicz blog: Ganassi team leads Carb Day
•
espnW: Patrick's mom, Bev, enjoying ride
•
Blount blog: The way Mario Andretti sees it
•
Ed Hinton chat wrap
•
John Oreovicz chat wrap
•
Podcast: Brent Musburger previews the race
•
Podcast: Helio Castroneves is ready to roll
•
SportsNation: Indy 500 predictions
Features
•
Oreovicz: Breaking down the field of 33
•&nbsp
Blount: Bumping Junqueira saved jobs
•&nbsp
James: Women find a niche in IndyCar
•
SportsNation quiz: All-time lap leaders
•
Indy 500 preview photo gallery
•
James: No stopping Simona
•
Blount: Indy shows NASCAR how it's done
•
James: Women drivers carving a niche
•
Oreovicz: Danica dodges Bump Day disaster
•
James: A stormy day at the track for Danica
•
Oreovicz: Wild and wacky Pole Day
•
Oreovicz: Month of May primer
Practice And Qualifying
•
Danica makes 500 field
•
Carpentier crashes in Sunday practice
•
Tagliani wins Indy 500 pole
•
Briscoe crashes in Saturday practice
•
Di Silvestro cleared to race
•
Castroneves tops speed charts
•
Tagliani leads Friday at over 228 mph
•
De Silvestro waiting for medical clearance
•
Power leads Thursday practice
•
De Silvestro burns hands in crash
•
Rain scrubs practice again Wednesday
•
Weather limits practice Tuesday
•
Tagliani turns month's fastest lap Monday
•
Opening Sunday washed out
•
Opening day starts fast
Indy 500 Field Of The Century
•
Hinton: The method in our list
•
Row 1: Foyt, Lockhart, Vukovich
•
Row 2: Ma. Andretti, Mears, A. Unser
•
Row 3: Shaw, Jones, DePalma
•
Row 4: Meyer, B. Unser, Rutherford
•
Row 5: Ward, Johncock, Fittipaldi
•
Row 6: Rose, Unser Jr., Milton
•
Row 7: Clark, Mi. Andretti, Villenueve
•
Row 8: Luyendyk, Hill, Harroun
•
Row 9: Castroneves, Franchitti, Montoya
•
Row 10: Ruby, Donohue, Sullivan
•
Row 11: Flaherty, Kanaan, Hurtubise
•
The Social Pioneers
Indy At 100
•
Indy at 100: 2000 and beyond
•
Indy at 100: Tony George reigns in the '90s
•
Indy at 100: 1980s had stars, foreign cars
•
Indy at 100: Speed and safety in the '70s
•
Indy at 100: A time of change
•
Indy at 100: The '50s golden era
•
Indy at 100: WWII puts racing on hold
•
Indy at 100: 1930-39 a dangerous era
•
Indy at 100: 1920-29 a roaring time
•
Indy at 100: 1911-1919 was pivotal
•
Indianapolis Motor Speedway timeline
More
•
Indy 500 front row chat wrap
•
John Oreovicz chat wrap
•
Danica not tipping hand on future
•
Foyt, Mears, Unser top "greatest" fan poll
•
Scott Speed joins Dragon Racing
•
A.J. Foyt will drive Indy 500 pace car
•
China's Ho-Pin Tung eyes Indy 500
•
Indy 500 to honor Tom Carnegie
•
Buddy Rice heading back to Indy 500
Indy 500 Rewind
•
2010 Flashback: Dario's all the way back
•
2009 Flashback: Castroneves wins again
•
2008 Flashback: Quiet Dixon makes noise
•
2007 Flashback: Franchitti comes up big
•
2006 Flashback: Hornish gets his "Holy Grail"