Commentary
Indy 500 Field of the Century: Row 4
Updated:
May 27, 2011, 12:24 PM ET
By
Ed Hinton
| ESPN.com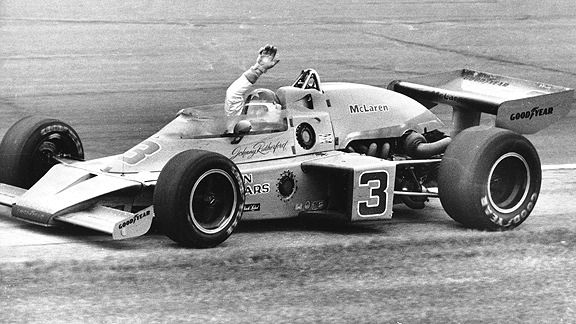 AP PhotoJohnny Rutherford waves after winning the 1974 Indy 500 in his McLaren-Offenhauser.
Our fourth row includes Indy's first three-time winner who unwittingly started the tradition of drinking milk, the crusty elder brother in an Indy dynasty and a nice guy who served notice that A.J. Foyt wasn't the only Texan who could win a lot at the Brickyard.
10. Louis Meyer
Indy 500 starts:
12
Best finish (years):
First (1928, '33, '36)
Laps led:
332
Indy's first three-time winner was also the guy who unwittingly began the tradition of drinking milk in Victory Circle.
Actually, Meyer was drinking buttermilk, his usual refreshment on hot days. The New York-born, Los Angeles-raised driver, whose mother told him buttermilk was good for him, supposedly had asked for a glass of it after his second win in 1933. But he had a bottle of it waiting for him in '36.
Either a dairy industry executive or an advertising agent, depending on the version you choose, supposedly saw a picture of Meyer drinking what looked like regular milk, thought it would be an excellent promotion and initiated a deal with the Speedway.
Meyer's three victories were arguably the hardest won in that they came when drivers and riding mechanics were killed at alarming rates in the era before seat belts. In '33 alone, five men were killed before Meyer took the checkered flag.
Further, Meyer won in both the golden age of sophisticated engines ('28) and the Depression-era "junk formula" ('33 and '36).
11. Bobby Unser
Indy 500 starts:
19
Best finish (years):
First (1968, '75, '81)
Laps led:
440
"Uncle Bobby," as he is called in the Unser family -- and by other Indy insiders -- is the eldest of the Indy-winning Unsers and was the first to score a win in the 500, in 1968.
But brother Al, five years younger, had two Indy wins before Bobby got his second one in the rain-shortened race of 1975, and a third one before Bobby got his third in the monthslong controversy of 1981. And Al wound up with a total of four to Bobby's three.
Bobby took the checkered flag in the '81 race. But the next day, ruling that he had passed cars in the pits, in violation of the pacer lights used at the time, officials stripped him of the victory and gave it to second-finishing Mario Andretti.
Months of protests, appeals and reviews followed, and not until that Oct. 9 was Unser finally and officially awarded the victory.
Uncle Bobby is still a mainstay character at the Speedway, philosophizing to anyone who asks, often beginning his soliloquies, "Now, suuuuuuun, I'm gonna tell you. …"
12. Johnny Rutherford
Indy 500 starts:
24
Best finish (years):
First (1974, 1976, 1980)
Laps led:
296
After finishing 18th or worse in his first nine tries, Rutherford finally got the attention of fellow Texan A.J. Foyt in 1974.
Starting on the ninth row, Rutherford shot through the field in a British McLaren to challenge Foyt by the 65th lap. By Lap 142, Foyt was out of the race with mechanical failure, and Rutherford breezed on to an easy win from there.
After Fort Worth's Rutherford beat Houston's Foyt head-to-head in '76, Rutherford's much easier manner, compared to Foyt's fire and ire, made Rutherford a media darling dubbed "Lone Star J.R."
You could tell Foyt was getting ruffled, because publicly he would pronounce his rival's name "Johnny Rootherford."
J.R. earned his third win in another runaway -- à la '74 -- after leading 118 laps, this time in the Chaparral of Texas engineering genius Jim Hall.
Ed Hinton is a senior writer for ESPN.com. He can be reached at edward.t.hinton@espn.com.
95TH INDIANAPOLIS 500-MILE RACE

It's time for the 95th running of the Indianapolis 500, but it's the number 100 that counts in 2011. This is the 100th anniversary of the running of the first 500, and Indianapolis Motor Speedway's Centennial Era celebration is in high gear.
Indianapolis 500 Home

Race Day, May 29
•
Blount: The thrill and agony
•
Hinton: Oh yeah, Indy is back!
•
Oreovicz: Bad day for power teams
•
McGee: What a capper to 100 years
•
espnW: A roller-coaster ride for Indy women
•
Gallery: 100th anniversary of the 500
•
Recap: Wheldon wins a stunner
•
Watch: Full highlights
•
Watch: Full booth analysis
•
Watch: Wheldon so thankful
•
Watch: Hildebrand crestfallen
Saturday, May 28
•
Blount: Hang on to your hats!
•
Hinton: Back again in Indiana
•
ESPN.com staff: Our podium predictions
•
Racing Live! Indy 500, Sunday, noon ET
Carb Day, May 27
•
Blount: The weekend's best race is ...
•
Hinton: Foyt legend still strong in 2011
•
Gallery: A.J. Foyt, A Racing Life
•
Hinton from 1991: The last ride of A.J. Foyt
•
Hinton on the Field of the Century front row
•
Hinton's Indy 500 Field of the Century: Row 1
•
Oreovicz blog: Ganassi team leads Carb Day
•
espnW: Patrick's mom, Bev, enjoying ride
•
Blount blog: The way Mario Andretti sees it
•
Ed Hinton chat wrap
•
John Oreovicz chat wrap
•
Podcast: Brent Musburger previews the race
•
Podcast: Helio Castroneves is ready to roll
•
SportsNation: Indy 500 predictions
Features
•
Oreovicz: Breaking down the field of 33
•&nbsp
Blount: Bumping Junqueira saved jobs
•&nbsp
James: Women find a niche in IndyCar
•
SportsNation quiz: All-time lap leaders
•
Indy 500 preview photo gallery
•
James: No stopping Simona
•
Blount: Indy shows NASCAR how it's done
•
James: Women drivers carving a niche
•
Oreovicz: Danica dodges Bump Day disaster
•
James: A stormy day at the track for Danica
•
Oreovicz: Wild and wacky Pole Day
•
Oreovicz: Month of May primer
Practice And Qualifying
•
Danica makes 500 field
•
Carpentier crashes in Sunday practice
•
Tagliani wins Indy 500 pole
•
Briscoe crashes in Saturday practice
•
Di Silvestro cleared to race
•
Castroneves tops speed charts
•
Tagliani leads Friday at over 228 mph
•
De Silvestro waiting for medical clearance
•
Power leads Thursday practice
•
De Silvestro burns hands in crash
•
Rain scrubs practice again Wednesday
•
Weather limits practice Tuesday
•
Tagliani turns month's fastest lap Monday
•
Opening Sunday washed out
•
Opening day starts fast
Indy 500 Field Of The Century
•
Hinton: The method in our list
•
Row 1: Foyt, Lockhart, Vukovich
•
Row 2: Ma. Andretti, Mears, A. Unser
•
Row 3: Shaw, Jones, DePalma
•
Row 4: Meyer, B. Unser, Rutherford
•
Row 5: Ward, Johncock, Fittipaldi
•
Row 6: Rose, Unser Jr., Milton
•
Row 7: Clark, Mi. Andretti, Villenueve
•
Row 8: Luyendyk, Hill, Harroun
•
Row 9: Castroneves, Franchitti, Montoya
•
Row 10: Ruby, Donohue, Sullivan
•
Row 11: Flaherty, Kanaan, Hurtubise
•
The Social Pioneers
Indy At 100
•
Indy at 100: 2000 and beyond
•
Indy at 100: Tony George reigns in the '90s
•
Indy at 100: 1980s had stars, foreign cars
•
Indy at 100: Speed and safety in the '70s
•
Indy at 100: A time of change
•
Indy at 100: The '50s golden era
•
Indy at 100: WWII puts racing on hold
•
Indy at 100: 1930-39 a dangerous era
•
Indy at 100: 1920-29 a roaring time
•
Indy at 100: 1911-1919 was pivotal
•
Indianapolis Motor Speedway timeline
More
•
Indy 500 front row chat wrap
•
John Oreovicz chat wrap
•
Danica not tipping hand on future
•
Foyt, Mears, Unser top "greatest" fan poll
•
Scott Speed joins Dragon Racing
•
A.J. Foyt will drive Indy 500 pace car
•
China's Ho-Pin Tung eyes Indy 500
•
Indy 500 to honor Tom Carnegie
•
Buddy Rice heading back to Indy 500
Indy 500 Rewind
•
2010 Flashback: Dario's all the way back
•
2009 Flashback: Castroneves wins again
•
2008 Flashback: Quiet Dixon makes noise
•
2007 Flashback: Franchitti comes up big
•
2006 Flashback: Hornish gets his "Holy Grail"
MOST SENT STORIES ON ESPN.COM