Commentary
Indy 500 Field of the Century: Row 3
Updated:
May 27, 2011, 12:23 PM ET
By
Ed Hinton
| ESPN.com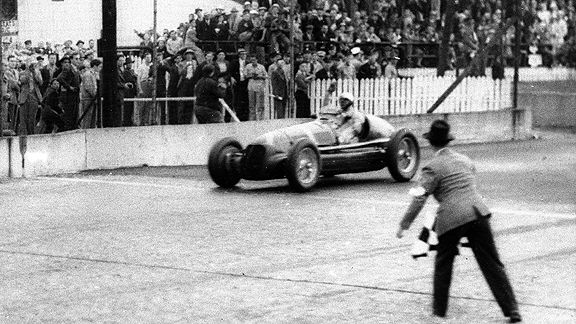 AP PhotoWilbur Shaw may be best known as a driver who won the Indianapolis 500 three times. He should be even better known as the man who saved the race and Indianapolis Motor Speedway itself.
Our third row includes a three-time winner who wound up saving the Indy 500, the most renowned hard-luck front-runner of the 1960s, and a pioneer who was there from Day One and became Indy's first long-term star.
7. Wilbur Shaw
Indy 500 starts:
13
Best finish (years):
First (1937, '39, '40 )
Laps led:
508
Far and away the hottest four-year driving streak in 500 history -- three wins and a second-place in four years -- was Shaw's most visible, but second-greatest, contribution to Indianapolis Motor Speedway.
Clearly and certainly, there would be no Indy 500 today, and no Indianapolis Motor Speedway, if Shaw hadn't saved them from the indifference of Eddie Rickenbacker during World War II.
Rickenbacker may have been a World War I flying ace, but he was no hero to the 500 tradition. As track owner, he was letting the place fall apart and intended to have it demolished to make way for a subdivision.
Shaw, whose third win had come in 1940 and who had been injured in 1941, the last race before the war, absolutely refused to let Indy die. He found a buyer, Tony Hulman of Terre Haute, who paid Rickenbacker $750,000 for the track in 1945.
Hulman ever since has been known as the savior of Indy. But although he provided the money, he acknowledged many times that the man who did the work to bring back the Indy 500, bigger and better than ever, was Wilbur Shaw.
8. Parnelli Jones
Indy 500 starts:
Seven
Best finish (year):
First (1963)
Laps led:
492
Born in Arkansas, Rufus Parnell Jones as a child was part of the great Dust Bowl migration of heartland Americans to California. There, driving as "Parnelli" so his parents wouldn't find out he was racing, he began a career that would leave him as one of the resounding names for the ages at Indy.
He is probably more famous for a 500 he lost, in 1967, than the one he won, in 1963.
Parnelli was an instant star at Indy, and not just because of the name. His rookie year, '61, he led 27 laps. In '62, he won the pole by becoming the first driver to crack the 150 mph barrier (150.374). He led 120 laps before a brake line failure left him seventh.
He followed through on his domination in '63, starting on the pole with a speed of 151.150, leading 167 laps and winning.
But his '67 loss may be the most legendary in Indy history. After he led an astounding 171 laps in Andy Granatelli's turbine car, a small bearing broke with four laps to go. That heartbreak left Granatelli muttering in the pits, "What does it take to win this race?" and Parnelli done with the 500 for keeps -- retired.
9. Ralph DePalma
Indy 500 starts:
10
Best finish (year):
First (1915)
Laps led:
612
Indy's first long-term star, first fan favorite and first notoriously hard-luck driver was there from Day One in 1911 and was a mainstay through 1925. His 612 laps led, in only 10 races, remain second on the all-time list to the 644 of Al Unser, who started 27 races.
In 1912, in the second Indy 500, DePalma led for 196 laps before a cracked piston with two laps to go dropped him to a 12th-place finish. To make matters worse, you had to complete all 200 laps to collect any prize money in those days, so he and his riding mechanic had to push their Mercedes across the line.
In the fifth 500 and his fourth Indy start, DePalma dominated again, leading 132 laps, but this time his Mercedes stayed the distance and he won. He led 108 laps in a French Ballot in 1921, but a broken connecting rod ruined his day.
An Italian immigrant who grew up in Southern California, DePalma was typically versatile for the drivers of the time. In 1919 at Daytona Beach, he set a world speed record of 149.875 mph. In 1921 he drove in what was then the French Grand Prix at Le Mans and finished second.
Ed Hinton is a senior writer for ESPN.com. He can be reached at edward.t.hinton@espn.com.
95TH INDIANAPOLIS 500-MILE RACE

It's time for the 95th running of the Indianapolis 500, but it's the number 100 that counts in 2011. This is the 100th anniversary of the running of the first 500, and Indianapolis Motor Speedway's Centennial Era celebration is in high gear.
Indianapolis 500 Home

Race Day, May 29
•
Blount: The thrill and agony
•
Hinton: Oh yeah, Indy is back!
•
Oreovicz: Bad day for power teams
•
McGee: What a capper to 100 years
•
espnW: A roller-coaster ride for Indy women
•
Gallery: 100th anniversary of the 500
•
Recap: Wheldon wins a stunner
•
Watch: Full highlights
•
Watch: Full booth analysis
•
Watch: Wheldon so thankful
•
Watch: Hildebrand crestfallen
Saturday, May 28
•
Blount: Hang on to your hats!
•
Hinton: Back again in Indiana
•
ESPN.com staff: Our podium predictions
•
Racing Live! Indy 500, Sunday, noon ET
Carb Day, May 27
•
Blount: The weekend's best race is ...
•
Hinton: Foyt legend still strong in 2011
•
Gallery: A.J. Foyt, A Racing Life
•
Hinton from 1991: The last ride of A.J. Foyt
•
Hinton on the Field of the Century front row
•
Hinton's Indy 500 Field of the Century: Row 1
•
Oreovicz blog: Ganassi team leads Carb Day
•
espnW: Patrick's mom, Bev, enjoying ride
•
Blount blog: The way Mario Andretti sees it
•
Ed Hinton chat wrap
•
John Oreovicz chat wrap
•
Podcast: Brent Musburger previews the race
•
Podcast: Helio Castroneves is ready to roll
•
SportsNation: Indy 500 predictions
Features
•
Oreovicz: Breaking down the field of 33
•&nbsp
Blount: Bumping Junqueira saved jobs
•&nbsp
James: Women find a niche in IndyCar
•
SportsNation quiz: All-time lap leaders
•
Indy 500 preview photo gallery
•
James: No stopping Simona
•
Blount: Indy shows NASCAR how it's done
•
James: Women drivers carving a niche
•
Oreovicz: Danica dodges Bump Day disaster
•
James: A stormy day at the track for Danica
•
Oreovicz: Wild and wacky Pole Day
•
Oreovicz: Month of May primer
Practice And Qualifying
•
Danica makes 500 field
•
Carpentier crashes in Sunday practice
•
Tagliani wins Indy 500 pole
•
Briscoe crashes in Saturday practice
•
Di Silvestro cleared to race
•
Castroneves tops speed charts
•
Tagliani leads Friday at over 228 mph
•
De Silvestro waiting for medical clearance
•
Power leads Thursday practice
•
De Silvestro burns hands in crash
•
Rain scrubs practice again Wednesday
•
Weather limits practice Tuesday
•
Tagliani turns month's fastest lap Monday
•
Opening Sunday washed out
•
Opening day starts fast
Indy 500 Field Of The Century
•
Hinton: The method in our list
•
Row 1: Foyt, Lockhart, Vukovich
•
Row 2: Ma. Andretti, Mears, A. Unser
•
Row 3: Shaw, Jones, DePalma
•
Row 4: Meyer, B. Unser, Rutherford
•
Row 5: Ward, Johncock, Fittipaldi
•
Row 6: Rose, Unser Jr., Milton
•
Row 7: Clark, Mi. Andretti, Villenueve
•
Row 8: Luyendyk, Hill, Harroun
•
Row 9: Castroneves, Franchitti, Montoya
•
Row 10: Ruby, Donohue, Sullivan
•
Row 11: Flaherty, Kanaan, Hurtubise
•
The Social Pioneers
Indy At 100
•
Indy at 100: 2000 and beyond
•
Indy at 100: Tony George reigns in the '90s
•
Indy at 100: 1980s had stars, foreign cars
•
Indy at 100: Speed and safety in the '70s
•
Indy at 100: A time of change
•
Indy at 100: The '50s golden era
•
Indy at 100: WWII puts racing on hold
•
Indy at 100: 1930-39 a dangerous era
•
Indy at 100: 1920-29 a roaring time
•
Indy at 100: 1911-1919 was pivotal
•
Indianapolis Motor Speedway timeline
More
•
Indy 500 front row chat wrap
•
John Oreovicz chat wrap
•
Danica not tipping hand on future
•
Foyt, Mears, Unser top "greatest" fan poll
•
Scott Speed joins Dragon Racing
•
A.J. Foyt will drive Indy 500 pace car
•
China's Ho-Pin Tung eyes Indy 500
•
Indy 500 to honor Tom Carnegie
•
Buddy Rice heading back to Indy 500
Indy 500 Rewind
•
2010 Flashback: Dario's all the way back
•
2009 Flashback: Castroneves wins again
•
2008 Flashback: Quiet Dixon makes noise
•
2007 Flashback: Franchitti comes up big
•
2006 Flashback: Hornish gets his "Holy Grail"