Dan Wheldon gets stunning Indy win
Updated:
May 30, 2011, 2:00 PM ET
Associated Press
INDIANAPOLIS -- Dan Wheldon was zipping toward the final corner of Sunday's Indianapolis 500, surely figuring the best he could do was another runner-up finish.
More on ESPN.com

Dan Wheldon's late, steal-victory-from-defeat triumph in the 100th anniversary of the Indianapolis 500 left fans believing in Cinderella lore and storybook endings, writes ESPN's Terry Blount. Story
---

The Indy 500 roared back to life Sunday after more than a dozen years in hibernation. The multitudes are back. So are the agony and the ecstasy that have distinguished this race for 100 years, writes ESPN's Ed Hinton. Story
---

The usual favorites didn't win on Sunday, with the Team Penske crew laying an egg and the Target Ganassi duo of Scott Dixon and Dario Franchitti getting egg on their faces, writes ESPN's John Oreovicz. Story
---

Foyt. Rutherford. Parnelli. Luyendyk. Granatelli. The Unsers. The living legends of the Indianapolis 500 gathered at Gasoline Alley on Sunday in a throwback weekend for the ages, writes ESPN's Ryan McGee. Story
Then he came upon J.R. Hildebrand's crumpled car, all smashed up and sliding along the wall.
The rookie had made the ultimate mistake with his very last turn of the wheel, and Wheldon, not Hildebrand, made an improbable turn into Victory Lane.
"It's obviously unfortunate, but that's Indianapolis," said Wheldon, who won Indy in 2005 and finished second the last two years. "That's why it's the greatest spectacle in racing. You never now what's going to happen."
This might have been the whackiest one ever.
In his first event of the year, Wheldon captured the ultimate IndyCar prize. But the 100th anniversary of the "Greatest Spectacle in Racing" will be remembered more for the guy who let it slip away with the checkered flag in sight.
Leading by almost 4 seconds and needing to make it around the 2½-mile track just one more time, Hildebrand cruised through the first three turns with no problem.
The fourth one got him. He went too high, lost control and slammed into the outside wall. Wheldon sped past, while Hildebrand's battered machine skidded across the line 2.1 seconds behind, still hugging the concrete barrier.
"It's a helpless feeling," Hildebrand said.
The 23-year-old Californian got into trouble when he came up on another rookie, Charlie Kimball, going much slower as they approached the last corner. Instead of backing off, the leader moved to the outside to make the pass -- a decision that sent him slamming into the wall to a collective gasp from the crowd of 250,000.
"I caught him in the wrong piece of track," Hildebrand said. "I got up in the marbles and that was it."
While Wheldon celebrated his second Indy 500 win, series officials reviewed the video to see if Wheldon passed the wrecked machine before the caution lights went on. He clearly did, and Hildebrand's team said it wouldn't protest the result.
That gave the Brit another spot on the Borg-Warner Trophy.
Not bad, considering he doesn't even have a full-time job.
"I just felt a lot of relief. It's an incredible feeling," Wheldon said. "I never gave up."
He took the traditional swig of milk and headed off on a triumphant lap around the speedway -- a lap that Hildebrand should have been taking.
Instead, the youngster stopped by the garage to get a look at his mangled car, which was hauled through Gasoline Alley instead of being wheeled into Victory Lane. He's now in the company of athletes such as Jean Van de Velde, who squandered a three-shot lead on the last hole of the 1999 British Open, and Lindsey Jacobellis, whose hotdogging wipeout at the 2006 Winter Olympics cost her a certain gold medal.
They had it in the bag -- and threw it all away.
"I'm just frustrated. It's not because we came in here with the expectation of winning and we didn't," Hildebrand said. "I felt like I just made a mistake and it cost our boys. I guess that's why rookies don't win the Indianapolis 500 a whole lot, and we'll be back next year, I guess."
After losing his ride from last season -- with Hildebrand's team, no less -- Wheldon had plenty of time to hang out with his wife and two young children, while also dealing with the burden of his mother being diagnosed with Alzheimer's. He longed to get back behind the wheel, and when May rolled around he had a one-off deal with retired driver Bryan Herta's fledgling team.
They came up with a winning combination, which may well lead to a bigger gig.
[+] Enlarge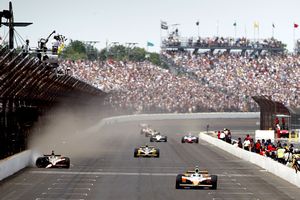 Todd Warshaw/Getty ImagesDan Wheldon, right, shot into the lead off Turn 4 of the final lap as JR Hildebrand skidded along the wall.
For now, though, there are no guarantees -- even for the Indy 500 champion.
"I think my contract expires at midnight," Wheldon said, managing a smile.
The 200-lap race was dominated much of the day by Chip Ganassi's top two drivers, defending champ Dario Franchitti and 2008 winner Scott Dixon.
But after a series of late pit stops, things really got interesting. Second-generation racer Graham Rahal spent some time up front. Danica Patrick claimed the lead but had to stop for fuel with nine laps to go. Belgium driver Bertrand Baguette had already gotten past Patrick, but he didn't have enough fuel, either.
When Baguette went to the pits with three laps to go, the lead belonged to Hildebrand. All he had to do was make it to the end.
He came up one turn short.
"My disappointment is for the team," Hildebrand said. "We should've won the race."
Not that Wheldon isn't a deserving champ. He has 16 career wins and finished in the top 10 of the series standings seven years in a row, capturing the title in 2005.
But in the peculiar world of auto racing, which runs on sponsorship dollars and not necessarily credentials, Wheldon was squeezed out of his ride at Panther.
He sat out the first four races of the year, but no way was he going without a ride at Indy. He's had too much success around this place.
"Dan Wheldon, he's a great winner," Patrick said. "And what a great story. He hasn't run this year. ... That's really cool."
"

It's a helpless feeling. ... I caught him in the wrong piece of track. I got up in the marbles and that was it.

"

--IndyCar rookie JR Hildebrand
Still, it was a bitter disappointment for Patrick, who ended up 10th.
"It's more and more depressing when I don't win the race," said Indy's leading lady, who might be heading to NASCAR next year.
Patrick knows about misfortune leading to victory for Wheldon. His first victory came when she led late in the race, only to have to back off the throttle to save enough fuel to make it to the finish.
This time, Wheldon never led a lap until the last one, the first time that's happened since Joe Dawson won the second Indy 500 in 1912.
It was the second time a driver lost the lead on the last lap -- it happened to another rookie, Marco Andretti, in 2006 -- and it's something Hildebrand will always remember.
"Is it a move I would do again?" he said. "No."
Rahal finished third, followed by hard-charging Tony Kanaan, who came all the way from the 22nd starting spot to contend for his first 500 win, just a year after leaving Michael Andretti's team. Dixon was fifth, followed by Oriol Servia, while Franchitti lost speed in the closing laps and slipped all the way to 12th.
Right from the start, the Ganassi cars showed just how strong they would be on a sweltering day at the Brickyard, where the temperature climbed into the upper 80s and the heat on the track was well over 100 degrees.
From the middle of the front row, Dixon blew by pole-sitter Alex Tagliani before they even got to the start-finish line, diving into the first turn with the lead.
Tagliani ran strong through the first half of the race but began having problems with his handling. Finally, on lap 147, he lost it coming out of the fourth turn and banged into the wall for a disappointing end to an amazing month for his car owner, Sam Schmidt, who watched the race from a wheelchair in the pits.
Indianapolis 500 Results

Dan Wheldon passed rookie JR Hildebrand after a crash on the final turn to win his second Indy 500.
Complete results
Schmidt has been a quadriplegic since a racing crash 11 years ago, but he's turned his efforts to building an IndyCar team. He had another car in the race, one-off driver Townsend Bell, who started from the inside of the second row and ran in the top 10 much of the day until he was collided with Ryan Briscoe on lap 158.
Briscoe's crash summed up the day for IndyCar's other elite team.
Roger Penske's trio of drivers capped a disappointing month with a grim performance on race day.
On the very first stop, Will Power drove out of the pits with a loose left rear wheel, which flew off before he got back on the track. While it bounced down pit road, Power set off around the 2½-mile oval on three wheels, sparks flying out from under his machine as it limped back for another tire. He finished 14th -- the best showing for Penske Racing.
Helio Castroneves, hoping for a record-tying fourth Indy win, started back in 16th spot after struggling in qualifying and did his best just to stay on the lead lap, much less challenge for the lead. That effort ended when Briscoe and Bell got together -- and Castroneves ran off a piece of debris, shredding a tire. He wound up one lap down in 17th.
Briscoe's crash left him 27th.
"It was a tough day," Penske said. "But you've got execute."
There was only one wreck on the much-debated double-file restarts but plenty of thrilling moves -- just what IndyCar officials were hoping for when they imposed the NASCAR-style procedure after each caution period.
At one point after taking green, Castroneves had to dive onto the lane that cars normally take coming out of the pits just to get through the second turn. The crowd erupted in cheers, clearly enjoying the show.
For Hildebrand, the cheers turned to groans on the final turn.
"It's just a bummer," he said.

Copyright 2011 by The Associated Press
SPONSORED HEADLINES
MORE RACING HEADLINES
MOST SENT STORIES ON ESPN.COM
95TH INDIANAPOLIS 500-MILE RACE

It's time for the 95th running of the Indianapolis 500, but it's the number 100 that counts in 2011. This is the 100th anniversary of the running of the first 500, and Indianapolis Motor Speedway's Centennial Era celebration is in high gear.
Indianapolis 500 Home

Race Day, May 29
•
Blount: The thrill and agony
•
Hinton: Oh yeah, Indy is back!
•
Oreovicz: Bad day for power teams
•
McGee: What a capper to 100 years
•
espnW: A roller-coaster ride for Indy women
•
Gallery: 100th anniversary of the 500
•
Recap: Wheldon wins a stunner
•
Watch: Full highlights
•
Watch: Full booth analysis
•
Watch: Wheldon so thankful
•
Watch: Hildebrand crestfallen
Saturday, May 28
•
Blount: Hang on to your hats!
•
Hinton: Back again in Indiana
•
ESPN.com staff: Our podium predictions
•
Racing Live! Indy 500, Sunday, noon ET
Carb Day, May 27
•
Blount: The weekend's best race is ...
•
Hinton: Foyt legend still strong in 2011
•
Gallery: A.J. Foyt, A Racing Life
•
Hinton from 1991: The last ride of A.J. Foyt
•
Hinton on the Field of the Century front row
•
Hinton's Indy 500 Field of the Century: Row 1
•
Oreovicz blog: Ganassi team leads Carb Day
•
espnW: Patrick's mom, Bev, enjoying ride
•
Blount blog: The way Mario Andretti sees it
•
Ed Hinton chat wrap
•
John Oreovicz chat wrap
•
Podcast: Brent Musburger previews the race
•
Podcast: Helio Castroneves is ready to roll
•
SportsNation: Indy 500 predictions
Features
•
Oreovicz: Breaking down the field of 33
•&nbsp
Blount: Bumping Junqueira saved jobs
•&nbsp
James: Women find a niche in IndyCar
•
SportsNation quiz: All-time lap leaders
•
Indy 500 preview photo gallery
•
James: No stopping Simona
•
Blount: Indy shows NASCAR how it's done
•
James: Women drivers carving a niche
•
Oreovicz: Danica dodges Bump Day disaster
•
James: A stormy day at the track for Danica
•
Oreovicz: Wild and wacky Pole Day
•
Oreovicz: Month of May primer
Practice And Qualifying
•
Danica makes 500 field
•
Carpentier crashes in Sunday practice
•
Tagliani wins Indy 500 pole
•
Briscoe crashes in Saturday practice
•
Di Silvestro cleared to race
•
Castroneves tops speed charts
•
Tagliani leads Friday at over 228 mph
•
De Silvestro waiting for medical clearance
•
Power leads Thursday practice
•
De Silvestro burns hands in crash
•
Rain scrubs practice again Wednesday
•
Weather limits practice Tuesday
•
Tagliani turns month's fastest lap Monday
•
Opening Sunday washed out
•
Opening day starts fast
Indy 500 Field Of The Century
•
Hinton: The method in our list
•
Row 1: Foyt, Lockhart, Vukovich
•
Row 2: Ma. Andretti, Mears, A. Unser
•
Row 3: Shaw, Jones, DePalma
•
Row 4: Meyer, B. Unser, Rutherford
•
Row 5: Ward, Johncock, Fittipaldi
•
Row 6: Rose, Unser Jr., Milton
•
Row 7: Clark, Mi. Andretti, Villenueve
•
Row 8: Luyendyk, Hill, Harroun
•
Row 9: Castroneves, Franchitti, Montoya
•
Row 10: Ruby, Donohue, Sullivan
•
Row 11: Flaherty, Kanaan, Hurtubise
•
The Social Pioneers
Indy At 100
•
Indy at 100: 2000 and beyond
•
Indy at 100: Tony George reigns in the '90s
•
Indy at 100: 1980s had stars, foreign cars
•
Indy at 100: Speed and safety in the '70s
•
Indy at 100: A time of change
•
Indy at 100: The '50s golden era
•
Indy at 100: WWII puts racing on hold
•
Indy at 100: 1930-39 a dangerous era
•
Indy at 100: 1920-29 a roaring time
•
Indy at 100: 1911-1919 was pivotal
•
Indianapolis Motor Speedway timeline
More
•
Indy 500 front row chat wrap
•
John Oreovicz chat wrap
•
Danica not tipping hand on future
•
Foyt, Mears, Unser top "greatest" fan poll
•
Scott Speed joins Dragon Racing
•
A.J. Foyt will drive Indy 500 pace car
•
China's Ho-Pin Tung eyes Indy 500
•
Indy 500 to honor Tom Carnegie
•
Buddy Rice heading back to Indy 500
Indy 500 Rewind
•
2010 Flashback: Dario's all the way back
•
2009 Flashback: Castroneves wins again
•
2008 Flashback: Quiet Dixon makes noise
•
2007 Flashback: Franchitti comes up big
•
2006 Flashback: Hornish gets his "Holy Grail"