Commentary
Pit road perspective: Dan Wheldon
Updated:
May 31, 2011, 12:56 PM ET
By
Jamie Little
| ESPN
Not much was certain during the 100th anniversary of the running of the first Indy 500. Rookie J.R. Hildebrand, who wrecked on the final corner with the checkered flag in sight, will tell you that. But covering the race for my eighth time, I was sure of one thing -- Indy is back.
Everything about the way the race unfolded made it a memorable day for fans of the sport. And though many were pulling for repeat rookie magic after Trevor Bayne took NASCAR's biggest race, winner Dan Wheldon has his own pretty special stories. I spent a lot of time with him from the week before the race up until the final drop of milk in victory circle, so here are five things about his win that you may not know much about:
• He was driving for Alzheimer's Disease. Not because he has a sponsorship with the foundation, but because he wants to raise awareness about something that hits close to home. Wheldon's mother was diagnosed with Alzheimer's two years ago, at the age of 55, and was unable to make the trip from England. He told me last week that if he won, he would dedicate the win to helping spread the word about the illness. Taking that into consideration, it's easy to see why he was so emotional after his surprising win.
[+] Enlarge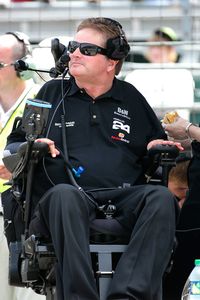 AP Photo/AJ MastTeam owner Sam Schmidt endured a roller coaster of emotions this past weekend.
• One of the big stories going into Sunday's race was Sam Schmidt. While testing a car in Orlando in 2000, Schmidt sustained a horrible crash that paralyzed him from the neck down. This was the 10-year anniversary of him being a team owner at the Indy 500 and his team got the pole heading into the race. Things were looking good until pole sitter Alex Tagliani ran into a wall on Lap 147. Ten laps later, teammate Townsend Bell faced the same fate. But in a strange last-lap twist, a Sam Schmidt car -- the one driven by Dan Wheldon -- would take the checkered flag. It wasn't his team, but it was his car. And all the same engineers from Tagliani, Bell and Wheldon's team were working together at the same table last week when I sat in with them. Sam Schmidt is as big a part of Wheldon's victory as Bryan Herta, and it's great to see the former driver celebrate a victory after all he's been through.
• The car that Wheldon won with was built in 2003. It was probably the oldest chassis in the field on Sunday. For you techies out there, it was the seventh Dallara chassis ever built. Basically, an older chassis is not as light or technologically advanced as others. And since weight goes a long way in this type of racing, it's pretty impressive that he was able to drive this car to the winner's circle.
• Hildebrand wrecked for the same team (Panther Racing) and sponsor (National Guard) that Wheldon drove for in the past two Indy 500 races. Wheldon finished second with Panther in both 2009 and 2010, but was replaced by Hildebrand in this year's contest. Funny how things work out like that.
• Danica Patrick thinks Dan Wheldon is a great champion. And they have history. In 2005, Danica became the first female to lead a lap in the Indy 500. Wheldon won that race -- his first big victory -- but was overshadowed by the buzz surrounding Patrick. This year she led again near the end of the race and Wheldon came out on top -- again. Patrick laughed at the coincidence and told me it gets harder to lose each year she comes to Indy because she wants it so bad and feels like she's better prepared. But she is genuinely happy for Wheldon.
By this point, you've probably all heard that Wheldon doesn't have a ride this year. He told me that he received offers prior to Sunday's race, but nothing seemed competitive enough for him to risk everything on. Now? Wheldon's phone should be ringing off the hook.
---
ESPN NASCAR and IndyCar Series pit reporter Jamie Little is an experienced action sports and motorsports reporter. She has served as a pit reporter for ABC's broadcast of the Indianapolis 500 since 2004.
SPONSORED HEADLINES
MORE RACING HEADLINES
MOST SENT STORIES ON ESPN.COM