Conway's car goes airborne in crash
Updated:
May 31, 2010, 12:23 AM ET
ESPN.com news services
INDIANAPOLIS -- IndyCar driver Mike Conway was flown to an Indianapolis hospital with a broken left leg following a horrific crash at the end of the Indy 500. He was expected to be hospitalized overnight.
[+] Enlarge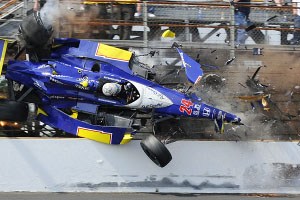 AP Photo/James MillerMike Conway went airborne, sideways and into the fence in a violent crash during the closing laps of Sunday's Indianapolis 500.
Conway was battling Ryan Hunter-Reay for position between Turns 3 and 4 when the two collided. The 26-year-old Englishman's No. 24 car flew up into the catch fence then fell back toward the track, nearly taking out defending champion Helio Castroneves.
The ensuing caution helped Dario Franchitti hold off Dan Wheldon for the win.
Hunter-Reay said he had run out of gas and had "nowhere to go." Earlier in the race, Hunter-Reay bumped Dixon in the pits. In that incident, Hunter-Reay said he tore ligaments in his right thumb and will have surgery on Monday.
"In hindsight we should have stopped for fuel," Hunter-Reay said. "It's dangerous. ... There's no runoff lane. There's no bailout procedure. You've got to slow down or you're going to hit the car in front of you."
Conway complained of a left leg injury following the wreck and was immediately taken to Methodist Hospital for evaluation. He was flown because of the heavy post-race traffic.
Conway, who led briefly in the later stages of the race, finished 19th.
Two fans were taken to the hospital and treated for minor injuries after being struck by debris from the last-lap wreck. One fan received stitches for a cut in his forehead, and another had a cut on his head that didn't need stitches.
Information from The Associated Press was used in this report.
SPONSORED HEADLINES
MORE RACING HEADLINES
MOST SENT STORIES ON ESPN.COM
94TH INDIANAPOLIS 500-MILE RACE

Another Month of May on the track has come and gone, and the venerable Indianapolis Motor Speedway roared to life again. This was the second year of Indy's Centennial Era, with Dario Franchitti winning the 94th running of the Indianapolis 500.
Indianapolis Motor Speedway timeline

Indy 500 Raceday
•
Blount: Franchitti proves he's truly back home
•
Hinton: Ganassi deflects credit ... again
•
Oreovicz: Pole promise fizzles for Penske
•
Oreovicz: Danica pulls off solid finish
•
Recap: Dario dominates
|
500 results
•
Andretti moves up to third on review
•
Conway to hospital after violent crash
•
IndyCar Live! Indy 500 rewind on ESPN.com
Columns
•
Blount: An anticlimactic Indy 500?
•
Hinton: It's still the greatest race
•
Blount: Helio's drive for four ... and more
•
Newton: Hornish respected? Yes and no
•
Oreovicz: Ganassi cars lead Carb Day
•
Blount: Historic run for Kanaan?
•
Hinton: New IRL CEO Bernard has titanic task
•
Blount: Danica's time running out?
•
Oreovicz: Breaking down the 500 field
•
Blount: Indy-Coke double twice the fun
•
Oreovicz: Indy not curing Danica's ills
•
Oreovicz: Drama returns to Bump Day
•
Helio dominates on revived Pole Day
•
Oreovicz: Bracing for some Pole Day drama
•
McGee: Meira an Indy car cult hero
•
Oreovicz: Indy 500 field not set in stone
•
Oreovicz: The Indy 500, from A to Z
More IndyCar Live! coverage
•
IndyCar Live! Bump Day rewind on ESPN.com
•
IndyCar Live! Pole Day rewind on ESPN.com
Blogs
•
Blount: "Push-to-pass" may be key at Indy
•
Oreovicz: $5 practice best bargain in town
Practice and qualifying
•
94th Indianapolis 500 starting grid
•
Danica: Not enough time for needed car fixes
•
Kanaan's advice to Danica? Get happy
•
Kanaan rebounds from crash to make 500
•
Saavedra still in Indy 500 field despite crash
•
Helio tops field; Danica 23rd of 24
•
Fans react sourly to Danica comments
•
Kanaan, Moraes OK after crashes
•
Power hits 228 in morning practice »
•
Power, Tagliani top Friday speed charts
•
Kanaan peels off top time Thursday
•
Dixon hits 226 in Tuesday practice
•
Castroneves sets pace on first day
•
Wheldon OK after Sunday crash
More coverage
•
Danica's Double 2010: Gearing up for Indy
•
2009 Flashback: Castroneves wins again
•
2008 Flashback: Quiet Dixon makes noise
•
2007 Flashback: Franchitti comes up big
•
2006 Flashback: Hornish gets his "Holy Grail"
Indy 500 Video
•
Dario Franchitti wins Indianapolis 500
•
Franchitti storms Indianapolis
•
Dario Franchitti back in Victory Lane
•
Close but no milk for Helio and Kanaan
•
Four for Helio Castroneves?
•
No easy blueprint for winning
•
The women of Indy
•
The sweet life of Danica
•
Castroneves: Life in reflection
•
Patrick and Wheldon change tires
•
Penske on track with Helio, Briscoe
•
Danica's focused after rough start
•
Franchitti and the Indy 500
•
Wild qualifying delivered the drama
•
Castroneves wins Indy 500 Pole
•
Power ready for the Indy 500