Sao Paulo race red-flagged
Updated:
May 2, 2011, 9:16 AM ET
Associated Press
SAO PAULO -- The Sao Paulo 300 just can't catch a break, with rain causing problems at the IndyCar race for the second year in a row.
[+] Enlarge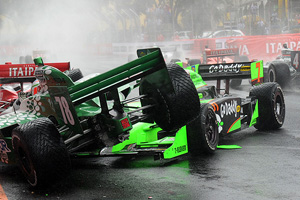 Evaristo sa/AFP/Getty ImagesDanica Patrick (7), Simona de Silvestro (78) and Helio Castroneves (red) crash during the rainy Sao Paulo Indy 300 which was scratched until Monday.
The race has been postponed until Monday after thunderstorms made track conditions unsafe on the streets of South America's city on Sunday. Last year's inaugural race had already been affected by severe weather, ending before its scheduled 75 laps.
IndyCar officials made the call after Sunday's race was stopped for more than two hours and track conditions failed to improve. Only 14 laps were completed, 11 under the yellow flag.
"Unfortunately mother nature didn't cooperate and we couldn't get out there," said Brian Barnhart, IndyCar's president of competition and operations. "Hopefully we will get some cooperation tomorrow and conclude the event with a real exciting race for everyone."
Pole sitter Will Power of Australia was leading the race with Ryan Briscoe in second and Takuma Sato third when officials deemed the track too dangerous. They will start the remainder of the race in that order Monday at 9 a.m. local time. Series leader Dario Franchitti will restart fifth.
It started pouring just minutes before Sunday's race and caused havoc at the start, taking several drivers out of contention at the first chicane. More cars continued to have trouble when the race restarted and officials were forced to bring out the red flag after only nine laps.
The crews were allowed to work on the cars and drivers returned to the track, running five laps under the yellow flag to see if track conditions had improved. Organizers tried to dry the puddles on the track, using track sweepers and even small brooms.
But race officials said it remained still too dangerous and the race was red-flagged again and eventually postponed.
"It's disappointing to have to postpone any event, but especially one that we anticipated to be such a great event," Barnhart said. "Ultimately it came down to a visibility issue and safety for our competitors is a priority."
In addition to the poor visibility caused by the cars spraying water, it would have soon become too dark to finish the race.
Officials wanted to get at least part of the race in Sunday because the track goes through a major Sao Paulo highway. Monday's race will require extra arrangements from local authorities because it will likely cause huge traffic jams in the city.
Drivers were expecting trouble at the tight first chicane if the track was dry. The slippery track became treacherous under heavy rain.
Danica Patrick, Simona de Silvestro and Helio Castroneves crashed there, and front-row starter Ryan Hunter-Reay, Tony Kanaan and Oriol Servia also didn't make it cleanly through the difficult first corner at the 2.5-mile, 11-turn Anhembi temporary street circuit.
De Silvestro was pushed into Castroneves' car and Patrick didn't have anywhere to go through the chicane. The back of de Silvestro's car ended on top of Patrick's.
"There was no way there wasn't going to be an accident there," Patrick said. "I didn't have anywhere to go. They stopped in front of me and I just got hit."
Hunter-Reay, starting behind Power, missed the first turn and went straight into a tire barrier. He was able to return, but later spun out at a different part of the track and had his rear wing heavily damaged.
Kanaan injured his left hand in a different incident at the start, but doctors said the problem was only minor and he returned to the track.
Many of the problems came at the back straight, which is the series' longest at just short of a mile.
"I've never experienced anything like that," Servia said. "I couldn't see in front of me, couldn't go full throttle. The corner just went by me. There was way too much water, they had to throw the red flag there."
Vitor Meira, Justin Wilson, Scott Dixon, Sebastien Bourdais and J.R. Hildebrand were some of the drivers involved in accidents before officials finally red-flagged the race.
Series leader Dario Franchitti said the conditions were treacherous.
"You really couldn't see the car in front of you," the Scot said. "It was crazy out there. We've all driven in the wet before, but I've never seen spray that bad."
Organizers made some significant changes to the Anhembi track after embarrassing problems last year. The entire circuit was repaved to eliminate other dangerous bumps, especially on the back straight.
It was the third time in four races that Castroneves, a three-time Indy 500 winner, was involved in a crash. He crashed two other times in the first three races, on one occasion knocking Power, his Penske teammate, out of contention in the process.

Copyright 2011 by The Associated Press
SPONSORED HEADLINES
MORE RACING HEADLINES
MOST SENT STORIES ON ESPN.COM