Commentary
Brown prevails in classic Top Fuel final
Updated:
July 20, 2009, 12:41 AM ET
By
Terry Blount
| ESPN.com
KENT, Wash. -- This season was supposed to be all about Tony Schumacher versus Alan Johnson.
Could the six-time Top Fuel champion continue to win without Johnson, the master tuner who guided Schumacher to the last five of those NHRA titles?
Or would Johnson's new team with veteran driver Larry Dixon end Schumacher's long reign at the top of the class?
[+] Enlarge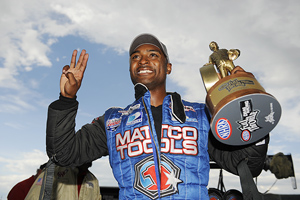 NHRAAntron Brown chalked up victory No. 3 on July 12 in Denver, then added No. 4 Sunday at Pacific Raceways in Kent, Wash.
Apparently, someone forgot to tell Antron Brown this was a two-team race. Brown, in only his second season as a Top Fuel driver, is consistently beating them both.
Brown did it again Sunday in the Northwest Nationals, edging Schumacher in the kind of blistering side-by-side drag race everyone hopes to see -- 300 mph with only a front wheel of difference between them at the end.
"That was one sensational, phenomenal drag race," Brown said. "Even if I had lost, I still would have felt good about it.
"We both threw our best out there. Tony fell a little short this time, but that hasn't happened to him too many times. The man has almost 60 wins [59]. So it feels good to get one on our side."
A lot of good things are happening on Brown's side this season. Sunday was his fourth victory of the year in the Matco Dragster owned by Mike Ashley.
Brown now leads Schumacher and the Army dragster team by 137 points in the standings. Dixon fell to third in Johnson's Al-Anabi dragster, 33 points behind Schumacher.
This event was only the second time Brown has raced at Pacific Raceways. He raced nine seasons in Pro Stock Bike, but the category doesn't compete at the Seattle-area track.
And Brown was going against the Pacific Raceways master in Schumacher. He won the previous three NHRA events here in dominating fashion and made it to six consecutive Seattle finals.
Going into the final round Sunday, Schumacher had won 23 of his last 24 rounds at PR.
"Tony made sure I knew that before we went to the final," Brown said. "But Tony and I are good friends. He helped me out a lot last year when I started in Top Fuel."
Countdown Contenders
After 14 events in the 2009 NHRA Full Throttle Drag Racing Series season, seven competitors have clinched berths in the Countdown to One playoffs:
Top Fuel
Antron Brown
Tony Schumacher
Larry Dixon
Funny Car
None
Pro Stock
Jeg Coughlin
Mike Edwards
Jason Line
Pro Stock Motorcycle
Eddie Krawiec
Brown and Schumacher were teammates at Don Schumacher Racing (Tony's father's team) when Brown was racing in Pro Stock Bikes.
Brown was a two-time runner-up on motorcycles, but never won a championship. Making the move to Top Fuel was a major transition.
More than a few people wondered if Brown could do it competitively. But Brown won two events as a rookie last year and finished fifth in the standings.
"I'm my own worst critic," Brown said. "But I don't think it has anything to do with coming from a bike to a dragster. It doesn't make a difference. It's depends on the determination of the person.
"I want to win a championship. I've always been like that. Take any championship-caliber driver and put them in another category and they will do well because of that determination and passion. I'm a hard worker and trying to set the bar to a new height."
But could the bar get high enough to outrun Schumacher and the new Dixon-Johnson combo?
Brown never doubted it.
"They both had new teams, so I felt they both were back on everybody else's same playing ground," Brown said. "And we did our homework in the offseason. We had Mike Ashley take our team over, but the core group was still the same."
Brown also has a co-crew chief combination that is working to perfection with Brian Corradi and Mark Oswald.
Corradi said he enjoys it when the team faces Schumacher because he knows it's a great gauge to see where they are as a team.
"This was tough today having to race Tony in the final because he is the best," Corradi said. "But this is why we wake up in the morning, to have a race like that one."
Schumacher had no complains. He moved up a spot in the standings and ran well except for a pedal-pushing victory over Troy Buff in the semis.
"We made up a lot of ground this weekend, which was terrific," Schumacher said. "And that [final] was a great race, just a hell of a race."
That it was, and Schumacher knows he has other challengers to his crown besides his old crew chief and his longtime rival in Dixon.
"We are getting stronger and stronger as the season goes along," Brown said. "And I've grown leaps and bounds from last year. I just want to keep it going."
Terry Blount covers motorsports for ESPN.com. His book, "The Blount Report: NASCAR's Most Overrated and Underrated Drivers, Cars, Teams, and Tracks," was published by Triumph Books and is available in bookstores. Click here to order a copy. Blount can be reached at terry@blountspeak.com.
ESPN Seattle Seahawks reporter
Covered the NFL at the Houston Post and Houston Chronicle, including eight Super Bowls
Received Citation for Writing Excellence from Hearst Newspapers
Also has covered NBA Finals, World Series, Finals Fours, Indy 500 and Daytona 500
SPONSORED HEADLINES
MORE RACING HEADLINES
MOST SENT STORIES ON ESPN.COM