Commentary
Women and minorities in the crowd, behind the wheel pushing NHRA
Women compete with men on an even playing field in the NHRA -- and consistently win. Minorities do, too. Some tough battles were fought years ago by the likes of champion Shirley Muldowney, but the seeds planted then led to rewards now, writes Ryan McGee.
Updated:
April 30, 2008, 7:15 PM ET
By
Ryan McGee
| ESPN The Magazine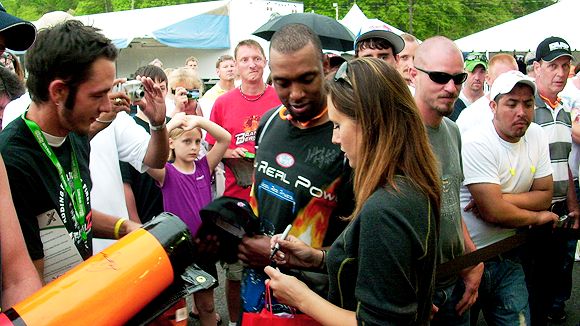 Bill Stephens/ESPN.com Ashley Force is surrounded by autograph seekers in the Atlanta Dragway pits, a common sight for many of the NHRA's female and minority drivers.
COMMERCE, Ga. -- Within the first hour of an NHRA weekend, you know something feels different, but you can't quite put your finger on what it is. You can't help but think that something unusual is happening around you, but no one calls it to your attention with an official press release or a news conference.Then, as you stroll through Nitro Alley, the state fair-like paddock/party zone that complements every stop on the NHRA POWERade Series schedule, it suddenly strikes you.Where did all these women come from?Female fans stroll through the garage by the thousands. Women work on race cars by the dozens. And no fewer than seven women compete behind the wheel in the NHRA's four professional classes, as another wave of females races its way up through the Sportsman classes."Are you just now catching on to this?" Three-time Pro Stock Motorcycle champion Angelle Sampey said with a laugh. "Man, chicks rule!"Girls, Girls, Girls
Sampey has a point. Consider this: In the weekends that bracketed Danica Patrick's much-ballyhooed IndyCar Series victory, 25-year-old Ashley Force not only took over the points lead in the Funny Car division in Las Vegas on April 13, she backed it up by earning her first finals victory at Atlanta two weeks later … and did it by beating her father, the winningest hot shoe in hot rod history. But unlike Danica, she wasn't the first woman to visit an NHRA winner's circle.
She was the 10th! And while Force sits atop her class standings, another four women are ranked inside the top 15 in points in their respective divisions. In 2007 alone, four different women took home a Wally, the trophy given to an event winner.
NHRA Firsts For Women

Ashley Force is the first woman to win a race in NHRA Funny Car history. She became the first woman to lead the Funny Car standings in her last race at Las Vegas. Other notable female firsts in the NHRA: •
Barbara Hamilton
received a license, 1964.
•
Shirley Shahan
won a national event, 1966, Stock in Pomona, Calif.
•
Shirley Muldowney
won in Top Fuel, 1976, at Columbus, Ohio, defeating Bob Edwards. She earned 18 career victories, second all-time for women.
• Muldowney won the Top Fuel title again in 1977
• Muldowney was the first driver (either gender) to repeat as Top Fuel champion after her initial title in 1977 (1980 and 1982).
•
Angelle Sampey
won a championship in Pro Stock Motorcycle (three times -- 2000, 2001, 2002). Sampey is the female pro with the most victories, 41.
•
Melanie Troxel
is the quickest woman, clocking a time of 4.458 seconds (Oct. 2005, Ennis, Texas).
•
Hillary Will
is the fastest woman, posting a speed of 334.65 mph (Feb. 2008, Pomona, Calif.).
•
Peggy Llewellyn
became the first black female to win an event (Pro Stock Motorcycle, Ennis, Texas, 2007).
-- ESPN Research
While other motorsports series clamor, sometimes desperately, to prove their diversity efforts, the sight of females and minorities within the world's largest drag racing organization is so commonplace that it has become downright passé. "Look at this," one longtime drag racing writer said as he flipped open the 2008 NHRA media guide. "Every other series in the world dedicates a couple of paragraphs to the history of women in their sport. We have four pages!""You know, I can't really explain why there are so many more women racers here than in other series," Force said less than 48 hours before her historic Atlanta win. "But I think it is one of the coolest things about our sport. "And we're not just out here for publicity or whatever, you take a walk by all these teams out here and every one of these girls is a threat to win every weekend."All Hail Cha Cha
In 1964, Barbara Hamilton became the first female to earn an NHRA license. Two years later Shirley Shahan became the first winner. But the attitude of "good enough to get here isn't good enough" was set 35 years ago this summer, when Shirley "Cha Cha" Muldowney" rolled her Top Fuel dragster to the starting line for the first time.
While her oval racing counterparts struggled to score equipment good enough to simply qualify, Cha Cha was strapped into win-now rides prepared by then-boyfriend Connie Kalitta. She earned her first finals victory in '76 and the first of her three championships in '77, establishing a legacy within the sport perhaps matched only by the Dons -- Garlits and Prudhomme."We went from token to smokin'," Muldowney says now. "And there was nothing easy about it. We put up with a lot of downright meanness. But in the end, we did our talking on the track, and I think these wonderful women today realized that was the best way to handle it. Go win races and they can't say anything."And many of today's women in the NHRA are thankful."There is no doubt that we get to do what we do for a living because of what [Muldowney] did first," said three-time Top Fuel race winner Melanie Troxel, who now competes with Force in Funny Cars. "I think all of the women racing today can still tell you some stories about rude comments from fans every now and then. "But if you read about or talk to Shirley, you realize that she's the one who put up with the most so we don't have to."Room For Everyone
Muldowney's acceptance also opened the doors for minorities, from 16-time Pro Stock Motorcycle winner (and now two-time Top Fuel victor) Antron Brown to PSM competitor Peggy Llewellyn, also African-American (though inexplicably still out of a ride after a fourth-place finish in '07 points). And much as Cha Cha's success fertilized drag racing's female fan base, the success of black racers has led to an influx of color in the NHRA grandstands.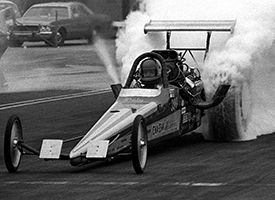 AP Photo/George BrichShirley Muldowney went from -- in her own words -- token to smokin' in the NHRA. She wasn't the first woman to win an event, but her success paved the way for a more diverse sport.
"It is no different than going to a golf tournament 20 years ago and going to one now," said Prudhomme. "The success of Tiger Woods has literally changed the faces in the gallery. Antron and Peggy and [former NBA star-turned-Pro Stock racer] Tom Hammonds, every time they have success, they change the face of drag racing."But why dragsters? Why not NASCAR or open-wheelers?"It's no different than any other athlete in any other sport," Brown said in Atlanta, as he frantically signed autographs to a diverse pack of fans at the ropes. "It's what you grew up with or what you grew up watching as a fan. Where you dream of being as a kid is hopefully where you end up, like I have.""What's not to like?" said Hammonds. "Cool cars, competition, and people who have treated me great ever since I showed up out here. I've been fortunate to make a second living at it. Now maybe I'm causing some kids out there to become NHRA fans, and not too far down the road those kids will be out here working and racing with us. It's something you have to grow."The NHRA has been growing it for nearly half a century, and the result of those efforts is today's bumper crop of the most diverse group of fans and competitors in all of major motorsports.A garden of growth that has every other major racing series green with envy.
Ryan McGee, a senior writer for ESPN The Magazine, is the author of "ESPN Ultimate NASCAR: 100 Defining Moments in Stock Car Racing History." He can be reached at mcgeespn@yahoo.com.
ESPN The Magazine, NASCAR
ESPN The Magazine senior writer
2-time Sports Emmy winner
2010 NMPA Writer of the Year
SPONSORED HEADLINES
MORE RACING HEADLINES
MOST SENT STORIES ON ESPN.COM